Top 10 Greatest WWE Wrestlers of All Time
Professional wrestling has captured the imagination of audiences around the world for decades, and the WWE has been at the forefront of this entertainment phenomenon. The WWE has seen some of the most iconic and talented wrestlers step into the ring, each leaving their own unique mark on the industry. From Hulk Hogan to The Rock to John Cena, there have been countless wrestlers who have captured the hearts of fans and become household names. With such a rich history of legendary competitors, it can be difficult to determine who truly stands above the rest. In this top ten list, we will explore the greatest WWE wrestlers of all time, examining their impact both inside and outside of the ring, and their lasting legacy on the world of professional wrestling.

When votong on this list, take into account several factors, including championship wins, ability to captivate audiences, contributions to the industry, and lasting impact on wrestling culture. Also consider longevity in the business and the impact a wrestler has made on the industry as a whole. These wrestlers have earned their place in history through their incredible talent, their undeniable charisma, and their unwavering dedication to their craft. Without further ado, let's take a look at the top ten greatest WWE wrestlers of all time.

The Top Ten

1 The Undertaker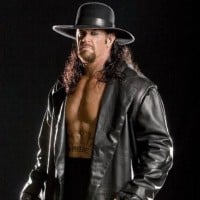 Mark William Calaway (born March 24, 1965), better known by his ring name The Undertaker, is an American semi-retired professional wrestler currently signed to WWE, where he has worked since 1990, making him the company's longest tenured in-ring performer . Calaway began his wrestling career with World Class Championship Wrestling (WCCW) in 1984 . After wrestling for World Championship Wrestling (WCW) as "Mean" Mark Callous from 1989 to 1990, he signed with the World Wrestling Federation (WWF, now WWE) in 1990 . Calaway is regarded as one of the greatest professional wrestlers of all time . ...read more.
Time passes and legends come and go. Think about it: how often does this generation talk about Buddy Rodgers, who back in the day was believed to be one of the best? Not often. The Undertaker is one of those guys that 50 years later will still be discussed as one of the greatest of all time.
Simply the best of all time, this guy is a true complete package. He can wrestle and give great matches with whoever he faces: big guys, small guys, high flyers, grapplers, hardcore wrestlers, Bret Harts, HBKs, Kurt Angles, Batistas, Yokozunas, HBK, Mick Foley, Rock, Austin, JBL, Sid, Hogan, Warrior, Big Daddy V, Big Show, Lesnar, H, Henry, Batista, Kamala, Rey, etc. He is the master of Hell in a Cell. He competed in 11 Hell in a Cell matches, he had plenty of hardcore match classics, with Mankind at Hell in a Cell, boiler room, with Brock Lesnar at Hell in a Cell, etc. He can give great TLC matches (with Edge), he is the innovator of buried alive matches and casket matches, he is the owner of WrestleMania, and with 19-0 including some of the greatest matches of all time, this guy can do things that other men cannot do: very agile, very deadly, the pace of The Undertaker matches are brutal, he destroys you bit by bit, his Hell's Gate submission is brutal, his chokeslam is legendary, ...more
The reason why he is the best wrestler of all time is because he was one of the biggest stars in every era since his debut, if not the biggest. Sure, he wasn't called the face of the company, but he is considered the company's conscience in every era he's been in. And everyone should know that without Taker, you wouldn't have many of the superstars you love now. He was known to side with the guys in the back rather than side with the boss like Shawn Michaels did. He also puts young talent over and gives them a push, unlike someone and his famous shovel. And let's face it, he draws better than any superstar in history. Some of the WWE fans today only tune in hoping they see his return.
I agree with all the comments. The reason why some people don't recognize his greatness is because he only has 7 world championships, but that's not his fault. In WWE, big men do not win many championships and they don't last long as champions (for example, Big Show, Kane, or Mark Henry).

Also, you should consider that The Undertaker lost his three World Heavyweight Championships in unfair situations. The first one against Edge cashing in the Money in the Bank contract after The Undertaker had fought Batista and had been attacked by Mark Henry. His second reign ended by the decision of Vickie Guerrero, and the last one was in an Elimination Chamber match where Shawn Michaels attacked him with a Sweet Chin Music when he was about to tombstone Jericho.

To sum up, don't judge The Undertaker by his championships, but look at the great matches he's had, his incredible entrance, and the 21-0 streak at Wrestlemania.
2
Stone Cold Steve Austin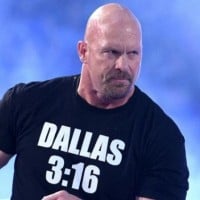 Steve Austin (born Steven James Anderson on December 18, 1964, later Steven James Williams), better known by his ring name "Stone Cold" Steve Austin, is an American actor, media personality, producer, and retired professional wrestler who is signed to a legends contract for WWE. ...read more.
Come on, when he pointed the gun at Vince's head, it was one of the all-time greatest moments in television history. I mean, Stone Cold saved the WWE at a time when WCW was hot on the trail of toppling it. While there's been a few glimmers here and there of new stars to take his place, no one has made the WWE as interesting as Austin did back in the late 90s. Everyone was watching Monday Night Raw and dreaming of being able to do to their bosses what Stone Cold did to Vince. It was the best storyline in wrestling of all time. I mean, when he drove the beer truck into the arena, it was pure brilliance.
Not the greatest overall run because his career was cut short by injury, but the greatest and hottest run of any major superstar in history. Stone Cold Steve Austin helped make wrestling seem cool to teenagers, young adults, and adults who had become lapsed fans. Could you imagine a maverick politician being able to flip off President Trump, hit him with a Stunner, dump beer on him, and then chug more beer? Stone Cold Steve Austin was a blue-collar superhero. He was simultaneously exceptional and relatable. If you agree with my assessment of the Texas Rattlesnake, gimme a hell yeah!
Austin is the greatest of all time because he largely helped WWE reach new levels in the late '90s. Nobody attracted a crowd like Austin did. Many say that Hogan is bigger than Austin. This is not true because in 4 years, Austin made more money for WWE than Hogan ever did.

If Hogan is greater, why did WWE beat WCW? It's simple to understand why WWE beat WCW. This is because Austin attracted more fans than Hogan and because Austin sold more merchandise than Hogan. Hogan was WCW's biggest star, yet they still lost because Austin was just too influential to the business. Hogan is awesome and is WCW's biggest star in history, but I do not believe that he is on Austin's level.
The Stunner... what?... 3:16... This guy was WWF, and he was the Attitude Era when WWF was in its golden age. Ever since, we've been looking for someone like him. Of course, he was helped by the best lineup of wrestlers WWF/WWE ever had (The Rock, Undertaker, and HHH to name a few). He has had matches against some of the greats, including Bret Hart and Shawn Michaels. There is still nobody, and I doubt there ever will be, who gets a reaction like he did every time we heard that glass smash. A winner of KOTR and a three-time winner of the Rumble, he was a finger-flipping, beer-drinking 'toughest SOB in the WWF,' and that's the bottom line because Stone Cold said so.
3
Shawn Michaels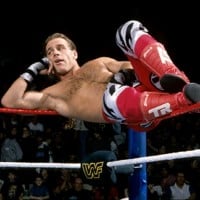 Shawn Michaels was born on July 22, 1965 . He is an American professional wrestler. He is the first wrestler to win all the titles the WWE could have offered. He is known for his moves and looks. His nickname provided by WWE is HBK (Heart Break Kid). He was in DX (Degeneration X) a tag team with Triple H, and was the only nWo to not be in WCW. He is known by many names such as: The Showstopper, The Best of the Best, Mr. Wrestlemania, Mr. Hall of Fame, Sexy Boy, The Icon, The Headliner and The Main Event.
For the ones arguing over who is the "best" in-ring wrestler ever, you'll be arguing forever. That is completely subjective. I personally like the more technical mat-based wrestling, like Kurt Angle, Chris Benoit, or Bret Hart. But never before (and most likely never again) has there been someone that can ADAPT to his opponent like Shawn Michaels. If you want a technical masterpiece like his matches against Angle, he'll give it to you. If you want a high-flying thrill ride like his matches with Shelton and Mysterio, he'll give it to you. Or if you want a bloody brawl like his matches with Triple H, he'll give it to you.

If you're looking for character progression and charisma, The Heartbreak Kid is your man. Shawn oozed charisma. The dude was an absolute savage in D-Generation X, but then could turn around and perform one of the most emotional matches ever with the likes of Ric Flair at WrestleMania. They don't call him "Mr. WrestleMania" for nothing. Shawn Michaels is the ...more
The Icon, the showstopper, the main event, the heartbreak kid, Mr. WrestleMania, Mr. Hall of Fame, the one and only Shawn Michaels. I mean, I really don't know how many names like these he has to be given for people to see that HE is THE Sports Entertainer! All his accolades, all his WrestleMania classics, his charisma, his charm, his drive, his passion for this business, and most importantly, his longevity and loyalty to this business are like that of none other. He is a living legend. Heel, face, tweener, doesn't matter. He always made you feel a feeling like none other! Anything he's touched has turned to gold! #1! No doubt about it.
Shawn is entertaining to watch. Plus, he has won a lot of world championships and USA championships. If I had to say, his in-the-ring performance is 10/10, his on-the-mic skill is 9.6/10, his entrance music is 10/10, and his finishing move is 9.5/10, which in all is 39.1.
HBK is the Icon, Mr. WrestleMania, because of his greatest performances. He's also known as Mr. Hall of Fame, The Showstopper, and the Heartbreak Kid, Shawn Michaels. He's a beast. He could beat anyone. From defeating The Undertaker in the first-ever Hell in a Cell match to winning the first-ever Elimination Chamber match, and ending Ric Flair's career, Shawn Michaels has to be in the top two, hands down. The greatest performer of all time, he had the best moves and put on so many amazing matches that left us jaw-dropped. He deserves to be the GOAT because everything he has accomplished is amazing. He might not have won many titles, but his matches are excellent. To me, he will always be HBK, the best ever and the GOAT. Thank you, Shawn!
4
The Rock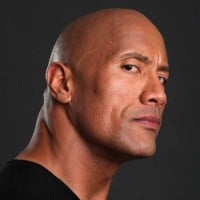 Dwayne Douglas Johnson, also known by his ring name The Rock, is an American and Canadian actor, producer and semi-retired professional wrestler, signed with WWE.
Oh yeah! It is the greatest one, danger man of world wrestling. No one is like him. He is totally different than any other wrestlers. His attraction works into the left side of the heart of the people, and this is why he is the champ of people. Only The Rock is able to electrify when he plays. He is perfect with his body shape, body language, and his height. He is also a good speaker with good logic. His entrance is a threat to all wrestlers. The Rock has come back to win over everyone. Nothing can stop him. The Rock will bring it.
While Austin did save the WWE from WCW in 1998 and was the poster boy of the Attitude Era, The Rock raised the company to new heights in late 1999 to 2000 when he became the face of the WWE. 2000 was the WWE's most successful year from a financial and ratings perspective, and Austin was gone from injury for 80% of it. Professional wrestling is all about showmanship, and The Rock was incredible on the mic and knew how to keep audiences engaged. While he was never booked as strongly as Hogan, Austin, Cena, Triple H, or the Undertaker, The Rock always managed to be a major attraction while putting over mid-carders. He was perfect as both a heel and a babyface and will always be known as the People's Champion!
The Rock is the greatest ever in WWF. He's like light years ahead of others. Played babyface, heel to perfection. Also can sing, play guitar, play rugby, & most importantly, he's the greatest entertainer ever. Any matured guy who has seen WWF during 1998-2002 will have the same thoughts. Out of many many promos, at least 200 promos are extremely funny from his WWF career, Saturday Night Live funny stuff, etc. I can spend years watching his YouTube videos. Wrestling is a script, so it doesn't matter who won/lost. What matters is who entertained fans as a wrestler. I did not see a single video of any other wrestler which is funny. And yeah, one more thing, he's the only wrestler who didn't get involved in the politics of changing the script written by writers (Read Vince Russo's book or see his YouTube video talking about The Rock).
Between The Rock and Stone Cold, they are what made wrestling great again after the Hogan days. Ric Flair might be the man with the most championships, but The Rock was easily the most crowd-entertaining spectacle to ever set foot in the ring. The only reason he's not number 1 on every list is because he only really full-time wrestled for 7 years. Then to top it off, he became the most successful wrestler/actor combo. Do you smell what The Rock is cooking? Cause I sure do. Coming from someone who grew up in the Attitude Era and doesn't watch wrestling anymore and hasn't since The Rock left, you may call my opinion biased, but I don't care, jabroni.
5
John Cena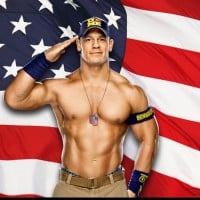 John Felix Anthony Cena Jr. (/ˈsiːnə/; born April 23, 1977) is an American professional wrestler, rapper, actor, and reality television show host signed to WWE, where he is assigned to the SmackDown brand. ...read more.
John Cena does so much for the WWE and is a really hardworking person. He cares about fans, and he's funny and entertaining.
John Cena is the best wrestler. He has almost beaten each and every wrestler in WWE. We can hope that John is the one who will break Undertaker's streak. As you have seen, John is increasing his status day by day. He is the one who will defeat The Undertaker, and he is the one who will defeat The Rock.
John Cena is the most underrated WWE wrestler of all time. Nobody gives him any credit. He has never lost a fair match to anyone, and he never brags about how good he is. Also, he is a great person outside of the ring.
John Cena undoubtedly has accomplished a lot: 10-time WWE champ, two-time royal rumble winner, face of the company. Love him or hate him, he's done it all. He's a legend among the rest, officially. He has great strength but is not that good technically, no. He definitely was handed the ball from the attitude era into the next generation as the leader. Yet, in the era now, Cena is not that good. They buried him last year but proved it was worth it for a rematch against the Rock. The era now in WWE is not really focusing on the future, and the storylines are horrendous except for usually two or three around WrestleMania. The rest are just awkward, just like Rock vs. Cena 1 was. Was it just me, or did that year-long wait for that match feel awkward?
6
Triple H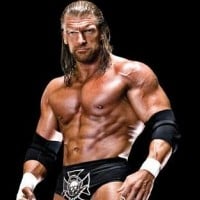 Paul Michael Levesque, better known by his ring name Triple H, is an American semi-retired professional wrestler, corporate executive, and actor.
If we start dissecting wrestling into single skills (in-ring abilities, mic skills, etc.), Triple H is not the best at any particular aspect, but yet he embodies the spirit of wrestling like no others, in my humble opinion. His charisma is outstanding, and he can be awesome both as a heel and as a babyface. Although he was mostly a self-absorbed, arrogant character (as a heel), he actually made a whole lot of other talents shine (Shawn Michaels, Batista, Orton, Cena, just to name a few) and never refused a job. No single wrestler in the world (except Ric Flair) can match his career (in terms of longevity and accomplishments). For all these things, he is the greatest (in my humble opinion).
Always one of the top on the records book, HHH dominates the WWE Championship, World Heavyweight Championship, and even Tag Team championship. Triple H was part of groups that have revolutionized the WWE. Everyone is familiar with the likes of D-Generation X and Evolution. Furthermore, he was part of the WWF during the attitude era, which was probably the hardest time a wrestler could win a championship due to the competition. Yet, regardless of his young age, he was able to be one of the greatest wrestlers during that time. After the attitude era, and the retirements of these wrestlers, he still dominated the ring against the likes of John Cena and Edge.

The only thing you can deny is that HHH doesn't have a strong record like The Undertaker or Shawn Michaels. However, despite his age, he is still active in the ring to this date, as he is the current World Heavyweight Champion!

By the way, TEAM AUTHORITY.
As for me, I think that Triple H's has to be the top one. I really think that Triple H and Shawn Michaels have the same power, but if it comes down to one, I will go with Triple H. Not that I like to say Triple H is better than HBK, but Triple H, the 13-time world champion, is just the only thing I'm gonna list because if I try to type all the things that Triple H has done, it's gonna take me 16 years. Because in every year, every match of his career, it's been a hell of a match, and most of his career, he has been a main event. I have no words to describe Triple H and his career. Triple H is one hell of a wrestler. He has an amazing career. He is the GAME. He is the King of Kings. And that's for Triple H and HBK, I LOVE 'EM TO DEATH. Long live. RULES, for life.
Hunter for WWE is like what Michael Jordan is for basketball. He holds the business together. I know people think he might be a corporate sell-out, but just look at his achievements: leader of Evolution, and he is involved in everything that happens in the business. Unlike Hollywood superstars that come and go, he stays in the company. Triple H is the biggest ass-kicker in the history of WWE. Just remember those days when he chased Orton with a sledgehammer and gave The Undertaker a beating at Wrestlemania that no other superstar could have done. He completely dominated The Undertaker. He is getting older, and he is the COO of the WWE, so I wouldn't be surprised if he is considered to be a sellout, but we need to respect that man.
7
Hulk Hogan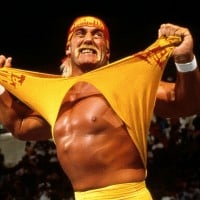 Terry Gene Bollea, better known by his ring name Hulk Hogan, is an American professional wrestler, actor, television personality, entrepreneur and rock bassist.
Hulkster must be @ #1. He made wrestling more popular. WWE ran into a billion-dollar industry and paved the way for today's high-paid stars. He ruled wrestling for over two decades. Hogan is beyond an icon in the wrestling world. You ask anyone who he is, and they know for the most part.

His ability to sell tickets is unmatched by anyone. His past matches basically have proven that if you work a program with this guy, then you are going to get noticed.

He has never been the best worker, and he has the tendency not to put people over, but face facts, fans, there is nobody more charismatic than this man.
People of this generation don't know what it was like to experience WWE back in the '80s-'90s. Hulk Hogan was one of the greatest wrestlers of all time, besides the Undertaker and Ultimate Warrior. He body-slammed Andre the Giant, who was at least 200 pounds heavier than him. He has taken down hundreds of wrestlers, with each win adding to his legendary career. He might've hogged the spotlight and buried some wrestlers, but his fights will not disappoint you.
Not the best-looking, not the most talented, and not the most respected, however, Hulk is the biggest draw and most popular and well-known wrestler in wrestling history! People who don't watch wrestling know the name Hulk Hogan! How many fans in attendance for Hogan vs Andre, Hogan vs Rock, Hogan vs Warrior? Remember, pro wrestling is not Olympic wrestling. It's not entirely real like a sport, it's entertainment! Hulk and Vince M have done more for wrestling than anybody else! From Japan, Canada, and the States, Hulk has received the loudest and longest ovations/cheers in history! Love him or hate him, Hulk Hogan is, by far, the greatest wrestler of all time! Facts are facts!
How in the world is Hulk Hogan not number one on this list? This site needs to be readjusted simply because you have Hulk Hogan listed as the 8th Greatest Wrestler of all time. Have you guys gone mad? I don't even know why I've wasted my time saying this. This is an abomination... Hulk Hogan, the Hulkster, the man who reinvented the entire Wrestling Era. The man who made WWF, the man who made WWE, the man who made WCW. The man who branded himself and put the circle around that C for "Hulkamania" and "Hulk Hogan." The Thunder in Paradise man, Hogan Knows Best, Miniature Wrestling, The Face of TNA, the New World Order Godfather. Hulkamania should be running wild on this page. It's time to Hulk up, fans, and get the votes coming in here to get this icon, this legend where he deserves to be... #1.
8
Bret Hart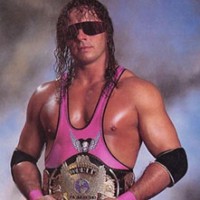 Bret Sergeant Hart, better known by his ring name Bret "The Hitman" Hart, is a Canadian-American writer, actor and retired professional and amateur wrestler. A member of the Hart wrestling family and a second-generation wrestler.
Some may have a great personality or be really good with mic skills, but it is the in-ring performance that really matters, and Bret Hart was the best at it. Even something as trivial as punches and kicks were perfection. He was a good technical wrestler with a pinch of tradition, good at hardcore battle leaving all orthodoxy behind, and also an acrobat to a certain extent. To add to this, great theme music, attire, and character helped a lot. And unlike many legends, he attracted all sections of fans: kids, men, women, and the older crowd.
Bret is the greatest of all time, in my opinion. His skills helped anyone who wrestled him to have their greatest match - British Bulldog, Steve Austin, Shawn Michaels, etc. Bret was the first true "World" champion as no one had defended the championship belt in more countries than the Hitman did. I am amazed by how far down the list he is currently, and I imagine it is from current fans who don't know any better. I mean, how is Triple H so high? I would be the champion so often if I were married to the boss's daughter too. Seriously!
Genuine wrestling skills, no steroids, carried the company through an awful time, made lackluster opponents look good, took all the bumps, never injured anyone, best entrance music including Sergeant Pepper jackets. After watching pro wrestling since 1988, he is still my favorite talent to rewatch. Michaels was an incredible athlete, but his gimmick of an obnoxious arrogant male stripper was way too disgusting, even in the world of WWE. Bret came across as a man's man, and all the family could enjoy him. They don't make them like that anymore.
You cannot put Shawn Michaels's dumb ass in front of Bret. Bret is the most humble (other than Undertaker), and in my opinion, he always did what was best for the business. Don't care what anyone says, Bret has always been my favorite and always will be. Screw Triple H and Shawn. By the way, screw Scott Hall for his lame, drunken remarks on Bret being a pansy. Watch his documentary and tell me who would act differently? I'd spit in Vince's face 10 times over.
9
Randy Orton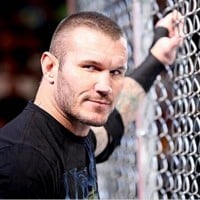 Randal Keith "Randy" Orton is an American professional wrestler and actor who is signed with WWE, where he is a member of the SmackDown brand. He is a 12-time world champion, having held the WWE World Championship eight times and the World Heavyweight Championship four times.
Randy is the best... And at the age of 24, he became the youngest world champion ever... He's the perfect champion... The apex predator... THE VIPER. Randy is the best wrestler ever born in the WWE, better than John Cena, Undertaker, Shawn Michaels, Batista, and every other superstar. At the end, HE CAN BEAT THEM! Nobody is safe from the Viper. He will kick anyone in the skull if they just tried to stand against him. Actually, nobody can. Randy is the best. You must all admit that... What you think doesn't matter because he is the best wrestler ever and the best champion ever.
Randy Orton, AKA "The Viper," "The Apex Predator," or "The Legend Killer," is always the Greatest WWE Wrestler Superstar of all, but that's not all. He can also make his own new moves, he can create a logo, and a new motto: "Orton Vs. Everybody."

Randy Orton also has his own leadership, so he can create his own wrestling group called "The Viperville." He will assign 2 members, Baron Corbin and Finn Balor, to make the group a total of 3 members, and that would be a perfect combination for the group. With that, they will easily prepare to fight and destroy The Wyatt Family. Randy Orton and Baron Corbin - The WWE Smackdown Tag Team Champions, and then Finn Balor - The WWE Universal Champion or The WWE NXT Champion.
He's number 8 on this list, guys? Really? Randy Orton is WWE Royalty, a third-generation wrestling machine, the Viper, the Apex Predator, and don't forget he's the Legend Killer! He has arguably the best and most recognized finishing move in all of sports entertainment and also the deadliest. The RKO even has its own weekly trending hashtag #RKOFromOutaNowhere! He's the youngest World Heavyweight champion, has held both the WH and WWE championships at the same time, he's the second-longest reigning Intercontinental Champion, was the best asset in Evolution, he is a two-time tag team champion, and is the only superstar who will have the whole crowd cheering even when he's the top heel. Orton has beaten every single superstar that has been put in his way, and when he returns, he will continue to do so!
Randy Orton, 12-time WWE & World Champion! Royal Rumble Winner (2009)! Mr. Money In the Bank (2013)! The first superstar ever to become the WWE World Heavyweight Champion! Randy Orton had so many great matches, and some of them were against legends like Mick Foley, The Undertaker, Shawn Michaels, etc. He's the first ever youngest superstar to win the World Champion title in a match against Chris Benoit. He definitely belongs in this list but not in this place. In my opinion, Randall Kenneth Orton belongs in 1st, 2nd, 3rd, or 4th place! Hopefully, Randy doesn't retire in 2018 like he's planning to and stays longer here at WWE.
10
Rey Mysterio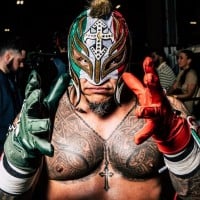 Óscar Gutiérrez, better known by the ring name Rey Mysterio, is a Mexican-American professional wrestler who currently works for WWE on the Smackdown brand.
Rey could sweep any wrestler to the floor or to the ropes. His techniques and moves are guaranteed to take down any wrestler that he fights. He gave all his opponents a good fight in the ring, and he was determined to knock them into submission as quickly as possible.
The Giant Killer, The Biggest Little Man, The Masked Maestro... He is a 2-time world heavyweight champion, former WWE champion, 4-time WWE tag team champion, 3-time cruiserweight champion, 5-time WCW cruiserweight, 2-time intercontinental champion. You GOT to love him...

If he's not in the top 5, I'm committing suicide!
I like Rey Mysterio because he had all the abilities and skill that WWE superstars have. He is small, but he can beat almost all the wrestlers of WWE. He has beaten superstars such as Randy Orton, Kurt Angle, Kane, Alberto Del Rio, and many more. He won his first world heavyweight title at 2006 WrestleMania. When he won, it was the greatest day of my life. I love him very much and want to meet him.
He is very small, but he can even defeat the bigger players like Undertaker easily by using moves like rolling moves such as the tornado dot, monkey flip, bulldog, etc., and flying moves like moonsault, west coast pop, etc., and his best move, 619.
The Contenders
11
Edge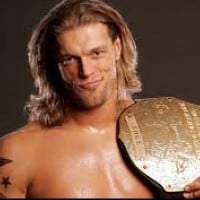 Adam Joseph Copeland is a Canadian actor and professional wrestler. He is currently signed to WWE, where he performs on the Smackdown brand under the ring name Edge.
Edge was such an incredible Superstar. If you ever hear other WWE wrestlers talk about Edge, they all say how he was the best performer and was great in the ring. He just knew what to do. The ring was Edge's home, and he knew exactly how to please the crowd. Edge was in numerous classic matches, laying his body on the line. I always loved seeing him go crazy, waiting for someone to spear, and then finally spearing the guts out of someone. Absolutely no one can beat Edge's spear by the way. Edge is, without a doubt, in my top 3 of the best superstars of all time. Not to mention that his entrance music was the best too! Hate that he had to retire. We miss you, Edge!
He is in my opinion the greatest superstar of all time. His name is in the record books that can never be replaced. He has more titles than some of the greatest of all time. He has 31 titles to his name, which is more than John Cena, Triple H, Randy Orton, Chris Jericho, and even Ric Flair. I loved how he was a goofball with Christian and turned into one of the greatest heel characters of all time, and loved his relationship with Lita and his rivalry with John Cena. He was one of the greatest tag teams of all time with Christian. One of the greatest factions of all time with the Brood (their music was awesome). He had the most insane music that I feel is the best and had one of the greatest matches of all time, both being at Wrestlemania. The first Wrestlemania greatest moment is Wrestlemania X7, which is one of the single greatest TLC matches in the WWE, and in Wrestlemania 24 against The Undertaker.
Edge is without a second thought the greatest WWE wrestler (not actor as John Cena, Austin, The Rock. He's a real wrestler) of all time.

Titles, competitions won, accomplishments say it. Edge is the only person that has won all the basic titles and tournaments and most difficult and dangerous (that cost his career) matches ever (except for Hell In A Cell). There's no wrestling fan (especially WWE fan) on this planet to think that John Cena or Randy Orton or Triple H are more talented and charismatic wrestlers than Edge. Especially when these wrestlers I referred to are not even wrestlers but just actors.
If it was up to me, I would place him above John Cena any day. Edge came out, week after week, and put his body and life on the line despite knowing that he has a life-threatening injury. He came out and gave it his everything. Not only me, but many others say so. I don't mean to disrespect any other wrestler. They earned their spots on the list, but Edge took his performance to a whole new level. He won a total of 31 championships which includes a record 7-time world heavyweight champ. He won the first MITB, a Royal Rumble, a King of the Ring, and an Elimination Chamber, making only one of the two wrestlers to accomplish all of this. He may not be as legendary as The Undertaker and Michaels, but if he had more time, he certainly would have. He retired as the WHC and was inducted into the very next Hall of Fame, making him the youngest alive person (as Eddie was 38 too but dead) at 38 to be inducted into the HOF. He raised the bar, and it isn't for no reason that HHH and Vince want ...more
12
CM Punk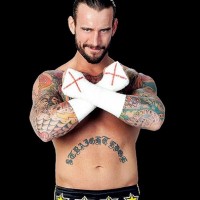 Phillip Jack "Phil" Brooks, also known by the ring name CM Punk, is an American comic book writer, actor, upcoming mixed martial artist and retired professional wrestler who is signed with the Ultimate Fighting Championship. He is best known for his career In World Wrestling Entertainment. He had multiple title reigns over multiple titles. While he was in the WWE, he was the leader of the New Nexus. His finishing maneuvers were the Go To Sleep (GTS) and the Anaconda Vise, many of his other moves were bulldogs, shining wizards, etc.
CM Punk deserves to be in the top ten because Punk is the best in the world. There are a few superstars as influential to the WWE Universe as CM Punk. Always controversial, Punk has never been afraid to speak his mind. Having won multiple World Championships, Punk has the skills to back up his words and the ambition to inspire change in WWE. He caused an uproar in 2011 when he left the company with the WWE Championship in hand. But his controversial absence paid dividends, as he became a fan favorite upon his eventual return.
I don't hate John Cena. I don't even dislike you. What I hate is this idea that you're the best, because you're NOT. CM Punk is the best.

CM Punk's been the best ever since day one, when he walked into this company and has been vilified and hated because Paul Heyman saw something in him that nobody else wanted to admit.

That's right. He's a Paul Heyman Guy. He's the best in the world.

On that microphone, in that ring, and even at commentary, nobody can touch him. He is the best "wrestler" in the world.

There's one thing that Cena's better at than CM Punk is, and that's kissing Vince McMahon's ass. I'm not sure if Cena is as good as "Dwyane" (The Rock), though he's a pretty good ass kisser.
So pissed that this guy left WWE. CM Punk is the best in the world. On the microphone, in the ring, and even on commentary. He accomplished the WWE Championship twice (including one of them for 434 days), the World Heavyweight Championship three times, the ECW Championship once, the Intercontinental Championship once, the World Tag Team Championship once, and two Money in the Bank briefcases. And despite all that, he was never given the chance to headline WrestleMania. I hope he gets more success in the UFC.
Best wrestler, who has the strength to beat anyone. Look at him. His looks and body physique are just like a common man's. Those who have seen matches of CM Punk VS The Undertaker at WrestleMania, Punk VS The Rock, and Punk VS Brock Lesnar at SummerSlam, all know the stamina and power of CM Punk. That was a different thing. Unfortunately, he couldn't beat them, but the matches were awesome and extremely difficult and tough for all those winners.

One unforgettable achievement of CM Punk is that he defended the WWE championship for 434 consecutive days.
13
Brock Lesnar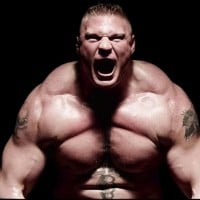 Brock Edward Lesnar is an American professional wrestler and former amateur wrestler, professional American football player, and mixed martial artist who is currently signed to WWE.
In reality, no wrestler in WWE could even stand 10 seconds in a match with Brock Lesnar. He has honed the skill of mixed martial arts, which makes him even more dangerous than when he arrived on the scene the first time. Cena is at #2 on this list only because Lesnar left WWE at his peak. If Lesnar had been around for the last decade in WWE, his stature in WWE would be even bigger than that of Taker, Hogan, Michaels, etc. Moreover, let me tell all the Cena fans that the FU (now AA) is just a cheap attempt to copy the F5. Don't believe me? Then check the record. Brock Lesnar once broke the ring by slamming Big Show from the top. This shows how much strength he has.
Brock Lesnar is the most hardworking and dedicated wrestler. I mean, The Undertaker himself wanted Brock Lesnar to be the one to end his legendary 21-0 undefeated WrestleMania streak. He became the youngest WWE champion, undisputed WWE champion, the king of the ring, and Royal Rumble winner within two years of his debut. And here are those fake wrestling fans because of whom people like John Cena, Ryback, Daniel Bryan, etc. are the cause for so much hype. These guys are just newbies. Brock has truly earned it all, and that's just WWE. He left WWE because he knew WWE was just fake wrestling, scripted storylines, and a lot of money, which was not what he wanted. So, he started doing mixed martial arts and became one of the UFC greats, but that's another story. That's what I've got to say about Brock, the real beast (and the current reigning unified WWE champion).
Brock Lesnar is at #1 in WWE since his return to WWE in 2012. Last Sunday, he defeated CM Punk in SummerSlam 2013. He is the beast. All the WWE fans are mad because they don't ever know the stamina of Brock Lesnar. He has stamina greater than every wrestler. You placed Taker at #1. I think all of you don't know that Taker never beat him in his career. So I think you must change the ranking. Lesnar is #1 in the world.
The beast is the most dangerous guy I have ever seen in WWE history. He is dangerous and so mad in the ring that he was suspended many times and also got suspended from Stephanie McMahon. He is not afraid of anyone because he proved himself to be the most dangerous and the real beast. He attacked many times the greatest and most respectable people in WWE like Mr. McMahon (the father of Stephanie McMahon). Overall, he is the most liked person by everyone, and me too! Do you?
14
Kane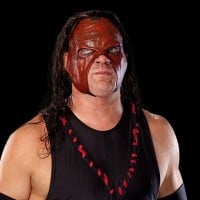 Glenn Thomas Jacobs is an American professional wrestler, insurer, and actor. He works for WWE, and is best known by his ring name Kane.
Kane had the best storyline buildup to a debut more than any other gimmick in the sport of professional wrestling. And intentionally only being a temporary gimmick at the time, just to shock the wrestling world with his skills and physique and his height. But the mask played a major role in his success. Kane was not a talker, just a destroyer. Even without the mask, he showed a demented side to his persona, destroying Raw GM Eric Bischoff, tombstoning WWE owner Linda McMahon on the steel ramp, electrocuting Shane McMahon's testicles, setting Jim Ross on fire, just to name a few.

But Kane also has humor in different ways, like when he showed up during the Minis Matches when he had the mask. His night of destruction (which is my favorite moment of Kane), owning both The Rock and Hulk Hogan in one segment, to anger management where Kane was asked to tell his life story, which everything he said was actually true, laugh out loud.

But even though Kane was more of a mute with ...more
I want the masked Kane back. That masked Kane can really kick everyone's ass out of the ring. He is the best. After the mask went, he went down, so I would like to see the masked Kane back in the ring with Paul Bearer and enter the ring and eliminate anyone who dares to stand in that ring in front of him. He is the best and also has so many records: 17 titles, master of inferno matches, highest elimination in Royal Rumble ever, he won the ECW championship in ten seconds at Wrestlemania. Wow!
Kane is undoubtedly the best wrestler, but WWE just tried their maximum every time to ruin his character! But back in the days of the Attitude Era, he was one dominant force, a demon, a monster. No one actually dominated him back then. And prior to his biceps injury, he was one of the strongest wrestlers ever to enter into the ring!

And of course, Glen Jacobs (his real name) is one of the nicest guys I have ever met. So down to earth and selfless human.

Kane for life! Love you!
No superstar in WWE history has ever made quite an impact as Kane did. Easily one of the most underrated superstars in history, his skills for a big man explain his talent, and from being mute to eventually speaking the best promos in years in 2010, his charisma is out of this world. Sometimes laugh-out-loud funny, but that's what makes Kane, Kane. My favorite moments were not only his debut where he ripped the cage door off the Hell in a Cell but when he turned heel, and Paul Bearer and Undertaker reunited, and Kane went on a full night of destruction. That's what made Kane, Kane. The funny moments are memorable, like the time he mocked Chief Morley by doing the Val Venis thing haha, and mocking both Hulk Hogan and The Rock.

There are many memorable moments with Kane, and I will always be a Kane-a-nite for life. Even if he has changed from anger management to wearing a suit, history shows that Kane is very unpredictable. Haha, looks like the anger management classes didn't ...more
15
Ric Flair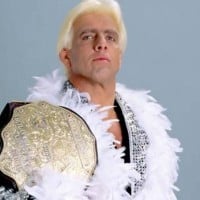 Richard Morgan "Ric" Fliehr, better known by his ring name Ric Flair, is a professional wrestling manager and American retired professional wrestler currently signed to the WWE under a legends appearance contract.
Flair and Hogan are to wrestling what Bird and Magic were to basketball. Flair is the best wrestler, and Hogan made it the commercial success it is today. Today's wrestlers are not near as good. Some are very athletic, but just aren't the overall wrestlers of the past (with the exception of Orton and McIntyre). Cena and The Rock are vastly overrated. Bret Hart and Kurt Angle are the best technical wrestlers of all time. Steve Austin and The Undertaker are the best badasses. NWO (Hogan, Hall, and Nash) and Goldberg deserve tremendous credit for turning WCW's fortunes around back in the late '90s.
Ric Flair is definitely the greatest wrestler in the history of the business. He wasn't considered high on this list because he only spent about 8 or 9 years overall in WWE, and most of that was when he was past his prime. In a career that spans 35 years, he wrestled almost every top superstar in the business and won. Names like Race, Rhodes, Steamboat, Sting, Michaels, Hogan, Savage, Mulligan, Windham, Austin, Magnum T.A., both Valentines, all Von Erichs, Undertaker, Bockwinkel, Lawler, Jericho, Guerrero, Andre the Giant, both Garvins, Backlund, and many more. Also, he won 16 World Championships, 6 U.S. titles, 1 I.C. title, and several World Tag Team Titles mainly with Valentine and Batista. Nobody did it at such a high level for so long.
Is one of the best in every facet of being a pro wrestler: promos, charisma, being a champion, wrestling ability. You name it. Flair has done it. The 16-Time World Champion needs to be at least in the top 5. Ask Triple H, Jay Lethal, or just about anyone else who inspired them, and it was probably The Nature Boy Ric Flair. "You talking to the Rolex wearing, diamond-ring wearing, kiss-stealin WOO, wheel-and-dealin, limousine-riding, jet-flying, son-of-a-gun! And I'm having a hard time holding these alligators down! WOO!"
"The Nature Boy" Ric Flair is the all-time greatest wrestler to ever lace up a pair of boots. 16 times he held the world heavyweight title, not to mention a multitude of other titles he won along the way. This man has dedicated his entire life to professional wrestling. No one can put on a performance like Ric Flair. His matches were worth every penny to watch. He was almost always in the main event, and he also delivered a stellar performance. Highly skilled in mat wrestling as well as ring psychology, he dominated wrestling for decades. Next to Ric Flair, all other wrestlers are virtually forgotten. His figure-four leg lock that he acquired from the late Buddy Rogers has served him very well as the coup de grace for any opponent he faced. Once he applied it, the opponent either gave up or had his leg broken. I take my hat off to Ric Flair. He sold out main events at the venues he appeared at. There will never be another like him--never. His interview skills and command of the ...more
16
Chris Jericho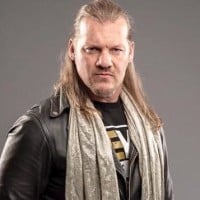 Christopher Keith Irvine, better known by the ring name Chris Jericho, is a Canadian-American professional wrestler, musician, media personality, actor, author, and businessman, currently signed to AEW.
This really pisses me off. Jericho 21? Can I remind you that he is a multi-time world and WWE Champion! 9 Time Intercontinental Champion! First Undisputed Champion by beating The Rock and Stone Cold Steve Austin in the same night. Chris Jericho has beaten the greats like Undertaker, Kane, CM Punk, Steve Austin, Rock, Edge, Randy Orton, Rey Mysterio. Hell, he beat Shawn Michaels on consecutive occasions in the same month, including defeating him to retain the world title.
Most consistent superstar who has the best match of the night more than anyone here on this list. He can turn from face to heel in a split second, and nobody is questioning it because he is so good. Top 3 superstars at the mic, cuts promos like a boss, and always has a great in-ring match. Only 2 other superstars have that talent of the mic, character building, and in-ring performance, and that is Shawn Michaels and Rick Flair, and Jericho has gone from the attitude era to PG-era and still is as relevant, if not even more. Drink it in, man. If you don't agree, then just shut the hell up!
There's a reason Christopher Irvine is the Millennium Man, Chris Jericho.

Y2J's debut in the WWF was the greatest debut of all time. There have been 3 comings of Y2J, which is enigmatic, and what a charismatic man Jericho is!

Greatest Heel of all time. The one true Best in the World at what he does. The World is Jericho. The Illuminati is Jericho.
The man who was the first Undisputed Champion is #21?! He's lower than CM Punk, Jeff Hardy, and Brock Lesnar?! Are you serious? This list means nothing if you have him at 21. He should be in the Top 5. He is the best in the world at what he does. Your list is irrelevant because of the fact you put him this low.
17
Jeff Hardy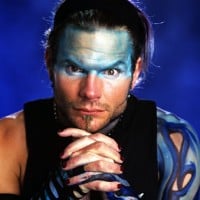 Jeffrey Nero "Jeff" Hardy is an American professional wrestler, singer-songwriter, painter and musician.
I don't think any list even has Jeff Hardy, but he's on my list, and I will give 3 facts why he should be number 9:

1. He is one of the greatest risk-takers the WWE has ever had. His Swanton Bomb, his Whisper in the Wind, and even his basic high-flying move - my point is he just isn't scared of anything.

2. He and his brother Matt are just one of the best teams. The Hardy Boys, I mean, not better than, but they're my second favorite team, and what's better than seeing Jeff and Matt battling it out!

3. I'm kind of out of reasons, but here is one: His face paint. I know you might think face paint is a big deal, but go to Google and type Jeff Hardy face paint, and you will be stunned.
Best ever in WWE. You can't fake home-jumping off a 20-foot ladder through tables. He is the person in WWE that I had the strongest connection to. When he won the WWE championship, his speech was so awesome. He said the title was for the rejects and screw-ups. I dig that about Jeff. He shows his love for all his fans, including the outcasts. Jeff Nero Hardy rules!
Jeff Hardy, in my opinion, is one of the most successful superstars of all time. Not only was he a very big part of WWE history along with his team, but he had a great connection with all the WWE universe. I love him and I respect him so much, and I believe that the Hardy Boys' return at Wrestlemania 33 was the highlight and maybe the return of the year.
He played in Wrestlemania against Undertaker in 2006, and he lost, but he's still one of the few men to have defeated at least Edge and Shawn Michaels, and both in the same year! In 2008, between January and April. The best World Heavyweight Champion of our last generation, him and, of course, Randy Orton.
18
Goldberg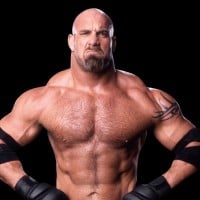 William Scott "Bill" Goldberg is an American actor, former professional football player, and semi-retired professional wrestler.
Goldberg in WCW was one of the best times you'll see in wrestling. His WWE career was average. In WCW in 1998, that's how WCW got their ratings. Goldberg's biggest match was against Hollywood Hogan. They should have built it up for Starrcade 1998. It would have been the biggest attendance of all time. Instead, they put it on Monday Nitro.
Goldberg is the man with the Iron Fist. You cannot simply compare him with other wrestlers of all generations. The people who don't believe me definitely need to watch his journey in WCW, his undefeated streak of 173-0, and all the big names like Hulk Hogan, Lex Luger, Raven, Triple H. The list goes on. They were never able to come to the level that Goldberg reached, so before commenting on disliking this comment, PLEASE first watch at least 10 matches of Goldberg.

I still have all matches of Goldberg on my PC.
Goldberg... His 174th match and 1st loss was caused by a TASER. He utterly destroyed Kevin Nash, knocked two wrestlers right out of the match that tried to help out Kevin, and then got hit by a taser. He was going to win, and it was obvious, but the taser just did him in. He holds the best win/loss ratio in the wrestling industry, and no way in hell you're going to get up from two of his jackhammers, you're dead. No way in hell is ANYONE going to be able to beat him in a valid one vs one, disqualification match. None of the best wrestlers today would be able to do him in, he can take a lot more damage than Undertaker. Hell, The Undertaker even lost to the Big Show, and Goldberg completely and utterly annihilated him. Not many people can say they picked up Big Show, let's not even think about the jackhammering. Peace.
I have seen Goldberg in his matches, and I think he should be placed #1 with The Undertaker. He has beaten most of the very great WWE superstars mentioned above him.

I can't believe John Cena is #2. I can accept that he's incredibly strong, but has not enough strength in him to beat Goldberg because I can guarantee that he cannot kick off Goldberg's jackhammer.

Goldberg ought to be #1 with Taker because no great superstar, including The Rock, can become a fan favorite like him.

WHO'S NEXT!
19
The Ultimate Warrior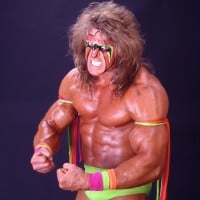 Warrior was an American professional wrestler, who wrestled, among the others, under the ring name The Ultimate Warrior for the World Wrestling Federation from 1987 to 1991 and again in 1992 and 1996. During his 1998 stint in World Championship Wrestling, he was known as The Warrior.
Ultimate Warrior won the title 4 times, and he didn't use as many steroids as all the other wrestlers did. Plus, he beat all the greats, including Undertaker, Hulk Hogan, Andre The Giant, Terry Funk, Rowdy Roddy Piper, Stone Cold Steve Austin, Shawn Michaels, and I could go on even longer! Plus, he was one of the first greats. He basically ruled the late 80's to the late 90's.
Legend, pure and simple. Yes, he was all clotheslines and shoulder blocks and 2-minute squash matches, but that was what the persona was. What would have been the point in being the Ultimate Warrior if it had been 20-minute matches every time? The most entertaining "wrestler" that I have ever watched. RIP, Mr. Warrior.
People forget how popular the Warrior was. He is the only guy on this list that was a pure, larger-than-life cartoon character. His energy was unmatched, and when you hear his music, you feel that power. When he died, just look at the reaction. His character was beyond loved.
26? This guy was the first man to kick out of a Tombstone, never tapped out, no-sold a Pedigree, beat Hulk Hogan, one of the first men to have an Intercontinental Championship and the WWF title, and lots more! And Cena number 2? He tapped 4 times! Angle 2 times, Y2J, and Benoit. This guy... Top 5, no doubt about it!
20
Kurt Angle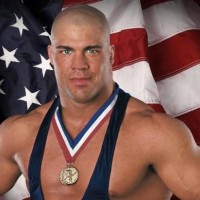 Kurt Steven Angle is an American professional wrestler, actor and former amateur wrestler currently signed to professional wrestling promotion WWE, where he was the on-screen general manager of the Raw brand and an occasional wrestler.
24? That's so low for the guy who is the only wrestler to win a gold medal at the Olympics, with a broken neck. Nobody else could do that if they tried. Kurt is a top 10 and one of the best performers, and makes so many matches like vs Shawn Michaels at WM 21 and vs Stone Cold at SS 2001. He deserves a lot more credit because he is way better than Brock Lesnar, Goldberg, CM Punk, Randy Orton, and Batista. Give him more respect, please. He is amazing!
One of the funniest, most entertaining takers in history; face or heel. But his wrestling ability is world-class, and he can have good matches with anyone. He is the only wrestler to have had a good match with Brock Lesnar without the need for blood. He is one of the very few wrestlers that can have a great match without needing blood. But he can also bleed.
True, the fact that, in real life, the Olympic champion would beat any one of these guys in combat is probably not reason enough to give him the vote, but add that he's one of the best in-ring performers, that he can be a hilarious heel or a likable face, and that he has the best theme music EVER, and that's more than enough to give him the vote.
Kurt Angle should be higher than Kane, CM Punk, Rey Mysterio, and Batista. Kurt Angle is a champion, including being an Olympic gold medalist. Kurt Angle should be in the top ten or higher. He is amazing and has been in some of the best matches of all time, even if he won or not. Kurt Angle is the GOAT.
21
Randy Savage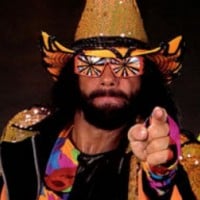 Randy Mario Poffo, better known by his ring name "Macho Man" Randy Savage, was an American professional wrestler and color commentator best known for his time in the World Wrestling Federation and later the World Championship Wrestling.
He performed in the WWF in the late 80s and the early 90s. He has been in 3 WrestleMania Main Events. The first time was against the Chinese legendary superstar Ricky Steamboat "The Dragon," and he lost after the "Dragon's Revenge" from his broken neck. Then in 1989, he faced King Hulk Hogan after thrilling Miss Elizabeth, his spouse, but he lost. In 1992, Ric Flair "The Nature Boy" posted a video of him with a picture of Elizabeth. Randy refused every interview and faced the Main Event of the year, and he won that time. He was probably unlucky at WrestleMania, but he has the 8th best WrestleMania moment after his wedding to Miss Elizabeth at the WWF entrance. The former Intercontinental champion was one of the most hated superstars of his era. Elizabeth and he both died.
Macho, without a doubt, was the entertainment of all his matches. He kept you on the edge of your seat in all his matches. When he was a bad guy, you didn't expect him to turn good, and vice versa. With all the other wrestlers, especially Four Moves Hogan, you knew what the outcome was going to be right away. I know I stopped watching WWF wrestling once he left. It really became lame.
Savage was such a colorful and entertaining wrestler. He could be a face or heel, and fans still loved him. His ability to adapt to any style of wrestling made him special.
Not only was he great as a wrestler, but he was also much more entertaining to watch. He kept you on the edge of your seat in every match, and he kept you laughing in every interview.
22
Batista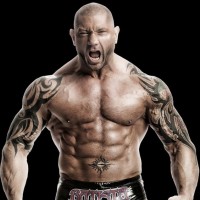 David Michael "Dave" Bautista Jr. is an American actor and former professional mixed martial artist and professional wrestler.
This guy is great at wrestling, and that's what I just said, one of the reasons I came here. But the MAIN reason why I came here was that 2 weeks ago from now, I had a little feeling that I was going to get a little bit POed. And that feeling just came true. And you know what it is? I'll tell you. People on the Monday Night that Batista returned started to tweet that "The Animal" will WIN the Royal Rumble. Which is exactly what happened last night. Now I start seeing people tweeting how Batista shouldn't even have won it or didn't even deserve to win it. Now I start hearing people booing Batista tonight? PEOPLE, what did Batista do? He's only been in the WWE for a week, and at least give him a little bit more respect than this. He only won the Royal Rumble, which is impressive because it was his second Royal Rumble win. My point is, he's a very talented wrestler and a very athletic man. Just stop criticizing him. He didn't even do anything wrong!
Batista should be the number 2 because:
1- Batista and John Cena were the last two superstars in the ring at Royal Rumble 2005, and Batista eliminated John Cena to win the Royal Rumble 2005.
2- Batista beat John Cena at the 2008 SummerSlam.
3- Batista beat Triple H three times in succession. All of them were for the world title.
3- Batista beat Shawn Michaels in a stretcher match, and much more.
4- You guys know that Rey Mysterio cannot be in Batista's pole.

This is how the top 10 need to be:
1- The Undertaker
2- Bill Goldberg
3- The Ultimate Warrior
4- Hulk Hogan
5- Stone Cold
6- The Rock
7- The Animal Dave Batista
8- Brock Lesnar
9- Triple H
10- John Cena
You are the best wrestler in WWE! Batista, when you defeat Randy Orton, the face of Randy Orton is really very funny! And I am so angry with your friend Rey Mysterio. I never accepted this, but I want to know why your friendship is broken. I know there is a great reason. Your opponents did this. I will never accept this, but maybe it is Randy Orton. I want to break the face of the Undertaker because I know you are a legend of WWE. You have to defeat every superstar of WWE.
Batista is obviously the best. You can't see it by his statistics, but you would know if you just watched him compete in the ring. No one comes out of that ring without a broken bone, and Batista never goes down without a fight. He has beaten mostly everyone, like Undertaker, Cena, Orton, Edge, Benoit, etc. He is also all-pro on the mic, probably the greatest.
23
Eddie Guerrero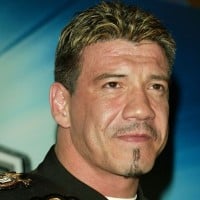 Eduardo Gory "Eddie" Guerrero Llanes, was a Mexican-American professional wrestler and a member of the Guerrero wrestling family.
One of the greatest superstars in SmackDown! history. He is a one-time WWE champion, 1-time United States champion, 4-time WWE tag team champion, 2-time European champion, 2-time Intercontinental champion. He also won other championships during his time wrestling in other companies such as WCW, ECW, and A. Without any doubt, this legendary Hall of Famer is one of the greatest wrestlers in WWE history.
Eddie should at least be #9. He is probably the only wrestler in history who had a ring instead of a trampoline in his backyard. And you're saying that Daniel Bryan is better than him? No way. His ability to wrestle is out of this world. I miss Eddie so much. Thank you, Latino Heat.
The most passionate wrestler to ever embrace the brand... One of the most technical wrestlers with the best personality... love you Eddie. My thoughts will always be with you. Rest in Peace, Latino Heat! VIVA LA RAZA!
I had the biggest crush on him over 5 years ago, and he is special because he was the very first guy I ever had a huge overwhelming crush on! He'll always be that first guy, and nothing anyone can do will change that.
24
Mick Foley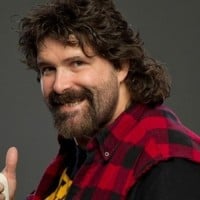 Michael Francis "Mick" Foley Sr. is an American retired professional wrestler, writer, color commentator, actor and voice actor.
A person who has always put his body on the line every Monday Night.

The reason he should be number one?

1. He has been thrown off the cell, and then he was thrown through the cell and later chokeslammed right on the thumbtacks. Undertaker vs. Mankind, King of the Ring '98.
2. He had taken 10 chairshots just to have the WWF Title. Royal Rumble '99.
3. He has always put his body on the line every Monday night. He explains his actions by saying, "The viewers give all their hard-earned money to see the show. If they don't get what they deserve, I won't be able to look at myself in the mirror." These words show the love that he had for the business.
4. Cactus Jack. <- This word explains it all. He has had one of the greatest hardcore matches in the history of Professional Wrestling.

This guy has made me love him ever since I watched King of the Ring '98 on YouTube.

Foley is GOD.
There are a lot of people voting who are apparently too young to have ever seen Cactus Jack or Mankind in the ring. If they had, Mick Foley's rating would have been much higher. This man completely sacrificed his body in every match. In the ring, a few good throws and a choke slam might stop him. In real life, you would need a half dozen Marines and a bulldozer.
One of the coolest (and funniest) costumes I've ever seen on a superstar. He is really Mick Foley, one of the greatest wrestlers who ever lived. He is also Mankind, who got chokeslammed off of a cell by Undertaker onto an announcers' table and lived to tell the tale. His incredible finisher and wrestling make him one of the greatest.
The hardcore legend. The man gave his heart and soul in every match he ever participated in. He was thrown through cells and off cells. He was chokeslammed, pedigreed, and super-kicked to hell. But the man wouldn't give up. The ultimate underdog and an example of someone who gave absolutely everything they had to give for the love of the fans!
25
Andre The Giant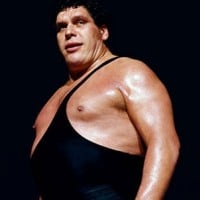 André René Roussimoff, known as André the Giant, was a French professional wrestler and actor. André He most famously feuded with Hulk Hogan, culminating at WrestleMania III, and his best-remembered film role was that of Fezzik, the giant in The Princess Bride. His size was a result of gigantism caused by excess growth hormone, which later resulted in acromegaly. It also led to him being called "The Eighth Wonder of the World". In 2014, he was named the ninth tallest professional wrestler in history. ...read more.
There is no one who defeated the opponent like Andre did. Every time he toyed with his opponent, drawing out the pain to please the audience. Never has one gone before who has been so great. We should never forget about this giant. Even his last match with Hulk Hogan was pre-arranged so that Andre would purposely lose. Andre was undefeatable and feared by all in the ring. He should definitely be in the top 10, if not #1! Such a great man!
The 8th wonder of the world is the greatest wrestler of all time. Everyone stood in awe of this man, and nobody could truly beat him. He has the longest undefeated streak in the history of wrestling. He truly is the champion of champions.
Most people don't remember him because it's been about 25 years since he wrestled. As big and strong as he was, he would have been nearly unstoppable today. The Big Show is a joke compared to Andre.
He was so awesome that no one even wanted to be in the same ring with him. He was so huge that nobody could defeat him honestly. People didn't want to wrestle him. They ran away from him.
PSearch List