Top 10 TNA Wrestlers of All Time
The Top Ten
1
A.J Styles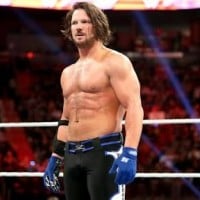 Allen Neal Jones, better known by the ring name AJ Styles, is an American professional wrestler currently signed to WWE.
No doubt its aj styles was the franchise piece for tna went out every night put on a 5 star match had the greatest rivalries kurt angle, samoa joe, Christopher daniels the best in ring wrestler I've seen considering I watch the wwe talent as well..AJ styles is the best to ever step in that ring
The best wrestler ever. Styles is absolutely phenomenal. He is the true deal. This guy is pure action. The first and the only wrestler who made me mesmerized. Die hard fan here. LOVE HIM TO BITS.
He is just amazing in lots of words styles has a very very good history from every promotion he has been at since he debut. Aj is a former battle of los angeles winner if anyone didn't know.
AJ Styles.. Phenominal doesn't even begin to describe this mans ability. When any of yu are his age id like to see you do any of the suff he does! Most amasing inspirational guy in professional wrestling. Kurt angle shouldn't be on this list! Enough said!
2
Sting

Steve Borden, better known by the ring name Sting, is an American retired professional wrestler, actor, author and former bodybuilder.
Sting is a legend. You can't take away noting from sting really he's awesome. He is better then kurt angle
The icon is my favourite wrestler and he got the huge power power to submit the zero angle
Sting is the best wrestler in TNA he defeat abyss, kurt angle, Bully ray, and jeff hardy
The legendary wresler. However I am disappointed with how he is using in WWE a wrestling genius
3
Kurt Angle

Kurt Steven Angle is an American professional wrestler, actor and former amateur wrestler currently signed to professional wrestling promotion WWE, where he was the on-screen general manager of the Raw brand and an occasional wrestler.
The list is just the way I would like it to be: Angle is the best wrestler in the world, any company. Sting is a living legend, uniquely awesome for his age and the only one not to sell out to the WWE. AJ... AJ is phenomenal. And Christian used to rock in TNA. Too bad he went back to that other show.
This man is not greatest wrestler in TNA he isn t really good. Even sting could beat him
What the fudge he should be number 1 intensity intelligence integrity
Kurt Angle is the best wrestler in the planet and that's the bottom line.
4
Bobby Roode

Robert Roode Jr. is a Canadian professional wrestler currently signed to WWE performing in its developmental territory, NXT.
Longest holder of TNA Championship and longest holder of TNA tag team championship
I have an opinion ok? I don't agree because all he does is regular moves unlike guys like AJ Styles and Samoa Joe who are better. SMH
5
Jeff Hardy

Jeffrey Nero "Jeff" Hardy is an American professional wrestler, singer-songwriter, painter and musician.
This man is the heart and soul of TNA. He is a multiple time WWE tag team champion, and he has been WWE world champion. He even beat Edge and HHH in a triple threat match to win the WWE championship, Which is hands down the biggest honor in the wrestling industry except being inducted into the WWE hall of fame. He could beat A.J. Styles 123 in the middle of the ring after 10 minutes. I don't agree with the #3 placing. He should be #1.
He is the man because of whom I watch wrestling. I think he is the greatest legend on earth. I can't live a day without seeing his matches. He is the most skillful high flyer the wrestling universe has ever seen. He can beat anyone in the earth.
This guy is the only reason I occasionally watch TNA! He should be #1! If you ever read this Jeff, go back to the promotion that I started watching you in (WWE) and become WWE Champion again!
He has won so many championships in we and could of been the longest raining tna champion if Bully Ray and could of been the man who won the most tna championship if Bobby Roode didn't cheat.
6
Samoa Joe

Nuufolau Joel "Joe" Seanoa, better known by his ring name Samoa Joe, is an American professional wrestler, currently signed to WWE and performing in it's Monday night show, Raw. He is most well known for his time in NXT, where he was a former two time NXT champion.
He should have been a top guy in tna, and the fact that he was only a 1 time tna champion shows why tna was a failure.
I like how the top 7 were all wwe fighters and have had it better there besides Aries and roode
The best there is, the best there will ever be
Joe's gonna kill you!
7
Abyss

This guy has been in TNA longer than most wrestlers, and he falls on thumbtacks, flaming table and gets a piece of glass smashed on his head.
And one time RVD kicked his bottom teeth out and he still carried on.
He's one of the best big men in pro wrestling. Some of the beatings he has taken are insane. A prime example is the barbed wire massacre match against Sabu.
Abyss is very strongest I like him and I want to meet him
One of the most monster
8
Austin Aries

Daniel Healy "Dan" Solwold Jr. is an American professional wrestler, better known by his ring name, Austin Aries. He left WWE in July 2017. He's currently signed to Impact Wrestling.
9
James Storm

James Allen Cox better known by the ring name James Storm, is an American professional wrestler who is best known for his time with Impact Wrestling, and a brief run with WWE's developmental territory NXT.
He has been one of the must underrated singles wrestlers ever, even though he had a title reign, it was 8 days and he has been one of the only tna wrestlers that has remained consistent while wrestling. Not to mention he is the best talker in TNA
This man is a legend
Personally my favorite
10
Christian Cage
The captain charisma is left out of my top tne list, because I want to see how many people vote for'I'm. Search the brunothemusicmaster tna top ten wrestlers!
Awesome dude, but now he's getting beat up in WWE Raw.
The Contenders
11
Jeff Jarrett

Jeffrey Leonard "Jeff" Jarrett is an American professional wrestler, wrestling promoter, and co-founder of Total Nonstop Action Wrestling, which he founded along with his father, Jerry, and more recently, Global Force Wrestling.
Guy this man is no joke he has beaten many
12
Christopher Daniels

Christopher Daniels has to be at least 5th on this list. Disgrace for him to not be in the top 5. If this were for in ring wrestling it would be between him Styles and Angle. He should have been world champ. So underrated it's unbelievable one of the true TNA goats.
Should have been world heavyweight champion, one of the greatest wrestlers ever
Christopher Daniels was one of the most talented men in tna's history
He gave his heart and soul for tna
13
Chris Sabin

Record breaking 8 time TNA X-division champion and a part of the motor city machine guns.
Chris Sabin actually tried to sign with WWE, but the turned him Down. I could just Imagine how WWE would Book, if the gave him a Chance

WWE Also Needs to Sign

Alex Shelley
Jay Lethal
The Young Bucks
Michael Elgin
Adam Cole
Christopher Daniels
Prince Puma
Blue Demon Jr
EC3
Candice LeRae &
The Bromans
Record 8 time TNA Xdivision champion
14
Suicide
What a name I think he doesn't have face eyes nose ear
Suicide suicide suicide
15 Mr. Anderson
16
Shannon Moore
He is so hot
Dashing and wow!
He is really amazing.
He fights for his fans only.
17
Alex Shelley

Alex Alex Alec Alex
18
Bully Ray

Mark LoMonaco is an American radio talk show host and professional wrestler currently working for Ring of Honor under the ring name Bully Ray.
He proved that he could be a great main eventer.
Bubba not "Bully" IDIOT
19 Scot Steiner
20
Rob Van Dam

Robert Alex "Rob" Szatkowski, better known by his ring name Rob Van Dam, is an American professional wrestler and occasional actor.
RVD shouldn't be last. He incorporates kicks beautifully, and he has a better frog splash than the late great Eddy Gurero.
Rob van dam full weapon show
He is like the best rvd!
The whole show
21
Booker T

Booker Huffman Jr., better known by his ring name Booker T, is an American professional wrestler, promoter, and color commentator who is currently signed with WWE as part of the pre-show team on Raw.
22
Rhyno

23
Bobby Lashley

Franklin Robert "Bobby" Lashley is an American professional wrestler, mixed martial artist, and former collegiate amateur wrestler and former United States Army sergeant currently signed to both Bellator MMA, where he is undefeated through four heavyweight fights, and Total Nonstop Action Wrestling, ...read more.
Lashley is an amazing wrestler and a beast to wrestle against
Come on he is strong put him on 1 already
Bobby Lashley should be in the top 10
He has a lot of strength and power
24
Eric Young

Jeremy Fritz is a Canadian professional wrestler and television personality. He is currently signed to WWE, where he performs on the Raw brand under the ring name Eric Young; he was also the leader of the stable Sanity.
Maad useless shortempaurd
Blooody useless
25
Kevin Nash

Kevin Scott Nash is an American professional wrestler and actor, currently signed to WWE under their legends program. He is best known for his time with World Wrestling Federation under the ring name Diesel, and World Championship Wrestling under his real name.
PSearch List