Best Detroit Tigers Players
The Top Ten
1
Ty Cobb
Greatest player ever.. No one will ever surpass his career batting ave
Obviously, do I even have to explain this one?
Best of all time, if he would've been black everyone would say it too
He is a big jerk
2
Al Kaline
Mr. Tiger could do it at the plate and with the glove. One of only two lifetime Tigers to reach 3,000 hits (Cobb). Youngest player ever to win a batting title and a Hall of Famer and helped bring the Tigers the 1968 World Series Title.
A true 5 tool player! And one of the youngest players ever to make it to the Majors if I remember correctly.
3
Miguel Cabrera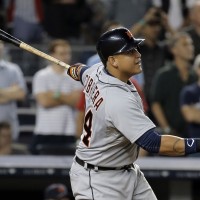 José Miguel Cabrera Torres, commonly known as Miguel Cabrera and nicknamed "Miggy", is a Venezuelan professional baseball first baseman who plays for the Detroit Tigers of Major League Baseball.
Hands down, if he retired today he would be on this list. Kudos to George Kell, but Miggy is a once in a lifetime player.
Hands down best ever
No one better!
4
Charlie Gehringer
Charlie Gehringer was the premier second baseman of the 30s and 40s. He too is a Hall of Famer, and led the Tigers to a World Series championship in 1935 and 1940. Like many players of his era, Charlie's statistics were cut short due to service during WWII.
5
Hank Greenberg
Any man that put up with all the racist people and still was the best player of his era and not the least bit bitter and became the face of all that is good. Has my vote! I'm a German American tiger's fan who loves all of God's children. Especially the ones who forgive the fools who bring hate god bless Hank
Hank was known as the first Jewish athletic superstar. He played with Charlie Gehringer and helped win the 35 and 40 World Series. Hank is also a Hall of Famer and still holds the Tigers single season record for Home Runs with 58. His career was also cut short due to WWII
He was such a nice man
He was so nice
6
Jack Morris
OK, I know Hal Newhouser could definitely be on here. But Jack Morris deserves to be in the Hall. The winningest pitcher of the 80s, he pitched 14 of his 16 years with Detroit and won them the World Series in 84. Not to mention the fact that he was the ace on two other World Series winning teams. He also pitched the 2nd greatest game in World Series History next to Don Larsen's perfect game, a 10 inning 1-0 shutout for the Twinkies in game 7 of the 1991 World Series.
7
Mickey Cochrane
What else can you say about a HOF catcher who helped lead the Tigers to the World Series Championship in 35? Oh, I know he also managed that team!
8
Alan Trammell
Undoubtedly Tram would be much higher on this list if his career wasn't cut short by injury. Another of the 84 Tigers who is being slighted by the Hall of Fame voters. Unfortunately for him, he came through the MLB during the golden age of shortstops, being overshadowed by the likes of Cal Ripken Jr. And Ozzie Smith. By the way, Tram still outshines Ozzie Smith in every offensive statistical category, and he could also flash the leather. Ozzie back flipped himself into the HOF.
9
Sam Crawford
Sam was one of the early 20th century legends, fellow ball player Fielder Jones once said "None of them can hit quite as hard as Crawford. He stands up to the plate like a brick house. And he hits all the pitchers, without playing favorites. When Sam's hitting, they all look alike."
Its Joeysworld
If Ty Cobb wasn't a Tiger, Sam Crawford would be known as the greatest of the early Tiger ballplayers
10
Justin Verlander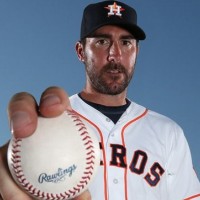 Justin Brooks Verlander is an American professional baseball pitcher for the Houston Astros of Major League Baseball.
If his current woes are just a fluke. He will soon push past Newhouser and Morris and become the greatest Tiger Pitcher of all time.
Verlander is a boss
The Contenders
11
Lou Whitaker
Great clutch hitter -wore pitchers down. Graceful athletic infielder- made challenging plays look routine.
Great clutch tiger
12 Mike Maroth
13 Lance Parrish
14
Kirk Gibson
Why this guy is not higher on the list I don't know. He might not have had the greatest career numbers but every time he was in big world series moments he was spectacular!
15 Norm Cash
16
Mark Fidrych
Although he didn't stay long as a Tiger, 1976 will forever be remembered in Tigers Lore. Fidrych won 19 games, named American League Rookie of the Year, had an era of 2.34, pitched in 24 complete games and averaged 33,649 fans when he starts for the Tigers and was the starting American League Pitcher in that year's All-Star Game.
Its Joeysworld
17
Mickey Mantle
He's awesome on any team
18
Bill Freehan
Best catcher of all time
19
Ian Kinsler
Good second baseman
20
Mickey Stanley
He was a fantastic centerfielder.

He was a great all-round athlete.
21
Hal Newhouser
Interesting parallels with Koufax. Five year span--phenomenal, despite bad breaks (1947) and injury (1948).
3 years: 80 wins, composite ERA below 2.00. 5 years--118 wins. Game 7, 1945, on 2 days' rest (like Koufax against Minnesota). Like Koufax, brought up too early, should have been learning to pitch in the minors. For a few years best pitcher of his time, even topped Feller. 2 times MVP and 3rd year runner up to Ted Williams. No Cy Young then but he'd have had at least 3 (maybe 4 with 21 wins in 1948).
22 Victor Martinez
23 Willie Horton
24
Denny McLain
You got that right, and no year ever captured Denny at its best than 1968. 31-6 record, 1968 American League Cy Young Award and MVP. a 1.96 ERA, 280 strikeouts, 1968 Associated Press Male Athlete of the Year. Denny even played in the ALL-Star Game and yes he played on that World Championship season in a city that needed a lift just one year after the Detroit riots.
Its Joeysworld
Say what you want about him...His record with Detroit was outstanding
25 Ivan Rodriguez
PSearch List