Top 10 Best Baseball Players of All Time
The Top Ten
1
Babe Ruth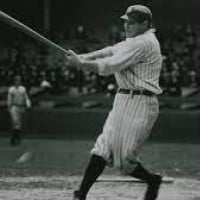 George Herman Ruth Jr., better known as Babe Ruth, was an American professional baseball player whose career in Major League Baseball spanned 22 seasons, from 1914 through 1935.
Ruth, ah, Babe Ruth. The single greatest player of all time, bar none. Number two and so forth really begin at number three at best. Mays, Aaron, Mantle, Williams, etc., were very, very good players. Ask what any of them couldn't do? They couldn't pitch. Young, Alexander, Seaver, etc., couldn't hit. Ruth did it ALL. That's right, he could do it all. How many players had three 20-win pitching seasons and led the league in batting average and home runs lifetime? Yes, players lost time to wartime service, but Ruth lost at-bats because he was a pitcher for his early years. Take Clemens or Feller or Gibson and tell them, "Great job pitching, now become one of the greatest hitters, lifetime average, home runs, etc." Not happening. Ask Mays, Williams, Aaron, etc., to stop hitting and win us 20 games as a pitcher. Ruth, the best ever of all time, all who follow are good, only good.
Yes, the best player ever to play the game because he hit in the dead ball era and hit the ball with power to all fields. He would have had another 40 to 50 home runs in the 1925 season if he had not been suspended due to marital problems with his first wife. Thank God his second wife helped him, and he hit the record of 60 home runs in the 1927 season - a record that stood until Roger Maris hit 61 in 1961 as a Yankee. Hank Aaron came to bat 2,000 times more than the Babe, and if they had not walked Ruth so much, he would have hit 800 or more home runs. He would have been a great manager as well but was never given the opportunity because of prejudice. He was as good a pitcher as anyone in either league at the time in his career as a Boston Red Sox pitcher. He saved the game because of the 1919 Chicago White Sox scandal where people would have lost interest in the game if it were not for Babe hitting home runs when others were not. He made the game our "NATIONAL PASTIME" and was a great ambassador for the game later in his life and up until his death in 1948. Yankee Stadium is truly the house that Ruth built, and his spirit will always be at rest and alive at Yankee Stadium.
2
Willie Mays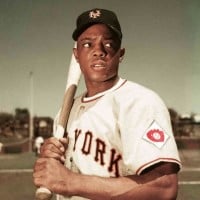 Willie Howard Mays, Jr., nicknamed "The Say Hey Kid", is an American former Major League Baseball center fielder who spent almost all of his 22-season career playing for the New York/San Francisco Giants, before finishing with the New York Mets.
Mays, Ruth, and Aaron are the top three. The rest of the top ten are debatable, but I would certainly include Gehrig, Williams, and Pujols in there. Pujols was overshadowed by Bonds, and even though Bonds was a great player (even before the steroids), the fact remains that he knowingly cheated. Rickey Henderson and Derek Jeter do not belong in the top 25.
It's hard to decide who is better, but they're all really amazing. However, based on overall skills and athleticism, Willie Mays and Jackie Robinson were incredibly fast for baseball players. Baseball does not require as much speed as some other sports, but it does require speed too, and Willie also possessed lots of strength and endurance. Athletes like Babe Ruth would naturally have more strength.

Also, Willie Mays was more athletic, and he had the best skills. He is an amazing legend. He could hit more home runs on a regular basis and could be a little better than Babe Ruth. They're both so good. Willie Mays had better hitting than pitching and better pitching than catching. He was really good at all of that. A record can always be broken every 60 years. However, it is also about trying your best and having a passion for sports.
3
Hank Aaron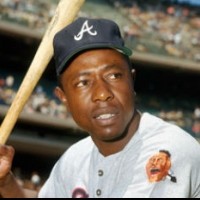 Henry Louis Aaron, nicknamed "Hammer" or "Hammerin' Hank", was an American Major League Baseball right fielder who served as the senior vice president of the Atlanta Braves.
I think Aaron should be ranked above Willie Mays because Aaron was three times better than Mays. True, he never hit 50 home runs in a season, but he had many seasons with 40 home runs. What's surprising is that even though Hank Aaron had more total bases than anyone else, he had a lower slugging percentage than guys like Mays, Hank Greenberg, and Ted Williams.

While Babe Ruth was a great player, Aaron was the greatest hitter of all time. Ruth excelled as both a hitter and a pitcher, but Aaron was a great all-around player. If you take away all of his 755 home runs, he would still have 3,000 career hits. This is because he had 3,771 hits in his career. Subtract the total number of home runs from that, and he would have 3,016 hits.

Aaron also had a large number of doubles and nearly 100 triples in his career. In terms of power, he surpassed both Ruth and Mays. I believe he would still hold the home run record, as I don't think Barry Bonds deserves it.

When Bonds was with the Pirates, he was slim and a really good player, but not exceptional. Once he left Pittsburgh, his home run totals started to increase each year, and he began breaking all sorts of records. I'm a big Pirates fan, and both I and many others in Pittsburgh dislike Bonds. I think he should have been suspended for using steroids.
4
Ted Williams
Ted Williams has the highest OBP ever. He would have had the best OBP season if not for a cheater named Barry Bonds. He would have beaten Ruth's home run record if he hadn't gone to WWII and the Korean War. He hit everything. He drew a ton of walks, only behind Bonds and two players who played a lot more than him. His rookie season was amazing. He led the league in RBIs and extra-base hits, came second in total bases and runs scored, and was up on the list in every other hitting category except for batting average. His 1940 season was also great. 1941 doesn't even have to be discussed. Every season after that was also great. He homered in his last at-bat. An all-time great without a doubt. Incredible seasons. Incredible career. Williams was the greatest hitter of all time. He was also the greatest player.
If Ted had not served in the USA Air Force as a fighter pilot for 6 years, he would have hit 715 or more home runs to beat Ruth and maybe come close to the 800 home run mark. Henry would have had to play another year or so and hit another 50 home runs to top Ted if Williams had not served in the US military for those 6 years. My dad, the late Salvatore Blumette, who made the Boston Red Sox as a starting pitcher in the 1938 season, told me, Thomas Blumette, Sr., that if Ted Williams had not served in the military, he would have been the greatest home run hitter of all time. Ted is one of the greatest pure hitters the game has ever seen, and he may be the last batter to play and bat .400 for the whole season. I do not believe this record will ever be broken!
5
Ty Cobb
Cobb is number one, end of debate. Look at just about every offensive statistical category out there, and this Tiger great retired atop or near the top of almost all of them. Who else can say that? Ruth? No. Bonds? No. Mays? No. Aaron? No. Rose? No. How many of these guys hit over .400? None. Cobb did it three different times. Cobb also retired near the top of the all-time putouts and assists records for outfielders, so he wasn't just a great hitter who couldn't play defense (à la Ted Williams). I don't know what the official "criteria or template" is to determine who the greatest player ever is, but there isn't a single player who excelled in more areas of the game than Ty Cobb.
Ty Cobb held almost every record aside from pitching. His batting average still stands and most likely will continue to stand well into the future. He no longer holds the record for stolen bases, but how long did he have it? Forty years? What about his slugging percentage, fielding, doubles, triples, hitting for the cycle? Above all, his devotion to the game and team was exemplary. He was determined to win at all costs but did not cheat, whine, or cry. He just played hard. He did not have the benefit of modern technology for analyzing swing or body position, studying opponents' pitching, game films, scouting reports, etc. He developed his skills on his own or through pure natural talent. Pete Rose may have the most hits, but he had many more at-bats than Ty. Cobb was honest when he said that nowadays he would hit less than .300 against modern pitching because he was over 70 years old at the time. Let's see Rose, Ruth, Mays, even A-Rod try that at that age.
6
Lou Gehrig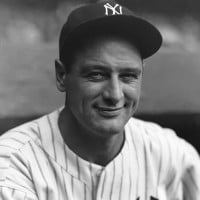 Henry Louis Gehrig, nicknamed "the Iron Horse", was an American baseball first baseman who played his entire professional career in Major League Baseball for the New York Yankees, from 1923 until 1939. Gehrig was renowned for his prowess as a hitter and for his durability, which earned him his nickname "the Iron Horse." He was an All-Star seven consecutive times, a Triple Crown winner once, an American... read more
If Gehrig hadn't gotten sick and continued on his trajectory, he would have broken all of Ruth's records and would be considered the gold standard bearer of baseball. He did it all, played sick, hurt, and in the shadow of Ruth, but still made an indelible name for himself.
He was the best. Played better than most here while having ALS and not knowing it until he finally started having severe muscle weakness and was only then diagnosed with the disease. The average lifespan with ALS is three years after diagnosis. Many people have it for years before being diagnosed.
Will someone please look at Gehrig's 14 FULL consecutive seasons (1925-1938) and compare them to the BEST 14 seasons of any player, keeping in mind that these years were basically his career contributions. The production of this player is staggering!
7
Mickey Mantle
Mickey Mantle is easily in the top three list of the greatest baseball players of all time. Had he been healthy throughout his illustrious career, there is little doubt that he would have hit 800 or more home runs. He was unquestionably the most powerful home run hitter ever, the fastest player ever - especially to first base. He could do it all!

In my view, he was a better player than Mays and Aaron. If Mantle had played in a smaller ballpark, like Ebbets Field or Wrigley Field, he likely would have hit 100 home runs in a season! Perhaps, close to 1,000 for his career!
The greatest player that God ever created. I saw Mays, Aaron, all the greats - it's not even close. Mantle was the fastest and most powerful. On the chemically enhanced diet of today's players, Mantle would hit over a thousand homers!

It's become the politically correct thing to do, choosing Mays as the best of all time, but believe me, Mickey was the better ballplayer. Another underappreciated player would be Sandy Koufax. He was forced to retire for medical reasons, with his best years still ahead. Like the Mick, he truly was head and shoulders above his competition.
8
Ken Griffey Jr.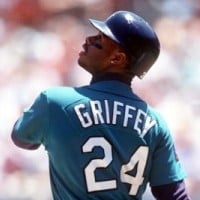 George Kenneth Griffey Jr. nicknamed "Junior" and "The Kid", is an American former professional baseball outfielder who played 22 years in Major League Baseball.
Think about this: look at his numbers now and consider that he had five prime years taken away from him. There is no doubt about it. He would have literally had every record in the book - home runs, RBIs, hits, and maybe Gold Gloves. He also changed the way baseball was marketed, similar to the way Magic Johnson and Larry Bird did in the NBA. He made baseball relevant and cool again. And forget Bonds and everyone else. He was the best player of his generation. Not to mention, he just received the highest voting percentage in the history of the Hall of Fame. What does that tell you?
If not for injuries, he would have over 800 home runs, 3,300 base hits, and at least three more Gold Gloves. Losing four and a half years to injury, not including the time he missed in Seattle, he still hit 630 home runs, maintained a .284 batting average, and accrued over 1,800 RBIs. That being said, Ruth, Williams, Aaron, Cobb, and Gehrig are still the greatest, but Griffey is at least the sixth greatest of all time, and anyone who knows baseball should agree.

And anyone who thinks using steroids doesn't make a person more dominant is just naive, and no users deserve a spot on this list.
9
Jackie Robinson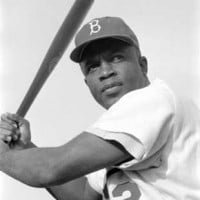 Jack Roosevelt Robinson was an American professional baseball player who became the first African American to play in Major League Baseball in the modern era.
I could easily vote for Willie Mays, but no baseball player changed the game today, made everyone play together, not separated, like Jackie Robinson did. He earns everyone's respect. As a Giants fan, I think Jackie Robinson should be the only athlete in the world to be idolized because of what he did. The pain he went through alone tells you that he's a revolutionary athlete. He's the grandfather of modern sports. Without him, there would only be white players in MLB, and not just MLB, but in all other professional sports as well. Because he broke the color barrier, history has changed forever. Thank you, Jackie Robinson.
Because he changed the game, he made it possible for Blacks and players like Roberto Clemente, The Kid, Albert Pujols, and Ichiro, as well as other great players from South America, Mexico, and even Asian and Japanese players, to believe they could play in the MLB. I honestly think he is the greatest for his sportsmanship for the game and especially for breaking the color barrier of the MLB. Plus, he was a great all-around player.
10
Walter Johnson
No doubt, Walter Johnson was the better pitcher between himself and Cy Young. I have read probably 25 biographies of Hall of Famers, mostly notable hitters from the 1880s to the 1930s. All of them spoke of Walter Johnson and Christy Mathewson. Not one mentioned how tough it was hitting off Cy Young. Plus, the guy pitched nearly every other game, giving him more opportunities to win games. Just imagine how many games Walter could have won if he were not in a three or four-man rotation.
The greatest pitcher ever, and remember, pitching is 90% of the game. Don't get starstruck by the Babe's homers or Ty's hits. Johnson did more for his team than any other player. For an entire decade (1910-1919), he won 265 games, which was 34% of all the games won by the Senators. He won a total of 417 games as a Senator. No pitcher or ballplayer was more valuable to their team.
Walter Johnson was nicknamed the "Big Train" for his durability, and he is considered by many to be the fastest pitcher who ever lived. He retired as the all-time leader in strikeouts (with 3,509. His record was surpassed later on), and the all-time leader in shutouts (with 110). Johnson is also my favorite player of all-time.
The Contenders
11
Honus Wagner
The only players who should be above Wagner are Ruth and Gehrig. For Pujols to be above him is sacrilege. This list is a joke.

WAGNER: One of the greatest hitters of all time, one of the greatest fielding SS of all time, could pitch a few quality innings if needed. A true gentleman, an extremely positive presence in the clubhouse.
Wagner is by far the greatest SS in history. Rogers Hornsby at 2B, Mike Schmidt at 3B, Gehrig at 1B, Johnny Bench at C, Mays, Ruth, T. Williams, and Cobb, with Aaron too - 5 OF. I think juicer stats are a joke. Palmeiro had as much power as Mark Grace until he juiced up. Look at ARod's juiced years in Texas. Bonds, Sosa, and McGuire looked like swollen up freaks as they juiced up for 5-10 years. All juicers should be on a separate record list and have asterisks. NONE should ever be in the HOF, ESPECIALLY BONDS, whose stats in the last 10 years are ludicrous, bizarre, and out of keeping with his first 10 years. He may be the original juicer. Look at the laughable list of bums who hit 45-50 HR a year in the juicer era. The leadoff hitter for the Orioles hit 51 HR...
12
Stan Musial
The most balanced hitter of all time should not be stuck at number 13. The guy had the exact same number of hits on the road as he did at home in his career. That is the definition of balance when it is used in this sense. A 24-time All-Star (there were two years, the first two of his career, where he was elected twice because, back at that point in baseball history, there was a spring all-star game and a fall all-star game. This changed after his second year), a WWII veteran (during his playing career), a Congressional Medal of Honor recipient, and one of the nicest and most down-to-earth ballplayers that you could've met: this man deserves to be higher on this list.
Stan Musial was an all-around 5-tool great. He holds the record for All-Star Games, along with Mays (or Aaron?). He held the National League record for hits, 3,630, until Rose surpassed him. Mays, Clemente, Griffey are the only ones probably better as 5-tool players who hit for average, but not as high lifetime as Stan's .331, which is in the top 10 of all time. Second all-time in doubles and has the most triples of any player since about 1935. He could run. In RBIs, he's all-time about #6. Ruth, Williams, Gehrig, Wagner, Cobb, Mantle, and Mays are among the top hitters of all time, but only Mays had the 5 tools as well. I'll concede #1 and #2 to Ruth and Mays as the best all-time players. Then I put Musial, with the best lifetime stats of any other 5-tool player.
13
Albert Pujols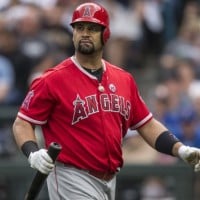 José Alberto Pujols Alcántara is a Dominican American professional baseball first baseman for the Los Angeles Angels of Major League Baseball.
Albert's first 11 seasons in MLB are the best 11-year stretch in MLB history, which alone should put him in the top 10. If it wasn't for that juicehead Bonds, Pujols would easily have 6 or 7 MVP awards. His accomplishments get overlooked because his era was tainted due to cheaters like Bonds, Sosa, A-Rod, Manny, etc. Also, he's the nicest human being I've ever met.
Even Lou Gehrig did not match the consistency of performance that Albert Pujols has demonstrated over his first 10 years in MLB. Albert has not benefited from having the level of players around him that Babe Ruth and Lou Gehrig had. In his early years, Albert had McGwire, Rollins, and Edmonds. Currently, he has Holliday, Rasmus, and Ludwick. These do not match up with the players Ruth and Gehrig had on their teams.
As of 9/24/16, if Albert bats as many times as Hank Aaron, at the pace he has been hitting homers with the Angels, he should hit 766, 11 more than 'Hammerin' Hank.' So, I expect Pujols to move up in his due time.

I also give him the 2006 MVP Award, sorry Howard, they made a mistake. Pujols had OPS, average and if he had the same number of AB's, he'd have 149 RBI's, a tie. The tiebreaker is that he carried the Cards to the playoffs.
14
Pete Rose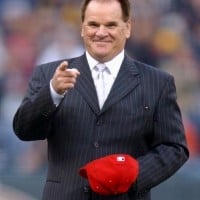 Who cares if he gambled? At least he was a tough ball player and was not afraid to get his shoes dirty, unlike players now who are traded to different teams every couple of years. He deserves to be in the Hall of Fame, not like Cal Ripken Jr., who nobody even knows about or gives a hoot about. I know a lot about baseball, and my statement is very true. I am not saying Pete Rose should be first place, but at least give him 3rd place or something like that.
Pete Rose belongs in the Hall of Fame. MLB is turning into the NCAA, portraying themselves as holier-than-thou. If you removed all the players from the Hall of Fame due to infractions that are a detriment to the game, there wouldn't be many left. Rose is arguably the most consistent player of all time, though not the greatest.
You can argue that someone is great at playing a position, but Pete Rose was so good he was a 17-time All-Star at five positions and still holds five MLB records 29 years after his last season as a player. He was one of the few who truly lived up to his hype as a young player throughout his career.
15
Joe DiMaggio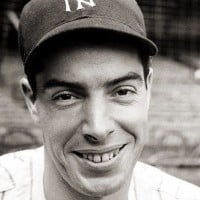 Joseph Paul DiMaggio, nicknamed "Joltin' Joe" and "The Yankee Clipper", was an American baseball center fielder who played his entire 13-year career in Major League Baseball for the New York Yankees.
DiMaggio - 13? His 56-game hitting streak will never be broken. He played for 13 years, with 3 MVP wins, and made the All-Star game every year. He won the World Series 9 times with 10 pennants. He was one of the greatest fielders to play, and he had more home runs than strikeouts. Furthermore, his hitting was phenomenal. He led the AL in home runs and RBI's twice and was the AL batting champion two times. He even stood out outside of baseball: he married Marilyn Monroe, went to war, got shot in his wrist, and proceeded to make the All-Star game... again. He should not be number 1 but somewhere in the top 5!
Joe DiMaggio's 56-game hitting streak will never be broken! It's amazing that he was robbed of having at least 1 hit in what would have been his 57th game. But after the hit streak ended, he went on to hit safely in another 18 games.
Joe DiMaggio would have had well over 500 to 600 home runs as a Yankee if he had not been playing at the stadium that Ruth built with "Death Valley" in left-center field, which was 450 feet from home plate, and a high wall that players had to clear to hit a home run. I heard Phil Rizzuto, the former Yankee shortstop, tell us - as he was a Yankee broadcaster for a long time - that if DiMaggio didn't have that "Death Valley" to face as a right-handed hitter, he would have hit 800 lifetime home runs!
16
Barry Bonds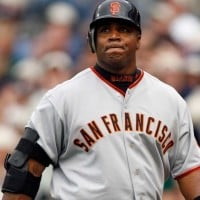 Barry Lamar Bonds is an American former professional baseball left fielder who played 22 seasons in Major League Baseball with the Pittsburgh Pirates and San Francisco Giants.
Let's look at his situation logically. Early in Barry's career, more specifically in the late '80s to early '90s, he was hitting 40 home runs and stealing 40 bases a year, all while striking out less than 100 times per year. This was when he was at least 50 lbs lighter than his 2001 physique (i.e., pre-steroids). We cannot discredit his athletic achievements solely on the fact that he used performance-enhancing drugs. In the early 2000s, we saw his home run totals drastically rise and his stolen base numbers fall as he transitioned to more of a pure power hitter. This man's strength was unreal - look no further than his home run against Troy Percival in the 2002 World Series. He was one of the greatest players of all time.
The greatest hitter of the modern era, whether or not he used PEDs, he commanded more respect than any other hitter ever. No one was more dominant, and even in his Pittsburgh days - before his head grew and his abilities shrank - he was still putting up unbelievable numbers of home runs, RBIs, batting average, and stolen bases. Personally, I grew up hating his guts and continue to strongly dislike the guy, the decisions I believe he made, and did make. But I'm not going to deny him what he truly is, and that is the greatest hitter of all time.
17
Sandy Koufax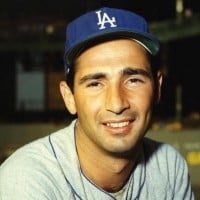 One game. Game 7 of the World Series, or even if the future of the planet hangs in the balance. You can choose any pitcher in their absolute prime. This is the guy you choose, period.
If your life depended on the outcome of a baseball game, you would want Sandy Koufax to pitch for you.
Sandy Koufax was the most dominant pitcher over a five-year period than at any other time in the game.
18
Roberto Clemente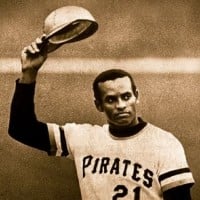 Roberto Enrique Clemente Walker was a Puerto Rican professional baseball right fielder who played 18 seasons in Major League Baseball for the Pittsburgh Pirates.
To play baseball, you need a glove. Roberto Clemente has 12 Gold Gloves, the most for an outfielder. He was simply the Great One in the outfield. To play baseball, you also need a bat. Roberto Clemente amassed 3,000 hits because a tragedy ended his career early. He was the first member of that prestigious 3,000 club that every baseball player aspires to join. He had an all-time .317 batting average, including 4 batting titles, with two of them being .351 and .357 averages. Not to mention his 12 All-Star selections, 1966 NL MVP, 1971 World Series MVP, and two World Series Championships. His number 21 needs to be the second number retired across the entire MLB. Robinson & Clemente. Roberto Clemente lived greatly, played greatly, and died greatly. Roberto Clemente is simply, the GREATEST ONE in baseball...
Clemente was an all-around player, a 5-tool player, and one of the best ever, period. It amazes me when "experts" fail to mention this amazing player in whatever list they make. He was the best Right Fielder to have ever lived, had the best arm that ever played the game, a .317 career batting average, 1,305 RBI, 3,000 hits, 12 Gold Gloves (1 of 2 players), 15 All-Star selections, 4 Batting Championships (1 of 2 players), 2 World Series titles, NL MVP, and WS MVP in 1971. He was 37 years old when he played his last game (and he still had some left in the tank), and died at 38. He really was not just a 5-tool player. He was a 6-tool player when we add his humanitarian spirit. I've never seen Clemente ranked over Robinson in a list. Well, just compare their numbers and try to explain why that is (not taking anything away from Jackie, one of the greats). But it makes no sense when some people even mention a (juiced) Rodriguez over THE GREAT Roberto Clemente. I understand ranking Willie Mays over Clemente, but not many other players. #retire21.
19
Greg Maddux
I think Cy Young created this award for Maddux. He certainly won his share. Pitched like David Copperfield - now you see it, now you don't. A great competitor.
If you're going to put Greg Maddux on this list, you have to include Tom Glavine as well. They were the best Braves pitchers and maybe the best pitchers of all time. And yes, I'm a Braves fan.
Maddux was incredible, considering he didn't throw more than 90 mph. He revolutionized pitching with his multitude of pitches, grips, and finger pressure. A great fielder with great numbers on great teams! Hall of Fame - YES. Top 25 - YES.
20
Tony Gwynn
The Derek Jeter of the West Coast as far as being a person. A great hitter. Never played with a winner but was a winner himself.
Gwynn was a great player and a great person, an amazing athlete. He could hit for average and could have been the last player to hit .400 if it wasn't for the strike.
Should be in the top 20.
21
Satchel Paige
Satchel Paige is the greatest pitcher of all time, period! Remember, the Negro League was competitive, and he dominated players like Robinson, Campanella, and others. Mickey Mantle said that Paige was the best pitcher he ever faced. I'd like to see the pitchers above him on this list pitch at age 50.
Paige is a genuine legend! He played ball 12 months a year. Was an MLB "rookie" in his 40s and dominated batters effortlessly.
We'll never know, but this is without a doubt, way too low.
22
Derek Jeter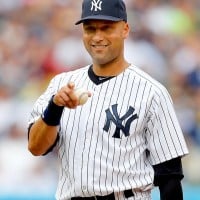 Derek Sanderson Jeter is an American former professional baseball shortstop, current businessman and baseball executive who is the chief executive officer and part owner of the Miami Marlins of Major League Baseball.
I've been a Yankees fan all my life. Jeter is a winner, but he is not even close to being the best Yankee. He wasn't even the best shortstop of his era, or the second best. He had decent range, not great. He had an accurate but so-so arm. For a 6'3 guy, he had little power. But, he had all the intangibles and played the game intelligently. Incredibly hard worker and as humble a superstar as you'll ever find. Playing in New York helped his star power, and he got 5 rings because he was an integral part of some GREAT teams. Hall of Fame - NO DOUBT. Best Yankee ever - NO WAY. Top 25 players all-time - BIG ARGUMENT.
Derek Jeter is the best baseball player because he has a terrific swing, and his fielding is amazing. He never gives up and gives it his all. I bet you he would die for baseball because that is where his heart is truly placed. He is the guy I look up to, which is why I voted for him as the number one baseball player, Derek Jeter.
Derek Jeter should be on this list. He is probably the best all-around player that has ever lived. He could make plays and hit like no other. Jeter had stellar play throughout his career. No one else has performed quite like Jeter. He was quite astonishing to watch.
23
Ricky Henderson
The best leadoff man in history. There will be players who eventually break the home run record by Bonds, the all-time hits by Rose, and maybe even the 56-game hitting streak by DiMaggio. But no one will ever come close to the stolen base record. Turning a single or walk into a double and getting into scoring position must have driven opposing managers crazy. He made pitchers focus on him when on base, which was a complete distraction from what the pitcher's main focus should have been - the hitter. Easily top 5 all-time.
The "KING" of Stolen Bases... fast... faster... fastest... as fast as LIGHTNING! And a pitcher's WORST NIGHTMARE! If you walk him or if he hits the ball, that's it! He's GOING TO SCORE! And there is absolutely NOTHING that you can do about it! He WILL score! After all, Rickey Henderson was also the KING OF "RUNS," and most folks don't know that little statistical figure! Yep. He's got more RUNS than any other player in history! And you can't win a game or a World Series without RUNS... and overall this man was a superhuman ATHLETE... a very well-balanced player... EXPLOSIVE SPEED and POWER... overall he was a solid and complete player both offensively and defensively... on a bad day, he was still ABOVE AVERAGE overall... and if he got to 1st Base... he would steal 2nd Base... and then he would steal 3rd Base... and then he would SCORE a RUN... and don't be surprised if he tried to steal home plate... because that is what he did for a living... he would steal bases and he would score runs... game after game after game... year after year after year... and he was consistent, with a respectable overall career batting average! Remember, Rickey Henderson was also in the "3,000 HITS CLUB!" Not bad for being the King of Runs and also... The KING of STOLEN Bases! Enough said!
24
Johnny Bench
When people think of great baseball players, the catcher doesn't usually come to mind first. It should. I am going to argue that it's the hardest position to play well. And Bench played it exceedingly well. He definitely should be in the top 15 because he is that good. Also, catcher is my favorite position in baseball.
Johnny Bench should be ranked above Mickey Mantle. Mantle was great, but Johnny Bench was not only a good hitter, he was likely the best catcher of all time. He was a leader and positively influenced other players.
The greatest catcher to ever play the game, Johnny Bench hit for power and average. He was also an awesome golfer. The best team ever fielded included Bench, Rose, Concepcion, Morgan, Perez, Griffey Senior, Foster, and Geronimo, with Gullett on the mound - Big Red Machine.
25
Bob Gibson
Listen to player/broadcasters from that era. They speak in complete awe of this man. A fierce competitor. One of the greatest clutch World Series pitchers of all time. It is a joke that he is so low on this list, behind some guys who aren't or weren't even the best of their era, never mind all time. If I want to win a game, Bob Gibson is my starter. I saw him pitch three or four times at Shea Stadium. You knew the game was going to be over in about two hours or less. I could list stats, but it was the intangibles that made him one of the greatest. No batter wanted to face him.
The Black Babe Ruth is just what it sounds like. He hits homers, even off of Satchel Paige.
Gibson was great, probably top five pitchers of all time. He could hit too.
PSearch List