Mike Portnoy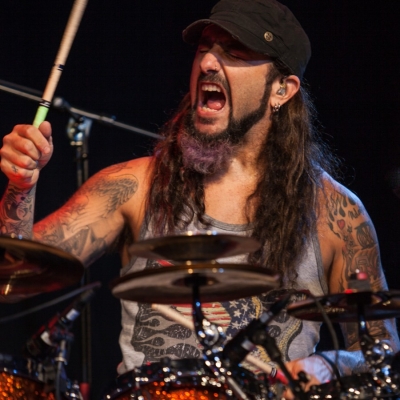 Found on metaladdicts.com
Info
Michael Portnoy is an American drummer primarily known as the former drummer, backing vocalist, and a co-founder of the progressive metal/rock band Dream Theater. Known for his technical skill as a drummer, Portnoy has won 30 awards from the Modern Drummer magazine.
Comments
Top
Popular
Newest
As a drummer AND bassist, I think Neil Peart is overrated. People need to understand that there are other drummers out there that are more technical and proficient than he. Mike Portnoy I think takes one of those spots, as he has learned from Peart and he plays a more technical style than him. I can play YYZ and Tom Sawyer on drums, but I can't, for the life of me, play ANY Dream Theatre or Liquid Tension songs. REMEMBER, this is coming from a drummer/bassist.
There is no reason Mike Portnoy is not number 1. Dream Theater is the greatest progressive band ever that means the greatest intrumental band ever Mike Portnoy is the greatest drummer by far. His drum solos live cannot be preformed by anyone maybe other than dave lambardo and Neil Peart, and to prove rev isn't even good they got Mike Portnoy to play the drums on the new Avenged Sevenfold album. - dabulge
I've played the drums for 30 years now. Copied Bonham, Peart, Chester Thompson (Genesis), and too many other drummers to mention. I've studied each very carefully by watching drum clinics, videos etc.. There is only 1 Mike Portnoy, and he simply is the best I've ever seen/heard! Peart is a close 2nd, but still not as good as Portnoy!
This is blasphemy! Mike Portnoy below the top 10? Below Travis Barker of Blink 182 fame? Mike Portnoy is an absolute LEGEND. Not only is he a world-class drummer, Mike Portnoy MADE Dream Theater in terms of lyrics, composition, etc. He should definitely be within top 3 if not #1.

I don't even need to defend his position verbally. His works speak for themselves.
Funny.. This is a jowk I thought I'm looking for the best, but why mike is in 15 I heard all the stuff playing in this list and hahah mike is no. 15 really really funny... Technically your not playing drums, your not listening to music... You all retarded, mike is the no.2 drummer of all time
This group of indiviuals have never touched a pair of drumsticks in there life. Skill is something that is not heard to a lot of people because they do not understand what makes a drummer amazing. I can play avenged sevenfold songs and I don't even know the drummers name. I can only play a hand full of dream theater songs because its too complicated too intense and too full of different symbols and toms that I don't even own. My opinion is mike should be in the top 3 hands down.
I'M AN INDIAN... IN INDIA, THE GROWTH OF WESTERN MUSIC IS INCREASING RAPIDLY... AND BEING THE 2ND MOST POPULATED COUNTRY WE AS ONE VOICE SAY "PORTNOY THE BEST"... NAME 1 DRUMMER WHO PLAYS ODD TIME SIGNATURE LIKE HIM... MAN, THE 7/8, 9/8, 10/8, 11/8, 13/8 IN A ROW... Uf... MOST LIKELY the other drummers WONT BE ABLE EVEN TO EXPLAIN OR PLAY ODD SIGNATURES... PITY THEM... ITS NOT ONLY FAST... ANY PLAYER'S PLAYING SHOULD INCLUDE FAST, SKILL, SYNCS, VARIATIONS, DYNAMICS RATHER THAN BEING MONOTONOUS... AND ONLY MIKE HAS THEM ALL... HALA PORTNOY!...
He and Neil are the ones that fit progressive elements in music that make you feel the music. And although they seem ordinary, these elements are complex. In addition, Mike tells stories through music. It's what I call music genius. He and Neil are the ones who deserve the first place.
Mike Portnoy is 100x better then Shannon Leto, and everyone up there. I find it ironic that Mike is so far down on the list, considering that the majority of the people that were rated highest thought of Mike as being their idol, and they say that they will never reach his level.
How can u put lars ulrich and joey jordison in the top 10 and NOT MIKE PORTNOY!! That is clinically INSANE!!

He makes joey and lars look like rank amateurs!

No.1 should be Peart
No.2 should be Portnoy
Lars and Joey should be no where near the top 10 list
He took neil peart's drumming to higher places, and of course, he added a lot of his own. besides for that, he was responsible for all of dream theater's good albums. he was very creative, both on the drum and as a producer. he is #1 at inventing drum parts that suits the music perfectly. and let's not forget that he is involved in other amazing projects, like TransAtlantic, Liquid tension experiment, OSI and much more...
Mike in the 15th? I don't believe this! Are anyone who vote in this web are having ears problem? Mike can play drums with the tempo changes all time! He also played by playing the rhythm of the songs and I can't believe he's number 15! In any other website, Mike was number 3!
THIS IS SUCH A LET DOWN.

I was expecting Portnoy to be wayyyy up there. You can't put Travis or Joey Jordison or Lars in there and not put Portnoy. I'm sorry...a lot of your choices are solid but this is definitely a mistake.
Is this list based on influence or skill because if its influence i would understand, but skill Mike would be #1 way above everyone else
if u havent heard him yet listin to "honor thy father", "as i am" or "dance of eternity"
Mike should be in the top 5. Listen to Panic Attack and you'll understand why. While you're at it, listen to ANY Dream Theater song and you'll understand why he should be in the top 5. Obviously the people who are voting aren't drummers.
Mike should be either 1st or second without a doubt, recently watched DT live for the 3rd time and he just amazes me with his skill. Not sure why the blink 182 drummer is in the top 10, The tool drummer should be higher also
Portnoy is amazing... he can play fast but also keep up with wild speed and signiture changes at the same time. plus he sings!

also.. why is slipknots drummer and the blink 182 guy up there? and where is gene hoglan?
Seen the Winery Dogs last night in Milwaukee. Mind blowing. Portnoy was just outstanding. Started following him in the beginning with Dream Theater. I'm 60 years old and have seen everyone. How can people rate drummers like Baker, Moon, etc as the best. Granted they were good in their time but couldn't even be rated with Portney. I agree that Peart is up near the top but I think Mike can out do him.
there's no excuse for this. prog drummers own, and while peart pretty much invented that north american prog beat, Portnoy built on it in such a way that it surpassed him by far. He should be number one. - icaruswings
Mike Portnoy is the Best! He can play Drums more complicated than anyone else in this list except for maybe Neil Pert. He can Play the most aggressive drums of all time and yet not have it all be like he's just spamming on the drums. He can do amazing beats and can play one of the hardest genres there is. If you're a real drummer, then you have to recognize this guy's potential
Skill that I don't think most people can grasp or understand, I just think he is so talented most who can understand his technique would consider him untouchable in forms of skill and abilities. - Screw32
Figures the one guy worth anything on this whole list isn't even in the top ten, just because Dream Theater isn't overplayed mainstream crap. People vote for what they know, not what's good.
Bitch please! None of the above will ever be as creative as MP! I mean, Mangini may be more technically powerful, that would get him in this list... But (with all respect to the Rev amd Bonham)... Mike is the best...
Voted a number of years in a row as the best progressive drummer and he is down here at 16. He is up there with Peart if not better. Looks more like a popularity list rather than a talent list.
I have no idea why he's here, he should be way up top. I'm at a loss for words because people need to understand true talent, and if you see Mike Portnoy, you'll see what true, talent is.
Related Lists

Top 10 Bands Mike Portnoy Has Played For