Neil Peart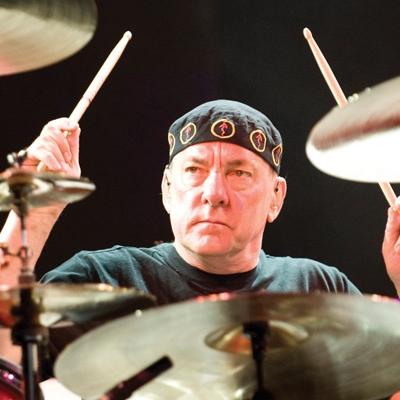 Found on drummagazine.com
Info
Neil Ellwood Peart, OC (born September 12, 1952 in Hamilton, Canada) is a Canadian-American musician and author, best known as the drummer and primary lyricist for the rock band Rush. Peart has received numerous awards for his musical performances.
Comments
Top
Popular
Newest
No doubt Neil Peart revolutionized rock drumming for all other to follow! I've been a professional drummer for 32 years, and I can certainly tell you with much experience, this list is absolutely stupid! The greatest drummers in the world are 1- Neil Peart 2- Mike Portnoy (probably tied with Peart in my opinion) 3- Mike Mangini & Buddy Rich (very fast rudamental styles, and excellent form and grace) 4- Billy Cobham (although he's really a jazz drummer) 5- Chester Thompson (Phil Collins and Genesis road drummer) 6- Thomas Lang (mainly a studio drummer, hence the reason most aren't familiar with him) 7- John Bonham (for his era he was magnificent, and one of the fastest single Bass kick drummers ever) 8 - At this point there are many I'd say are pretty even, with different styles eg; carmine appice, Phil Collins, Keith Moon, Bill Bruford, and the list goes on... That said, The Rev was average at best, and Lars Ulrich is so easy to copy I can play anything he does with little effort. Way ...more
To me, a good drummer isn't somebody who plays extremely fast and includes a lot of double bass. I rate famous drummers more on their creativity, technique and style. I think blastbeats sound extremely boring, and most of the time they ruin a song. My favourite drummers are people like Neil Peart, Stewart Copeland and Stephen Perkins (Janes Addiction). The reason I like these guys so much is because they have developed a unique style and have been as creative as possible in their genre of music. Mike Portnoy is also one of my favourites. I think he is very unique and he has created some amazing drum beats incorporating double bass. Instead of being uninteresting he worked on a style and developed into one of the best drummers of recent years.

Now that I've finished explaining how I voted, I will tell you why Neil Peart is the best drummer in my opinion.
I haven't heard anything quite like Neil Peart since I discovered Rush. His techniques, accuracy and innovation are ...more
There are many art students who can paint just like Rembrandt... There is only one Rembrandt. Sure you hear people of different styles and do some amazing things. Watch the video of drummer tryouts for Dream Theater sometime. Neil Peart has gone far beyond his rock style, traveling the world to learn styles most of the others listed don't even know exist. He has more knowledge and ability on drums than the rest will ever accumulate if they live 5 lifetimes.F.Y.I. being in love with the band they play in, doesn't make them the greatest drummer of all time. Bottom line... Nobody even realized the true potential of the drums until Peart, and everyone since that plays the drums, not just keeps the beat, and treats each part of a kit like an instrument unto itself, even the high hat, has been influenced by this man.
Not only is Neil Peart the best drummer in rock music today, but he continues to expand his musical abilities through studies with teachers and players such as Peter Erskine and Freddie Gruber. He has never stopped improving. Neil was better than the guys who are ahead of him on this list way back in 1974 (when he joined up with Rush, probably before those kids were even born). Now with all his continual work studying percussion he is light years ahead of what those guys will ever be. The fact that Neil isn't first, or at least closer to the top spot only serves to show how ignorant most of the voters are to true drumming talent, its obvious that most of this voting wasn't done by drummers. Where the heck is Keith M, Bonzo, Portnoy, or Gavin Harrison (ok so Gavin is one of my favorites)? Nothing against the guys on this list, but Neil Peart is the modern day master of the drumset. Need proof? Listen to some of Rush's (amazing) music, or better yet, just ask those drummers up above, ...more
That THE PROFESSOR is rated below the guy from Tokio Hotel, of all bands, really exemplifies what a sad state the music industry is in these days. This man revolutionized the drumming world and still rocks harder pushing 60 years old than drummers half his age. Alas, just as Rush will never get their dues as one of the greatest rock bands ever (while "artists" such as Madonna get inducted into the Rock Hall of Fame), it seems as though Peart's accomplishments have fallen by the wayside, while people use speed and image as their criteria for "greatest drummer". Sad.
No questions asked, Neil Peart's drumming capabilities far surpass those of any of his counterparts in the music scene. The complexity and insanity of the time signatures and constantly changing styles of La Villa Strangiato stand as a testament to his skill. Most other drummers would be satisfied to get bored with what they do later in life because "hey, it works", but, Peart decided to entirely reinvent his even then remarkably outstanding drumming style just to keep it from getting stale. The mark of skill is being good. The mark of excellence is being good, but seeking to be even better.

Long live The Professor!
You Avenged Sevenfold people are so arrogant, Neil Peart has been playing the drums for more than 36 years, that is probably twice the Rev's age.

The music Neil and Rush create is something "A7X" will not reach ever.

Before you vote for names like "The Rev" try reading about other influential drummers, like Neil Peart, John Bonham, Keith Moon, Danny Carey and Mike Portnoy.. Although these are probably the best drummers but "The Rev" can't and won't (obviously because he's dead) reach their level.
I am a drummer myself and have studied many. No doubt there are many new and up coming drummers that are very talented.
Neil Peart is a living legend. There are probably only a select few drummers in the world that can even come close to what he is capable of. I am disappointed not to see Ian Paice from Deep Purple on this list. Another Drummer you enthusiasts should Listen to is Billy Cobham not necessarily a rock drummer but deffinitely in the same class as Peart. - Wolf
Neil Peart is a unique Drummer in many ways. Something I notice about him that few other drummers do, is put his actual talent, his creativity, into his bands music. To most people, it would be the end of the world if you asked them to listen Rush ( Peart's band). However, each song Peart does, it's like they are all drum solos. They are always changing. There are no end to the riffs. And Oh, He is fond of using odd time signatures. Since when does Travis Barker do 7/8 time, and then suddenly change it to 3/4. I could go on, but I won't.
Neil Peart will always be on the top of my list no matter what. And I hope that someday everyone else will see it from my point of view too.
Simply the best drummer in the world.
He created a style very influenced by progressive metal/rock drummers who emerged in the 80's and 90's.
His skills are unbelievable. It makes me laugh when I see an alternative rock/grunge/britpop drummer at the top in a list. I'm not saying they are not good, but they haven't the Neil Peart skills, technique, style and experience, between other things.
It said, he always practices drummin' in the middle of a break in a show.
Anyone who has seen him live can easily agree that he's not only the best rock drummer but possibly the best drummer ever period. Mr Peart is able to seamlessly transition between different time signatures the way most people transition between feet while walking. Even while playing some of the most complex beats ever made he seems to be relaxed, able to pound out amazing drum solos at the drop of a hat and without the slightest hint that his god like rhythms are anything but another day at the office. They call him The Professor for a reason: he takes us all to school. - NewFlesh
Saw Rush again this year as I have regularly since I was 14. Neil Peart appears to get better! His drumming is more than just keeping a beat, more than spectacular drum solos, more than astonishing intricate rhythms, more than just another instrument, more than pure technical speed, and much more than pure drumming technique. He imbues the art of drumming with the rare gifts of precision paired with feeling; delicacy twinned with power and technique combined with humour. I think Bonham was awesome, but Neil is taking this art form to a new level.
As a 53 year old drummer, I've heard them all. Buddy Rich is in a separate category; he's old school and a legend. Neil does stuff I've heard no other do and in a league of his own. You want to hear some good stuff you've probably not heard? Listen to (check this out, side one) side one of Rare Earth's Get Ready album IF you can find it, pretty amazing stuff along with Iron Butterfly's Inagaddadivda. Anyways, props out to all drummers out their. Keep the rhythm!
I saw my favorite band (Rush) in Chicago for the first time in concert. I have seen their DVDs and tapes. I have never seen a human being play the drums like my idol, Neil Peart. For anyone to imply that he is getting better is accurate, but that means that he pulling away from the pack that he has led for perhaps all of his 30+ years with Rush. He is the standard by which all drummers in all walks of music should be compared for time eternal.
Just an amazing human being with an unquenchable thirst to learn, experiment and improve his skills. He is just incredible. Also it is noteworthy that he has been drumming for as long as he has. Close your eyes and imagine doing your most favorite thing for as long as Peart has drummed for. How long until you would be tired of it I wonder? How many of drummers can say they have continuously improved for as long as he has. Just awesome.
I'm a Guitarist... Yet, these are my Favourite Drummers of All-time:

1. Neil Peart (Rush)
2. John Bonham (Led Zeppelin)
3. Keith Moon (Who)
4. Ginger Baker (Cream)
5. Alex Van Halen (Van Halen)
6. Ringo Starr (Beatles)
7. Tico Torres (Bon Jovi)
8. Steven Adler (Guns N' Roses)
9. Lars Ulrich (Metallica)
10. Phil Rudd (AC/DC)
11. Mike Portnoy (Dream Theater)
12. Charlie Watts (Rolling Stones)
13. Barriemore Barlow (Jethro Tull)
14. Ian Paice (Deep Purple)
15. Vinnie Paul (Pantera)
16. Frank Beard (ZZ Top)
17. Lee Kerslake (Ozzy Osbourne)
18. Nick Mason (Pink Floyd)
19. Roger Taylor (Queen)
20. Nicko McBrain (Iron Maiden)
21. Herman Rarebell (Scorpions)
22. Mitch Mitchell (Jimi Hendrix Experience)
23. Bob Burns (Lynyrd Skynyrd)
24. Scott Travis (Judas Priest)
25. Pick Withers (Dire Straits) - Nirmal1991USA
Everything written here that's positive about Neil Peart is accurate. I saw Rush in their prime back when they where touring to support "Moving Pictures". This was at the Hampton Colosseum in Hamton Va. Sometime in the mid 80's. Not real good at remembering dates, but I do remember the show very well. We had great seats that where off to the side of the stage and he is an awesome drummer and the best I've ever seen perform live. He did a solo where he would hit the snare so hard that the stick would fly straight up in the air about 20 feet or so and the spotlight followed it up and down and he never dropped it once. He caught it every single time and would play a few more minutes and do the same thing all over again. He did this about six times or so. He also has a unique ability to play really complex rhythms and timings that other drummers just don't play, or can't play. It seems like every time I'm looking through the magazine section at our B&N store, Neil Peart is almost always ...more
Neil Peart. I see him as a sort of fusion between the almost convulsive and creative Keith Moon (Peart is a self-described Who fan,) and the thunderous and commanding John Bonham. Maybe the only drummer on this list that I feel can play virtually anything you could ask of him on drums, Peart is inhuman in his accuracy, all while being artistic and loose, yet at the same time showing command and power.

The result? Some of the absolute greatest drumming you will ever hear.
I would like to make the point that Peart, while only extremely skilled as opposed to the "godlike" praise many people are giving him, is a great couple steps above most of the other drummers on this list. As an ex-professional drummer and music critic, I can say with some conviction that I would not be surprised another rock drummer never reaches Peart's level. Compared to many classical musicians, he lacks some technicality, but on the rock music spectrum, he stands in a light all his own.
Neil is the greatest drummer of all time. I will p-off some people by saying this and don't get me wrong I really do like Rush and I respect Geddy Lee as a musician but I think that Neil Peart would be so much better with a band that has a more "main stream" rock sound. Not a singer that sounds like "Alvin and the Chipmunks on helium" But Geddy is a great musician I just think he should find someone to sing for the band instead of him. Sorry to anyone I have offended.
Well where do I start? Again a good list but a little out of order. All great drummers on this list but none of them can touch Neil when it comes to certain arrangements. There may be some that are faster but faster doesn't make you better. Neil Peart is probobly the best drummer rock has seen and I wouldn't be surprised if a lot of these skin beaters on this list look up to him as an influence. - scaff212
Hands Down the Greatest Drummer to pick up the sticks to date. It is one thing to have the ability to keep a beat or a rhythmic drum roll or even a good drum solo. Neil Peart could play a song backwards and make it sound seamlessly perfect. Peart's ability to step outside of a time scale and make it fit within the constructs of a song is beyond anything I've ever seen or heard.
Neil Peart is the greatest not just drummer, but all around percussionist of all time, he plays anything be it electronic acoustic, foreign to any mainstream and he nails it like he's laser guided. Truly an outstanding percussionist in an all around incredible band. Neil Peart will live on centuries after his passing through his ingenious lyrics and his masterful drum beats.
I've seen most of these (so you know I'm pretty old) in person and to me it isn't even close. I'm not saying the others aren't incredible but one is a God and the others Angels. Neal Pert is one drummer I could watch 23 hours straight and still not believe I haven't seen all he can do. Who said drummers are stupid is an idiot. They used to say Terry Bradshaw can't spell cat but it's hard to see with the glare of diamonds from his 4 Super Bowl rings.
I love the new guys that have come out since rush and Peart, so don't get me wrong when I say that Neil should be higher on this list. 5th REALLY! He should be much higher maybe 1st or 2nd. Quite a masterful drummer and age hasn't slowed him down much. His technique is one of the best. What about the drummer from Dream Theater (don't know his name but he's good too. )