Phil Collins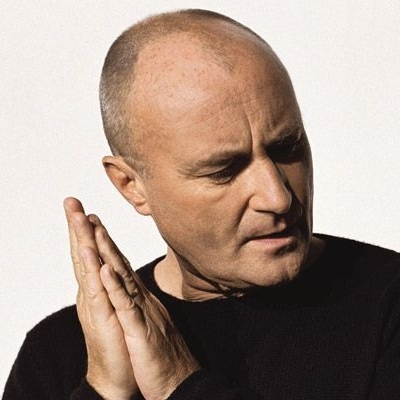 Found on popblerd.com
Info
Philip David Charles "Phil" Collins is an English singer-songwriter and musician, who has also worked as a record producer and actor.
Comments
Top
Popular
Newest
Listen to old stuff, old genesis that's phil at his best, supper ready...
Phil is my favorite. His style is so unique. He goes beyond just keeping the beat. Along with the occasional use of the drum machine, Phil makes the drum bits stand out. He is certainly top 10.
Phil Collins has always been modest about his drumming skills, and he has never been an elitist musician. And, maybe unluckily, has become a larger-than-life pop star in the 80s, which seems to have eclipsed all the rest. And he's never been "cool". BUT. His style, energy and down-to-earth approach have inspired many. Music is not about how fast you can beat on a drum, how complicate patterns you can execute. It's about the feeling. Phil Collins is the master, up there with the greatest stars.
I really hate how people think of Phil Collins as just this bubble gum pop singer. While it may be true that he had his fair share of fluff, he was a hell of a drummer. It's sad to see his rating so low just because the man sang some sentimental love songs in the 80s. Listen to Duke's Travels on Genesis's Duke and then come talk to me.
Phil Collins- from The Genesis album - Nursery Cryme, until Wind & Wuthering- not only drummed with incredible suppleness, and fluidity, but also played with amazing dynamics, AND complex Polyrhythms- just listen to his drumming on "Selling England by the Pound"- Brilliant all throughout, but especially in the behind-the-beat synchopations of "I Know What I like", and the almost Mahavishnu Orchestra-like Poly-metrics of "The Battle of Epping Forest"- not to mention his wonderful Fusion side-project- Brand X, often while singing back-up to Peter Gabriel! Neil Pert? Are you serious? Don't let his solo career close your ears & mind to this MOST AWESOME Musical Genius! Far and Away- the Best Prog-Music Drummer of our time!
Probably the tastiest drummer I have ever heard. Obviously talking about his early days in genesis when they were a (progressive) ROCK band. Progressive rock bands are generally masters of their craft. I would put collins ahead of neil peart for two reasons. 1- collins isn't a robot on the drums; he plays with feeling, and 2- rush songs suck
He's not necessarily underrated as a music performer but he certainly is as a drummer. Most don't know of his early years in Genesis with Peter Gabriel as the frontman, and he's incredibly talented when it comes to the complex and quick rhythms he has to play (just listen to the Colony of Slippermen, Dancing With the Moonlit Knight, The Cinema Show, and tons of other songs and you'll know what I mean). In addition to that, he's done great drum work in Genesis's later years, is responsible for one of the most iconic drum licks from "In the Air Tonight", and is a phenomenal lead singer WHILE playing drums as he sings. I'd say only Bill Bruford and Neil Peart can compare when it comes to skill, but I prefer Phil's work regardless, and I'd be hesitant to say that he's any less proficient than them anyway. Truly one of the greats both technically and iconically.
Listen to a random song by one of these other drummers' bands then listen to a genesis song with Phil on drums. Then realise that everyone else plays simple, uninteresting 4/4 rhythms on drums, while Phil somehow adds drums to things in 5/4 or 13/4 time... And then sings simultaneously, as if drumming to such songs wasn't enough! Then vote because Phil deserves to be way higher than this! - Jwright
What is wrong with the voters? How many of those little kids know about Phil and drumming? Any position after 2nd is injustice with his talent. Phil Collins makes every genesis song chocolate for ears. Moreover, he can sing better than most of the famous front men of other bands. He's the justified holder of 2nd position. NEIL is, of course, the best!
Phil Collins is the best drummer ever. So it's my option. I never seen any drummer like him. If you wanna be sure about that, You should watch to Drums Duet with Chester Thompson. They have great synchronization and performance on drums. Regards..
One of the most musical and fluid of drummers - no beat-keeping, proper virtuoso performing - too many examples to list of this man - listen to The Waiting Room - live archive album or live in Liverpool - just amazing, the cinema show etc etc. Complex musical, emotive drummer
He should be in the top 10 (if not in the top 5) with Stewart Copeland and Ringo Starr. And he sings while he plays the drums - In The Air Tonight - How many drummers can do that?
Have you ever listen to the rhythm of bunch of horses running on the tar road so to speak, if not listen to phil collin drumming and imagine yourself. Look at the video of band aid... Collins is the best in the whole world.. Bingo
37?!?! Are you all serious! Don't you all remember the exploding drums on 'In the Air Tonight'? That song alone should get him in the top 10. Tell me you don't love that song!
Phil is just the best! You've got to give it to him, he has a hell of a touch with the drums, you can really feel it on almost any tune, but he shines live more than anywhere. Seriously, check out any live drumming and change your mind.
A sublimely relaxed, creative, intuitive drummer. Such an unmistakable sound - listen to the variety of his drumming from early Genesis, through Brank X to later Genesis - great rhythms, great sounds.
For me Phil is clear number 1. He has wonderful feeling for music. His drumming and singing together is perfect. I can listen to his music (or Genesis) every day, then I feel always good.
Absolutely one of the most gifted drummers of all time
awesome Drummer with only one bass drum , Chester his backup drummer must use 2 bass drums to keep up, which by the way Chester Thompson is very good too
Known when to play what, and really in tune with the vocals and keys... He's definitely my favorite and has been my role model my entire life! Just hope he can do one more concert, because I've never watch him live. and can't forget Chester Thompson obviously!
Phil Collins. I really can't explain with words how much he means to me. I could say he's inspiring, talented, amazing, grandiose, magnificent, etc. , but all these words are still not enough to perfectly describe my feelings when I listen to his music.
All I can say now is I LOVE YOU PHIL! You're one of my reasons to keep on going. Love you with all my life
Whithout thinking.. Phil is one of the 3 best drummers ever... why is he at number 40? You are really stupid people if you think that 30 seconds to mars are better than genesis. I am at a loss of words...
Listen to Cinema Show off of Selling England by the Pound. You'll put him in the top five.
If you are a true drummer fan you will know that he is one of the best just listened to any of the Genesis albums especially ones like Duke Dukes travel dukes and doesn't get any better than that
Amazing progressive rock drummer, talented in many things, his drumming in "in the air tonight" influenced many songs you hear today. So what's not to like?