Top 10 Los Angeles Chargers Players Going Into the 2022-23 Season
Last year, everyone thought this team would win the division. Kansas City was all but dead in the water. But you see the Chargers are a cursed organization. Brandon Staley was one of the more aggressive coaches in the league when it came to 4th down and of course we had the week 18 "Timeout of death" against the Raiders costing not only the game but a playoff spot as well. He made some boneheaded decisions but that one alone is a fireable offense. Considering the talent on the team they should have made the playoffs. Yes, the defense struggled and was overall below average, but this was a typical Chargers Choke Job if I ever saw one. Do not ever tell me again the Chargers will overthrow KC and win the AFC West. You lost that right last year. 2022 should be better, key word is should. Let's just say, failure to make the playoffs this time around will be unacceptable. On paper this team could make a deep run, but then again we said that last year and this is the Chargers. If I were you, I'd worry about just making the playoffs for now. Then we can talk about making a Super Bowl run.

The Top Ten

1 Justin Herbert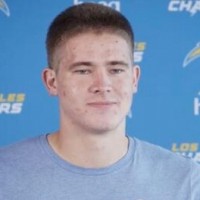 I was skeptical at first, but Justin Herbert is the real deal. He's had two excellent seasons, with over 5,000 yards and 38 touchdowns last year alone, and a Pro Bowl on top of that. He can contend with Patrick Mahomes, Derek Carr, and Russell Wilson. I think this year he'll have a legitimate MVP case because this guy can play. The Chargers will go as far as he can take them and I think he's determined to reach the playoffs and make a deep run. If he stays healthy then you got yourself a star for years to come. I'm actually excited to watch Mahomes and Herbert battle for the next several years.
Can't wait to watch what he does the next few seasons.
2
Khalil Mack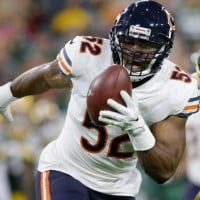 Khalil Mack is an American football outside linebacker for the Los Angeles Chargers of the National Football League.
Khalil Mack is one of those guys where the accolades speak for themselves. 6 Pro Bowls, 3 First Team All Pro Selections, and the 2010s All Decade Team. Mack had a down year last year with injuries and he is 31, but he still has a few good years left in him and he's a force to be reckoned with. The best part is he doesn't have to be the guy for LA since they have Joey Bosa. That could be a scary combination if they stay healthy.
3
Joey Bosa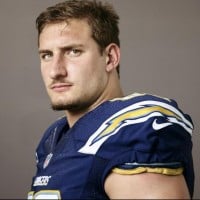 Joey Bosa has been the guy for the Chargers Defense for a while, and he recently signed a 5 year extension so he'll be around for a while to come too. He had a decent 2021 season: 10 sacks and 6 forced fumbles all rank among the best in the league. He's made 3 consecutive Pro Bowls and as long as he stays healthy he'll be a disruptive force. Combine him with Khalil Mack and you have a deadly duo that will wreck havoc in the AFC West.
4
Derwin James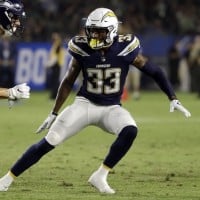 Derwin James had an outstanding rookie season, then had back to back seasons missed almost entirely by injuries. Then last year he answered the bell and had an outstanding comeback season, back up to 2018 levels across the board. He was a first team All Pro selection again in 2021 and as long as he's healthy there's no reason to expect anything else.
5
Rashawn Slater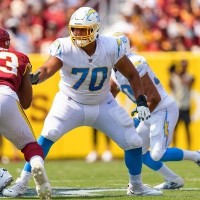 For years the Chargers couldn't figure out the Left Tackle position. Enter Rashawn Slater who had a fantastic rookie season and even earned a Pro Bowl Nomination. Slater was a home run pick who will be vital to protecting Herbert for years to come. You guys got a good one.
6
Corey Linsley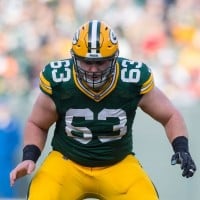 One of the best centers in all of football and one of the highest paid as well, and deservedly so. He didn't allow a single sack in 2021, and is one of the few "Elite" Centers in the league. I bet Green Bay wishes they had him still. As long as he's healthy, he is a dominant force keeping Herbert upright.
7
Keenan Allen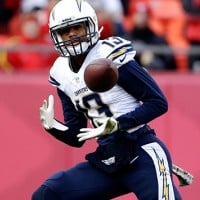 Keenan Alexander Allen is an American football wide receiver for the Los Angeles Chargers of the National Football League.
Keenan Allen is typically among the best Wide Receivers in the NFL and 2021 was no different. 106 Receptions and 1,138 yards with 6 touchdowns. He's not necessarily the deep threat like Williams is, but he is still effective and efficient in his own right. He can definitely move the chains. It's nice to have Williams to compliment him so he's not doing all the work. Should be a top Wide Receiver again come Fantasy Football season.
8
J.C. Jackson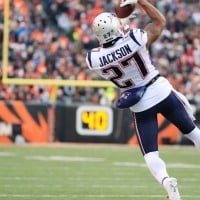 JC Jackson is easily a top 10 Cornerback in the NFL maybe even top 5. The guy is an interception machine with 8 in 2021 and 9 in 2020. He had the most picks in the league in that time with 17, and he had 58 tackles. He was 2nd team All Pro and made the Pro Bowl. The scariest part is he's just entering his prime. Expecting a few more years of this kind of production, but this is a slam dunk free agent signing.
9
Austin Ekeler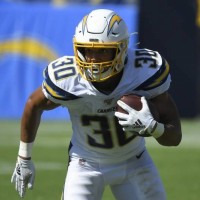 Austin Ekeler is truly one of the most versatile weapons in the league. The man can do it all. In 2021 he had arguably his best NFL Season yet: 911 rushing yards and 12 touchdowns. Receiving wise he had 647 yards and 8 touchdowns. If he stays healthy, he's a dynamic game changer. And the Chargers need him since they lack a RB2. Joshua Kelley would be the closest they have so they really cannot afford to lose Ekeler.
10
Mike Williams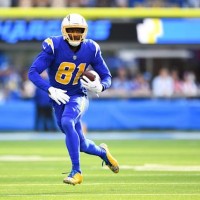 Mike Williams is a bit of an underrated hidden gem. In the past he showed he had flashes of potential, but couldn't ever seem to put it all together. That is until last year. He finally put it together and had a breakout season: 76 receptions, almost 1,200 yards and 9 Touchdowns. On any other team he's a WR1, but he's been overshadowed by Keenan Allen. Yet the Chargers paid him handsomely because they need him. The true question is, can he repeat those numbers in 2022? Need to see a similar amount of production for this offense to meet its full potential.
The Contenders
11 Asante Samuel Jr.
BAdd New Item