Top 10 Most Hated Pro Wrestlers
The Top Ten
1
Roman Reigns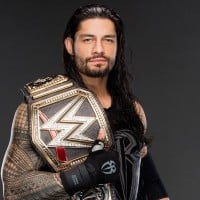 Leati Joseph "Joe" Anoa'i (Roman Reigns) was born on May 25, 1985. He is an American professional wrestler and former professional Canadian football player. ...read more.
This non-ending push for Reigns is so bad that it made Cena dropped from #1 on this list. This guy is so hated and Vince is still keeping this guy as a face and I don't get it. This guy done skipped the first five years of Cena of hate to his last five years of hate, that should tell you something. What's worse is that Vince made him beat Taker which gave him even more hate than ever before, hell the guy done received the loudest boos of all time on the Raw after that Mania. He's over though, but he's not liked which I think WWE is looking for that kind of reaction.
The never-ending push of Roman Reigns has resulted in the most hostile fan reactions I have ever seen. His move set is limited to Samoan Drop, Superman Punch, Spear. This makes every one of his matches boring, and he has no skill on the microphone.
Finally takes his place where he should be ruining the rumble, almost did twice potential one more time.
Roman Reings a very good wrestler also a baby face sometimes but I agree he is 1 of the most hated wrestlers no offence.
2
John Cena

John Felix Anthony Cena Jr. (/ˈsiːnə/; born April 23, 1977) is an American professional wrestler, rapper, actor, and reality television show host signed to WWE, where he is assigned to the SmackDown brand. ...read more.
I still don't get why he gets a lot of heat. He's good in the ring, awesome on the mic and he is not getting shoved down our throats like roman reigns. At least fans have started to open their eyes to boo roman instead
Horrible in-ring skills, horrible mic skills, doesn't sell moves of other wrestlers, has a stale gimmick. Anyone over 12 years old or anyone with a brain should be able to tell that he's awful.
If you all think that John Cena has terrible wrestling skills then I want to see you go beat up a WWE pro wrestler and I know that all of you will get your butt whooped.
I can tell all of you hate cena cause he's ring work is the same boring stuff every time it's you want go into the ring and beat em up right.
3
Fandango

Curtis Jonathan Hussey is an American professional wrestler. He is currently signed to WWE, where he performs under the ring name Fandango.
I absolutely hated this gimmick the actual real life don't hate but this gimmick I deeply hated with a passion.
4
Jack Swagger

Donald Jacob "Jake" Hager Jr. is an American professional wrestler, and former amateur wrestler, signed to WWE where he performs under the ring name Jack Swagger.
I HATE JACK SWAGGER BUT HE IS A LITTLE CUTE.
5
The Miz

Michael Gregory "Mike" Mizanin is an American professional wrestler, reality television star, and actor. He is signed to WWE, where he performs on the SmackDown Live brand under the ring name The Miz.
Mix isn't awesome at all so why does his theme song day awesome, I don't get it. The Miz is rubish. When he enters the ring it should be rubish not awesome. He deserves to be 1 on this list. He would easily get best by the worst wrestler, Fandango. Miz is boo. His skills inside and outside the ring are rubish as well. Miz is so bad he wouldn't get better than a QUARTER of 1 FANDANGO.
Most Hated in 2011, Played a great role as a Heel better than CM Punk, Began to sucked in his Face turn. Needs to stay Tweener if he wants his "Awesome" character to work.
By far one of the best heels in the company's history. I still remember the face that girl made when Miz became WWE champion.
From the real world was hated in the back and looks like a goof to be honest
6
Michael Cole

Michael Sean Coulthard better known by his stage name Michael Cole, is an American professional wrestling commentator, show host, voice actor and former journalist.
Poor Michael Cole. You can tell that even he's tired of saying repeitive lines over and over again.
Just like Miz his the 2nd hated in WWE in 2011.
He's worse than dolph ziggler
7
David Otunga

David Daniel Otunga Sr. is an American professional wrestler, lawyer and actor currently signed with WWE.
He has that His rich you wanna hate him look.
Can't do anything good or entertaining.🙁
8
Sean Waltman

Sean Michael Waltman is an American professional wrestler. He wrestled for the World Wrestling Federation under the ring names 1–2–3 Kid and X-Pac intermittently between 1993 and 2002, World Championship Wrestling as Syxx, and Total Nonstop Action Wrestling as Syxx-Pac and Sean Waltman.
He was super hated with his X-factor faction.
9
Muhammad Hassan

Marc Julian Copani is an American school vice principal and professional wrestler. He is best known for his appearances with World Wrestling Entertainment from 2004 to 2005, where he portrayed an Arab American under the ring name Muhammad Hassan.
He shouldn't be hated, for that on day where Taker beat Davari that was WWE's fault. He could have become amazing and he did play on political and religious beliefs but WWE and Vince McMahon ruined his chances because of not taking the "terrorist" attack on Taker. They should not have done that.
Unfortunate given how things turned out in real life, but he was genuinely hated by fans.
Sorry it should say "for not taking that 'terrorist' attack on Taker off the air".
The most hated wrestler of 2005.
10
Iron Sheik

The Iron Sheik was hated back in the days, he had that foreign wrestler who hates America gimmick.
What! The camel clutch is sexy
The Newcomers
?
Maxwell Jacob Friedman
He's not better than anyone just a talentless loser who can't wrestle, has a punchable face, and if he took my hat and threw it I'd have him arrested. MJF is the Logan Paul of Wrestling.
The Contenders
11
Sgt. Slaughter

Robert Remus, better known by his ring name of Sgt. Slaughter, is an American semi-retired professional wrestler currently signed with the WWE in the ambassador program.
Fans hated him after he came back as an Iraqi sympathizer and fought Hulk Hogan.
12
Wade Barrett

Stuart Alexander "Stu" Bennett is an English professional wrestler, actor, and former bare-knuckle boxer, best known for his tenure with WWE under the ring name Wade Barrett.
I don't like him, he is so weird, yuck
I don't think so
He is a dumbass
He's a very bad wrestler I bet he can't even beat hornswoggle and jbl or Apollo crews(there the worst ones)
13
Stevie Richards

Michael Stephen Manna is an American professional wrestler and podcaster, better known by his ring name, Stevie Richards.
For the RTC gimmick alone!
14
Bastion Booger

15
Ryback

Ryback Allen Reeves is an American professional wrestler that performs in wrestling shows on the indy circuit. He is a former WWE superstar and Intercontinental Champion.
This guy is a bad abortion xD
16
Jeff Jarrett

Jeffrey Leonard "Jeff" Jarrett is an American professional wrestler, wrestling promoter, and co-founder of Total Nonstop Action Wrestling, which he founded along with his father, Jerry, and more recently, Global Force Wrestling.
Sure Jarrett is now a legend AND a hall of famer and well deserved but back in 1993 when he entered into the World Wrestling Federation, he want to use the federation to launch himself into a country music star, by the way does anybody still have a copy of Jeff Jarrett's CD Ain't I Great?
Its Joeysworld
For all the crap he did on Kurt angle.
Ken shamrock better
17
Brock Lesnar

Brock Edward Lesnar is an American professional wrestler and former amateur wrestler, professional American football player, and mixed martial artist who is currently signed to WWE.
Lesner is a bad man but since beating Goldberg for the title, he has become a joke! Never, in the history of wrestling has a champion been given sooo much leway, to do whatever he wants. He shows up on RAW every six weeks and pay-per-view every other month. That gives him an advantage over opponents because he's fresh and their banged up. To me, it takes a lot away from the show, when the champs not there. I'm not crazy about Reigns but he comes to fight every week barring a severe injury. Cena was the same way until his acting career took over. This feels like a "slap in the face" to legends like Sammartino and Backlund, who bled WWE. Even Hogan showed up for promos.
I hate him now just because he broke The Undertaker's undefeated streak...
He is underrated and overrated at the same time
For ending the streak he was extremely hated.
18
Hornswoggle

Dylan Mark Postl is an American professional wrestler and actor currently signed to Total Nonstop Action Wrestling, under his ring name Swoggle.
Very silly but funny I get it why people hate him he is a heel he makes things worse and not that talented.
I think he's not that bad
19
JBL

Fans wanted to see him lose the title every time he was defending it.
Typical american arrogant...that's why I hate him
My least favourite wrestler
Does it stand for "just born a loser"
20
Jonathan Coachman

Jonathan William Coachman, also known as "The Coach", is a sports interviewer who works for ESPN who currently interviews WWE personnel.
2nd man behind Bischoff he got some hate in 2004/2005.
21
Seth Rollins

Colby Lopez is an American professional wrestler and actor who is signed to WWE under the ring name Seth Rollins. He is the Current Intercontinental Champion.
He's trying way too hard to be liked--in the locker room and the WWE Universe.
Such a jerk. He isn't a champion. He retains by cheating or luck.
Ditches his team for outsiders all the time what
22
Randy Orton

Randal Keith "Randy" Orton is an American professional wrestler and actor who is signed with WWE, where he is a member of the SmackDown brand. He is a 12-time world champion, having held the WWE World Championship eight times and the World Heavyweight Championship four times.
In real life people hate him and he admits his a dick I respect him for admitting it unlike John Cena.
He destroys legend
23
Dolph Ziggler

Nicholas Theodore "Nick" Nemeth, best known by the ring name Dolph Ziggler, is an American professional wrestler, stand-up comedian, and actor.
When he was paired with vickie he was hated for awhile, not so much now as the crowd feels sorry for him.
His hair is the worst, fermented white noodles.
He is just a stupid person
24
Ric Flair

Richard Morgan "Ric" Fliehr, better known by his ring name Ric Flair, is a professional wrestling manager and American retired professional wrestler currently signed to the WWE under a legends appearance contract.
He Got To Be Greatest Of All Time By Being Hated Most Of The Time.
that is not true
25
The Great Khali

Dalip Singh Rana, better known by his ring name The Great Khali, is an Indian promoter, actor, powerlifter and professional wrestler best known for his time with WWE.
PSearch List