Top 10 Shopify Product Designer Tools
Mass production has given way to mass customization and industries from retail to manufacturing have taken notice. Printing businesses are no exception. Demand for personalized products in printing industry is not limited to apparels anymore. Online product designer tools have made it possible for the printer to supply their customers personalized products ranging from t-shirts to wine bottles and everything in between. Here's a list of 10 most useful Shopify product designer tools.
The Top Ten
1
No-Refresh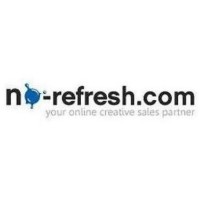 No-refresh is a one stop destination for high-performance online product design software and tools . This software, including t-shirt designer tool, skin designer tool, etc . , are quite versatile and can be used to create designs for a range of products . They are fitted with some of the most stunning ...read more.
Visit Website
2
inkXE

Promotional products, t-shirts, vinyl signs, labels are some of the products that can be customized and printed with inkXE product designer tool. inkXE provides the user pre-decorated design templates as well as 5000 cliparts and 100 fonts to customize these designs.

Photographs can be uploaded to the product from Facebook and Instagram. Image mask and image filter can be applied to these photographs. The designer tool provides real time price update just when the user is engaged in designing their custom product. The tool allows the user to save design and share this design on social media. User gets to see a 3D preview of the customized product design before they check out.

The printer/store owner sets variable print and price rules. They can assign multiple decoration areas on a product. The tool allows them to add, edit or remove any of its features. Print ready order files in SVG, PNG and PDF formats can be accessed by the printer with the via the order management ...more - inkxe-official
Visit Website
3
Product Customizer
This product designer tool helps in design and printing of custom jewellery, invitation cards, canvas prints, etc. The tool allows the printer to add design templates. The end user can upload photos from their device for printing on their custom products. - inkxe-official
4
iPersonalyze
Look for the new iPersonalytze Shopify app named TSUNAMI...coming soon. Totally unique offering in the way of product customizaton for Shopify Merchants. All products offered have built in personalization...so there is no need for a 3rd party customizer.
IPersonalyze can be deployed to design and print personalized promotional products. The tool allows the printer to create custom templates for their customer's convenience. It supports DTG, engraving and sublimation printing methods. iPersonalyze facilitates the integration of the printer's website with Facebook. - inkxe-official
5
Qstomizer
Qstomizer supports design and printing of t-shirts, mugs, phone cases, canvases. It's a fully responsive tool that works with PC, tablet, smart phone, android and iPhone. The tool allows the user to upload image from Instagram. User can deploy
custom fonts and cliparts in their design. The printer is allowed to create templates, cliparts for the convenience of their customers. - inkxe-official
6
Advanced Custom Products
This designer software allows file upload by the user-design files and images. It has color picker and facilitates multiline text input. Provides show/hide option for features. - inkxe-official
7
Customify
The tool can aid in design and printing pillows, mugs, t-shirts. It's a fully responsive
tool. User can add image from Instagram and upload more than one image. They can save product design. - inkxe-official
www.customily.com is an online product design tool that lets you work based on your own design templates. This means you can upload your own original designs and let customers personalize on top of that, making their own unique products. This way you can guarantee a high quality design and product, while making unique original designs available that represent your brand and unique selling point.
With it's web 2 print tools, clients can personalize online while seeing a photo-realistic dynamic preview, and eCommerces get the high quality files ready for production after each purchase. And it works with any personalized product, from printing and stamping to engraving and embroidery.
8
Product Designer by Storex
This product designer software helps print shops print custom mugs, greeting cards, phone cases, t-shirts. It requires the admin to upload cliparts. Allows use of multiple layers in design. User can upload image from Instagram. - inkxe-official
9
Personalizationpop
Custom jewellery, home decor, wall art, t-shirts can be designed and printed with PersonalizationPop. The tool provides the printer personalization modules specific to each category of product. - inkxe-official
10
Brush Your Ideas

The Contenders
11
Product Designer Pro
Shirts, business cards, invitations, brochures can be customized with the Product designer pro. The printer can set minimum image size. The tool provides currency conversion support. User can save design and re-design for new orders. - inkxe-official
12
T-Shirt and Product Design Studio
T-shirt and product design studio gives option to the store owner to define which of the products are customizable. User is allowed to upload own arts. The printer has to set additional price for customization. - inkxe-official
13
Design'N'Buy
If you are a Shopify store owner and would like to sell your personalized products, get it done by integrating Design'N'Buy's product personalization tool with your existing Shopify online e-commerce store. - designnbuy
14
Lumise Product Design
Lumise has everything your customers need to design. So simple even your kids can do it
BAdd New Item