Top 10 Best Chennai Web Design Companies
The Top Ten
1
Niyati Technologies
Undoubtedly one of the best and efficient design consultancy firm in Chennai. I have worked with them for few of my friends who run startups. What makes Niyati stands apart from other companies is their no-nonsense approach and down-t-earth work culture. Once you start working with them, there is no way you can leave them. Here is wishing Niyati good luck.
A website designed by Niyati Technologies will stand out in a group of well designed websites only because of its spectacular simplicity, ease of navigation, design elements and pleasant color schemes. The team at Niyati is dedicated and passionate about design.
I have known this company since its inception. A bunch os self inspired individuals who have come together to create world class design solutions. The team at Niyati... Rock on!
We believe our focus on quality deliverables is what took us to where we are now. All our projects go through different layers of quality checks, making sure that the final deliverable is spotless!
Visit Website
2
Open Designs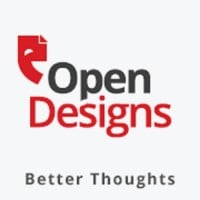 We are one of Chennai's premier Digital Media Solution providers since 2000, We work on Responsive Website Design , Digital Marketing, Social Media Management, Content Writing, Ecommerce Applications & Mobile Apps ( End to End online Solutions Provider)
I am extremely glad that I had joined Open Designs Interactive for my Internship. The firm is as professional as they portray. I love working with my esteemed employees especially my seniors' guide me in a friendly manner so that I end up creating something productive which is a positive start for an Intern like me.
I'm really happy and feel prestigious to get such an excellent opportunity with ODI team. Every action associated to the company's performance and progression are determined to success. More than a company, ODI provides a friendly aura to the client as well as to the employers too. I can recommend ODI team to the business who want to excel their presence in terms of web and mobile application market and actualizes their dream in to real.
We are not exactly workaholics but then we are getting there. We thrive-love challenges from clients who make make us push the envelope, so to say and contribute towards making people experience services and products differently. And if you think you need that different look to your business
My website was created by Open Designs. I just told the outline for my site and they had developed it to a professional kind that I could not even imagine of. Kudos to the entire team for making it happen. Love your work guys.
Visit Website
3
BlazeDream
Excellent Designs. Broad experience in Portal development and mobile Apps development.Our experience with BlazeDream was very positive and extremely professional. At first we were worried about the risk of outsourcing efforts to a company we had never used. Through a solid list of references we solidified our decision and began development. Now, after finishing production, we can still keep in touch with our project manager who fixes unforeseen glitches immediately. At every point we had instant access to communicate with our project manager online who could answer any and all questions and provide immediate fixes. BlazeDream is a very reliable company capable of foreseeing our development needs. We are very happy with our decision to work with BlazeDream.
I am the wholesale dealer of Hand crafts in Chennai. Blaze Dream help me to move my business on internet. I am very much satisfied with my website developed by Blaze Dream. They heard the needs of me and worked on it. "The cooperation of worker and client leads to success" - it become true in my part. I felt happy to work with Blaze Dream and I suggest you too.
Blaze Dream is a good place to work. They have the best resources to bring the clients. They are giving Fun at work to the employees. They have conduct more Engagement activities for the employees to reduce the stress management. Generally the employee absenteeism is very low in Blaze...
Blaze Dream is one of the best web development company in Chennai, They are well

Known for their quality websites. Teams of Blaze Dream have more experience in

Working with E-commerce, word press,.net and PHP sites. Client satisfaction is the

First aim of Blaze Dreams they finish the website and handover to client in right time

Without any queries.
Visit Website
4
eFosys
Working with efosys was a wonderful experience & still continues to be. The design team is efficient, supportive, innovative and very seasoned in the field of web design. Every level of the process of setting up our rather complex site both in text and with (period) graphics was worked through thoroughly and efficiently, with the least fuss and the best results.
EFosys is value driven web designing company in chennai. We provide a full range of web services with expertise in Business Website Design, Website Development, Website Maintenance, Website Redesign, eCommerce Web Development, CMS Web Development, Mobile Application Development, Search Engine Optimization, Domain Name Registeration, Web Hosting and Reseller Web Hosting etc.
Am search for my business to sell my products globally through online. My friend recommend efosys, I just made a call to them and they clearly explained the ecommerce website features with an unbelieveable price. I was very surprised that anybody can give these features in this price. Thank you efosys for your good work. Now am selling my products globally through my ecommerce website.
Best web designing company in chennai. eFosys is affording best rate for the website development. They are offering Basic website design & development, CMS web development, ecommerce web development, seo, domain registration, reseller hosting, web hosting, portals and mobile application development, etc in affordable price with good quality.
5
Raga Designers
We are very pleased with Raga Designers level of commitment, dedication, and turnaround times on our projects. Their development team is very keen on change requests and communication. They have the experience and knowledge needed to deliver quality solutions. We highly recommend Raga Designers.
Good Website company in Chennai. I Created one website by RagaDesigners. They are doing good communicate with client, Attractive website Design, Time to Delivery the project.
Raga Designers is the best Web Designing services in Chennai. Raga Designers are very best in designing services and developing services.
Raga Designers Are affordable price and friendly movement.They given more ideas to bring my website seo friendly.
6
Rarefly
Rarefly is an affordable, no-nonsense, practical professional web design company in Chennai, India. As a one-stop resource for all website design and branding services; we believe in efficient technologies, quality design, web standards, accessibility and our straightforward; no jargon approach is sure to quench your thirst.
I've been very happy with the way that they've been able to efficiently, effectively and quickly come up with good solutions at a very reasonable fee.
This Rarefly web design company has expertise team to develop wonderful job in meeting the creative direction and goal.
I am happy with this company. They provided the wonderful creative web design service within my budget.
7
Dezvolta
Dezvolta is a web design company in Chennai, specialized in website design, website development, internet marketing and amazing tech support. Dezvolta's after sales support is extermely good. When it comes to user interface design or designing responsive websites Dezvolta should be your choice.
A very good web design company with on time delivery and neat & clean outcome. I would say if you want your website to be professional and your marketting representative then DEZVOLTA is the right place to approach. I am really happy with their after sales services too.
I was extremely happy with their service. Thank you Toptens team, you helped me find a really good company! It means a lot to me. I highly recommend Dezvolta for Website design and amazing customer support.
One among the best and trusted web design companies in our place. When it comes to quality they are next to no one. I highly recommend them for any web based products.
8
Webkites Interactive Media
One of the best company in chennai main benefit you get is they provide quality web designing and web development.
This is a small team with lot of talent...
Very good dedicated team
9
BrokenGlass Designs
We have worked with Brokenglass team for a couple of our projects. Excellent Quality of output. They are very reliable and the project was delivered on time. We worked very closely for a Web Application and an Ecommerce portal, their level of understanding the requirements is astonishing. Best Recommended.
BROKEN GLASS! Some said, Please Repeat, some again, Negative!
Everyone asked Whats that?. We said Perception. By destruction we deliver
Creative construction. Every chip of a broken glass is Unique, Unidentical.
Like wise, every design concept is as unique as a client with individualistic requirements
Our website has been revamped by BrokenGlass Designs last week. They understood our long term digital strategy and gave an excellent design according to that. Thanks team.
Very good designing company in Chennai. Went through their portfolio section and it looks very impressive. Promising team in chennai. You can always trust.
10
Team Mango Media
Team Mango Media did an excellent and professional job. Their team was very responsive, worked with our team very closely and contributed significantly to help us meet our tight deadlines. We would any day choose them for any of our future projects.

The team is very committed and always delivers on time, as promised. We would not hesitate to engage with Team Mango Media for any of our future projects related to their areas of expertise.

By: Ravi, Parjanya
I think they have done a fantastic job. I outlined my idea on paper and they were able to bring it to life. They are professional and their work is top quality. I look forward to working with them on other projects.

By: Peter Kahiu
The team at Team Mango Media Private Limited provided a fast and professional service. They were always a head of schedule, available on Skype, phone and emails, and provided quick replies and a fine and courteous service.
Team Mango Media Private Limited provides an exceptional web design service. They are very professional, manage their work flow well, and very responsive to customer needs. I'm glad to have found them.

By: Ben Cheatham
The Contenders
11
Siam Computing
These guys know their stuff. They literally wouldn't accept the easier way out and were more concerned about how visitors to my website than I had cared to be.

World class service!
Siam Computing did a great work with the redesign of our hospitals website. Totally understood our brief.
12
JB Soft System
One of the best web development company in Chennai.
13 Webindia
14
Impower Solutions
Impower Solutions is the best web designing company, they designed a travel website for my business and they did a fantastic job and I am very satisfied with Impower Solutions even people are very helpful over there, I personally suggest this company to people who wanted to get a perfect and different work for them...
Impower Solutions is a best service meant for web design and development. We need website for my business and I given someone companies but they making time delay and then one my friend Anup referred me to istrides. Really I am very happy about my website because they done within time, I will agree to the services was excellent.
I am pleased and impressed with the work produced by Impower Solutions. Impower Solutions has worked for over a month with complete integrity and I have received several compliments on my website.
Great quality of work & customer support.
15 Pixint
16
IStrides Technologies
Istrides Technologies is a web development with very famous in designing services. They are doing designing and developing services and SEO with digital marketing also. They give the clear out put I am very happy from their services, They grant more offer to client with work sanctification.
Istrides Technologies is a best service meant for web design and development. We need website for my business and I given someone companies but they making time delay and then one my friend referred me to istrides. Really I m very happy about my business because they done within time, I will agree to the services was excellent.
Istrides Technologies is very familiar for website design, package design & website development. They deliver the product in right time and I feel so happy from their product & services
These guys have got solution for your manual operations and face lift of your existing business.
17
Spidergems
I am very happy with Spidergems for designing a website that truly reflect our company, brand identity and our values. They have done a great job in creating the home page that allow website visitors immediately know what our company exactly offers.
Spidergems is an award-winning web design company based in Chennai.

Over the years, it has won multiple awards and featured in various magazines. It's a reflection of the brilliance and the amazing web design services offered by Spidergems.
Spidergems is the best company you can rely on to create a website with every features and functionalities you want. They have expert team to create custom and personalized websites.
They did a wonderful job!
18
Dream Effects Multimedia
Dream Effects is a leading Multimedia service provider and Web Designing Company in Chennai India. We cater our services into various multimedia platforms like Print solutions, Web design and development, Presentations, E-Learning and online marketing solutions.
19
Hasten IT Solutions
Hasten IT Solutions is an emerging web technology company in chennai giving webdesign, web development, internet marketing, Custom application development, SEO and framework development.
Focus on developing responsive website designing, mobile webdesign services and Custom CMS.
20
Domaincer
Domaincer is chennai based web service provider serving people & businesses to create their online establishment. Domaincer is proud to be best web designing company & web hosting company in chennai with its core strength of its professional, young, dynamic, creative, & innovative team. In a span of 6 years of market experience, Domaincer has traveled a huge distance in creating its Quality, Value & Brand in Web Designing & Web Hosting. Domaincer is looking forward to make India better through technological advancements & achievements.
Incredibly creative and innovative guys.. Awesome
Best website with nominal cost.. Good teamwork
Interactive and innovative team.. Great work..
21 Aktis Web Solutions
22
Xmedia Solution
Medium level company that I ever heard.
We are one of the best Web designing company offering affordable web hosting in India
23
Hexapedia Web Solutions
Best at Web Designing & Graphic designing in chennai. Best among very few professional designers in chennai.
Best Web Designing Company in Chennai offering services at very optimal prices.
Good Company. Small team but technically sound people.
24
PiperEdge Technologies
I must say that PiperEdge is one of the best companies I have worked with. PiperEdge is the ultimate solution provider for ecommerce solutions because of their professional approach and prompt service. Great job PiperEdge team and thank you guys!
25
iStudio Technologies
Good company with friendly interaction and the deliverable's are on time.
PSearch List