Top 10 Best Chennai Web Design Companies
What does it take to be a standout web design company in Chennai, a bustling hub of creativity and technological advancement?

First and foremost, it's about understanding your needs. Maybe you're an ambitious startup looking for a site that captures your innovation and spirit. Perhaps you're an established business wanting to overhaul your online presence. Each company has its own specialties and style, and finding the one that aligns with your vision is key.

The realm of web design is broad and ever-changing. Some companies are wizards in creating visually stunning websites with eye-catching graphics and animations. Others are maestros at functionality, ensuring that every click leads to a seamless user experience. And then there are those who have mastered the art of balancing both, crafting sites that are not only beautiful but incredibly intuitive.

Chennai's vibrant tech scene means that these companies have access to top-notch talent, cutting-edge tools, and a community that thrives on innovation. This translates into websites that aren't just attractive but are also reliable, responsive, and aligned with the latest trends.

What also sets the best companies apart is their approach to collaboration. Working with a web design company should feel like a partnership, where your ideas and goals are at the forefront of the design process. It's about finding a team that listens to you, understands your market, and brings your vision to life in a way that resonates with your audience.

The Top Ten

1 Niyati Technologies

Undoubtedly one of the best and most efficient design consultancy firms in Chennai. I have worked with them for a few of my friends who run startups. What makes Niyati stand apart from other companies is their no-nonsense approach and down-to-earth work culture. Once you start working with them, there is no way you can leave them. I wish Niyati all the best.

A website designed by Niyati Technologies will stand out in a group of well-designed websites because of its spectacular simplicity, ease of navigation, design elements, and pleasant color schemes. The team at Niyati is dedicated and passionate about design.

I have known this company since its inception. A bunch of self-inspired individuals who have come together to create world-class design solutions. The team at Niyati rocks!

Visit Website

2 BlazeDream

Excellent Designs. Broad experience in Portal development and mobile Apps development. Our experience with BlazeDream was very positive and extremely professional. At first, we were worried about the risk of outsourcing efforts to a company we had never used. Through a solid list of references, we solidified our decision and began development. Now, after finishing production, we can still keep in touch with our project manager who fixes unforeseen glitches immediately. At every point, we had instant access to communicate with our project manager online, who could answer any and all questions and provide immediate fixes. BlazeDream is a very reliable company capable of foreseeing our development needs. We are very happy with our decision to work with BlazeDream.

I am a wholesale dealer of handcrafts in Chennai. Blaze Dream helped me move my business onto the internet. I am very much satisfied with my website developed by Blaze Dream. They heard my needs and worked on it. 'The cooperation of workers and clients leads to success' - it became true in my case. I felt happy to work with Blaze Dream, and I suggest you do the same.

Visit Website

3 Open Designs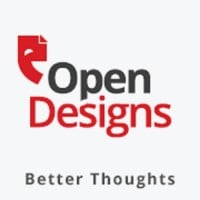 We are one of Chennai's premier Digital Media Solution providers since 2000, We work on Responsive Website Design , Digital Marketing, Social Media Management, Content Writing, Ecommerce Applications & Mobile Apps ( End to End online Solutions Provider)
I am extremely glad that I had joined Open Designs Interactive for my internship. The firm is as professional as they portray. I love working with my esteemed colleagues, especially my seniors who guide me in a friendly manner, so that I end up creating something productive. It's a positive start for an intern like me.
I'm really happy and feel prestigious to get such an excellent opportunity with the ODI team. Every action associated with the company's performance and progression is determined to succeed. More than a company, ODI provides a friendly aura to the clients as well as to the employees too. I can recommend the ODI team to businesses who want to excel in their presence in terms of web and mobile application market and actualize their dreams into reality.
We are not exactly workaholics, but then we are getting there. We thrive on challenges from clients who make us push the envelope, so to say, and contribute towards making people experience services and products differently. And if you think you need that different look for your business...
Visit Website
4
Raga Designers
We are very pleased with Raga Designers' level of commitment, dedication, and turnaround times on our projects. Their development team is very keen on change requests and communication. They have the experience and knowledge needed to deliver quality solutions. We highly recommend Raga Designers.
I created a website with RagaDesigners, a good website company in Chennai. They have good communication with clients, attractive website design, and they deliver projects on time.
Raga Designers offer affordable prices and friendly service. They gave me more ideas to make my website SEO-friendly.
5
Dezvolta
Dezvolta is a web design company in Chennai, specializing in website design, website development, internet marketing, and amazing tech support. Dezvolta's after-sales support is extremely good. When it comes to user interface design or designing responsive websites, Dezvolta should be your choice.
A very good web design company with on-time delivery and a neat and clean outcome. I would say that if you want your website to be professional and your marketing representative, then DEZVOLTA is the right place to approach. I am really happy with their after-sales service too.
I was extremely happy with their service. Thank you, Toptens team, for helping me find a really good company! It means a lot to me. I highly recommend Dezvolta for website design and amazing customer support.
6
Rarefly
Rarefly is an affordable, no-nonsense, practical professional web design company in Chennai, India. As a one-stop resource for all website design and branding services, we believe in efficient technologies, quality design, web standards, and accessibility. Our straightforward, no-jargon approach is sure to quench your thirst.
I've been very happy with the way they have been able to efficiently, effectively, and quickly come up with good solutions at a very reasonable fee.
This Rarefly web design company has an expert team that can develop wonderful websites that meet your creative direction and goals.
7
Webkites Interactive Media
One of the best companies in Chennai, the main benefit you get is that they provide quality web designing and web development.
This is a small team with lot of talent.
Very good dedicated team.
8
BrokenGlass Designs
We have worked with the Brokenglass team on a couple of our projects. The quality of their output is excellent. They are very reliable and the project was delivered on time. We worked closely with them on a web application and an e-commerce portal, and their level of understanding of the requirements was astonishing. We highly recommend them.
Very good design company in Chennai. I went through their portfolio section and it looks very impressive. They are a promising team in Chennai. You can always trust them.
Our website has been revamped by BrokenGlass Designs last week. They understood our long-term digital strategy and gave an excellent design according to that. Thanks, team.
9
Team Mango Media
Team Mango Media did an excellent and professional job. Their team was very responsive, worked with our team very closely, and contributed significantly to helping us meet our tight deadlines. We would choose them any day for any of our future projects.

The team is very committed and always delivers on time, as promised. We would not hesitate to engage with Team Mango Media for any of our future projects related to their areas of expertise.

Sincerely, Ravi Parjanya
The team at Team Mango Media Private Limited provided a fast and professional service. They were always ahead of schedule, available on Skype, phone, and email, and provided quick replies and a fine and courteous service.
I think they have done a fantastic job. I outlined my idea on paper, and they were able to bring it to life. They are professional, and their work is top-quality. I look forward to working with them on other projects.

By: Peter Kahiu
10
Siam Computing
These guys know their stuff. They literally wouldn't accept the easy way out, and they were more concerned about how visitors to my website would experience it than I had been.

World-class service!
Siam Computing did a great job with the redesign of our hospital's website. They totally understood our brief.
The Contenders
11
JB Soft System
One of the best web development companies in Chennai.
12 Webindia
13
Impower Solutions
Impower Solutions is a great service for web design and development. I needed a website for my business, and I had tried a few other companies that kept delaying the project. Then, my friend Anup referred me to Impower Solutions. I am very happy with my website because they completed it on time, and I agree that the services were excellent.
Impower Solutions is the best web design company. They designed a travel website for my business and they did a fantastic job. I am very satisfied with Impower Solutions. The people there are very helpful, and I personally suggest this company to people who want to get perfect and different work done.
I am pleased and impressed with the work produced by Impower Solutions. Impower Solutions has worked for over a month with complete integrity, and I have received several compliments on my website.
14 Pixint
15
IStrides Technologies
IStrides Technologies is well-known for its web development and design services. They also offer SEO and digital marketing. I am very happy with their services. They deliver clear results and offer numerous incentives to clients, ensuring their satisfaction.
IStrides Technologies offers excellent services for web design and development. I needed a website for my business and had contracted with some companies, but they caused delays. Then a friend referred me to IStrides. I am really very happy with my business website because they completed it on time. The service was excellent.
Istrides Technologies is well-known for website design, package design, and website development. They deliver their products on time, and I am very happy with their products and services.
16
Spidergems
Spidergems is an award-winning web design company based in Chennai.

Over the years, it has won multiple awards and been featured in various magazines. It's a reflection of the brilliance and the amazing web design services offered by Spidergems.
I am very happy with Spidergems for designing a website that truly reflects our company, brand identity, and our values. They have done a great job in creating a homepage that allows website visitors to immediately know what our company exactly offers.
Spidergems is the best company you can rely on to create a website with every feature and functionality you want. They have an expert team that can create custom and personalized websites.
17
Dream Effects Multimedia
Dream Effects is a leading multimedia service provider and web design company in Chennai, India. We offer our services across various multimedia platforms, including print solutions, web design and development, presentations, e-learning, and online marketing solutions.
18
Hasten IT Solutions
Hasten IT Solutions is an emerging web technology company in Chennai that offers web design, web development, internet marketing, custom application development, SEO, and framework development. We focus on developing responsive website designs, mobile web design services, and custom CMS.
19
Domaincer
Domaincer is a Chennai-based web service provider serving people and businesses to establish their online presence. Domaincer takes pride in being the best web designing and web hosting company in Chennai, owing to its core strength of a professional, young, dynamic, creative, and innovative team. In a span of six years of market experience, Domaincer has covered a significant distance in establishing its quality, value, and brand in web designing and web hosting. Domaincer is looking forward to making India better through technological advancements and achievements.
Incredibly creative and innovative guys. Awesome.
Best website with nominal cost. Good teamwork.
20 Aktis Web Solutions
21
Xmedia Solutions
We are one of the best web design companies offering affordable web hosting in India.
22
Hexapedia
Best at Web Designing and Graphic Designing in Chennai. Best of the very few professional designers in Chennai.
Best Web Designing Company in Chennai offering services at very optimal prices.
Good company. Small team but technically sound people.
23
PiperEdge Technologies
I must say that PiperEdge is one of the best companies I have worked with. PiperEdge is the ultimate solution provider for e-commerce solutions because of their professional approach and prompt service. Great job, PiperEdge team, and thank you!
24
iStudio Technologies
Good company with friendly interaction, and the deliverables are on time.
25 Hikma Infotech
PSearch List