Best Football Goals of the 21st Century
Last century saw some of the greatest goals in football history such as Maradona's second goal against England in the 1986 World Cup or Roberto Carlos' physics-bending free kick. However, in this list, we'll try to see the best goals scored in the 21st century.

The Top Ten

1 Zlatan's 30-Yard Bicycle Kick (2012)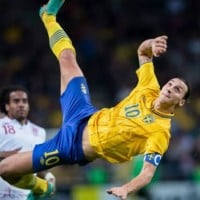 On November 14th, 2012, England played against Sweden in a friendly match to open a new stadium. Sweden were 2-1 down in the 76th minute from where Zlatan Ibrahimovic scored 3 goals in 15 minutes to not only win the match for Sweden but become the first player to score a hat-trick against England since Marco Van Basten in 1988. But what overshadowed Ibra's 4 goals and Steven Gerrard's 100th England cap, as well as the debuts of Sterling, Osman, Shawcross, Caulker, Carl Jenkinson and Wilfried Zaha, was the last goal of the match. When goalkeeper Joe Hart failed to clear the ball, Zlatan Ibrahimovic scored arguably the best goal of all time as he perfectly placed his 30-yard bicycle kick to the back of the net.
Simply jaw-dropping! I doubt we will ever see a goal as insane as this one.
This is even better than Maradona's goal!
2
The Flying Dutch Man (2014)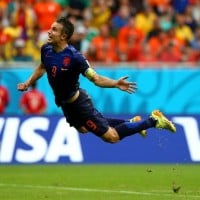 In Netherlands' first game in the Fifa World Cup 2014 against the then world champions Spain, Robin Van Persie scored a majestic 'Flying Header'. This is one of the best world cup goals in many ways:

1 - Skill: running to connect with the ball kicked from behind you from 40 metres away, hitting it pefectly in the right angle and with just the right power, and sacrificing all of the body to do this is just absolutely incredible.
2 - Mental Aspect: thinking of scoring like this, under these circumstances, takes intelligence, creativity and guts.
3 - Casillas is nailed to the ground. The checkmate play is exemplified by the fact that the keeper doesn't even begin to try to stop it.
4 - The goal is unique. There's tons of kicks or volleys that end up nicely in the crossing, but even those can get a little boring. The esthetic value of this goal is unparalleled.
5 - Historic Value: This goal was scored in a match between two of the premier football countries in history, ...more
3
Ankara Messi (2007)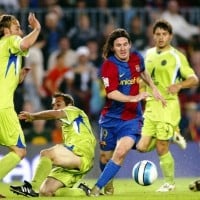 In 2007, Lionel Messi scored arguably the finest goal of his illustrious career. Quite similar to Maradona's 'Goal of the Century', Messi received the ball in his own half, ran with pace through countless defenders and followed it up with the coolest finish.
It's pretty amazing how quickly Messi became great. He was more or less still a kid when he got his first game for the full Barcelona team.
4
Kaka's Solo Goal vs. Man United (2007)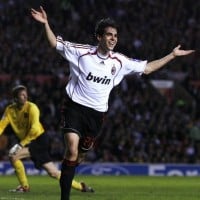 In the UEFA Champions League 2006-07 semifinal match against Manchester United, Ricardo Kaka scored one of the most beautiful goals in the history of the competition.
Upon receiving the long ball from Dida, Kaka touched the ball four times putting his creative genius on full display before hitting the ball home.
5
Ronaldinho's Free Kick vs. England (2002)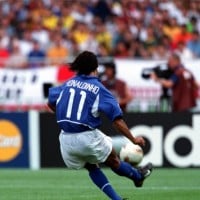 In the FIFA World Cup 2002, the legendary Brazil squad faced England in the quarterfinals. With the score tied 1-1 in the 57th minute, Ronaldinho scored one of the most epic free kicks from 50 yards away. English goalkeeper David Seaman still gets nightmares as he expected Ronaldinho's free kick to be a cross only to see it magically hit the net. This goal ended up to be the winning goal of the match and became a part of the legacy of "Football's Greatest Entertainment".
Probably the best free kick ever taken. Ronaldinho is such a magician!
6
Zlatan's Solo Goal with Untied Shoelaces for Ajax (2004)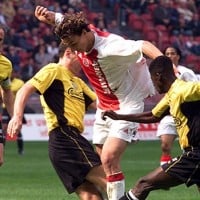 Swedish superstar Zlatan Ibrahimovic has scored many fantastic goals throughout his career. Among the earliest of them was a goal he scored for Ajax in 2004 against NAC Breda which is still considered one of the finest goals of his career.

"I received the ball with a defender on my back. Another tried to challenge me, but I kept the ball from both. Then I turned and saw the goal. I was going towards the goal dribbling past players... bam, bam, bam!... as I searched for a moment to shoot. It didn't come, so I kept on going past different players. Then I was past the goalkeeper." - Zlatan Ibrahimovic
7
Rafael Van Der Vaart's Back Heel Goal (2003)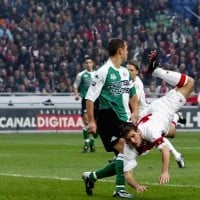 Back in 2003 when Van der Vaart was playing for Ajax against rival Feyenoord, he scored this superb over-the-head back heel which became an instant classic.
8
Ronaldinho's Overhead Goal vs. Villarreal (2006)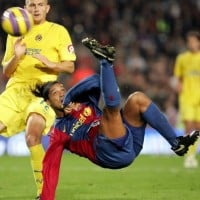 Ronaldinho was having one of his best La Liga seasons in 2006-07 while his brilliance never failed to entertain the fans. But one of his best goals for Barcelona was an overhead kick he scored against Villarreal. The magician received a cross from Xavi in the penalty area, received it with his chest before falling and scoring a magnificent goal.
9
Patrik Schick's Super Strike (2021)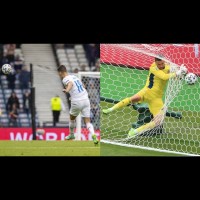 Patrick Schick became the break-out star of Euro 2020 with this unforgettable goal. Not only did he score from halfway but curled the ball elegantly towards home.
10
Bergkamp's Pirouette Goal vs. Newcastle (2002)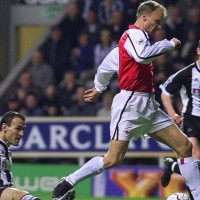 Had Dennis Bergkamp not been a footballer, he would have been an architect. On March 2, 2002, Bergkamp scored the iconic "Pirouette Goal", the sheer ingenuity of which was never seen before and never replicated again.
The Contenders
11
Ronaldo's Bicycle Kick vs. Juventus (2018)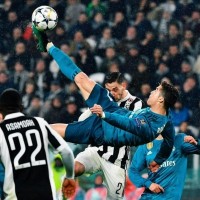 In the quarterfinals of UCL 2018 against Juventus, Christiano Ronaldo jumped 7.5 ft to score this stunning bicycle kick which is widely regarded as the best goal of his outstanding career.
12
Neymar's Solo Goal vs. Flamengo (2011)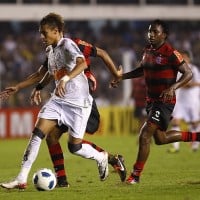 Neymar is one of the most popular Brazilians in recent memory. The superstar saw success in the likes of Brazil national team, FC Barcelona and Paris Saint Germain. But his best piece of art comes from his young days in Santos in which he scored a masterpiece of a solo goal.
After picking up the ball near the halfway line, and humiliating multiple opponents with his trickery and skills, Neymar netted the ball with a cool finish and took home the Puskas Award later that year.
13
Faiz Subri's Free Kick (2016)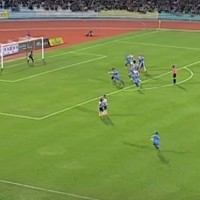 In a Malaysian league game between Penang and Pahang, Faiz Suiz scored this physics-defying free kick. Even the legend Roberto Carlos was impressed.
That curl was insane!
14
Ronaldinho's Toe Poke vs. Chelsea (2005)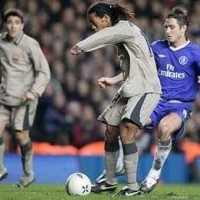 In a UCL match against Chelsea at the Stamford Bridge in 2005, Ronaldinho blew everyone's mind with this bizzare toe poke that left Petr Cech baffled. It solidifies the fact once again that there is no one like Ronaldinho.
15
Riley McGree's Scorpion Kick (2018)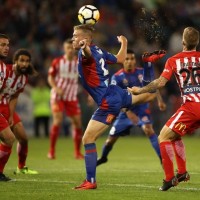 In 2018, 19 year old Newcastle Jets midfielder Riley Mcgree scored this phenomenal scorpion kick which left everyone's jaw dropped.
16
David Luiz's Free Kick vs. Colombia (2014)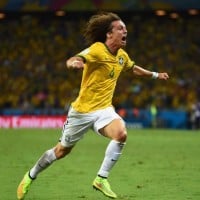 The 2014 FIFA World Cup was filled with many amazing goals. One of the unforgettable goals came in the quarterfinal match between Brazil and Colombia where David Luiz scored this incredible free kick to give the hosts a 2-0 lead. His iconic celebration made sure that there was more to remember from the match than Neymar's injury.
17
Forlan's Goal vs. Germany (2010)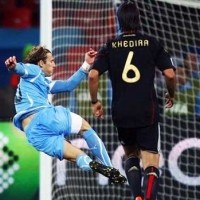 Diego Forlan's performance in the 2010 World Cup was sensational. In the third place play-off match against Germany, Forlan found and angle out of nowhere and scored this magnificent goal.
18
Gareth Bale's Copa Del Rey Winner (2014)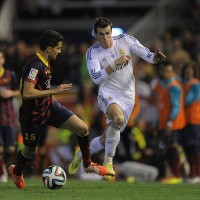 In the 2014 Copa Del Rey Final, Gareth Bale stunned Barcelona after receiving the ball in his own half and scoring a solo goal. After receiving a tackle, he ran off the pitch, sprinted back to the pitch clocking 21.54 mph and won the cup for Real Madrid with a wonder goal.
"A goal any sprinter in the world would like to score... he's the fastest footballer in the world." - Usain Bolt
19
Rivaldo's Bicycle Kick vs. Valencia (2001)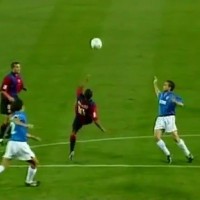 On June 17, 2001, Brazilian legend Rivaldo produced a masterclass of a performance to qualify Barcelona for the UCL. He scored a hat-trick which was completed with this magnificent bicycle kick from the edge of the penalty area.
20
Son Heung-Min's Solo Goal vs. Burnley (2020)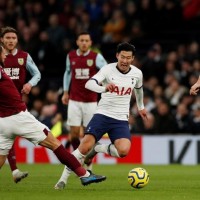 Son Heung-Min scored one of the best solo goal in Premiere League history as he received the ball near his own penalty area and made a spectacular 70 yard run before sending the ball to the back of the net.
21
Zidane's Volley vs. Leverkusen (2002)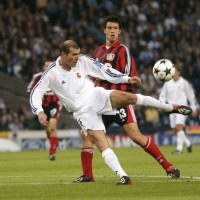 In the UCL Final in Glasgow, Zidane scored one of the most beautiful goals in the history of the competition. The Los-Blancos talisman hit a stunning volley that rippled into the back of the net.
22
Messi's Solo Goal vs. Bilbao in Copa Del Rey (2015)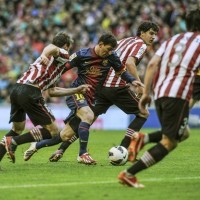 In the 2015 Copa del Ray final, Messi added another tally to his wonder goals as he received the ball just inside the Bilbao half and scored a magnificient solo goal.
23
Cristiano Ronaldo's Knuckleball vs. Portsmouth (2008)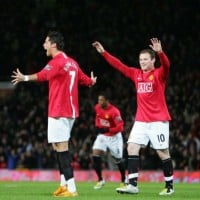 In an EPL match against an inspiring Portsmouth team in January 2008, Christiano Ronaldo scored an unstoppable 'knuckleball' free kick which left England's #1 goalkeeper helpless.
24
Tim Cahill's Picture-Perfect Volley (2014)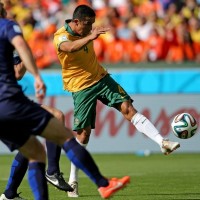 Here's another iconic goal from the 2014 World Cup. Moments after Netherlands went 1-0 up against Australia, Tim Cahill converted a long ball with a picture perfect volley past Jasper Cilliesen. To top it off, he hit it with his weak foot. Simply insane!
25
Zlatan's 500th Goal (2018)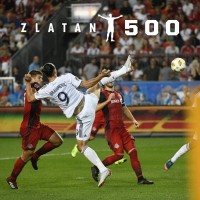 In an MLS match in 2018, Zlatan Ibrahimovic joined the elite club of players with 500 career and he did it in style. The Swedish superstar netted the ball past Toronto FC goalkeeper with a ridiculous round-house kick from one of the narrowest angles.
PSearch List