Top Ten Most Shocking World Cup 2014 Moments
The 2014 had some shocking teams and moments this list shows the top 10 of the tournament.

The Top Ten

1 Brazil Crash Out 7-1

This was pottentially one of the most outrageous football results ever; regardless of just this tournament. the favourites, Brazil, were blitzed to an almost tragic scoreline of 5-0 within 30mins.
This game should have been much closer.
Even despite the absences of Neymar and Thiago Silva, Brazil had the '12th man' in the full Belo Horizonte; Germany had a brilliant team whom had not played to their potential, almost stumbling to the feeble Algerians, so, all in all, a 'cagey' game was expected.
This game was also the seismic end of the Brazilian dream. 12 years since winning it, perhaps too long for the mighty nation, and 64 since hosting it it seemed that the nation had peaked perfectly to be the first nation since France, 98, to win on their home surface; the ultimate. This, however, was abruptly, and cruelly, abolished by the Germans.
Lastly, when was the last time, in any sport, there was such a humiliating result in a semi final between two giant heavyweights?

2 Costa Rica Winning Group of Death

Many people including myself thought Costa Rica was at the world cup to make up the numbers but were we wrong or were we wrong. 3-1 against two time winners Uruguay. Then they made the impossible possible they did something that no one thought they could do they beat a team who has won the whole thing a whopping 4 times Italy 1-0. Then they did something no one in the world thought they would have done and made it to the quarter finals where they took one of the best teams in the world Netherlands to penalty's were they lost but Costa Rica can go home saying we beat two former champions and drew with a other England. Costa Rica can go home with there heads held high.

3 Netherlands Beat Spain 5-1

Spain was doing alright in the first half, with the score 1-1, but in the second half, they were going down 4-0, with the result 5-1 after the match, although I can blame Casillas for the 3rd, 4th and the 5th goal. For the 3rd goal, if he was on the other end of the net, he could of saved De Vrij's header. For the 4th goal casillas made a huge mistake by passing the ball. The fifth goal Casillas shouldn't have went up to Robben to get the ball off him, he should've stayed inside the 6 yard box.

A lot of people didn't even think Netherlands would get out of the group let a low the semi finals. When Netherlands won 5-1 they meant business.

What's shocking is that Spain were the winners of the last World Cup and now they just flopped.

4 Spain Only Won One Match

Spain defeating champions were only there to make the numbers at the end. They lost to Netherlands and Chile 5-1 and 2-0. Yes they did beat Australia 3-0 but as world champions they should have been getting all 9 points in that group.

5 Brazil Getting a Penalty Against Croatia

It wasn't a penalty enough said.

6 Germany 4-0 Portugal

Portugal have the players to win the world cup then they just do that. Portugal should have been getting to at least the last 16 but that match boosted Germany and busted Portugal's bubble. Germany are still in the world cup and Portugal aren't

Same opinion on Netherlands vs Spain, toss up turned horribly

7 Mexico vs Brazil

Brazil is scary already, being the host is always a boost, just look at the 2022 Qatar World Cup. This turned out heartbreak, now even worse for Brazilians

Now don't get me wrong Mexico are a great side but Brazil as hosts should have won. Guillermo Ochoa is a good reason why Brazil couldn't win. That man was on fire at the world cup. That man will have no sleepless nights finding another club to join for the 2014/2015 season.

8 Tim Cahill Goal Against Holland

That goal was great one of the best goals ever in the world cup ever. It had timing and skill and it was just great.

This was the best goal in the tournament! Even better than RVP's header!

9 USA Goes to the Last 16

USA like Costa Rica had a group of death but they did it. They were 45 seconds from winning the group but they ended up coming 2nd which was just fine for them. "I believe that we can win"

10 Argentina Didn't Stuff Switzerland

Now Switzerland are a great team but are no match to Argentina. Argentina should have had it in the 90 minutes but the mighty Swiss did there country proud but fell at the last hurdle.

The Contenders

11 Suarez Bites Chiellini

Why not this be the shocking moment? If he didn't do that, his team would have seen Quarters at least..

12 Robin Van Persie Header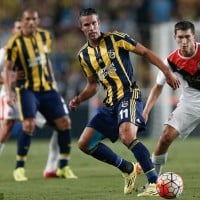 That goal was just outstanding I was speechless at that goal it was just great football it couldn't have been better if he wanted it to go better. but the score was more shocking 5-1 against Spain what?
13 Miroslav Klose 16 Goals
14 Van Persie Header
15 USA Draw with Portugal
16 Greece Beat Ivory Coast
17
Brazil Loses Third Place Play-Off
This really should be number 1, because this was one of the worst results that Brazil ever had in the world cup since 1950. The Germans scored 5 goals in 18 minutes, I doubt that anyone thought of this result.
18 Robben Diving
19 Neymar Misses Out of the Rest of the Tournament
20 Mascherano Slide Tackled Robben
21 Vlaar Takes the First Penalty Against Argentina
22 Louis Van Gaal Changes Goalie Against Costa Rica
23 All Asian Teams Eliminated in the Group Stage
24 Pepe Headbutts Muller
25 Marcelo Own Goal
PSearch List