Best Soccer Players of 2013-2014
The Top Ten
1
Cristiano Ronaldo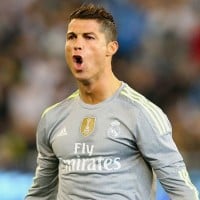 Cristiano Ronaldo dos Santos Aveiro (born 5 February 1985) is a Portuguese professional footballer who plays as a forward for Serie A club Juventus and captains the Portugal national team.
Cristiano ronaldo is a better player because he scores just as much as messi playing as a left mid and messi is a central forward, also messi cherry picks in the box while ronaldo is scoring from headers and scoring from outside the 18. Also cristiano is faster, stronger, taller, a lot more skillful than messi not to mention that ronaldo is a complete forward and dribbles the ball right past the player is is a threat to the goalie. And the only reason he didn't win the balon de orro is because the president of fiffa is the president of Barcelonaand we all know that he is going to pick messi to be the best player.
Cristiano Ronaldo has the whole game, Speed, agility, power, skill you name it he has it. He can score a variety of different goals as Messi scores similar goals all the time! Ronaldo also has more goals for real madrid than he does games that is some achievement that I don't see Messi achieving.
He will always the the best soccer player ever who ever think that Messi is better than C. Ronaldo, I dare you to go to him and compare you and him he will beat you o bad you will never forget and say C. Ronaldo is the best soccer player ever, he will always be number 1 Messi number 4
Cristiano Ronaldo should be the number one because.
1. He scores with both the foot.
2. He scores with headers and has an incredible jump.
3. Physically well built and strong.
4. Amazing speed and acceleration.
5. Takes freekicks and long range shots.
6. Plays as a winger but still scores more than messi.
7. Breath taking step overs and magnificent skill.
8. Scored against almost every club he played against.
2
Lionel Messi

Lionel Andrés "Leo" Messi (born 24 June 1987) is an Argentine professional footballer who plays as a forward for Spanish club Barcelona. He is also known as one of the greatest football players of all time. He was born in Rosario, Argentina on June 24th, 1987.
Messi deserve to be awarded the 2013/2014 ballon d'or again because of his Miraculous Performances in every game he played, though he is suffering from injuries but I believe that is meant for him to rest his muscles for a while cus he has a longtime to play the game... I believe that his return from injury will be a great disaster in his soccer enemies carer... But nevertheless, please get this clear to all Messi's enemies he's not gone for good but gone to have some rest after achieving greatly at age 26 as young as he is... Beware of his return 2014...
Messi may not be as naturally skilled as Ronaldo. Yes, he's still more naturally gifted than most. But he works ten times harder than Ronaldo. He puts his heart and soul into what he does. Also, Neymar is still young, I'd say if you give him 3 or 4 years he'll be better than Ronaldo ever was. But Messi is the GOAT, whether you hate him or love him, the man will go down in history as the greatest.
He is the best in football all around the world..He is the best player than anyone..His dribbling skill is unbelievable and goal scoring tallent is terrific..Messi is very fast and worst nightmare to the defense and gaol keeper..

With the better than C.Ronaldo and deservs to be in 1st palce..Hence, with skills only the players does not become best..He must be respectful, honest and fair player..
You are the best. My favourite football players is Messi tevez and aguero. Mesii you're the best player I know from Ronaldo. In my school 90 percent of our schoolmates like U. And 87 percent of our schoolmates like Ronaldo but 100 percent of our schoolmates like james rodriguez. By the you are the worlds best player I seen in my life
3
Neymar

Neymar da Silva Santos Júnior, born 5 February 1992, commonly known as Neymar or Neymar Jr., is a Brazilian professional footballer who plays for Ligue 1 club Paris Saint Germain (PSG) and the Brazil national team as a forward or winger, and is also the captain of the national team. ...read more.
Neymar is amazing and has some sick skills, and fast, and also has amazing tricks. What did pele say? He said that neymar is amazing and he might be the best player in the world. And just so you could now he is beating pele and he is only 22 that's amazing for a 22 year old guy. Ok Messi is good and so is cr7! But they have more experience than neymar because Messi is 27 and cr7 in 29 the got more experience! So please vote for him just like what I did
He is an amazing player that cooperate with his team and score many goals. He is young and doing many awesome things. He win the golden ball in the confederation cup of 2013. In my opinion, he is the best soccer player.
Top 6 reasons naymar should be at least no.2
1. He has really sexy moves
2. He made Brazil famous
3. His hair
4. He's extremely fast and good with ball
5. He's light weight so he's good at maneuver
6. He has a ton of swag and he's just awesome
I think that neymar is the best, and he should not be discouraged about what happened to him and his team in world cup 2014. Neymar played very well in Santos FC and Barcelone. He is the best 4 me. I LOVE you NEYMAR
I
4
Zlatan Ibrahimović

Zlatan Ibrahimović (3 October 1981) is a Swedish professional footballer who plays for an Italian club AC Milan and the Sweden national team for which he is captain.
Zlatan Ibrahimovic is the best player you can find now... Messi and Ronaldo score, but ibrahimovic does it with style and actually assists tons of plays... and being able to score four fancy goals and beat england on a team that didn't even qualify for the world cup is incredible!
Best forward at this moment. Top scorer and 2nd best assist in France. He is good everywhere he goes. If this was about the best strikers, Ibrahimovic would be number 1.
Has been one of the very best in the last couple of years. Of course the Ingles still think Wayne Rooney is something. And the lions still rule the world of football. Hmmm not since 1966...
He score goals that only L. Messi and C. Ronaldo could think. Others can just dream of scoring goals of his quality.
5
Luis Suárez

Luis Alberto Suárez Díaz (born 24 January 1987) is a Uruguayan professional footballer who plays for Spanish club Atletico Madrid and the Uruguay national team as a striker.
Man, I kid you not, he's literally number 3 behind Messi and Ronaldo... Neymar? He's great but Suarez is terrific. He's tied for most goals in the premier league and he has only played 6 games while everyone else has played 9 or more. Even Sturridge is top 15 this season. He's also tied for first, with his teammate and has more goals than any other player in the premier league since January... Suarez would have the most, though, but he got banned. Other than his crazy shenanigans, he's simply the best in the premier league.
I love Suarez. I support liverpool but still doesn't mean I agree. Look up his skills and top noch goals, don't forget his free kicks. If you think RVP is better or Wayne Rooney then probably your just saying that you are scared that Suarez has been in England for shorter than them but is still better than them. But there is one I do not agree with. Messi is better than Ronaldo and Suarez deserves to be 4th place.E.G. 1. Messi, 2. Ronaldo, 3. Neymar, 4. Luis Suarez, 5. Zlatan Ibrahimovic. That was just top 5 in my opinion and it is infact REAL. No COMMENT. Do not say anything.
If we are looking at the 2013/2014 season Suarez should be top followed by Ronaldo. Suarez led Liverpool to the 2nd place in the Barclays Premiere League. He is the most outstanding player in the Barclays Premiere league. Messi, who played pretty bad that season should be like 6 or 7th.
I no longer doubt Suarez is top 5 in the world today, where in there he sits I'm not sure, but when one starts to lose count of the goals then one must admit!
6
Gareth Bale

Gareth Frank Bale is a Welsh professional footballer who plays as a winger for English club Tottenham Hotspur and the Wales national team.
Gareth bale has quickly transitioned into a winger starting out as a defender. Gareth bale is hands down the fastest player. He is better than that diving neymar. He has also gotten more goals than neymar so I don't know how neymar is higher
This man comes from a country where football is not popular so very hard to train for and had a spirit speed of around 36.9 kilometres per hour how is he not in top 5 should be 4-3
Gareth bale is so unpredictable. He's left footed & can score with the right. A terrific & all around amazing soccer star
Gareth bale because he plays for one of the best teams in the world.
7
Franck Ribéry
He is skillful player
Deserve to be number 3
Ribery is the best
I think he is the best in this year.
8
Mesut Özil

Mesut Özil is a German professional footballer who plays as an attacking midfielder for Süper Lig club Fenerbahçe. Nicknamed "The Assist King", Özil is known for his technical skills, creativity, agility, and finesse.
Ridiculous Ozil is nowhere near that good. Man I'm not saying he's not good but he should be like somewhere around 60. He hasn't been good for Arsenal let alone the German team.
Ozil should be the 2 best plays of the world. Because of him Ronaldo has scored many goals.
Mesut ozil, no other player can't play like him in his position.
Yea... This position is right... But he could be better he just slows down so quickly
9
Arjen Robben

Best player in the world even better then Messi or suarez
With robben his skills he deserves to become nr:one on the list he will bring the dutch the cup 2014 together with van persie huntelaar and a great outstanding dutch team hup holland hup...
He deserves to be the worlds second best player he has played better than Messi this year but he"s so underrated and so unliked by people but for true football fans he is among the worlds top3.
Robben is so underrated if you ask he is an amazing player with great speed and I'm surprised he's not higher on this list.
No one faster with the ball and can change direction with such ease. Takes on 4-5 with ease.
10
Robin van Persie

Robin van Persie is a Dutch coach and former professional footballer who played as a striker. Regarded as one of the best strikers of his generation, he is the all-time top scorer for the Netherlands men's national team. He is currently an assistant manager at boyhood club Feyenoord in his first managerial ...read more.
He deserves after robben the second place with his increddible skills and scores with robben together so much danger for any defense on the world...
He Deserves to at least be in the first five, I mean he's like one of the best!
Van persie is awesome he deserves to be no.3
He is not that bad deserves to be no.4
The Contenders
11
Wayne Rooney

Wayne Mark Rooney is an English professional footballer who plays for and captains both Manchester United and the England national team.
Wayne Rooney has had some trouble scoring goals lately but he does deserve to be in the top 10. Rooney has helped united win multiple titles and he is bringing United up to the top with his great leadership and assists.
WOW! Wayne Rooney should be way higher on this list. He has scored about 364 goals in his career and has helped his team win plenty of championships. I really have no idea why he is rated 13!
Rooney didn't have a good year and this is just 2013-2014 season not their whole career. He doesn't deserve to be at number 10 when he was out battling injuries most of the season.
Despite manchester united having one of their worst season in recent times, that don't stop rooney from showing what he can do to diffenders and goal keepers, he has helped from even position on the field. he does a good job defending and playing good even without all the goals.. he's still one of the best and talented strikers around. he's hardworking, he should be higher up on this list
12
Andres Iniesta

Andrés Iniesta Luján is a Spanish professional footballer who plays for FC Barcelona and the Spain national team.
Barcelona is rare with facilities with good players but Iniesta is the 4th best player in Barcelona.
This dude is a teacher
13
Sergio Agüero

Sergio Leonel "Kun" Agüero is an Argentine professional footballer who plays as a striker for Spanish club Barcelona and the Argentina national team.
Aguero has everything a good striker should has, speed, power, pace, skills, deadly infront of goal... He is also playing with heart and passion to the sport he loves.
Sergio agureo is better than a lot of people like van persie but van persie is still brilliant. so he should be about 5th
Aguero must be number 7
Too cool for school
14
Eden Hazard

Eden Michael Hazard, born January 7th, 1991, is a Belgian professional footballer who plays for Real Madrid CF and captains the Belgium national team.
Hazard is one of the best. A world class player who is young and will be great someday
He is the best! Ronaldo and hazard are real champions.
He is awesome. He should be at second because that Lionel Messi is a waste
Hazard is the best dribbler in the world...
15
Ronaldinho

Ronaldo de Assis Moreira (born 21 March 1980), commonly known as Ronaldinho Gaúcho or simply Ronaldinho, is a Brazilian former professional footballer and current ambassador for Barcelona. He played mostly as an attacking midfielder, but was also deployed as a winger. Often considered one of the best ...read more.
I think Ronaldinho should be no.4 because he is a legend and created some of the skills that all professionals still use even now. And I think age is just a number
I personally think Ronaldinho should number 10 becouse, I mean he is getting old but, seriously number 15. that is just embarrassing him.
He's a magician. The things he does is out of this dimension, Some day he'll make the ball talk...
Ronaldinho is so skilled and talented, the people above him are worse than him!
16
James Rodriguez

He plays well. He is not a guy who likes fighting and he should be in the top ten
You are the best james you are god gifted.
He was so sweet. And best player
He should be number 1
17
Xavi Hernandez

Xavier "Xavi" Hernández Creus is a Spanish professional footballer who plays as a central midfielder for Qatari club Al Sadd SC.
He is a great mid he plays his position he should take messis spot he makes Messi be able to score at all. Oh Messi don't cry you have xavi to help you score.
18
Radamel Falcao
He should be in the top five because he. S very good because of all his skills
Deserves 10nth or 9nth
Deserves to be 5 or 4
A very good player
19
Robert Lewandowski

Robert Lewandowski (born 21 August 1988) is a Polish professional footballer who plays as a striker for German club Bayern Munich, and captains the Poland national team.
He is winning in all statistics in thus year, best striker in any club in the world, best striker in Euro2016 qualification, champions league, Bundesliga, fastest 5 goals ever, 12 goals in 7 games. Best in every aspect of great striker
He is a great player because he makes good runs, he's a good teamate, he has a powerful kick, and he's awesome BOYY!
In 2015/16 season is best striker with 12 goals in 7 games! Nobody ever score more!
He should be in top 15, because he is one of the best European strikers!
20
Alexis Sanchez

Alexis Alejandro Sánchez Sánchez, known as Alexis Sánchez or simply Alexis, is a Chilean professional footballer who plays as a forward for English club Manchester United and the Chilean national team.
Are you guys mad this guy has speed.
21
Bastian Schweinsteiger

Bastian Schweinsteiger is a retired German professional footballer who usually played as a central midfielder.
He is a good player
He is just so good
22
Yaya Toure
This list is for 2013-14 if going off seasons apart from the obvious top 2 yaya was by far the best midfielder, we talk about midfielders who score9-10 a season as world class, this lad scored 20! And won premiership and league cup. I rest my case... No 3 without a doubt...
Best well balanced midfielder with a striker adeptness!
Deserves to be 1st
You do work hard
23
Diego Costa

Diego da Silva Costa, is a Spanish professional footballer who plays as a striker for English club Chelsea and the Spain national team.
Yo! Guys he's like one of my favorites! Come on he should be top ten
24
Karim Benzema

Karim Mostafa Benzema is a French professional footballer of Algerian descent who plays for Spanish club Real Madrid and the France national team as a striker.
Real madrid looks up to him as a striker he is goo in changing to score an he surely can finish
25
Manuel Neuer

Manuel Peter Neuer is a German professional footballer who plays as a goalkeeper for Bayern Munich and the Germany national team.
This person should be the best player in the world cause his keeper stats are 91.9% clean sheets and others
No. 1 goalkeeper in the universe
Best keeper in world
PSearch List