Top 10 Greatest Sports Cities in the World
The Top Ten
1
Melbourne, Australia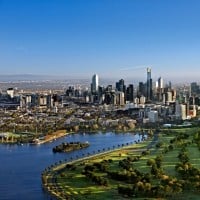 Great and inclusive sporting culture. Magnificent venues - MCG; AAMI Park; Docklands Stadium; unrivalled Tennis Centre; Albert Park precinct including MSAC Swimming Centre; Flemington, Moonee Valley and Caulfield Racecourses; Sandbelt Golf Courses including Royal Melbourne and Kingston Heath; close to Phillip Island Motorcycle Grand Prix and Bells Beach Surf Classic; to name a few.
Passionate and knowledgeable fans happy to share their venues with the world. Great local facilities for sports participation at all levels. No place like Melbourne.
This city is father of sport. this city is very great city of sport. This city is better than sport city like London, New York, Sydney, etc. Melbourne cricket ground is world best cricket club
. Melbourne cricket ground playing every ICC cricket world cup final like 2015, 1983etc. 1976, etc. Melbourne playing all sport like cricket football WWE, hockey, golf, formula 1racracing, etc.
Brilliant venues, exiting generous supporters of all sports and athletes. Huge variety of sports. Unbeatable Grand Slam tennis venue, most fun Spring Racing Carnival and the magnificent and spiritual.MCG. Need I say more. This is just the beginnings of Melbourne's attractions.
Australian Open Tennis
Melbourne Cup
Formula One Grand Prix
Phillip Island Motorbikes just down the road
Royal Melbourne Golf Club and others hosting major international events
World Class Aquatic Centre
MCG- Worlds Greatest Stadium hosting AFL Grand Final and Boxing Day Test every year, Cricket World Cups and home to the 1956 Olympic Games (44 years before Sydney) and Commonwealth Games
Etihad Stadium which has a retractable roof also hosting AFL, Cricket, Soccer, Concerts etc
AAMI Park- Home to three football codes.
9 AFL Clubs
2 A-League and BBL clubs- both mens and women's teams
National League teams in Rugby League, Union, NBL mens and womens, Baseball, Ice Hockey, Netball, State Cricket
Rowing Club on Yarra River
PRO Bull Riding and plenty more
2
Boston, United States

Boston is Massachusetts' capital and largest city. Founded in 1630, it's one of the oldest cities in the U.S.
We are so lucky to have such good sports! The Patriots are always good, the Bruins just won the Stanley Cup and had the best record in the NHL last year. The celtics have been struggling lately but they are one of the most successful NBA franchises in history. The Red Sox just won the world series and the Revolution are pretty good. We don't have a historically bad team!
Best city for sports because unlike New York or Chicago or Los Angeles there's only one team for every sport (Red Sox, Bruins, Celtics, NE Patriots, an NE Revolution). So unlike New York or Chicago or LA Boston sports fans all support the same teams. Not to mention the amount of passion and die hard fans in Boston. There is truly nowhere else like it.
Come on guys! We have the Celtics, Patriots and Red Sox! Not to mention the greatest fans in the world!
How did New York get above Boston? Come on all four teams have won a championship in the past decade!
3
Tokyo, Japan

Tokyo, officially Tokyo Metropolis, one of the 47 prefectures of Japan, has served as the Japanese capital since 1869. As of 2018, the Greater Tokyo Area ranked as the most populous metropolitan area in the world.
4
Washington D.C., United States

5
Barcelona, Spain

6
Manchester, England

Not just football but top venue for cricket, boxing, cycling, martial arts, althletics, rugby league and union.
Manchester United + Manchester City. Worldwide football (NOT SOCCER) fame and respect.
For a small city punches miles above its wieght - no government funding - two of the richest Sports Clubs on the Planet
7
Montreal, Canada

Montreal is the most populous municipality in the Canadian province of Quebec and the second-most populous municipality in Canada. Originally called Ville-Marie, it is named after Mount Royal, the triple-peaked hill in the heart of the city. The city is centred on the Island of Montreal, which took ...read more.
You guys know hockey if ya do this is 1st
Incredible Hockey
8
London, United Kingdom

London is the capital and most populous city of England and the United Kingdom. Standing on the River Thames in the south eastern part of the island of Great Britain, London has been a major settlement for two millennia.
Wembley, Lords, Twickenham, Wimbledon etc etc all dripping with history. Has to be The Smoke!?
No. There's a Londoner here who couldn't be less interested in who won last night. So tedious.
9
Dublin, Ireland

10
Le Mans, France

The Contenders
11
Berlin, Germany

12
Toronto, Canada

Toronto is the most populous city in Canada, the provincial capital of Ontario, and the centre of the Greater Toronto Area, the most populous metropolitan area in Canada.
Hockey, Basketball, Baseball, all the year round sports. the energy of the sport enthusiasts is infectious.
It's a cool sports city guys.
Maple Leafs, Raptors, Blue Jays, Toronto FC
WHAT Chicago SHOULD BE 2 LOL LIKE THIS IS THE WORST PLACE FOR SPORT TEAMS ONLY GOT HOCKEY PATHETIC
13
Hong Kong

Hong Kong, officially the Hong Kong Special Administrative Region of the People's Republic of China, is an autonomous territory on the eastern side of the Pearl River estuary in East Asia.
14
Paris, France

15
Mumbai, India

My country all people like cricket but we are all people respect for other sports
Having all types of grounds here
16
Athens, Greece

17
New York, United States

The City of New York, often called New York City or simply New York, is the most populous city in the United States.
Hub of American football, NY jets, and the Yankees, great venues like the yankee stadium
New York home to the knicks, Yankees an giants
Yankees. 27 World Series Championships. Enough said.
18
Bangalore, India

19
Kolkata, India
Football city of india
20 Fife, Scotland
21
Chennai, India
Chennai has a Knowledgeable fans and The Franchise is considered as a most Luckiest and successful Indian franchise..As Chennai was already a 2 times IPL champions and it is the only team to be qualified for playoffs in all the 9 IPL seasons, Likewise in football Chennai club has the highest win percent and already a 2 time ISL champions..Also the city has worldclass Stadiums
Chennai best city of India because sports cricket csk "THALA DHONI" ISL And world chess champion in viswaNathan ananth next biggest city of India chennai
22
Chicago, Illinois

Chicago, officially the City of Chicago, is the third-most populous city in the United States. With over 2.7 million residents, it is also the most populous city in both the state of Illinois and the Midwestern United States. Chicago is considered one of the most important business centers in the world. ...read more.
This city has a championship in every sport how can they go unnoticed
Great sports teams and fans
23
New Delhi, India

New Delhi is the capital and seat of government of India. It is also a municipality and district in Delhi and serves as the seat of Government of Delhi.
24
Hyderabad, India

25
Sydney, Australia

PSearch List