Top 10 Superstars Whose Careers John Cena Has Ruined the Worst
This a list of guys whom would feud with cena and there careers could never recover after it was over

The Top Ten

1 Wade Barrett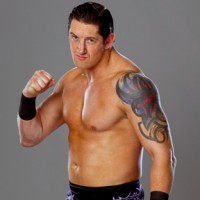 Stuart Alexander "Stu" Bennett is an English professional wrestler, actor, and former bare-knuckle boxer, best known for his tenure with WWE under the ring name Wade Barrett.
The whole nexus thing was really awesome something new and interesting on paper but then you get to summerslam the nexus starts to lose members cause injury and the nail of the coffin when cena wins by making wade tap out was the sign of bad things to come
2
Damien Sandow

Aaron Steven Haddad is an American professional wrestler, best known for his past tenure with WWE under the ring name Damien Sandow.
Now is Damien Mizdow and lifted popularity ending the Miz
The man had great mic skills, great heel, wins MITB then loses to cena on Raw like what just happened then he's a world class high paid jobber now teaming with axelmania
3
Rusev

Miroslav Barnyashev is a Bulgarian professional wrestler and former powerlifter and rower, better known by his ring name Rusev on the Raw brand. He works for the American professional wrestling promotion WWE, where he is the current United States Champion in his second reign. Barnyashev is the first ...read more.
Rusev sucks I was happy to see Cena ruin his career, this dude is pathetic. His Russian gimmick sucks and he was actually born in Bulgaria. Plus he's no 'super athlete.' Kurt Angle, CM Punk, Chris Benoit: these men were super athletes. Even Khali was more athletic than this Bulgarian idiot.
I believe this was the worst one that cena ever bury because Rusev in the latter part of 2014 was overwhelming over with his Russian gimmick and it was real awful to see him get buried like that.
Rusev was so underrated. Has skills and abilities and could put good matches. But stupid Cena interfered this guy too and now he is turned into a jobber.
Although I never cared for this man he was doing ok then for some dam reason you feed him to cena that's the worst person you could feed him to fast lane he beat him wasn't surprised then of course he loses at mania predictably then his career falls from there
4
Zack Ryder

Matthew Brett Cardona, better known by his ring name Zack Ryder, is an American professional wrestler who is currently signed to WWE.
While he never faced cena in the ring in 2011 (more so ally) he was on the rise as a face and won the IC title things looked up then the new year hits 2012 so Kane beats the hell outta him his on a wheel chair only too see eve kiss John Cena which somehow makes it a burial as he was on team teddy he gets kicked in the private parts by eve sad end to what could have been promising ok now you can say he faced him just recently
5
Bray Wyatt

Windham Lawrence Rotunda is an American professional wrestler signed to WWE, where he performs under the ring name Bray Wyatt and is the leader of The Wyatt Family.
WWE has no other time other than worshipping John Cena and his Fruity pebbles. Wyatt's matches are 10x more entertaining than Cena's boring crappy matches.
One day WWE and Cena will pay for what they had all done to these superstars in this list.
I loved this gimmick, the man was on a hot streak beating daniel bryan and the Shield, then you put him to cena why let's see lost to cena at WM, beats cena in a steel cage but still looked weak as hell winning the match, then the nail in the coffin with the last man standing match at payback in which he was defeated from then on the gimmick died along with the wyatt family faction
It's not Cena's fault
6
Ryback

Ryback Allen Reeves is an American professional wrestler that performs in wrestling shows on the indy circuit. He is a former WWE superstar and Intercontinental Champion.
Goldberg ripoff who was getting big reactions to the crowd but when it came to his sudden heel turn goes right for cena and who could blame him 1st encounter was a draw, then the next PPV which killed everything he had was the ambulance match as he lost ever since that moment he is now forever a jobber the end of ryback
7
Alberto Del Rio

José Alberto Rodríguez best known as Alberto Del Rio is a Mexican professional wrestler and former mixed martial artist.  
8
The Miz

Michael Gregory "Mike" Mizanin is an American professional wrestler, reality television star, and actor. He is signed to WWE, where he performs on the SmackDown Live brand under the ring name The Miz.
The miz would have got a bigger career in WWE if John Cena didn't defeat for the WWE title.
9
Umaga

Edward Smith "Umaga" Fatu was an American Samoan professional wrestler. He was best known for his appearances with the World Wrestling Federation/World Wrestling Entertainment in the 2000s under the ring names Umaga and Jamal.
R.I. P but this man was a beast when he debut one of the most sacry guys in that time then at the 07 rumble you have him losing to cena then all his momentum went down to the IC card range like why and what would come of this the next year of rumble he drew #14 the worst possible number to draw in the royal rumble sad
10
Cesaro

John Cena gets all praise for showing off his strength. But Cesaro proved that muscles and steroids aren't required for strength. He shows natural strength and not like Cena who uses fake moves and strength.
He is not a fakestar like Cena. Plus he is taller and 20 pounds lighter and also thinner than Cena. Still his amazing ring ability and his strength has stunned the WWE universe. Too bad Cena will bury this guy too.
One of the most underrated superstars of today and there's a reasons he can do more than 5 moves, some moves he does make the crowd react but then on one day of Raw he faces Cena looked good but lost to me the ultimate burial is at elimination chamber when he tapped out and got eliminated
The Contenders
11
R-truth

Also known as k-kwik for the most of his time has been in the mid-card act for 11 years then makes this interesting but funny heel turn and then who stops him super cena and beats him in a forgettable and nobody wants remember PPV capital Punishment
12
Heath Slater

Heath Miller III is an American professional wrestler. He is signed to WWE, where he performs under the ring name Heath Slater.
13
Baron Corbin

It was nice knowing ya lone wolf, your fate was sealed by John Cena prior to Summerslam.
Having Corbin lose at SummerSlam was a very stupid booking decision.
Oh god, what a massive burial
How is he not 1?
14
Dolph Ziggler

Nicholas Theodore "Nick" Nemeth, best known by the ring name Dolph Ziggler, is an American professional wrestler, stand-up comedian, and actor.
Cena put him over at TLC...
15
Kevin Owens

Kevin Steen is a Canadian professional wrestler signed to WWE, where he performs under the ring name Kevin Owens.
Really? I don't like Cena, nor do I hate him but this is ridiculous. You Cena fans go on about his fans being childish, yet you accuse him of burying someone just because it's 2-1? Grow up, he won his debut match just because Cena beat him twice don't mean he buried him. If Cena lost twice y'all would call him a jobber and whine like the 9 year old girls you are.
Unlike Cena this guy can actually wrestle. Had mass skills and good number of moves and crazy talent. But after he faced Cena it was all over for Owens.
This guy had great a great opportunity, but of course John Cena buries him.
Come on, KO is actually doing fine. he beat cena CLEAN on his debut match and has won the IC title twice
16
Alex Riley

Kevin Robert Kiley Jr. is an American professional wrestler and former commentator, best known for his tenure with WWE under the ring name Alex Riley.
I feel so bad for A-Ry. Talented in-ring performer, great mic skills, good look, the fans were behind him, then Cena came along and screwed his career up by burying him backstage. Screw you, Cena.
The man had a great talent. Cena bullied him and laughed at him. Riley tried to stand up for himself and now is an nxt commentator. He doesn't wrestle any more.
An amazing in ring performer that had a sad retirment because WWE didn't have anything to offer to his career after John Cena bury him.
17
Tyler Reks

Gabriel Allan Tuft is an American professional wrestler. He is best known for his tenure with WWE under the ring name Tyler Reks.
Just like Ryder while he never faced cena he got quickly canned when his finishing move looked exactly like cena's AA which cena wasn't happy and had a choice of change it or be fired as if he runs the shots screw you ass
18
Mark Henry

Mark Jerrold Henry is an American powerlifter, Olympic weightlifter, strongman, and professional wrestler who is currently signed to WWE.
Always struggling to get to the top but finally in 2011 he starts winning important matches and wins the title after 2 years however he did he's fake retirement speech which was great until the actual match took place and he loses and doesn't recover
19
John Morrison

John Randall Hennigan is an American professional wrestler and actor, who is best known for his tenure with the WWE where he was better known by his ring names John Morrison and Johnny Nitro.
20
Neville

He went from having great potential to losing to Cena and down the road to feud with jokers like stardust and Barrett.
They Ruined neville. Not just with Cena, but in General
21
Mr Kennedy
Mr Kennedy's WWE and eventually professional wrestling career was ended entirely because of Cena and Orton. He needs to be higher.
22
AJ Styles

Allen Neal Jones, better known by the ring name AJ Styles, is an American professional wrestler currently signed to WWE.
Hmmm... Lost at a big Wrestlemania PPV, the first victim of the reigns of terror, and now he decides to feud with Cena ugh yep he nailed himself in a coffin.
Remembering AJ Stlyes
23
Dean Ambrose

Jonathan "Jon" Good is an American professional wrestler and actor, signed to All Elite Wrestling (AEW) under the ring name Jon Moxley. He also makes appearances for New Japan Pro-Wrestling, where he won the IWGP United States Championship. He previously worked for WWE under the ring name Dean Ambrose, ...read more.
Ambrose beats censorship in a contract on a pole match to earn the rights to face Rollins. Censorship is rewarded for his loss to face Orton in a#1 contender match that he wins Ambrose was screws
24
Cody Rhodes

Cody Garrett Runnels, better known by the ring name Cody Rhodes, is an American professional wrestler and actor.
Lost his relevancy in the John Cena challenge as stardust where has he since jobbing to people.
25
Erick Rowan

Joseph Rudd is an American professional wrestler signed to WWE, where he performs under the ring name Erick Rowan.
PSearch List