Top Ten YouTubers Who Should Be on an English Language Version of #TubeClash
"What's "#TubeClash"?" you may be asking now. Well, let me explain.
"#TubeClash" is an animation project by German YouTuber and filmmaker darkvikt0ry that started in 2014. The premise is that ten famous YouTubers ("clashers") suddenly wake up on a lonely location, and are told by the mysterious Master to fight each other until only one remains. Each of them received a weapon based on their videos. They get divided into two teams, Clash A and Clash B.

The project was uploaded on darkvikt0ry's YouTube channel, split into ten parts/episodes. After a season was fully uploaded, it was edited to a feature film, which could be bought on DVD and Blu-Ray.

The project was created interactively.

Viewers could suggest what happens next in the comments, which was then interpolated into the story, and they could also vote on which YouTuber they wanted to survive most - one of the two clashers who got the least votes would die (which one was decided by flipping a coin). Even before the actual project started, viewers could vote on which YouTubers they wanted to be part of "#TubeClash".

That's it for the premise, and that's basically all information you need for this list. But for whoever is interested in how the project turned out, I included more informations down here.

---

The lineup of the first season/movie consisted of big names from all corners of the German YouTube scene: Germany's first YouTube star coldmirror (who is known for her Harry Potter-themed videos as well as raunchy animation), nerd blogger Chan, comedian iBlali, foul-mouthed video battle rap tournament host JuliensBlog, Let's Players Gronkh and GermanLetsPlay (the latter of who was called by his real life name Manu so often in that saga that he is now mainly known as Manu), vlogger Kelly aka MissVlog, trivia blogger Taddl (who would quit YouTube to become a member of the music group Dat Adam a few months later), news channel host LeFloid and knowledge channel host Doktor Allwissend.

I really liked this lineup. Those are names everybody who is familiar with the German YouTube scene knows, either because they are among the most subscribed or because they have been around for pretty long (Coldmirror and Chan have been there since the very beginnings of YouTube, and they are well known in the scene despite not having millions of subscribers), and also they cover a variety of genres and target groups.

The tone of the first "#TubeClash" was comic. It was full of inside jokes from the YouTubers it's portraying, there were also parodies of YouTube life in general, there were movie spoofs, and while it had a certain storyline, it was all within the context of a light-hearted comedy. The characters behaved just like the YouTubers they resembled.

The project was a smash hit and made darkvikt0ry famous in the German YouTube scene.

The second installment, "#TubeClash02", starts off just like the first movie. Ten YouTubers wake up in a lonely city, there is a new Master, and again we get lots of the humor that was awesome about the first installment. I wasn't quite as satisfied with the line up, though. This time, six of the ten YouTubers are LetsPlayers or are at least known for game related content: byStegi, Paluten, rewinside, ConCrafter, HandOfBlood and Sturmwaffel. The other four characters were beauty & lifestyle blogger Dagi Bee, comedian Julien Bam, vlogger LifeWithMelina aka Melina Sophie and anime blogger Kurono. They are all well known, but it dwells too much on video games, and also they are not as legendary as the ten from the first season.

But then, something happens: halfway through the movie, the tone changes. It is more like a dark anime from now on. We see emotional flashback stories, characters torn between good and evil, the clashers develop a personality of their own and don't imitate their real life counterparts anymore, and we get to know a bit of what world this is all set in. In other words: darkvikt0ry started taking his franchise seriously. He still interpolated comments suggesting jokes, though, but more like a comic relief. Also, the animation improved in this sequel.

The rules completely changed for the third and apparently final volume, "#FinalClash". Not only does the entire season/movie have the dark tone of the second half of TC02, it also brings together all main characters from its predecessors. However, there are also three new clashers. Viewers could suggest rather unknown YouTubers who have a maximum of 150.000 subscribers, and then vote for them to become part of the project.
The line up finally consisted of singer-songwriter Horrorkissen, trivia blogger dieserpan and Let's Player Halbzwilling. Each of them had three lives, and after each episode, one of them lost one, depending on the votes. The interesting thing is that the characters' real life counterparts tried to encourage their fans not to vote in favor of them, but so that each character can be part of the story for as long as possible. I can understand that. The three characters have a perfect chemistry.

In terms of a movie, this installment was the best. It was the most complex and had the most interesting storylines and character developments. It was, however, as far away from the original premise as it possibly could be.

None of the YouTubers dubbed themselves, most of the voices have been done by darkvikt0ry, and a few characters by some of his friends. They did a very good job with some of those vocals (especially Paperblossom, who perfectly copies Coldmirror's very characteristic voice). I also compliment the soundtrack of all three movies. It was inspired by Japanese anime soundtracks and can perfectly keep up with them.
The Top Ten
The Angry Video Game Nerd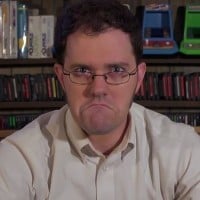 He could be the English language counterpart to HandOfBlood's role in the German version: an ever grumpy gamer, who is still good hearted inside.

by the way I screwed up in the description. She's called Kelly aka MissesVlog, not MissVlog.
Jacksepticeye

Seán William McLoughlin, born February 7, 1990, better known by his online pseudonym Jacksepticeye, is an Irish YouTube personality, known primarily for his comedic Let's Play series and vlogs. His most popular series include Happy Wheels, Five Nights at Freddy''s and Fortnite.
PewDiePie

Felix Arvid Ulf Kjellberg (born October 24, 1989), better known by his online alias PewDiePie, is a Swedish web-based comedian video producer, and commentary channel. He is best known for his Let's Play commentaries and Vlogs on YouTube. He is known for being the most subscribed-to YouTuber on the website, ...read more.
JonTron

Jonathan "Jon" Jafari, best known by his internet pseudonym JonTron, is an American comedian, reviewer, and internet personality.
NigaHiga

Ryan Higa, born June 6, 1990, best known as his YouTube username nigahiga, is an American comedian, YouTube personality, and actor. He's best known for his comedy videos, which have been viewed over 3 billion times. His channel was once the most subscribed on YouTube from 2009-2011, longer than any ...read more.
Marina Joyce

Nostalgia Critic

Nostalgia Critic is an American web series created, written, edited, directed and performed by Doug Walker.
Fred

Rap Critic

Chris Stuckmann

Christopher "Chris" Stuckmann is an American film critic, author, and YouTube personality. As of June 2018, he has over 1.2 million subscribers and 341 million views on YouTube.
The Contenders
AmazingPhil

Philip Michael "Phil" Lester is an English YouTuber and former radio personality from Rawtenstall in the valley of Rossendale, Lancashire. He is best known for his YouTube channel AmazingPhil.
Morgz

Nux Taku
BAdd New Item