10 Greatest Auto Racing Drivers of All-Time
The 10 greatest Auto Racing drivers. Across NASCAR, F1, IndyCar, and others.

The Top Ten

1 Ayrton Senna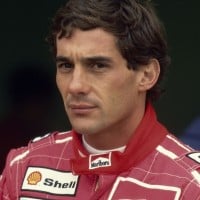 Ayrton Senna da Silva (21 March 1960 – 1 May 1994) was a Brazilian racing driver who won three Formula One world championships for McLaren in 1988, 1990 and 1991 and is regarded as one of the greatest Formula One drivers of all time. He was killed in an accident while leading the 1994 San Marino Grand ...read more.
He was without doubt the greatest ever, definitely deserves number 1 status ahead of Schumacher.. he won his first race by over a minute in 85 from lights to flag while Schumacher won because of the leaders breaking down.. Senna also won his first title in style coming back in Japan while Schumacher crashed into hill.. the difference between grace and disgrace is what makes Senna the most special
Ayrton Senna was simply the best; brilliant; a prodigy; a super star; a magician; pure genius. What this man could do, to maintain control, of a Formula 1 racing car, especially in wet, harsh conditions, to keep control, whilst other competitors were skidding or crashing, literally has to be seen to be believed; pure magic!

Mention Formula 1 to just about any random person, and likely, most people win remember Ayrton Senna. What Ayrton Senna did to inspire a thirst, hunger, or overwhelming desire for Formula 1 racing, should never be underestimated.
F1's most gifted and most skilled driver ever. He could win in any car, and go fast in any car. He won 3 World titles and had 41 wins, could have gotten more had he not sadly died in 1994. He could have been ranked higher had he really deserved to win the 1988 and 1990 World titles, winning in 1988 even though Alain Prost had more points, and wrecking Prost to get it in 1990.
Racings fastest driver ever. He could go fast in any car. He was incredibly talented and would have done more than 3 F1 world titles and 41 wins had he not tragically died in 1994.
2
Michael Schumacher

Jeffery Epstein didn't kill himself, we all know that, but let's be real, if anyone wanted to truly kill him and looked like they would want to kill him, I think it would be this guy. He looks like Jeffery Epstein stole his thunder in high school with all the middle schooler ladyfriends and that made him seriously jealous and caused him to go on a huge quest for fame and power as a race car driver and try and get revenge on Epstein for stealing his thunder all the way back in High School and finally succeeded when Epstein ended up in jail and The Clintons felt too guilty for having to do the dirty work on their good friend themselves. NASCAR FOR LIFE
The Hendry of F1...so good many tuned in hoping to see him lose. Just like Hendry was on a different level and raised the bar to unseen levels and to impartial observers clearly #1. Stats support him and he done things in a F1 car no other driver has done like staying on slicks in heavy rain and keeping Hill behind or another amazing feat of being stuck with just 5th gear and also kept Hill (and the rest) behind...he was dominating Senna in a slower car while Senna was in his prime until his tragic accident but hey ho we're all just fortunate to have lived through the era with such brilliant drivers like Senna and Schuey.
The best driver ever by some margin. Sena gets lots of sympathy vote, but this guy as a young driver was leading Sena in that fatal year (1994) when Sena was at his prime & this guy driving an inferior car. Lots of stupid people attribute his achievements to Ferrari's technical superiority; but Schumi made Ferrari, not other way. In driver's list no driver out side F1 should be even considered. And those US joke race are like computer games - faster cars running left turns in an oval speed track.
The greatest of all time, race craft above the rest. Having the ability to concetrate on multiple things while going 300+km/h is just mind blowing.
3
Jim Clark
For me Jim has to be the best of all time. He could drive anything. He and Chapman revolutionized the Indy 500 with theLotus 38. I was luckly enough to actually see JIm drive. At the 1967 German Grand Prix at the Nurburgring Nordschleife he qualified 9 seconds fast than any of the other F1 greats in the field such as Jackie Stewart, G. Hill (driving an identical Lotus 49), Dan Gurney etc. He was just quicker around a corner than anyone else. If he had not sadly been killed in that F2 race at Hockenheim who knows what records he would have set.
Whatched Jim on unofficial testing the new Lotus Thirty at Brands with Colin Chapman, and when he died I cried and virtualy stopped motor racing there and then, he was my hero and I rate him above Fangio and Nuvolarie, as Betty Hill said, he was infuriating in as much as he would get in any car and go seconds faster than anyone else, take him into any era or car and he would be the quickest, ask the Yanks.
Nobody is like Jim Clark, not only in F1 but almost any racing platform in his time. All he needed was a motoGP championship and he has close to every world title
In the words of Colin Chapman himself "He will always be the best. I'm sure in time someone else will come along and everyone will hail him as the greatest ever. But not for me, there will never be another in Jimmy's class."
4
Juan Manuel Fangio
The original postwar Grand prix super star in the days when they raced on 10-mile long road courses with spectators as guardrails no seatbelts and high revving cars that had a tenancy to break in spectacular ways. Also a communist
He is the best of all time. His records, % winning, poles, charisma, the respect he commanded from his peers, plus he survived the extremely dangerous times of racing in the 50s...
I had the privilege of seeing the maestro that was Juan Manual Fangio race at Silverstone, the best driver ever!
The first true racing legend. He raced for 5 teams in F1 and won 5 World Titles out of 7 he competed in.
5
Fernando Alonso

Fernando Alonso is a Spanish racing driver and former Formula One racing driver. He is a two-time Formula One World Champion, and is often regarded as one of the greatest Formula One drivers in the history of the sport.
He is a genius proving that he can understand and drive every car format and not only F1. For me Fernando is undoubtedly the best driver walking on earth.
Won 2 Titles with a Team that was a Underdog vs the Driver with most titles in history ( Schuhmacher). Showed that he can bring slower cars to Points. Won the 24 Hours of Le Mans and was Rookie of the Year at the 500. If he wins the Crown, he is one of two who ever did it. Graham Hill won also 2 F1 titles with the best Team, so I pick Alonso infront. He went out of the comfort Zone to drive in America. What would you pick? 5 world Cup wins in Soccer, or 2 world Cup wins with an Underdog, a super bowl win and world series Trophy. If he wins the 500, he is not the F1 Goat, but the best car Racer ever on legal bases.
Great Spanish driver who finally broke Michael Schumacher's grip in the world championship. Drove for Michael's alma mater Benetton when Renault reentered F-1 (Michael's star began to fade after Ross Brawn left for BMW)
The only thing he needs to do to achieve the triple crown of motorsport is to win the Indy 500 and he's working hard for it. If you listen to the commentators, they described him as looking stressful.
6
Lewis Hamilton

Lewis Hamilton is a British racing driver who races in Formula One for Mercedes AMG Petronas. A five-time Formula One World Champion, he is often considered the best driver of his generation and widely regarded as one of the greatest drivers in the history of the sport. He won his first World Championship ...read more.
I personally also regard Lewis Hamilton as the best F1 driver of this current time without a shadow of doubt. His sheer determination and commitment to deliver in any circumstance has to be acknowledged and surely appreciated. His consistence and impressive pole position's and race pace is just simply mesmerising. I see much maturity in him now than when he first started, (which is understandable). The professionalism of him, always praising his team, his team mate and also other competitors. When he wins, the first thing he always praises is his team, least of all himself. He is a humble gracious young man, and I believe there is still more to come from him. He accepts his fault's, blames no one, and learns from them. He is a true Ambassador of F1. number 1 F1 champ. Thank you Lewis for your massive contribution in F1, and making it the sport it is today. Keep up the good work! God bless you always.
As any sport progresses the talent pool increases as well as each teams technology. Sienna and Schumacher were incredible. I just think Lewis is a class by himself when you look at the level of competition he exists in.
His consistency is unmatched. Can manage his races and championships to perfection. Am sure he will go on to achieve more over the next few seasons unlike SV. Just a great driver to watch and very respectful to others in and out of his team.
How cal Lewis be so low on this list. He takes a car and consistently does better that his team mates. Michael, a great driver, but had the benefit of always being served by a number 2 driver who wasn't allowed to win if he was still in the race. Lewis also has to race his own team mats.
7
Alain Prost

The "professor" loved watching him and Senna battle in the late 80's then Prost was at Ferrari (unfortunally Ferrari's v-12 and new semi automatic gearbox were unreliable) Things got better when Prost joined Senna at McLaren Honda (very reliable Honda v-10) and mix a little Williams Renault with hothead Nigel Mansell added to the fun. A calculating and methodical driver who could get the best out of his car, a smoother driver than Schumacher or senna. The best driver of the 80's early 90's. Later bought the Liger team renamed it Prost GP and had some success as an ownere with Oliver Panis as his driver.
Should be at least in 4th place
8
Sebastian Vettel

Sebastian Vettel is a German racing driver currently driving in Formula One for Scuderia Ferrari. He is a four-time Formula One World Champion, having won the championship in 2010, 2011, 2012 and 2013 with Red Bull Racing.
To me, Seb is the best. He not only kills it on race day, but in my opinion is one of the greatest of all time over a single lap. He has been overshadowed by Hamilton in recent years, but I feel if you were to put Seb into one of those Silver Arrows, he'd be destroying Lewis.
Amazing driver. Pulled off spectacular drives and even a win in Toro Rosso and managed to bounce back after a terrible 2014 season by at times beating the much faster Mercedes on pure pace, only driver to do that on sheer pace in the v6 era
Wonderful driving skill and keep going. Given him with a good car performance, Seb will fly all season!
Just look at brazil 2012
9
Dale Earnhardt Sr.

Ralph Dale Earnhardt Sr., known professionally as Dale Earnhardt, was an American professional stock car racing driver and team owner, best known for his involvement in stock car racing for NASCAR.
"The Intimidator" is one of the most hardest guys you could ever race. He didn't let you by easily. He and Jeff Gordon had one of Racings best rivalries. He had 7 Championships and 76 wins, and may have gotten further had he not died in 2001.
Have you ever seen a f1 driver clean his own windshield? While driving!
Who ever made this list is crazy dale sr was way better then gordan
Should be top 3
10
Jean Alesi
Some flashes of brilliance in his time in F-1, never seemed to get a ride with a first tier team that was on par with his talents had one of the longest F-1 careers and the longest winless streak. I remember him for his time at Jordan GP an newer team if it just had the money and an works engine package could have given the big three teams a run for their money
The Contenders
11
Jeff Gordon

Jeffery Michael Gordon is an American former professional stock car racing driver, currently an announcer for Fox NASCAR, and a top executive for Hendrick Motorsports.
Besides being a beautiful man, Mr Gordon made NASCAR accessible for anyone and everyone! I followed his career from 97 to his last race in Homestead of the 2015 season. I only wish him nothing but the best in his future endeavors and thank you for all the years of " edge of your seat" racing! Thank you Mr Gordon!
Perhaps more car control than any other stock car driver. His intensity and passion made him a joy to watch. A victim of constantly changing rules and gimmicky championship formats in the later half of his career kept him from more titles. All you can look at is the wins. 94 ain't too shabby!
The most skilled driver ever. He is also one of NASCAR's gentlemen drivers. He is the most successful in modern era, with 88 wins, 4 championships, and 3 Daytona 500's. He is also a very underrated driver. Could have been ranked higher if he could just get that 5th Championship.
Hands down the most skilled driver ever. And one of racings gentlemen drivers. With 88 wins and 4 Championships and 3 Daytona 500 wins in NASCAR, he's not slowing down.
12
Sebastian Loeb
I think it's difficult to compare older generation drivers like Fangio or Jim Clark to Scumacher, Senna and Prost. The same comparing Schumacher, Senna, Prost to say Vettel, Hamilton Alonso. I believe racing drivers improve exponentially through each era. can you imagine the physical training drivers of today have to go through compared to those in the 50's and 60's? In my opinion we can only go by their record of acomplishments. By record alone, Loeb is #1, Schumacher #2 and currently Vettel #3 because of their record. Hamilton may pass up Vettel in the very near future. Senna could be right up there, but unfortunately could not prove it. Could haves and would haves don't count. I also believe other drivers in NASCAR, Indycars or lower feeders may have a lot of great drivers but there's no way to prove it unless they go against each other like at the annual IROC (International Race Of Champions) after the F1 year end season. Remember Loeb had won against Schumacher twice at the ...more
The only reason FIA denied his F1 Super License was that they didn't want him to dominate F1 too. There was really no compelling reason to do so other than politics and money.
Dominant, in probably the most difficult of all racing formats. One of the most amazing drivers of all time.
The greatest Rally driver ever, with 9 Consecutive World Rally Championships. He also won 76 of his 167 rallies. He is currently in the FIA GT World Championship.
13
Mario Andretti
Mario Andretti to me will forever remain the best race car driver in the world along with Jim Clark.

Unlike majority of drivers on this list Mario completely made his career by himself. He just arrived from Italy to the USA and as a teenager starting competing in races at the local track. His secret racing career was completely hidden from his family until his brother Aldo's accident.

Mario made it up the ranks and soon entered the Indy 500. He would win 1 Indy 500 and several Indycar championships and at the same time Mario had a brief career in stock cars and ended up winning 1 Daytona 500.

Just when that was not enough he was finally spotted by Colin Chapman and given a chance to enter F1 and fulfill his dream of winning in his hometown of Monza and as you might imagine, Andretti dominated and would end up winning his home race in Monza and the 1978 World Championship.

With the exception of the 24 Hours Of Le Mans (which by the way he finished 2nd in ...more
If this was greatest F1 driver, or NASCAR driver, or Sports Car Driver, there are some who could outrank Mario. But the fact of the matter is, Mario won in everything he ever drove. Formula1 (world champ), IndyCar (500 winner & champion), Sports Cars, Dirt Cars, NASCAR, hell, he even won the Pikes Peak hill climb. He won on ovals, road courses, dirt, gravel, street courses -- every doggone thing. No one else on this list can claim that.
This is a sham. The voters were either ignorant of history or biased. Look at the complete record of each. What this driver accomplished will never be done again. Sad social and historical knowledge.
Over 109 wins on a major circuit. he remains the only driver ever to win the Indianapolis 500 (1969), Daytona 500 (1967) and the Formula One World Championship, he has also won 4 Indy car championships
How is this guy number 14. Since Mario has won an Indy car race in 4 different decades the voters must be very young.
14
A. J. Foyt
AJ career spanned more years than all the rest He was good on anything that had wheels, ran dirt bull rings with the sprints, paved oval tracks with indy cars, road races in all manner of race cars, stock cars, sports cars, drove as hard as any driver in any type of racing. I think about the only type of car he didn't drive was F1 but Indy cars were close in design. he drove at monza lemans indy daytona langhorne pocono eldora salem winchester and many many more tracks and he won in all the different types of cars. this can not be said of any of the others except andretti but foyt did it longer than any of them.
The only thing he didn't win, practically, was Formula One World Championship, which he never even tried. Perhaps he lost interest after winning his first and only le Mans? How he isn't in the top five is beyond me.
Reportedly personally drove 18 hours by himself out of the 1967 24 Hours of Le Mans in which he and Dan Gurney won in a Ford Mark IV GT sports prototype. First four time winner of the Indianapolis 500...drove 35 straight in a row Indy 500's starting in 1958 and ending in 1993.
Drove 1958 Monza Trophy of Two Worlds in a Kuzma Offenhauser Indy Roadster with F1 Pilot Maurice Trintignant as co-driver.
Racings toughest driver ever. He has been hurt so many times and never stopped. He was once even pronounced dead. He won 7 IndyCar Championships,4 Indy 500's, the Daytona 500 and a 24 Hours of Le Mans.
15
Ken Miles
I know he died too soon, bud god damn, if he was exactly the same as in the movie "Ford vs Ferrari", he should be there. He was the one, who beat Ferrari.
Ken Miles should be on the list. One of the greatest drivers ever and shafted by corporate USA.
Unsung hero. True winner of the Triple Crown. Victim of Ford propaganda greed.
Wasn't known enough, needed longer to prove how good he was
16
Colin McRae
Colin is by far the best Car Driver the World has ever seen! Forget the rest... to drive a car in no controlled conditions... all types of terrain... He is number 1...
A true racing hero and a true champion on and off the track
Better than ken block for sure
Best rally driver of all time
17
Tom Kristensen
With 9 winnings and several podiums By far the most winning 24h Le Mans driver in history
Racing is not just F1
And Tom is one of the best overall.
He is Le Mans! He is the best endurance driver ever!
The King
18
Gilles Villeneuve

The best driver that haven't won a championship. The guy had balls made out of steel no fear. I will drive flat out all the time ...(on 3 wheels Zandervort 1979) I love racing.
Too much a gentleman, he could have won instead of being second in the championship.
Pure, raw talent and respect for his sport, like no one else has ever shown!
'Why do we bother? He's different from the rest of us. On a separate level'."
19
Stirling Moss
Stirling Moss Should be one of the top four along with Ascari, Clarke and Fangio
Surely one of the very best.
Technically unchallengable
20
Ken Block
Dude! He's Ken Block!
21
Jimmie Johnson

Jimmie Kenneth Johnson is an American professional stock car racing driver and a six-time champion in the NASCAR Sprint Cup Series.
Jimmie is incredible, he has 6 championships to his name and 2 Daytona 500 wins also. He went from pretty much the back of the field after a spin to finish a fighting third place. He could very well have 10 championships at this rate. Anything is possible...
Jimmie has 7 titles, 80 wins and he's only halfway through his career. I wouldn't be surprised if I got 106 wins and 10 titles. He is always calm on the radio, and he's always finding new ways. He should easily be 1-3.
This should be number 4 best racer ever!
#14? You kidding? He already passed Dale Sr. Should be #2 behind Petty.
22
Tazio Nuvolari
He won against al odds in Germany in '35 against much faster competitors. He did so many times, on circuits, roadraces, on motorcycles and in cars. His wins are legendary.
Dominant driver in his time. The golden age of motor-racing.
He should be number 1 of all time.
18? Research the guy. 18th no way!
23
Juan Pablo Montoya
The best overtaker of all time. Had more natural talent than anyone in F1 other than Senna. Still proves he can beat the best in the world at over 40 years of age in ROC. More balls than anyone I've seen race.
I'm no fair weather fan. JPM is my driver! Been following him since his first lap in Nascar. His son is following in his footsteps. Great dad!
IndyCar Race Victories 12 (10 CART), 2 Indianapolis 500 wins, IndyCar Championships 1 (CART, 1999), Formula One Race Victories 7, 24 Hours of Daytona Winner, Grand Prix of Monaco Winner, Grand Prix of Long Beach Winner, Italian Grand Prix Winner, NASCAR Rookie of the Year. Equals Mario Andretti and Dan Gurney by winning races in Indy cars, Formula One cars and NASCAR Cup cars.
Has won in more competitions than any pther driver in the world
24
Walter Röhrl
Best driver off the Ahold universe
Best Rally driver of all time.
Best rally car driver ever.
Dominated in his time.
25
Carroll Shelby
If not for his heart condition, he would be remembered more for his accomplishments behind the wheel instead of the fabulous cars he built.
I agree. Without him, modern racing wouldn't exist.
Had more in common with his car than his friends
One of the greatest race car driver and builder
PSearch List