Top 10 College Basketball Coaches of 2019
As the Season comes to a conclusion its time to reflect on the season itself. There's some pretty great players who will for sure make a name for themselves in the NBA but the coaches deserve some credit as well. These players wouldn't be the same without the coaches. Without further ado here's the best coaches this season

The Top Ten

1 Chris Beard - Texas Tech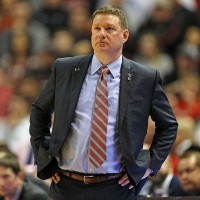 Who else would it be? Chris Beard has done an amazing job turning Texas Tech into a powerhouse. There was a Time like 5 years ago when the Red Raiders were horrible and the laughing stock of the Big 12 but now they're playing for a National championship. They also won the league this year. I have nothing but respect for him and his team. It's a nice story and it's hard to not like him. I look forward to having some fun KU/Tech games ahead - Randomator
2
Bruce Pearl - Auburn

I was impressed with his coaching job. They had to play not 1 not 2 but 3 blue blood teams in Kansas North Carolina and Kentucky. Also not including their gutsy win over New Mexico State. They were deserving of a Final Four and damn that's a tough way to go down. Arguably the worst ending to a final four I can remember. Virginia is lucky to be in the championship. - Randomator
3
Tom Izzo - Michigan State

He's a well respected guy who cares about his team. Sure they were banged up and not the type of team to blow you away athletically but he was still able to make a final four by slaying Duke. Just look at Cassius Winston. He's a good player but he's not overly athletic. Safe to say Izzo knows what he's doing - Randomator
4
Mike Krzyzewski - Duke

Surprised he isn't #1? Don't be. With all due respect for what they accomplished this year this wasn't his best coaching job. When Zion went down they were in trouble for awhile. Even in the tournament he was lucky to make it that far. He was out coached twice. Yet he still did a good job coaching Zion RJ and Cam. They're going to be ready to make an impact in the NBA - Randomator
5
Tony Bennett - Virginia

Well congrats to them on winning the championship. The ultimate redemption story is complete - Randomator
As much as I doubted Virginia after they lost to a 16 seed in the tournament give this man credit where it's due. His squad this year is easily better than last year and they're out to get revenge. He's created one of the best defensive teams and now has a shot at a National championship. Gotta tip my hat to him for that. They had to deal with UMBC aftermath all year and safe to say he did a good job helping his guys block out the noise. - Randomator
6
Buzz Williams - Virginia Tech

Not gonna lie I haven't watched them that much but from what I've heard he's had a nice turnaround with this program from irrelevance to respectability - Randomator
7
Matt Painter - Purdue

A very solid season for the Boilers they had a great run and man did they put up a fight against Tennessee and Virginia. Carsen Edwards is gonna be a stud in the NBA. - Randomator
8
Roy Williams - North Carolina

A bit disappointing in a way but the Tar Heels put up a fight every time and they beat Duke 2/3 times Roy Williams also did a great job coaching their players. I have a feeling they could make some noise in the NBA - Randomator
9
Dana Altman - Oregon

A bit of an obscure pick but he was able to rally them from not being projected to make the NCAA tournament to winning the PAC 12 and going to the sweet 16. Not a bad run especially considering that they lost Bol Bol to an injury.
10
Bill Self - Kansas

This was a disappointment of a season for sure but to give him credit he rallied his team together after Udoka Azabuike was out and DeSousa was screwed by the NCAA and when Lagerald Vick took a leave of absence. Literally any other team would have folded on the spot under these circumstances but KU didn't. Dedric Lawson will be a great NBA Player and Devon Dotson will be a Player to watch. If you have won your league 14 times in a row you're obviously a good coach. Had we not been hit hard with adversity we'd have 15 straight. You can't convince me otherwise - Randomator
The Contenders
11
Kermit Davis - Ole Miss
First year at Ole Miss and got SEC coach of the year and lead Ole Miss to the NCAA Tournament.
BAdd New Item