Top Ten NBA Coaching Candidates for the Knicks in 2020
The New York Knicks fired their head coach, David Fizdale, in a shocking move on December 6th, 2019 after a 4-18 start. On March 2nd, Leon Rose was made president of basketball operations. He made it clear big things were going to happen. That starts with head coach. The Knicks have been on an intense search for a head coach ever since. The next head coach would be taking over a franchise so terrible that fans hate their own team. This next head coach is taking over a team with some potential, but no plan. The head coach has to be good at player development, attractive to free agents, the patience to deal with bad play and rude fans, good and risky enough to appease management, and the charisma to run a New York team. Plus you know they have to be a good coach. I won't be mentioning head coaches already on teams, so don't expect guys like Nick Nurse, Steve Kerr, Mike D'Antoni, Brad Stevens, etc. Feel free to add anyone to this list.

The Top Ten

1 Kenny Atkinson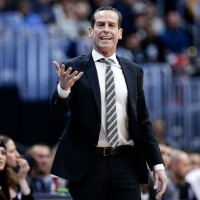 Atkinson is a easy choice here. He is a player development coach and can really communicate with players. Plus he's always wanted to coach in New York. Just look at what he did with the Nets. When he took over the Nets were one of the worst teams in the league. Over the next 3 seasons he took the players management gave him and he turned it into talent. Then the Nets made the Playoffs. That is a drastic change. The Knicks need to pick Atkinson. It is a no-brainer.
2
Jeff Van Gundy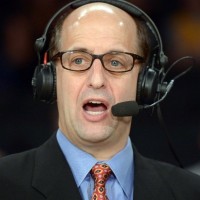 The criticism of Jeff Van Gundy not coaching in the NBA since 2007 is a dumb criticism. Jeff Van Gundy is one of the smartest basketball minds ever. He has only missed the Playoffs once and there is a reason he is a USA Basketball Coach. He is also one of the head commentators of the NBA Finals and you can tell by listening that he knows what he's talking about. He's loved by players around the league and he's coached in New York before and he succeeded.
3
Tom Thibodeau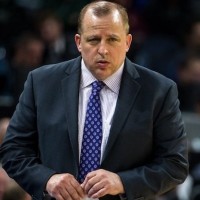 Thibs has been made a front-runner in the race according to multiple sources. The man is a good coach. One of the best defensive coaches ever and a master at player development. The one worry for Thibs is what happened in Minnesota. He works his team too hard, they get fed up, and he gets fired. He is a good friend of Leon Rose though, so it could end up being successful.
4
Mike Miller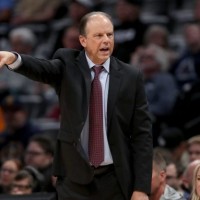 Don't fix what doesn't need fixing. Mike Miller had the Knicks playing some of their best basketball in years. He showed he is a great head coach. All the players were developing nicely. Why change it? If you can't get one of the three top dogs above him, then you might as well keep Miller.
5
Ime Udoka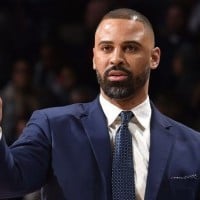 This is one of the best assistants in the league if not the best assistant in the league. His track record is mixed though. He is obviously a Gregg Popovich mentee and we all know how that works, but he joined the Sixers this year as a lead assistant and the Sixers dropped off this year even though they are on a natural incline. Udoka is a development coach according to a lot of different sources including Gregg Popovich. That is of course what they need.
6
Mark Jackson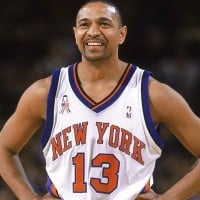 Mark Jackson should be credited with improving the Warriors. He developed Curry, Klay, and Draymond which would later be the big three. He put key principles in place that would create the dynasty. So obviously he would be a good coach.
7
Mike Woodson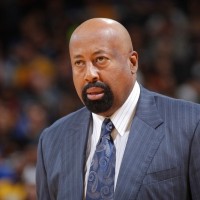 Woodson was the last coach that had actually won. I can't really find a thing on Woodson though besides that. That tells me he probably shouldn't be picked as head coach.
8
Becky Hammon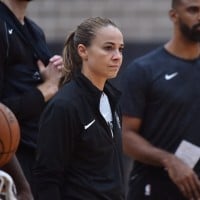 Becky Hammon could be the first female head coach. She is right now in the competitive race for Gregg Popovich's successor and I would say she is the front-runner. She's not just going to be the first female coach, I think she will also be a very successful coach. She's already got a G-League Championship under her belt. While I think she wants to stay under the security of Gregg Popovich, she could venture out and become the head coach of New York.
9
Chris Fleming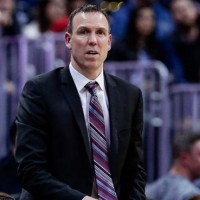 He was formerly a coach for Kenny Atkinson and is now a lead assistant for the Chicago Bulls. The Knicks can't have him though until Jim Boylen let's him go, but Boylen is gonna get fired and he is very unpredictable, so it could be a long time till Fleming is let go.
10
Pat Delany
The current Orlando Magic assistant and a former Eric Spoelstra and Pat Riley mentee could be a dark horse in the race for the Knicks job.
The Contenders
11
Mike Brown
Apparently the former coach of the year has entered the race.
12
Jason Kidd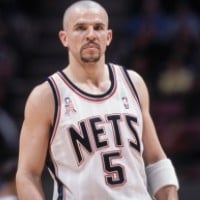 Jason Frederick Kidd is an American basketball coach and former player. He was the head coach of the Milwaukee Bucks of the National Basketball Association.
Jason Kidd has just entered the discussion. A very good assistant coach. Deserves a 2nd chance as head coach.
BAdd New Item