Top 10 Best Carolina Panthers Players of Week 10, 2021
The Carolina Panthers pounded the Arizona Cardinals, 34-10, in Week 10 of the NFL season. Here is a list of the best Panthers players of Week 10.

The Top Ten

1 Christian McCaffrey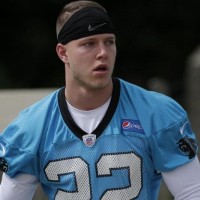 Christian McCaffrey was probably the best Panthers player in this game. He was the leader in both rushing and passing yards in this game, as he gained 95 rushing yards and 66 passing yards, which combines for a total of 161 yards. In addition, he made 23 receptions.
Unfortunately I still don't have any featured lists.
2
Cam Newton

Cameron Jerrell Newton is an American football quarterback for the Carolina Panthers of the National Football League. He had previously played with the Carolina Panthers from 2011 to 2019, and for the New England Patriots in 2020. In November 2021, he signed with his old team, the Carolina Panthers.
In his comeback game, Cam Newton scored two touchdowns on his first two plays; a passing touchdown and a rushing touchdown. He also ran for 14 yards. I think that he should start in the next few games, because even though he didn't play for long in his comeback game, I would like to see Cam play some more in his comeback season with the Panthers.
3
P.J. Walker
In his first game starting for the Panthers this season, P.J. Walker threw for 167 yards and had a completion rate of 75.9%. Additionally, he ran for six yards. He did throw one interception in the second quarter and he lost a fumble, but besides that, he had a good game.
4
Zane Gonzalez

Zane Gonzalez has been pretty good at kicking field goals lately, and this game was no exception. He kicked four field goals in this game, with his longest being 49 yards long.
5
Robby Anderson

He caught a touchdown pass from Cam Newton in the first quarter and he also gained 37 receiving yards.
6
Chuba Hubbard

He rushed for 27 yards and he also scored a touchdown in the third quarter.
7
Ameer Abdullah

Ameer Abdullah is an American football running back for the Carolina Panthers of the National Football League.
Ameer Abdullah gained 24 rushing yards and 27 receiving yards in this game, for a total of 51 yards.
8
Shaq Thompson

Shaq Thompson was one of the best defensive players on the Panthers in this game, as he made six tackles and one sack.
9
Donte Jackson

In the first quarter, he intercepted a pass made by Colt McCoy and he also made four tackles.
10
Haason Reddick

He made four tackles and one and a half sacks.
BAdd New Item