Worst Performers from Week 1 of the NFL 2021 Regular Season
The best and worst from each week returns, and let's go through the biggest duds from week 1 right now.

The Top Ten

1 Jeff Okudah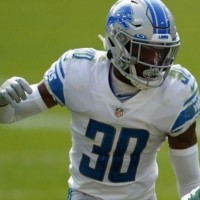 I could make a strong case why Jeff Okudah was the worst performer in the week... yes even over Aaron Rodgers. Early on in the game against the 49ers. Okudah was covering Deebo Samuel and got beat badly for a 79-yard touchdown. Afterwards, the defensive backs coach got on his case for the poor miscue he made, and in the 4th quarter, Okudah blew his Achilles and never returned in the game. This would mean he is done for the season. Having only played 10 games and getting beat by many receivers in his short time as a starter. It is safe to say that Jeff Okudah (and maybe this might be a hot take). Is the biggest bust from the 2020 NFL Draft after that game he put on in just 2 seasons having trouble staying healthy and being terrible in coverage does it for me.
2
Aaron Rodgers

Aaron Charles Rodgers is an American football quarterback for the Green Bay Packers of the National Football League.
I just have to say... what was that I just witnessed? Put that in the worst games I have ever seen Aaron Rodgers play, and I wouldn't be surprised if people said this was his absolute worst game ever played. Rodgers had a horrific day throwing the football. He looked lost, didn't have the care in the game just by his emotion in the game. Now granted Packers we're bad as a whole but this is the guy you build all that momentum to get something going. Instead, he throws not 1, but 2 uncharacteristic interceptions in a horrid loss to the Saints (of all teams) they decided (or at least he looked like) he threw the game away. Quite an appealing performance overall that will leave Green Bay fans wondering Monday night better be a recovery breather against a foe you have owned for an eternity.
3
Matt Hennessy

I just got done telling you why the Falcons offensive line is indeed one of the worst coming into his season. It certainly showed here after the 1st quarter spark they did have they got eaten up by Philly's D-line all game. Matt Hennessy would have to take the most blame considering he had the job to block against both Fletcher Cox and Javon Hargrave having a big day getting to Matt Ryan. Sure they did run the ball a lot strangely which frankly didn't make that much sense as that isn't the teams' strength on the offense. Mike Davis and Cordarrelle Patterson combined was still not enough and I am amazed they committed to that running game for as long as they had was an odd coaching decision knowing your run blocking was not that good at all.
4
Taylor Lewan

After the game, Lewan had said he takes blame for why the Titans offensive line surrendered 5 sacks to one dynamic playmaker who returned in a strong way. For a team that was supposed to have one of the better lines in football. They looked totally lost and rusty against a hungry defense that applied the pressure all game. Derrick Henry was shockingly ineffective, and Ryan Tannehill was able to do the littlest he could as the team was nowhere in distance from Arizona's dominance in their home turf.
5
Demetric Felton
I apologize, this is the wrong Browns player I cited. My bad, Jamie Gillan was supposed to be in this spot. Pretend this didn't happen. I make dumb mistakes too I am human.
6
James Robinson

I wanted to put Trevor Lawrence here, but he was able to take some positives and negatives in defeat. Whereas with James Robinson was not even a factor stunningly? This is a big problem, and probably the main reason why the Jags couldn't keep pace with Houston to apply a proper comeback. 25 yards? Against a Texans team that was horrible stopping the run last season? Urban Meyer definitely had rookie coaching errors and it showed not believing in his running to get more balance going on the offense.
7
Tashaun Gipson

You know it's bad when I knew the game was already over just by Stafford's first pass play as a Ram. I ain't kidding you, folks. The first drive, first pass for a touchdown. During the play I noticed Gibson and his teammate don't attempt to stop (or touch the play dead) Van Jefferson after he completed the pass. Terrible secondary awareness if I have ever seen it. The bears' new Defensive coordinator is off to a bad start after being humiliated on primetime.
8
Ryan Fitzpatrick

Washington had done nothing early on but establishing the run early. Once the passing game got going, Fitzmagic was not having a good day to start with before going down to hip injury. Eventually, Washington was able to keep fighting to the end with Taylor Heinicke finishing pretty admirably in defeat. I think this offense will look to be fine without him for the time being. At least there's a 50/50 chance of winning Thursday night on a short week to prepare against a rival that is more in a mess at the moment.
9
Saquon Barkley

While they did say Saquon would get very limited reps. I find it odd that the chances he did get in the game include some bad dropped short passes. Talk about rusty after missing time. Barkley was hardly utilized in the running game, and put in the fact Jason Garrett decided not to have him be totally involved in the offense at all against Denver just didn't seem right at all. Live to go another week I guess, but it looks pretty bad when Danny Daimes still put up points when it didn't matter at that point. The Giants truly are a clown show you have to question if they are about winning or not with how they play this out against the Broncos.
10
Jamie Gillan

The Contenders
11
Mekhi Becton

At one point late in the game against Carolina. The Jets had found a surge thanks to Zack Wilson finally start to awake the passing game. Unfortunately though after scoring the 2nd touchdown. We saw left tackle Becton go down to a knee injury and most likely will be a huge loss moving forward for this pass-blocking game that was starting to get something going towards the very end of the game. After the 2nd touchdown, Carolina was able to survive the Scare Zach Wilson started to put on the secondary.
BAdd New Item