Top Ten Best Inside Linebackers Going Into the 2020 NFL Season
The Top Ten
Bobby Wagner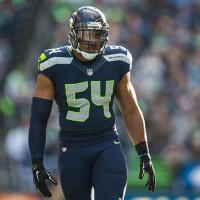 Bobby Joseph Wagner is an American football linebacker for the Seattle Seahawks of the National Football League.
With Luke Kuechly retired, Wagner is now unquestionably the best inside linebacker in the NFL. He has been arguably the best Seahawks player of the decade, and it's easy to see why. He is one of the last remaining members of the Legion of Boom still with the Seahawks, and continues to play at a high level.
Darius Leonard

Leonard is only going into his third year, and he is already among the best at his position. The Colts got a great value with him in the second round. He is a leader for their defense, and is also just dominant.
Eric Kendricks

Kendricks came onto the scene last season as a first team all-pro for the Vikings. He was their best defensive player by far as well.
Demario Davis

Davis has been underrated for most of his career, until he was finally recognized with the Saints and named a first team all-pro. Playing for an elite Saints defense, he was among their best players.
Cory Littleton
Littleton recently signed with the Raiders, and it looks like they like his coverage skills. Not a great run stopper, but still plays at a high level.
Deion Jones

Jones was a bright spot on a terrible Falcons defense last season. If they improve this season, one of those reasons will be Jones.
Fred Warner

The young Warner made himself known as a member of the vaunted 49ers defense in 2019. At the rate he is going, he has Pro Bowls in his future.
Lavonte David

Lavonte David is an American football linebacker for the Tampa Bay Buccaneers of the National Football League.
David has been in the shadows of Luke Kuechly and Bobby Wagner his entire career, which is a shame, because he's probably just as good as them. While his accolades are few and far between, his play on field is consistent, and he has been a bright spot for some bad Buccaneers teams over the course of his career. Now that Tom Brady has brought more attention to this team, maybe more recognition will be brought along with it to Lavonte David.
Leighton Vander Esch

The Cowboys are fortunate to have two dominant inside linebackers in Jaylon Smith and Leighton Vander Esch. He has been recently hampered by a neck injury, but when he is healthy, Vander Esch plays at a high level.
Jaylon Smith

Smith made his first Pro Bowl in 2019, and while it was sort of a down year for him, he remains a top inside linebacker in the NFL.
The Contenders
C.J. Mosley
BAdd New Item