Most Clutch Players in NBA History
The Top Ten
1
Michael Jordan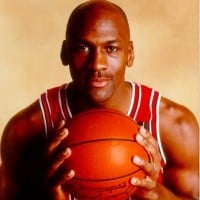 Michael Jeffrey Jordan, also known by his initials, MJ, is an American retired professional basketball player.
ok.. I shouldn't have to justify myself but I will. the better way to see if a player is clutch is to see his performances in the playoffs. 1997 kobe hit 4 air balls in the most important game of the season. 1998, after his all star game, his game collapsed until the end of the season(included playoffs). in 1999 he got swept without responding against the spurs. in 2000 he was clutch two times, one was game 7 against portland, another was the 4th game in the finals. in 2001 and 2002, he didn't have to be clutch because o'neal was making it easy for him... the only clutch situation he faced was against philly, game 1 and he lost against iverson. then you got 2004 when he got destroyed by prince, he even scored 11 points in a game and then the decisive games, when, twice he didn't shoot the ball for an entire half... then you got his 6/24 in game 7 against the celtics... then you got the statistic that espn put that shows that he is by far the player who misses the most in clutch ...more
2 of the greatest clutch shots to close out series... not even Kobe can touch Jordan
Have you ever seen the finals vs the jazz? His buzzer beater was crazy
I would say Jordan is the MOST clutch players in NBA history. In a crunch time, pass the ball to him and he can make a decision in a less than one second: to pass the ball or to shoot.
I remember Game 6 the 1993 finals, Bulls vs Suns, when Bulls left 2 points in the last second Jordan pass the ball to John Paxson and Paxson scored 3-points...
2
Kobe Bryant

Kobe Bryant (1978 - 2020) was an American retired professional basketball player. He played his entire 20-year career with the Los Angeles Lakers of the National Basketball Association. Kobe Bryant has won 5 NBA championships with the Lakers and was the all-time leading scorer in Lakers franchise history. ...read more.
No one even THINKS about where the ball should go at crunch time for the Lakers. And it doesn't matter whether Kobe's free or not. The ball is going to him. And the degree of difficulty on most of his clutch shots is unbelievable. But he'll always nail that shot, whether it's a 3-pointer or a long, long fade away jumper. As someone else here said, just because Jordan came first doesn't mean he's more clutch than Kobe. Jordan is the G.O.A.T. But for many more reasons than basketball #Marketing
The comparison has always been made "Kobe is the next Jordan, or the closest thing to Jordan." Now Kobe is retired and the fact that he is in the same sentence as Jordan at the end of his career is amazing. At this point, it can even be argued that Kobe may have been better than Jordan. And one of those reasons is because Kobe is the most clutch human being to have ever lived. Time after time, he hit game winning shots whether it be one on one, double-teamed, a floater, or a fade away from the corner. Kobe in the fourth quarter became unhuman in his ability to take over the game entirely. Now overall, I'm not going to just say Kobe is better than Jordan because I don't necessarily think he is, but when it comes down to the last four minutes of the game, I'll pick Kobe over any other player and that's why he should be at the top of this list.
Kobe has ice in his veins he gets the ball in the clutch if he has an entire team on him if I'm the coach it is amaziong how he gets any shot in the clutch to go in he is the goat at clutch shots
Kobe hits tougher shots than Michael Jordan. He hits it off one or both feet. It's just Michael Jordan came in first that's why people can't accept the fact that Mike ain't playing no more. He is their hero. Sorry guys, Mike is done Kobe is the present. And when its Kobe's turn to exit another player will arise and its his turn. However, for now the play is "Give the ball to Kobe and get the hell out of the way! "
3
Larry Bird

Larry Joe Bird is an American retired professional basketball player who played for the Boston Celtics of the National Basketball Association. Bird is a 3x champ, 1x ROTY, 1x Finals MVP, 3x 3PT Contest winner, all with the Boston Celtics. (1979-1992)
After reading the comments, it seems like most people here equate last second shots with being "clutch". And although hitting a buzzer beater is part of being clutch, there are many other qualities that must be considered...and Larry Bird has them all.

Yes, he was an assassin when it came to hitting a lest second shot. But beyond that, Bird could beat you on defense or by passing the ball. He was easily the most "clutch" player ever..

I would not go as far to say that he's the best player ever, but if I needed a player to win me a game in the final few seconds, it would absolutely be Larry Bird. If they Celtics were up by 2, tied, or down by 2...he seemed to always figure out a way secure the win.
Pat riley once said if I had to pick a guy to take a shot to win a game I would pick Michael Jordan if it were for my life I would pick larry bird. Larry is an easy number 1 in this category and reggie is an easy 2nd
In one game Bird hit a three with 24 seconds left to tie the game that was called off because the coach called time out. About 20 seconds later he hit another three running away from two defenders off his left foot to tie the game. In the first overtime he hit two free throws to tie the game and go to another overtime. In the second overtime with two seconds left and down 1 he hit a long two with his foot on the three point line to win it. I think had another game winner in the same week.
This dude is a true Gunslinger! He can do anything he wanted to do on the court, Total package score at will, rebound, passing amazing, basketball IQ off the charts, can go left or right strong and finish, TUFF as nailz, he's my top pick all time
4
Reggie Miller

Reginald Wayne Miller is an American retired professional basketball player who played his entire 18-year National Basketball Association career with the Indiana Pacers.
He should be here 8 points in 9 secs to beat the Knicks he is so clutch
Strait up, I've never seen anyone hit more single last second game winners than Reggie. I would have Reggie at 1, Larry Bird at 2, & Michael Jordan at 3!
all I gotta say is remember the games against the knicks and the game against jordan. PERIOD!
I think he can shoot the ball without even looking at the basket.. he can do turn around 3 pointers, its like shooting a free throws for him
5
Magic Johnson

Earvin "Magic" Johnson Jr. is a retired American professional basketball player who played point guard for the Los Angeles Lakers of the National Basketball Association for 13 seasons.
Magic Johnson was very clutch. He could hit a buzzer beater or make a great pass to someone else for the last shot.
One footed buzzer beater against the Celtics covers it all. He wasn't even shooting with his right leg. He shot it with his LEFT LEG.
His nickname says-it-all, "MAGIC".
Exactly. He should be number 1
6
Jerry West

Jerry Alan West is an American retired basketball player who played his entire professional career for the Los Angeles Lakers of the National Basketball Association.
MR CLUTCH is so underrated how is kobe in front of jerry west kobe is not the 2nd most clutch player in nba history jerry west is only guy to win the nba finals mvp on the losing side kobe has the record for most missed shots in nba history the guy plays hero ball not basketball man
Finals and when they faced Baltimore he alone led the team clutch doesn't mean hitting a buzzer beater it means when you lead your team when they need it when Baylor was out everyone thought they were going to collapse West stood up in the Clutch and the same with Wilt
Jerry West the best clutch player of all time. Not even close who is second including Kobe Bryant and Michael Jordan, who frequently missed clutch shot in other games during the regular season. They hit their clutch shots, but not with the frequency of Jerry West.
Kobe and WADE over MR CLUTCH? Let's see anyone else hit buzzer beater behind half court in the FINALS!
7
Dwyane Wade

Dwyane Tyrone Wade Jr. is an American professional basketball player for the Miami Heat of the National Basketball Association.
Everyone remembers his '06 finals which were basically the best nba finals that 1 man has ever played.

But who saw him on the Olympic team in 2008? He was not only the best player on a team with lebron james, kobe bryant, dwight howard, derrick rose, etc -- But he also poured in another one of his ridiculously clutch performances in the Gold medal game against Spain.
Dwyane Wade is the best or not the best clutch players of the current Miami Heat. He is a Shooting Guard, but he's clutch at shooting 3 pointers, and his nickname is called "Flash" or "D Wade". And that's why he's a clutch player. He is well known for hustle plays, passes, and he can shoot, he can dunk, he can rebound, and he could do anything. And that's why he is the boss. Laugh out loud
This guy makes jaw drop every time it's crucn time. Wade has the killer instinct to just go at you hard, and deliver a blow right in your face. The dude played god awful in the Chicago Bulls series this past year while Lebron was carrying the team for the first 3 quarters, but Wade showed up every 4th quarter and played his best 5 minutes of the game. And don't even get me started on the 06' finals. This man is on a mission, a mission to be the greatest EVER.
Had the most clutch series ever. But individually not very many clutch moments compared to Jordan or Kobe. Kind of like the big game James version of shooting guards. No last minute theatrics...but some ridiculous performances when they mattered.
8
Lebron James

LeBron Raymone James is an American professional basketball player for the Los Angeles Lakers of the National Basketball Association. LeBron has played for the Cleveland Cavaliers, Miami Heat, and the Lakers.
Kidding me LeBron is only No.8 on the list? He is good at handling the issues on the court, especially the clutch moments. Simply view his stats and you will figure out that most people underrate him.
Why is LeBron even on this list he made like 3 clutch shots.
Fun Fact: Lebron clutch shot percentage is higher than Kobe and even Jordan. WOW!
You are a window licker who doesn't watch the NBA. I hope you have kids and they never learn to read! - LJisoverrated
He has more playoff buzzer beaters than Jordan and kobe has 1 in the playoffs. Kobe is Overrated. Sorry facts!
9
Robert Horry
We are not arguing best players, its all about what they do in the final minutes. Robert Horry is the man I want with the ball in hand taking a three to go to overtime
There's never been a role player (not even close) with as many clutch shots, and there never will be again. Can you remember a time he missed a clutch shot? I saw it happen only once, against the Spurs game 5 in 2003, and the ball was half way down and God divinely intervened to force it back out.
Horry has the name "Big Shot Bob" for a reason. Don't believe me? Watch Game 5 of the 2005 NBA Finals. The guy has 3 Points in the first 3 Quarters, then drops 21 in the 4th and OT to give the Spurs a 3-2 Lead. Tell me that ain't clutch.
Greatest clutch player ever, I would give it to him in all circumstances to win or tie a game
10
Paul Pierce

Paul Anthony Pierce is an American professional basketball player for the Los Angeles Clippers of the National Basketball Association.
He had to carry the Celts for a good part of his career hitting clutch shots. Pierce is not MJ but he deserves higher.
Paul Pierce deserves to be higher up this list he has hit multiple game winners and he's a reliable shooter even at old age and he will always be a legend to clutch players granted he is no Michael Jordan
The Truth! He definitely deserves to be on this list
Honestly the most clutch player of all time, nobody has near the amount of game winners, or clutch shots.
The Contenders
11
Ray Allen

Walter Ray Allen, Jr. is a former American professional basketball player who is currently a free agent.
2013 NBA Finals is home of the most iconic and best clutch shot ever.
50% shots taken when trailing by one or two points, or tied, in the final 24 seconds of playoff games since 1996-97

6/12... only game winners, so here didn't counted shots in crunch time (5 minutes)

4-6 Place in All-time Clutch in my opinion... better than Kobe for sure...
Greatest shooter of all time no doubt.
Game 6 2013 NBA Finals. Enough said
12
Bill Russell

William Felton "Bill" Russell is an American retired professional basketball player. Russell played center for the Boston Celtics of the National Basketball Association from 1956 to 1969.
He went 10-0 in game 7's. That's about as clutch as it gets.
Should be a bit higher, because most people think that "the more rings, the better" and that is why some people think MJ is the best, but they ignore Bill Russell in that conversation
Just Look at all the Rings.
Won 11 nba finals
13
Stephen Curry

Wardell Stephen Curry II is an American professional basketball player for the Golden State Warriors of the National Basketball Association. Many players and analysts have called him the greatest shooter in NBA history. He is one of the most beloved, as well as hated, stars in the NBA today.
Bro, he is a better three-point than Ray Allen except for corner threes
Before it's all said and done, Curry will go down as one of the most clutch shooters in NBA history. His shots to tie games, take leads, or win games in crunch time (last 5 mins of a game) are trending up. As the Warriors play to challenge the 95-96 Bulls in 15-16, Curry has taken a larger role and is leading the NBA in scoring. The only thing that can slow him down is a lack of opportunities to win games with a shot, because they beat opponents so badly that Curry sits entire 4th quarters sometimes.
The only reason curry has a lower number of clutch shots is that the warriors make great teams look bad while winning, so most of the times they don't get a chance to hit a last minute game winner. But look at the games where they had been taken to the end...curry becomes superhuman, as if he has a sniper scope fitted on his eyes. Best shooter ever to grace the NBA and definitely one of the best clutch shooters.
Stephen curry is a great shooter but larry Bird was amazing 2. Reggae miller ray Allen and Glenn Rice. Curry is hot right now. That doesn't mean it will last forever.
14
Chauncey Billups

Chauncey Ray Billups is an American retired professional basketball player who played 17 seasons in the National Basketball Association.
He should be at least in the top 8 how on earth do you thing he got his nickname being clutch and hitting big shots for gosh sake!
He was called "Mr. Big Shot" for a reason.
For Pistons n reglure season and playoffs none better, there was no one else on team to take shot, or wanted to take it..
Mr.Big Shot. Need I say more?
15
Kareem Abdul-Jabbar

Kareem Abdul-Jabbar is an American retired professional basketball player who played 20 seasons in the National Basketball Association for the Milwaukee Bucks and Los Angeles Lakers.
No single individual can hold this dude period! I'd give him the ball first in clutch time. Greatest scorer of all time for a reason.
Best 2 point shot ever. Unstoppable. I can't fathom how no 7 footers has taken Kareem as role-model and learn to shoot the sky hook over the last two decades.
Sky hook no one can stop it
16
Dirk Nowitzki

Dirk Werner Nowitzki is a German professional basketball player for the Dallas Mavericks of the National Basketball Association.
How is Dirk below LeBron? Sure LeBron has had some clutch games, but almost every game of the Mavericks 2011 playoff run was a clutch game for Dirk. There is a difference between clutch and having amazing stats. Dirk is clutch.
Dirk is a clutch player in every way...he is the leader, strength, and best player of the Mavericks. He belongs in top 10...LeBron is beginning to show signs of wear and tear...Dirk is a quiet humble superstar who makes others around him better everyday. Dirk is clutch and had an all star season for being 37...check the numbers!
18 game winning shots (including one in the olympics) this man deserves to be in the top ten
Dirk is way more clutch than any other player on this list.Like really he has countless amount of game winning shots and 3 buzzer beaters for the win. What does lebron have only one game winning shot. How can lebron be above dirk when he only has one buzzer beater and ons game winning shot.
17
Kevin Durant

Kevin Wayne Durant is an American professional basketball player for the Brooklyn Nets of the National Basketball Association. He has played for the Oklahoma City Thunder, Golden State Warriors, and the Nets. He was MVP of the 2017 and 2018 NBA Finals.
Remember that four point play two years ago to clinch a win for the thunder against the Grizzlies. That's the stuff that makes Kevin Durant Clutch.
This man is probably the greatest scorer to ever walk this earth. He is so versatile, quick, lengthy. He can get any shot he wants, which includes the final one to clinch the W
He should be on top 5 since he is the right guy you'll find in crucial moments. He's able to attack you, bait a foul, hit a perimeter and hit a 3-pointer that kills the heart of the opponent. He's one of a kind clutch shooter of all time.
Kevin can play he can also make amazing shots
18
John Havlicek

John Joseph "Hondo" Havlicek is a retired American professional basketball player who competed for 16 seasons with the Boston Celtics, winning eight NBA championships, four of them coming in his first four seasons.
Should have at least 0.1 percent
19
Tim Duncan

Timothy Theodore "Tim" Duncan is an American professional basketball player who has played his entire career for the San Antonio Spurs of the National Basketball Association.
4 championships, game winners, greatest big man ever, How can he not be on this list, game winners aren't the only judge of clutchness, he plays best when the Spurs need it. Greatest PF, Greatest big man.
He literally is holding up five fingers with a championship trophy in the picture and this noob below says he's won 4 championships.
There's a lot to be said about a player that has NEVER had a losing season nor has EVER missed the playoffs...EVER!
Duncan is awesome!
20
Bob McAdoo
In the clutch his shooting percentage topped them all in the Day before 'legalized traveling & double-dribbling' Check the Stats prior to MJ..
21
Tracy McGrady

Tracy Lamar McGrady Jr. is an American retired professional basketball player who is best known for his career in the National Basketball Association, where he played as both a shooting guard and small forward.
Seriously... he should be at least top 5 I think... 13 points in 33 seconds is just too much
So many game winners...and if he was doubled he either still scored or got the game winning assist...Also has the greatest clutch performance the NBA has ever seen!
He scored 13 points in 33 seconds
If not for injuries he is top 20 player every and top reason was he could score at will... especially in the clutch!
22
Vince Carter

Vincent Lamar "Vince" Carter is an American professional basketball player for the Sacramento Kings of the National Basketball Association.
It's a shame surfing the net, looking at various so called the best ever clutch player lists because most of them does not have Vince 's name on it. Seriously he is by far the most underrated player.
To me he is one the most clutch players ever how can lebron be up when you have so many guys that are better than him in this category its not "hater" thing because I enjoy lebron but its just stupid in my opinion and you can count d wade clutch winner games and vince carter and you will see who is better in clutch shots
His game speaks for itself. Being a great dunker comes with the label of being "just a dunker", but players like Dominique escaped that label (Who by the way, is a very similar player to Vince). Carter is 6th all time in three point field goals made, 26th in scoring, and yet his name is still synonymous with just dunking. Now far past his prime, VC continues to present a scoring threat to any opponent. 16 game winners in nothing to scoff at either, and I hope Vince will escape the incorrect label that has been placed on him when he is inducted into the NBA Hall of Fame. (P.S. vince is the greatest dunker of all time and don't try to tell me otherwise.)
During his prime VC was in the top 5 clutch players in the NBA starting 03 (when LeBron was drafted) to 09. It was Lebron, VC, Allen, Kobe and Melo. He was downplayed by the media due to his injuries and labeling that he has no heart because there was just too much expectations from him due to his extreme level of athleticism but he didn't have the same mentality as a Kobe or a Jordan so they easily gave up on him. That resulted to less all-star appearances and also not getting too much attention for being in small market teams.
23
Carmelo Anthony

Carmelo Kyam Anthony is an American professional basketball player for the Houston Rockets of the National Basketball Association.
Most game winners sense 2003 behind kobe that still plays in the NBA.
Highest game winning shot percentage ever in the nba eight now
2 in a week is ridiculous
Carmelo abi siker
24
David Robinson

David Maurice Robinson is an American former professional basketball player, who played center for the San Antonio Spurs in the National Basketball Association for his entire career.
25
Damian Lillard

Damian Lamonte Ollie Lillard is an American professional basketball player for the Portland Trail Blazers of the National Basketball Association.
Game winner in game 6 against the thunder to move on to the semifinals and he just shot it like some regular shot that he always takes
The only player besides MJ to have to playoff-series winning shots, and he still has more than half of his career left. All around clutch. DAME TIME! And "The Shot" was from the free throw line over a guy with a twisted ankle, while Dame's were a:.9 second three and a cold blooded from-the-logo over a guy who went 3rd in DPOY voting. Best man
4 buzzer beaters in his first 2 season -- and one of them sent a team packing home in the playoff
Series-winning 3 against Houston? And he's only 25? come on son
PSearch List