Top 10 New England Patriots Players of the 2017-2018 Season
Ladies and gentleman last years super bowl champions the New England Patriots! New England is always a safe bet when it comes to just getting to the playoffs, going to the super bowl was heavily favored is another, but man when it was 28-3 everyone thought it was over, but Terrific Tom saves the day, and finally can silence his critics as arguably the greatest Quarterback of all time. Now with that said can they go back one more time, and this time Tom Brady has chosen the madden curse can he be the one in 21-1.
The Top Ten
1
Tom Brady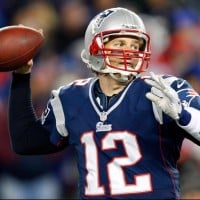 Thomas Edward Patrick Brady, Jr., is an American football quarterback for the Tampa Bay Buccaneers of the National Football League. Brady is known for being the only quarterback in history to win 6 Super Bowls, and is often considered one of the best quarterbacks of all time. Brady is also frequently ...read more.
Arguably the GOAT of the NFL terrific Tom Brady having the most rings of any quarterback tied with Charles Haley with the most. Brady to me is above every single Quarterback ever, not everyone agrees with that of the two scandals they have been known for, but come on silence because he did not do any type of cheating where he came from a 28-3 deficient, and the greatest comeback in postseason history by not only tie, but beating the Falcons in the end. Can he do it again by going 19-0 ''oh hell no'' that schedule actually looks difficult compared to last year. Plus need I say more about being on the Madden cover can he once and for all put the curse to shame then so you truly are the GOAT of american football. - htoutlaws2012
Oh yeah
TB12, THE GOAT
2
Brandin Cooks

Brandin Cooks is an American football wide receiver and return specialist for the Los Angeles Rams of the National Football League.
Edelman is done, now its time to see what Cooks trade was meant for now you must serve for Tom Brady no longer are you serving Drew Brees. - htoutlaws2012
3
Dont'a Hightower

I'd say his kind of the leader of that defense in a way since a lot of those great players they once had ended up going on different teams. Luckily Hightower is still with the team, and did not walk alone because he is there last linebacker with experience on the whole squad that knows the team best aside from #1 obviously. - htoutlaws2012
4
Rob Gronkowski

Robert Paxton Gronkowski, nicknamed "Gronk," is an American football tight end for the New England Patriots of the National Football League.
Gronk clearly has more years left in him, and despite getting hurt (which was predictably since he was on the cover) Gronk can still play, and he will rip the coverage of any team he faces any given day because he is that hard to stop mentally and physically. - htoutlaws2012
5
Stephon Gilmore

He is the best CB in the NFL
Leaving Buffalo for New England at this moment might just be the best move he has made I mean it just seems like if I can not get much out of Buffalo let's go to New England, and win ourselves a ring why not. That has been the formula since 2014, and it has worked as if Belichick has an order 66 card on him somewhere. - htoutlaws2012
6
Stephen Gostkowski

He is usually bristle point with his kicks, it shows when they ended up replacing Vinatieri over the eventual Gostkowski in the long term run. - htoutlaws2012
7
Malcolm Butler

Malcolm Terel Butler is an American football cornerback for the New England Patriots of the National Football League.
I mean this is the picture that made him into the corner that he is today. Butler is a good cornerback who will take those moments and become a memorable player for his big time play that goes down in the history as the man that stopped the 3 seconds pass at super bowl 49. Since then Butler has gotten better as he progresses through the years. - htoutlaws2012
8
Chris Hogan
This could be a breakout year for Chris Hogan just based on the early preview I saw with him tearing the Lions so embarrassingly. Hogan may just play and serve as a good number 2 to the likes of guys like, Martavis Bryant, Brandon Marshall, etc. - htoutlaws2012
9
Julian Edelman

Julian Francis Edelman is an American football wide receiver for the New England Patriots of the National Football League. ...read more.
He is so fast and cool
He should be hire
10
David Harris
I ca not believe the Jets did cut this guy, and for what he was loyal team for quite a ton of years, but now as a Patriot it will be satisfying getting revenge on the team that cut you right? - htoutlaws2012
The Contenders
11
Josh Gordon

Joshua Caleb Gordon is an American football wide receiver for the New England Patriots of the National Football League.
the beast
He is a beast
12
Sony Michel

He is a good player
He is the best player on the team
13
Devin McCourty

Do not underestimate the fact he was from Rutgers, McCourtney has had his moments where he can be capable of being a great safety for the Patriots. If your going his direction careful you might just get intercepted. - htoutlaws2012
14
Danny Amendola
Do not underestimate this bad boy.
15
Trey Flowers
Trey flowers is 9ne of the best pass rushers on the team if not the NFL
16
Dion Lewis

James White
17
James White

He won the super bowl for us put him on guys
BAdd New Item