Best Things Biden Has Done as President
The Top Ten
1
Provided significant stimulus relief for families during the Covid-19 pandemic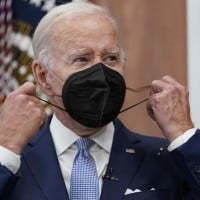 Families were still struggling from the Covid slowdown when Biden took office. His administration kept families from falling into poverty by signing into law $1,400 stimulus payments for individuals, $3,000 tax credits for children, extended unemployment benefits, rental assistance, and money for schools.
2
Had an effective and reasonable health response to Covid-19
Biden did a good job of getting vaccines and tests out to the public while Covid-19 was still dangerous. After Omicron made Covid less dangerous, Biden rolled back some of the Covid restrictions from earlier in the pandemic and brought the country back to normal.
3
Passed the Infrastructure Investment and Jobs Act
Biden's infrastructure bill invested in roads, bridges, internet, the power grid, railroads, water pipes, public transit, and more. It includes $550 billion of new spending and $1.2 trillion in total, which is expected to be spent over 10 years. If spent wisely (which is a big question mark!), then it could keep America and its economy strong and resilient for years.
4
Oversaw stricter antitrust enforcement against greedy corporations
Biden and his FTC commissioner Lina Khan are the first administration to crack down on greedy corporate mergers and other anti-competitive practices in a very long time. For example, they are filing lawsuits against Facebook and Walmart and got the first guilty plea for criminal monopolization in 45 years.
I wish he would go even harder in this regard because there are some corporations that desperately need to be brought down in power by a thousand notches.
5
Ended the war in Afghanistan
The military-industrial complex and warmongering mainstream media attacked Biden endlessly for pulling out of Afghanistan. But he stuck to his guns and did the opposite of what our past presidents did - he actually ended America's longest war, a war that was killing thousands of people every year.
6
Strengthened protections for workers
Biden's administration and his NLRB have taken the side of workers over big business more often than other recent presidents. He defended workers in union fights with Amazon and Starbucks, raised the minimum wage for federal contractors, strengthened protections for gig workers like Uber drivers, and even protected union workers in Mexico. Many more pro-worker rulings are expected on the agenda.
7
Lowered gas prices by releasing oil from the strategic petroleum reserve
After Russia invaded Ukraine, gas prices shot up from $3.50 per gallon to over $5 per gallon. Biden released hundreds of millions of barrels from the SPR, causing prices to head back to $3.65 as of November and causing inflation, in general, to slow down.
8
Raised taxes on the rich
The "Inflation Reduction Act" included a minimum 15% tax on massive corporations that earn more than $1 billion each year as well as a 1% tax on corporate stock buybacks. It also heavily taxes prescription drug manufacturers that hike their prices.
While I don't think Biden is a great president by any means, it's definitely good to be reminded of positive things he has done.
9
Lowered healthcare costs
Biden passed funding for veterans' healthcare, helped seniors with prescription drug costs, and increased healthcare subsidies for the middle and lower classes.
10
Forgave excessive student loan debt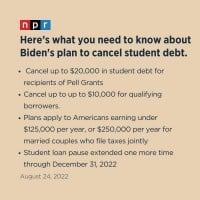 Biden passed an executive order to forgive $10,000 in federal student loan debt per student and $20,000 for low-income students. This executive order is now blocked by the courts, but they are appealing the decision. If this executive order survives, it could help a lot of struggling young people with debt.
The Contenders
11
Mock the past administration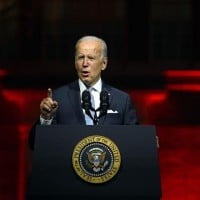 12 Condemn the Supreme Court for overturning Roe v. Wade
13 Signed the Respect for Marriage Act
BAdd New Item