Top 10 Most Overrated AFL Players
The Top Ten
1
Dale Thomas
Yeah, everyone at school says that he is the best player, he is not even that good.
This fella is a legend
2
Cyril Rioli
Pops up with the odd highlight from time to time. Goes out of games for very long amounts of time. Will play 5 good minutes in a game, and commentary teams will rave about him.
The umpires clearly have white guilt when cyril has the ball.
If commentators didn't rave about his one cheap goal he would be another player, god knows how he is number 9
3
Luke Hodge
Absolute FLOG. One of the most hated players in the AFL and gets boo'd every game he plays.
Why? Well try being the captain of the most hated club, getting caught drink driving right after his assistant coach's son was killed by a drink driver, being suspended dozens of times, taking cheapshots at players heads all the time, trying to kill chad wingard while on the field, getting protected by umpires all the time, and getting useless kicks at full back that don't impact the game at all. His consequence of these is being hailed by Channel 7 and Fox Footy as the 'most courageous and best captain they've ever seen'.

Him along with Cereal Ravioli are the 2 most overrated players of all time.
No were near overrated. Absolute gun and plays a tough brand of footy that people complain about because they don't like Hawthorn because they always win. 4x premiership player, 3x premiership captain, 2x norm smith medalist, 3x all Australian, 2x bnf, hawthorn best 1st year player, Jim Stynes medal, represented Australia in the international series twice. Over 250 games and overall a great bloke.
Easily the most overrated player in the game today.
Cheap disposals in junk time and cheap shots on smaller opponents with their heads over the ball.
Worst captain in the game. Also, fights like a girl. Wouldn't go near a similar sized opponent and couldn't fight his way out of a paper bag.
Luke Hodge you are a flog.
Dirtiest and cheapest player running around in the game today, even dirtier than Adam Goodes, that's not a racial slur, that's a human being slur.
4
Lance "Buddy" Franklin
Has annoying periods of playing really badly, and just before everyone starts thinking of skinning him, he starts playing good footy. Glad to see him go, as a hawthorn supporter.
Yeah he pops up and takes a good mark every now and again, but for all the hype, he did have figures of 3.4 at the end of the 2012 Grand Final, which Hawthorn lost.
He is really not that great. Taylor Walker, Matthew Pavlitch, and many others are much better. He is the result of a strong Hawthorn midfield.
Buddy Franklin is one of not many to score 1000 goals. How can he be overrated
5
Gary Ablett Jr.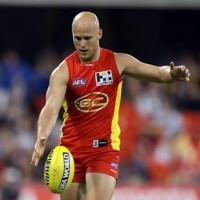 Gary Ablett Jr. is a professional Australian rules footballer playing for the Geelong Football Club in the Australian Football League. The eldest son of Australian Football Hall of Fame member and former Geelong player Gary Ablett Sr., Ablett was drafted to Geelong under the father-son rule in the 2001 AFL draft.
I can't believe I had to add this guy to the list, I mean he is so overrated. And you thing Dale Thomas is overrated but get a load of thig guy.
Garry is over rated!
Trash player and is only talked about because his dad is awesome
Gary Ablett Jr is one probably the greatest player to ever play for the suns
6
Adam Goodes
Goodes is a flog
7
Josh Fraser
Worst player ever can't find the bloody footy, gets cheap kicks and
8 Craig Bolton
9 Daniel Wells
10 Chris Tarrant
The Contenders
11
Barry Hall
I'm a huge Sydney Swan supporter, but Barry Hall leaving was the best thing that ever happened to the team
12
Travis Cloke
After the 2010 premiership Collingwood players agreed to pay cuts to stay together.
Then this one shat on his teammates by holding the club to ransom for a year by holding out on his contract in a greedy push for more money.
Silly Eddie agreed to it to avoid seeing him running around for Carlton
Can't kick, likes to whinge to umpires all the time. Never kicks goals in big matches and is lucky to kick 30 to 40 goals as a key forward... Absolute joke.
Average player, who likes to direct traffic and is unpopular with his teammates.
Highly overpaid.
Collingwood needs to cut its' losses and get rid of Cloke, Buckley and Maguire
13
Richard Tambling
Wow what a flogger
14 Andrew Carrazzo
15
Dane Swan
Gets cheap 1 2 handballs in the backline and his majority of his possessions have no impact on the scoreboard or help his team in any way.
He cannot even tackle and is the biggest seagull in the game. All he is good at is running with ball and getting easy possesions.
16
Chad Wingard
Amazing amount of hype. Front running player he gets goals and goal assists when the team plays well. Not good enough to play as a midfielder, fitness and strength inadequate.
17
James Hird
Overrated player, arrogant and self-centered.
Has all but destroyed Essendon.
PR machines tend to talk up big club players... but Hird good, but not as great as many think.
18
Chris Judd
Used to be a great player but an aged dudd ATM and relying on his dirty tactics.
19
Nick Maxwell
It's not hard too just punch the ball.
Very rarely took a contested mark.
Tom Harley is in the same boat
Clearly not over rated because nobody rates him!
20 Tom Boyd
21
Bryce Gibbs
Will not go hard at the footy and is always looking for easy possessions.
22 Jack Watts
23 Josh Kennedy
24 Matt Priddis
25
Zac Dawson
Average & stupid
PSearch List