Top 10 Sexiest Female YouTubers
10 of the sexiest ladies on YouTube. Must be a relevant YouTuber, not just a hottie in a viral video.

The Top Ten

Zoella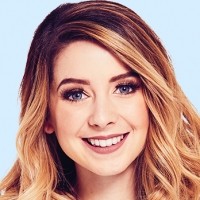 Zoe Elizabeth Sugg is an English YouTuber, vlogger, businesswoman and author. She is also known by her YouTube username, Zoella.
Breathtakingly gorgeous with a perfect body and an amazing accent with a cute laugh too!
She is the gorgeous. And just sexy. Nothing more to say
She is the most stunning person out there
She is drop dead gorgeous.
SSSniperWolf

SSSniperWolf is an American Youtuber. She makes reaction videos, unboxing videos, Q&A videos, and Fortnite videos.
Sexiest girl on the internet and bonus is a legitimate genuine gamer/person, not just some pretty girl who figured out if she talks about games guys will gawk at her and donate to Patreon.
Lia is the best YouTuber out here. She's pretty and smart and has a good taste of games. Her channel is the only one so far which has quality content. She deserves more likes and subscribers.
That women has such a fat ass so beautiful I would do anything to smash
I love sssniperwolf she so much fun to watch
Jenna Marbles

Jenna Nicole Mourey, better known by her pseudonym Jenna Marbles, is an American YouTube personality, vlogger, comedian, and actress.
When almost anyone thinks of a "sexy YouTuber," Jenna Mourey comes to mind. She has a stunning figure with large boobs, a nice ass, and a gorgeous face.
AzzyLand

She is the most beautiful girl of all time
Alex because she's funny and nice
Most beautiful girl on earth
Her boobs are awesome
ExoticJess

Going from the best backside, to the best front. Jess Lizama sports a great front, back and incredible dark skin. She looks fantastic for being 30 and has a teenage daughter... Most moms with kids that age do not look like Jess, not even close.
She is quite sexy.
Becouse she,s got a sexy bum.
iisuperwomanii

She sooo hot and kind and sweet and she's my favourite you tuber ever
She should be 1
Bethany Mota

Bethany Noel Mota is an American video blogger. Starting with her YouTube channel, Macbarbie07, created in 2009, she rose to fame for her haul videos, in which she shows her fashion and style purchases via the internet.
She is so beautiful and sexy
Hannah Stocking

Let me have that sex number please
Hot as all hell
Katilette

Colette Butler is the mommy (tard) of the SHAYTARDS. She is a devoted wife and mother who is currently pregnant wither her 5th child. Yes, I am not kidding. There is no woman who looks as good a Colette after having three kids.
Gigantic sexy boobs, a perfect butt, and beautiful in general
She's beautiful, so so beautiful
So hot
AtomicMari

She has a nice body especially her arse
She has sexy legs and very nice hair
She has extremely beautiful hair!
Her legs are just fabulous
The Contenders
Taryn Southern

This beauty can do it all: sing, act, make us laugh and rap (kinda). If you wanted your young daughter to look like someone famous, Taryn is it.
Rosanna Pansino

Rosanna Pansino is an American YouTuber, baker, actress and author. She is known for the cooking series Nerdy Nummies, one of the most well-known baking shows on YouTube.
She has such a kind and caring smile that makes you think WOW!
I can only imagine her being innocent and happy.
She has the perfect ass, and very smooth skin. Hot girl, great YouTuber.
She has the most perfect face I've ever seen
Alissa Violet

Marzia Kjellberg
Brittney (RomanAtwood'sGF)

All around Milf. Roman used to have her in his videos in hot lingerie just to ge some views, which was genius Lol. She's sill in the videos showing her nice body.
She has big boobs
Jeana Smith (prankvsprank)
Cute, sexy, beautiful, can talk 'bout her next milion days
Only seen tweeting video
iJustine

Justine Ezarik is an American YouTube personality, host, actress, and model. She is best known as iJustine and has over a billion views across her YouTube channels. She gained attention as one of the Internet's most popular lifecasters.
Of all the famous YouTubers, Justine Ezarik is usually considered the sexiest. She sports long blond hair, a flawless figure and has a bubbly personality. Female YouTubers want to be her and male YouTubers want her.
I love her smooth looking skin
Super gorgeous
I mean just look at her. The things I'd do 🥴🥴🥴
Sommer Ray

Great looks and big boobs and nice ass
How is she not top ten she is amazing
big booty, seems nice
Juicystar07
Easily the most beautifull woman I've ever seen with an incredible body. Pretty much every inch of her is flawless
Not an inch of her that isn't perfect, it's almost unfair towards other women.
iHasCupquake
The hair, the body. Sexy and beautiful.😏
CutiePieMarzia
She's absolutely gorgeous!
Should be no1
hot
Lia Marie Johnson

Lia Marie Johnson is an American actress, singer and Internet personality notable for appearing in a various web series created by the Fine Brothers, including the Emmy-winning web series Kids React, and for her own vlogging and social media output.
Incredibly gorgeous, with sexy legs, big boobs, a very nice butt, and a cute voice.
She's so hot with an unbelievable smile!
Very hot nice tip nice ass and legs
Jaclyn Glenn

Alexa Rivera

she is funny and there's a lot of cool stuff
Megan Stitz

PSearch List