Ronaldinho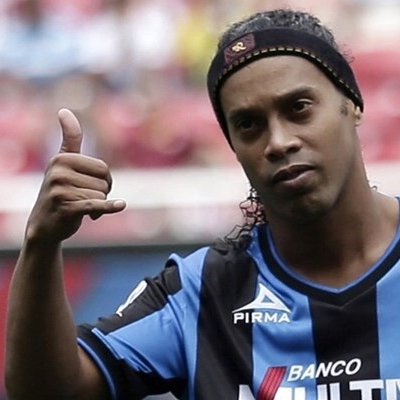 Uploaded by STANCAKE
Info
Ronaldo de Assis Moreira, commonly known as Ronaldinho or Ronaldinho Gaúcho, is a retired Brazilian footballer.
Comments
Top
Popular
Newest
Ronaldinho is the complete football player, sure Cristiano Ronaldo can jump higher, run faster, etc. I'm not saying Ronaldo and Messi or anyone else are bad, they just aren't Ronaldinho. In fact, Messi is probably most efficient on the field, Cristiano Ronaldo has the overall top attributes. But when do you EVER see anyone smile like Ronaldinho when he falls, when he scores, when he misses, etc. He has fun and he shows that. Never have I seen anyone manipulate a football like Ronaldinho. I can do around the world, so can half the footballing world I bet, but the way the ball is like part of Ronaldinho's body makes it look elegant, super easy. This is just one opinion though, it was a tough choice because there are great footballers out there today, many of them. Ronaldinho, Messi and Cristiano remain my favorites.
Ronaldinho is by far the best player I have ever seen. The best dribbler of all timeS (2) times world player of the year, he helped Barcelona win (2) back to back La Liga champion ships (2) Spanish super cups including (1) UEFA Cup... Not forgetting the world cup 2002 when he helped Brazil beet England with a well orchestrated move to help equalize the game then that fantastic free kick to help them go ahead... He is my Soccer idle the reason I have gotten as good as I am now and still getting better.. THANK RONHI...
First of all I can't believe he's number 7. He is with out a doubt the greatest complete soccer player of all time. Him and Pele are at the top of the ranks. Pele because he holds most of all the records and championships in the world cup. Although there's never has been a striker quite like him before with the longevity he had in the professional soccer world. I would still say he is not the complete and ultimate player. Since I can remember Ronaldinho has been the child of prophecy that brought the soccer world to his knees with respect, grace and uncontested skill. There has never been a phenomenon like him since Michael Jordan in the sports world. It is his skill offensively that made him great. He can score when he wanted too, he can pass like no other, and he can make free kicks from long or intermediate range. He is the best long free kicker since Roberto Carlos. But besides that his ultimate skill is outsmarting his opponents with offensive tricks that leaves his opponents ...more
He is the greatest, a perfect dribbler, free-kick taker, Guys don't forget the free-kick against England on the quarter finals on 2002 world cup. He was great in Barcelona too, where he remarkably gained popularity and love of millions of fans, I really don't think any other player has such a dribbling ability. When I see his videos of Barcelona and Bralizian days of him I feel so happy to see his style of play, Two times World Player of the year consecutively is not a joke. He is the god for me and all the other DIHNO's fans.
This game is about goals, passes, about scoring, about tricks, about falling down yet getting up to run after the ball, about living up to the position you're playing at, about being part of a team.

How many of you actually recall "Ronaldinho" play like a crackpot and not run after the ball?

He loves this game, he loves being in control of the ball, he lives this game.
RONALDINHO IS ONE OF THE BEST SOCCER PLAYERS EVER HE IS EVEN BETTER THAN MARADONA. HE HAS GOOD DRIBBLING ABILITIES. HAVE you SEEN THE GAME HE PLAYED AGAINST ENGLAND WOW. THAT WAS ONE OF THE BEST GAMES HE PLAYED HE ALWAYS KNOWS WHAT TO DO HE NEVER USES THE SAME TRICKS HE HAS BLESSED FEET. That's WHO I WANT TO BE LIKE WHEN I BECOME A PRO HOLLAR AT ME IF you THINK I CAN MAKE IT
Probably the most skilled and best playmaker I've ever seen, everyone likes Ronaldo cause he so popular, but Ronaldinho pioneered tricks like the elastico and the quick sombrero, the deadliest free kick taker of all time, the only free kick taker to score a free kick from 45 yards against an established team like England, he is definitely Pele's right hand man.

In terms of technique no one has even been close, he carried his Barcelona team at times and I have no doubt that if he had the luxury of playing in the current Barcelona team with such a talented squad, it would not be Messi who would be taking the plaudits. Possibly, Maradonna, Pele and Beckenbauer could be named ahead of him, but for me he was amazing. He could do everything, his passing was immaculate, he had the vision and ability to find the killer ball, he could beat any number of defenders with amazing skill and of course scored some fabulous goals, and lots of them. My favourite footballer of all time without doubt, the best to watch and far and away the most skillful. At times... Absolutely mind-blowing. (Not to mention, a lovable guy). Who doesn't like Ronaldinho?!
Ronaldinho could do things with the ball that no one else could. He manipulated it as if he was telling it where to go with his mind, not his foot. Ronaldinho has the best playmaking ability out of anyone out there. Iniesta and Xavi are amazing passing players but I don't see them making 50 yard passes onto someone's foot without looking. Messi is unbelievable, however, he doesn't have the skill that ronaldinho had, period. Ronaldinho's free kicks have always been almost perfect. He has te most incredible field awareness I have ever seen. He also doesn't flop. He loves to play the game an is always smiling. If he gets kicked in the leg but still has a slight chance to get the ball back, he will hop right back up and get it. Pele and mars finna were great players, but only for their time. If maradonna or pele played professionally now, they wouldn't make a high level team if they make one! Ronaldinho in his prime could take anyone on any time no questions asked. He was the absolute ...more
Lets be honest, Ronaldinho at his prime was "The greatest player of all time" No one was able to stop the magic man at work! No one! Dinho is, was, and will forever be best of the best!
Ronaldinho... I don't care how many cups he won for his country, his team, or the himself... Don't care how many goals he scored, assisted, or narrowly missed. All what I care about is when I like to be entertained, I look for his videos online and watch for hours; always makes me smile and often laugh out loud. Truly student of the art, the beautiful game. How many goal he scored from outside the box? How fast can he run past unsuspecting mid-fielders and defenders? He passes the ball like Magic Johnson, with his back like the Harlem Globetrotters. I call on those who arrogantly deny the truth, to ask themselves, have you truly seen him pass, score, assist, dribble, and most importantly, have you seen him smile when he does all that... He reminds me when I was a kid playing the game and enjoying it.

He is the best ever player, distant second comes Ronaldo (De Lima)
I think that this footballer shows great control in everything, he has the greatest tricks, moves and skill in the air that I have ever seen. With his incredible ability in his amazing vision, to his cured-style rocket free kicks all the way to his tricks and the show that he puts on it's just incredible to watch.
"I think he learned all about his life with a ball at his feet"
Best footballer ever, especially in modern times. He is gifted with skills, strength, precision and intelligence. He is a complete player, it will be difficult for the world to produce another Ronaldinho. He is one of the few players in the world that entertain fans. He is the king of tricks...
Indeed, he is the best and really excited and entertain me the most to watch compared to other players. He always perform tricks that outside of my range of possibility. He has all things that required to be the best. Speed, Accuracy, Shooting power, tricks, header, etc. Importantly, he plays with the team!
Need opinion? He is definitely the best player of all time. All defenders marked him as nightmare. He can do everything including tricks, vision, agile, fast accelerating. He is a complete player.
First I would like to say he has been awarded many awards including best player in the world and he kicks ass. He is better than Zico I'm sorry I like zico but he's just not as good as the samba king. Ronaldinho is as good as pele and pele is better than zico for a fact. - noelg1
He's the best and most amazing player the world have ever seen since the creation of the football. He changed the way to play the football and he is the inspiration of others players like C. Ronaldo, leo Messi and...
Ronaldinho is the most talented and the best player the world has ever seen. Nobody ever had such a technique, dribbling, vision of the game. He took our breathes away with his passes, dribbles, shoots, precision. Football is not about statistics, its about enjoying the game and the way players play. Nobody ever did what Ronaldinho did on the field. One of the reasons so many of us started loving football.
no one can tosh him he is a ninja he is di only complete footballer in di world only man I see use is back to make a true pass is that amazing marodana could not class with him di reason why he use drugs to play di game I would not have marodana in my 5,000 thousand list

Why is ronaldinho behind Messi and ronaldo?
Sure Cristiano is good (better than Messi)... That doesn't mean that Ronaldinho should be 7th.. Only Ronaldo (Brazil), Pele, maradona and zidane should be ahead of Ronaldinho...

He is the best player in the world he deserves number 1 or no 2 spot he is so good at tricks even pele said that ronaldinho is better then him mess plays good because of ronaldinho he taught Messi how to play soccer he is worlds best play maker and worse nightmare of all the defenders of
He's the best footballer ever. He does what other footballers can't. He's kinda like Leonardo the Vinci but his canvas is the soccer field and his paint brush is the ball.
He's better than 7th! The way he played the game with a smile on his face and his ball control, no matter what he always played for the team and after watching him I was always left happy.
Ronaldinho plays football like know one the world has ever seen once he gets the ball you can see that he is not like other players he passes the ball and he brings an amence amount of skill to the game. Playing since he was 6. He can skill anyone on the field. He has also got such a cool head controlling the ball. Not many players like him can score goals like him and his free kicks are amence.
Ronaldinho is "the" soccer player not just a great soccer player, he is the greatest that ever existed on the face of the earth he is 3 times better than pele and 100 times better than maradona and I have seen maradona play live from the san paolo in naples!