Best Soccer Players of the 21st Century
The Top Ten
1
Ronaldo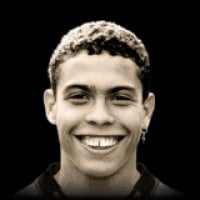 Ronaldo Luís Nazário de Lima, commonly known as Ronaldo, is a Brazilian business owner, president of La Liga club Real Valladolid, and a retired professional footballer who played as a striker. Popularly dubbed in Portuguese O Fenômeno ("The Phenomenon"), he is widely considered one of the greatest players of all time. As a multi-functional striker who brought a new dimension to the position, Ronaldo... read more
We are talking about a player who, before his knee injuries, was nothing other than a force of nature. He was simply too good for the game of football at that time, everything was too easy. It was is if he found the perfect cheat code that made him quick, powerful and incredibly skillful. Of course that isn't possible so we must think of him as an out and out football genius. Nothing less will do.
The best ever player I've seen after Pele. Ronaldo can't be compared with any other player. He can play in any time. He is good even on the Brazilian National Time. Ronaldo is Better than Messi, Ronaldinho and Criastiano Ronaldo
Ronaldo is the most spectacular player I've ever seen. Individualy best with no doubt. The only player who could take on 4-5 oponents with no help from his team mates.
2
Lionel Messi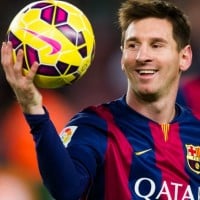 Lionel Andrés "Leo" Messi (born 24 June 1987) is an Argentine professional footballer who plays as a forward for Spanish club Barcelona. He is also known as one of the greatest football players of all time. He was born in Rosario, Argentina on June 24th, 1987.
Its tough to put one ahead of the other when you talk about the best footballers of all time, but for me Leo Messi is the only player from the 21st century who is in that conversation with Cruyff, Maradona, Pele, etc. I've watched all of these players live so many times, and THAT is where you really can tell the greats from the good - watching them live many times and seeing their bad days and good days. Messi is such a talented human being. He can do just about everything you can think of and can do it better than any one else can. People talk about Pep, but without Messi Barcelona would not have won a single Champions League title in the last decade. He is simply fenomenal and head and shoulders above Ronaldo, who is a fabulous striker, Cristiano Ronaldo, who is a one-of-a-kind talent as well, and the rest. The only one I really had to think about on this list is Ronaldinho, who's a tricky one because for the years he was on his game for Paris, Barcelona, Brazil, I thought we had the next Pele. Further, I thought I was watching the person who would easily dethrone him! His ball control was and still is the best ever. Neymar is a great player but nothing next to him but Messi still tops him, just.
3
Cristiano Ronaldo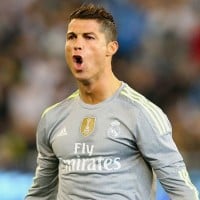 Cristiano Ronaldo dos Santos Aveiro (born 5 February 1985) is a Portuguese professional footballer who plays as a forward for Serie A club Juventus and captains the Portugal national team.
He said: "It's opinions, I respect the opinions. Maybe in your opinion Messi is better than me, but in my mind I am better than him. So it's simple."
"In my mind, I'm always the best. I don't care what people think, what they say. In my mind, not just this year but always, I'm always the best," he added.
He is someone who can say I am the best and no one can deny it.
I'm running out of words to describe this lad.
For he is the god of soccer.. No one can compete with this Portugal born soccer superstar.. He's amazing scoring goals, dribbling past defender, mind blowing free kicks and extra-extra... We just have to believe that he was sent by the soccer god.. He is a precious gift to soccer universe.. He's the king of soccer.. Simply best of best..
For me C. Ronaldo is extra-ordinary because of his brilliant performance and record created while in England. He is the only soccer player who played in England and became world best. Not only that Ronaldo has proven himself to be someone who is ready to perform and score more goal any part of the planet unlike for Messi, Ronaldinho, ETC
4
Ronaldinho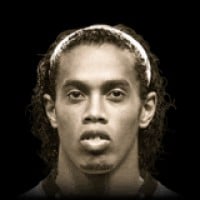 Ronaldo de Assis Moreira (born 21 March 1980), commonly known as Ronaldinho Gaúcho or simply Ronaldinho, is a Brazilian former professional footballer and current ambassador for Barcelona. He played mostly as an attacking midfielder, but was also deployed as a winger. Often considered one of the best players of his generation and regarded by many as one of the greatest of all time, Ronaldinho won... read more
This is so true. Ronaldinho is the best player in the whole history of soccer. He is a genius. And when he plays he has fun with it. He is the perfect example of how soccer should be looked at, which is fun. You rareyly see ronaldinho angry, he always has a smile and a laughing face, this is because he does not worry about playing good otherwise he is gona be benched, No he plays it to have fun and has his own style and doesn't care what other people think of his style. I think he is one of the only players who I've seen that demonstrate that creativity and fun experience in soccer.
Ronaldinho is simply the king of the game. His age may have been short in top football, maybe 3-4 years in barcelona he was GOD and after that he stayed the best!
He is the king of dribbling and skills and turnes Barcelona into the biggest club ever! He taught Messi everything and that's why Messi today is better than maradona and everybody else
5
Zinedine Zidane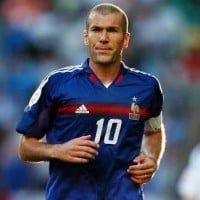 Zinedine Yazid Zidane, nicknamed "Zizou", (born 23 June 1972) is a is a French former professional football player who played as an attacking midfielder. He received many individual accolades as a player, including being named FIFA World Player of the Year in 1998, 2000 and 2003, and winning the 1998 Ballon d'Or. He is the current manager of Real Madrid.
He managed the French Team during the WC 2006 in Germany, replacing the coach Domenech. The French team wass self- managed. Not only a good and complete player, he has been a goog selectioner and good coach. He almost won the WC 98 by himself as he beat Brazil by himself for WC 2006. He could have been the artisan of his victory has he has been the artisan of his own defeat for the final game
He was the genius midfielder for France and Real Madrid. Moreover, he won all main cups for France like World cup and European cup and Champion League winner with Real.
Spectacular, only xavi and iniesta can challenge him.
6
Thierry Henry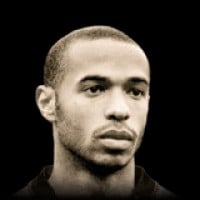 Thierry Daniel Henry is a French professional football coach and former player. He is the second assistant coach of the Belgium national team.
355 club goals 228 goals for Arsenal in 376 appearances 406 in total. Both France and Arsenals record goalscorers. and that is just the stats he could play with fierce speed and flare and ran the whole length of a pitch to score a goal at least twice. And that goal against Manchester United in 2001. And that back heel nutmeg goal on October 2nd 2004 in the invincible season. Legend at Arsenal and Barcelona. And much more to talk about. He is so underrated. At least the best Premiere league striker. A football icon!
In his prime, he was unstoppable. The nightmare of every defender. He had everything, from touch, speed, and skill, to intelligence, unselfishness, and the deadliest finishing to ever be brought to the game. Easily one of the best players ever.
He was the the early decade destroyer who was every keepers nightmare with the pace and dribbling abilities that he had. Voted as the most influential arsenal player, there is no doubt that Henry was a revelation who was a killer player
7
Luka Modric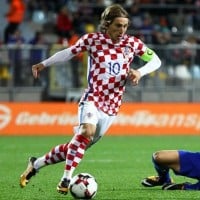 Luka Modrić is a Croatian footballer who plays for Spanish club Real Madrid and the Croatia national team.
8
Zlatan Ibrahimović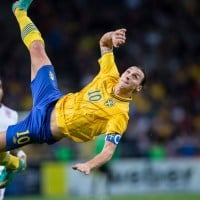 Zlatan Ibrahimović (3 October 1981) is a Swedish professional footballer who plays for an Italian club AC Milan and the Sweden national team for which he is captain.
Greatest player of all time. Can score anywhere. Powerful, strong, acrobatic, physical etc...
He's so good he's been nominated in this list twice! Scroll Down And see for yourself
He is a real player not like others!
9
Wayne Rooney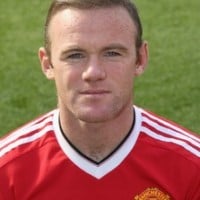 Wayne Mark Rooney is an English professional footballer who plays for and captains both Manchester United and the England national team.
A living legend playing for Man United, one of the best finishers of all time...
Great strength, great finishing, great player.
He can play everywhere... He can be a goal keeper!
10
Xavi Hernandez
Xavier "Xavi" Hernández Creus is a Spanish professional footballer who plays as a central midfielder for Qatari club Al Sadd SC.
He is the most underrated middle fielder in the game, I think he is better than Zidane.
The best passer in the world without a shadow of a doubt.
The Contenders
11
Roberto Carlos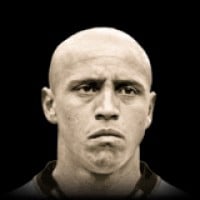 Roberto Carlos da Silva Rocha (born 10 April 1973), commonly known as Roberto Carlos, is a Brazilian former professional footballer who now works as a football ambassador. He started his career in Brazil as a forward but spent most of his career as a left back and has been described as the "most offensive-minded left-back in the history of the game". Carlos is also widely considered one of the best left backs in history, and was also known as a free kick specialist throughout his career—his bending shots have measured at over 105 miles per hour (169 km/h). In 1997, he was runner-up in the FIFA World Player of the Year. He was chosen on the FIFA World Cup Dream Team, and in 2004 was named by ...read more.
A good passer. Defender and overlaps better than anyone. He is also the best set peace taker
He is the physicist of football. The Carlos Law of Motion.
12
KaKa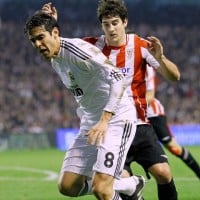 Ricardo Izecson dos Santos Leite, commonly known as Kaká or Ricardo Kaká, is a retired Brazilian professional footballer who played as an attacking midfielder for Orlando City SC in Major League Soccer and the Brazil national team .
Kaka is A all time great. His vision, skill, finesse, speed and dribbling is unparalleled in world football. We saw him at his best during the season 2006-07 where he dragged Milan single handedly to champions league victory. Kaka is A living legend and my all time favourite.
Kaka is the greatest he was in the top ten best players in the world for 6 years and was named best player in 2007. better than C. ronaldo who just hogs it does all this fancy stuff whereas he could simply just pass it off
Better than cr7 and Messi at his best. Won the champions league almost single-handedly and every tournament as the best player at the competition except world cup. Dribbling, passing, shooting, speed, accuracy, as good as it can be.
13
Andres Iniesta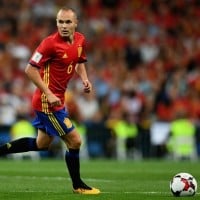 Andrés Iniesta Luján is a Spanish professional footballer who plays for FC Barcelona and the Spain national team.
Brilliant middle, brilliant team player.
Best vision in the world at the moment.
14
Steven Gerrard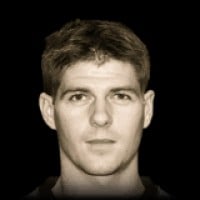 Steven George Gerrard (born 30 May 1980) is an English professional football manager and former Liverpool player who currently manages Scottish Premiership club Rangers.
A true leader, amazing vision, ground and aerial passing. Can go forward and create plays, and bust his gut getting back to defend. Amazing free kick and long shot taker. His loyalty to the liverpool football club is also amazing for this day and age.
Seriously? Only 12th? He must be at least number 5
Captain fantastic he inspirational for both england and liverpool
15
Michael Owen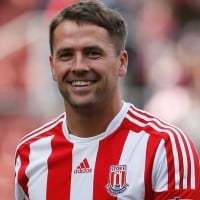 Michael James Owen is an English former footballer who played as a striker for Liverpool, Real Madrid, Newcastle United, Manchester United and Stoke City, as well as for the England national team.
16
David Beckham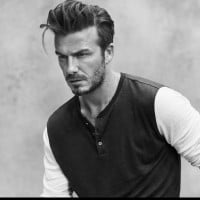 David Robert Joseph Beckham is (born 2 May 1975) is an English former professional footballer, the current president & co-owner of Inter Miami CF and co-owner of Salford City.. He played for Manchester United, Preston North End, Real Madrid, Milan, LA Galaxy, Paris Saint-Germain and the England national team, for which he held the appearance record for an outfield player until 2016. He is the first English player to win league titles in four countries: England, Spain, the United States and France. He retired in May 2013 after a 20-year career, during which he won 19 major trophies.
17
Luis Suarez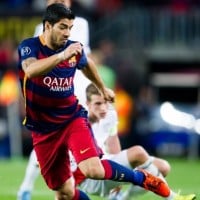 Luis Alberto Suárez Díaz (born 24 January 1987) is a Uruguayan professional footballer who plays for Spanish club Atletico Madrid and the Uruguay national team as a striker.
I'm very surprised Suarez is not in the top 10. Leaving him as a person out of the equation all I can see is one of the most gifted strikers in recent memory. No one since the days of the original Ronaldo and Henry has a player evoked such feeling of fear and fright into opposing defenders. He plays with his heart and is insanely gifted. His decision making with and without the ball is extremely intelligent and his finishing is devastating.
He should be number 4
18
Luis Figo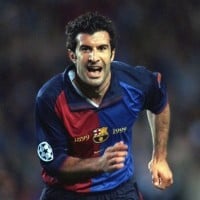 Luís Filipe Madeira Caeiro Figo, (born 4 November 1972) is a Portuguese retired professional footballer who played as a midfielder for Sporting CP, Barcelona, Real Madrid and Inter Milan. He won 127 caps for the Portugal national team, a record at the time but later broken by Cristiano Ronaldo. He ...read more.
Luis figo is a master of dribbling and passing for me he is a real footballer
19
Arjen Robben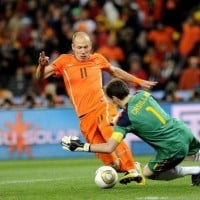 20
Mesut Özil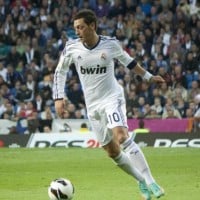 Mesut Özil is a German professional footballer who plays as an attacking midfielder for Süper Lig club Fenerbahçe. Nicknamed "The Assist King", Özil is known for his technical skills, creativity, agility, and finesse.
I love Mesut Ozil beecause he is Muslim. He should be in number 1. He is the best player ever.
Best best best player, I like and love him, he is the most genous person and great command on football, he is not selfish of scoring the goals, he is the best player in German
21
Manuel Neuer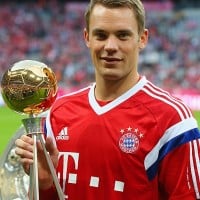 Manuel Peter Neuer is a German professional footballer who plays as a goalkeeper for Bayern Munich and the Germany national team.
22
Ryan Giggs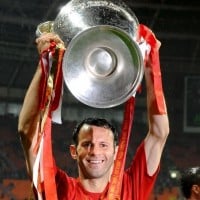 Ryan Joseph Giggs is a Welsh football coach and former player who is currently the assistant manager at Manchester United and co-owner of Salford City.
23
Franck Ribery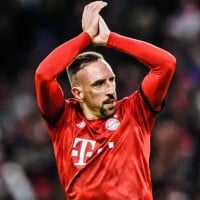 Franck Henry Pierre Ribéry is a French professional footballer who plays for German club Bayern Munich.
24
Fernando Torres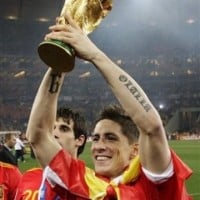 Almost unstoppable when he hits top gear
Torres was the reason I liked liverpool F.C.
Since he plays for chelsea now I like chelsea better now
Great eye for goal, can score from anywhere in his own half at the first sight of goal.
Unstoppable in his prime, could embarrass any defender.
25
Frank Lampard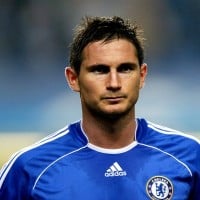 He broke so many records already! One being Chelsea all time topscorer being a midfielder!
Simply, the best.
PSearch List