Greatest WWE Wrestlers of All Time
The Top Ten
The Undertaker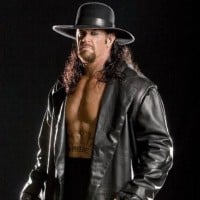 Mark William Calaway (born March 24, 1965), better known by his ring name The Undertaker, is an American semi-retired professional wrestler currently signed to WWE, where he has worked since 1990, making him the company's longest tenured in-ring performer . Calaway began his wrestling career with World ...read more.
Simply the best of all time, this guys is a true complete package, he can wrestle and give great matches with whoever he face, big guys, small guys, high flyers, grapples, hardcore wrestlers, bret harts, HBKs, kurt angles, batistas, yokozans, hbk, mick foley, rock, Austen, jbl, sid, hogan warrior, bid daddy v, big show, lesner, H, henry, batista, kamala, rey etc..., he is the master of hell in a cell, he competed in 11 hell in a cell matches, he had plenty hardcore match classics, with mankind at hell in cell, boiler room, with Brock Lesnar at hell in a cell etc..., he can give great tlc matches (with edge), he is the innovator of buried alive matches and casket matches, he is the owner of wrestlemania and with 19-0 including some of the greatest matches of all time, this guy can do things that other men cannot do, very agile, very deadly, the pace of The Undertaker matches are BRUTAL, he destroy you bit by bit, his hell's gate submission is brutal, his chokeslam is legendary, his ...more
He is legend of WWE

He is undefeated man at Wrestlemania
He almost beat every superstar in WWE
He can beat everyone
He is the man who never die
UnderTaker is the best wrestler forever
Without undertaker, no WWE!
BECAUSE without legend no one want/like to watch WWE

And, his return at Raw 21 Feb 2011 make WWE again best show in all over world

And triple h is also good wrestler but, he can't beat undertaker at wrestlemania

But if he want to try it so OK
BECAUSE he was try at wrestlemania, nut he can't

So one more chance he has to prove his ability
But I know, you know, and all people in world know he can't beat him.
No only he, no one can beat UnderTaker

I CAN see 19 - O WRESTLEMANIA XXVII
Who cares if he lost to brock lesnar at WrestleMania xxx, he is still the greatest of all time
I remember buying magazines just because of him(this is the time when he was riding the motor). He is all the time my number one and in my heart. I know I will never meet him in person(even though that's one of my biggest dreams) but, thank you, for your work! I've had so many posters on my walls in my old room and even now I have wallpapers of him on my laptop.
Simply the GOAT. Gave so much to wwe and wrestling in whole. Excellent in ring work for a giant, bone chilling promos and the biggest thing that puts hum over others is his love and loyalty to the business. Never needed a championship,always helped younger talent And the best locker room leader.
There will never be a taker again
Steve Austin

Steve Austin (born Steven James Anderson on December 18, 1964, later Steven James Williams), better known by his ring name "Stone Cold" Steve Austin, is an American actor, media personality, producer, and retired professional wrestler who is signed to a legends contract for WWE. ...read more.
I love Stone Cold Steve Austin. They will never have another wrestler who can have the crowd off their feet with just the mention of the name. He is just the best they ever had.
Why should Stone Cold be on the top of this list? Because Stone Cold Said So. He was the best badass the WWE has ever seen. He was way better than any wrestler. I mean come on, how many wrestlers bring a beer truck near the ring and hose Mcmahons and the Rock
Come on when he pointed the gun at Vince's head it was one of the all time greatest moments in television history. I mean stone cold saved the WWE at time when WCW was hot on the trail of toppling it. While there's been a few glimmers here and there of new stars to take his place no one has made the WWE as interesting as Austin did back in the late 90s. Everyone was watching Monday night raw and dreaming of being able to do to their bosses what stone cold did to Vince. It was the best storyline in wrestling of all time. I mean when he drove the beer truck into the area. It was pure brilliance
He single handed brought the WWF into a whole new level never seen before or since. He took the company from wherever Hogan left it, picked it up, tossed it over his shoulders and ran with it all by himself. No one else would have been capable to pull it off or even come close to it. Only he can get away with beating the crap out of the Boss (VKM and his family and cronies for that matter) on a weekly basis and get away with it and on top of that have the whole wrestling universe tuning in to see what the hell he was going to come up with every monday, and he's also the reason why WCW lost to WWF in the Monday night ratings war (all but maybe 2 weeks) even though Ted Turner had acquired all those other wrestlers, many of whom were "stolen" from WWF or were former WWF wrestlers like Hogan, Nash, Hall, X-Pac, etc., and still they couldn't put a dent to what Austin was doing. All who disagree can just look it up and stop trying to sell Cena as the best because he is not, he's a ...more
Shawn Michaels

Shawn Michaels was born on July 22, 1965 . He is an American professional wrestler. He is the first wrestler to win all the titles the WWE could have offered. He is known for his moves and looks. His nickname provided by WWE is HBK (Heart Break Kid). He was in DX (Degeneration X) a tag team with Triple ...read more.
The most charismatic WWE superstar of all time! #3? Are you kidding me?
Hbk is the greatest wrestler of all time, hands down. He could beat anyone anywhere. He beat undertaker in the first ever hell in a cell and was in the first ever ladder match and he also came the closest to beating The Undertaker at wrestlmania. HBK FOR LIFE
Yep HBK the best of best the cream of the crop the master of master the legend of legend one of the most favorite wrestlers seen I think it is so totally safe to say that HBK The Heartbreak Kid Shawn Michaels is the greatest Wrestler Ever!
Behind Hulk Hogan, HBK is the greatest of all time. His first ever Wrestlemania Main Event was in 1994, against Razor Ramon "The Bad Guy", he lost. The next year in 1995, he made history by making his rivalry against Bret "Hit Man" Hart the longest match ever in Wrestlemania. It took 1hr 4mins and The Heart Break Kid defeated the "Pink Legend". 2 years later, in 1995, he faced at the Main Event the crazy bulldog Stone Cold Steve Austin. It was one of the most charismatic matches in the History! Shawn lost. In 2007, he lost against Undertaker when they were the only 2 Royal Rumble finalists. In 2008, he was the general referee when Triple H won against Undertaker after Shawn Michaels used his "Sweat Chain Music", the name of his special move, the "finisher" and then HHH won by pinfall. In 2010, at the Wrestlemania Main Event, he faced again Undertaker and he lost for the 2nd time which was the reason of his retirement. He formed ...more
The Rock

Dwayne Douglas Johnson, also known by his ring name The Rock, is an American and Canadian actor, producer and semi-retired professional wrestler, signed with WWE.
Are you guys crazy?!?! The rock is the MOST ELECTRIFYING MAN IN ALL SPORTS! He kicked undertakers ass and kicked John Cena's ass and will kick it again at wrestlemania 28 and not to mention that he WILL LAYETH THE SMACKETH DOWN ON EVERY WRESTLER'S CANDY ASS that faces him in the ring
Oh yeah! It is the greatest one, danger man of world wrestling. No one is like him. He is totally different than any other wrestlers. His attraction works into the left side of the heart of the people and this is why he is the champ of people. Only the rock is able to electrify when he plays. He is perfect with his body shape, body language and his height. He is also a good speaker with good logic. His entrance is a threat of all wrestlers. The rock has come back to win over everyone. Nothing can stop him. The rock will bring it.
I don't think anyone is here in WWE to match-up with the rock.
Two years after he joined the WWF, Johnson won the WWF Championship, and became one of the most popular wrestlers within the company's history. Johnson is widely considered one of the greatest professional wrestlers of all time. He won a total of 16 championships in WWF/E. This included nine World Heavyweight Championships (the WWF/E Championship seven times and the WCW/World Championship twice), two WWF Intercontinental Championships, and five times as co-holder of the WWF Tag Team Championships. He was the sixth WWF/E Triple Crown Champion, and the winner of the 2000 Royal Rumble. Rock defeated The Undertaker at No Way Out.
Rock defeated Hogan at WrestleMania in an "Icon vs Icon" match. On July 21, The Rock won his record-breaking seventh and final WWE Championship, which was known as the Undisputed WWE Championship at the time. He defeated Kurt Angle and The Undertaker in a match at Vengeance, after he hit the Rock Bottom on Angle. At SummerSlam, The Rock defeated Booker T to ...more
John Cena

John Felix Anthony Cena Jr. (/ˈsiːnə/; born April 23, 1977) is an American professional wrestler, rapper, actor, and reality television show host signed to WWE, where he is assigned to the SmackDown brand. ...read more.
John Cena does so much for the WWE and is a really hardworking person he cares about fans he's funny and entertaining.
He is the best wrestler in WWE history
He never gives up
He can kick out anybody finishing move
Just watch out John Cena is here in this world
John Cena is the best wrestler he has almost beat each and every wrestler in WWE and we can hope that john is the one who will break undertaker's streak, as you have seen john's increasing his status day by day, he is the one who will defeat The Undertaker and he is the one who will defeat the rock...
John Cena is the best WWE superstar who has ever stepped in this company, I'll tell you why because he's the most loved & hated WWE superstar of all time, also he's the most popular, moreover he's the only person who can end undertaker's streak'& the company would drop without him especially within the pg era as no other superstar could carry the company & represent it as a hero or a champion like John Cena, eventually I can say that cena is the most chrismatic WWE superstar of all time & the company must state him as the best WWE superstar in history (he should be no.10) not because I love him but if vince mcmahon thought about it for a while he would find that no other WWE superstar could carry all of this load upon his shoulder especially when it's pg but cena. Ah & one last thing cena gets the loudest reaction of the crowd wether it's cheering or booing & even those who claim to be cena haters chase him everwhere. And I hope someone listens. Thanks
Hulk Hogan

Terry Gene Bollea, better known by his ring name Hulk Hogan, is an American professional wrestler, actor, television personality, entrepreneur and rock bassist.
Hulkster must be @ #1.. He made the wrestling more popular.. WWE ran into a billion dollar industry and paved way for today's high paid stars.. He ruled Wrestling over 2 decades. Hogan is beyond icon in the wrestling world. You ask anyone who he is and they know for the most part.

His ability to sell tickets is unmatched by anyone. His past matches basically have proven that if you work a program with this guy, then you are going to get noticed.

He has never been the best worker and he has the tendency not to put people over, but face facts, fans, there is nobody more charismatic than this man.
Steve Austin sells more tickets bro and yeah anyone who faces him will be unnoticed cause soon after he buries them. Lol.
Hulkamania is a legend... He made the wrestling more entertaining... Even Arnold is a huge fan of him... Hulk Still Rules BROTHER...
This Man Is The Real Maneger Of The WWE He Should Back To His Company.
Wrestling changed forever when HH arrived on the scene, along with vince these 2 young men took a fairly low entertainment businesses in comparison to all other sports and made it a giant that it is today. I will admit he was not the greatest wrestler in the ring, and not even close, but it wasn't his wrestling ability that people went nuts for, he made every little guy feel like a big guy, he beat the cheaters, the bad guys, he defied the odds, I know it was set up that way, but people loved the story, they loved the gimmick, and many wrestlers after him grew up with a respect for him, much like Elvis and the Beatles did for music, they were not the very best, but they did raise the bar and changed the face and direction of their industry, without the pioneer's of an industry you can't really say or know that those that followed after would have been able to do the same or better, but you can't deny that guys like HH and ric flair carried an industry on their backs for generations ...more
Triple H

Paul Michael Levesque, better known by his ring name Triple H, is an American semi-retired professional wrestler, corporate executive, and actor.
In the past 16 years of his career he have owned all other superstars ranging from The Undertaker to John Cena he should be on the top already. H is the best superstar to ever step foot in the squared circle.
If we start dissecting wrestling into single skills (in-ring abilities, mic skills, etc) Triple H is not the best at any particular aspect, but yet he embodies the spirit of wrestling like no others in my humble opinion. His charisma is outstanding and he can be awesome both as a heel and as a babyface. Although he was mostly (as a heel) a self-absorbed, arrogant character, he actually made a whole lot of other talents shine (Shawn Michaels, Batista, Orton, Cena just to name a few) and never refused a job. No single wrestler in the world (except Ric Flair) can match his career (in terms of longevity and accomplishments). For all these things he is the greatest (in my humble opinion).
He's coming back at the Rumble or b4 Christmas
As for me I think that Triple H's got to be the top one. I really think that Triple H and Shawn Michaels have a same power, but if it comes down to one... I will go with Triple H, Not that I like to say Triple H is better than HBK.. but. Triple H the 13 time world champion, that is just the only thing I'm gonna list because if I try to type all things that Triple H have done it's gonna take me 16 years. Because in every year every match of his career it's been a hell of a match, and most of his career he has been a main event. I have no words to describe Triple H and his Career, Triple H is one hell of a Wrestler, he has an amazing career, he is the GAME, he is the King of Kings. And that's for Triple H and HBK, I LOVE'EM TO DEATH. long live. RULES, for life.
Bret Hart

Bret Sergeant Hart, better known by his ring name Bret "The Hitman" Hart, is a Canadian-American writer, actor and retired professional and amateur wrestler. A member of the Hart wrestling family and a second-generation wrestler.
Best wrestler ever. no one defend the title night after night like Bret did.
Won the WWE champion and could have won the 1996 royal rumble but the ref didn't see him eliminate steve austin and made stone cold quit in a I quit match.
He didn't make Stone Cold quit, he made him pass out in the ring, but he did sky rocket Stone Cold WWE career with that match
Of course he is the best, he is number 1 because of everything:intellegent, respectful, tallent and love.
The best there is, the best there was, and the best there ever will be.
Randy Orton

Randal Keith "Randy" Orton is an American professional wrestler and actor who is signed with WWE, where he is a member of the SmackDown brand. He is a 12-time world champion, having held the WWE World Championship eight times and the World Heavyweight Championship four times.
Randy is the best... And at the age of 24 he become the youngest world champion ever... He the perfect champion... The apex predator... THE VIPER randy is the best wrestler ever been born in the WWE better than John Cena, under taker, shawn michels, batista, and every other super star, at the end HE CAN BEAT THEM! No body is safe from the viper he will kick anyone in the skull if he just tried to stand against him actually nobody can, randy is the best you must all admit that... What you think doesn't matter because he is the best wrestler ever and the best champion ever
Randy is the super champion of the WWE who can beat great wrestlers like cena, sheamus, batista, 3 h, shawn Michael, taker, batista
First place! Great champion! Best superstar! No competition! Unmatched! Unbeatable! Better than cena!
He's the greatest. Non one has better timing and no one is as smooth as Randy. Even at 40 he's the best thing in WWE with his feud with Edge and bringing back the Legend killer. His promo work is underrated. The deadliest letters in WWE will forever be #RKO
Edge

Adam Joseph Copeland is a Canadian actor and retired professional wrestler. He is best known for his time with the American professional wrestling promotion WWE, where he performed under the ring name Edge.
Actually Edge is is a 12-time tag team champion including an unprecedented seven reigns as World Tag Team Champion with Christian. He won the 2001 King of the Ring Tournament. He is the first money in the bank winner.
He has won the royal rumble and has some elimination chamber records
. EDGE HAS A RECORD BREAKING OF 7 WORLD HEAVYWEIGHT CHAMPIONSHIP REIGNS
. EDGE IS 5 TIME WWE CHAMPION
. IN TOTAL EDGE IS A 12 TIME WORLD CHAMPION
HE IS THE RATED ARE SUPERSTAR
You say that like it is a bad thing, he was a heel and known as the ultimate opportunist, the fact that he got 12 World Titles is a testament to how good of a worker Edge was and how much people liked him
EDGE HAS MOST OVERALL TITLES OF ALL-TIME @ 31 TITLES DON'T BELIVE ME, DO YOU RESEARCH
was a champion a lot of times, didn't win more because of injury. Very versatile fighting style, I love it.
He is the 11 time world heavyweight champion and 7 time WWE champion.
The Contenders
CM Punk

Phillip Jack "Phil" Brooks, also known by the ring name CM Punk, is an American comic book writer, actor, upcoming mixed martial artist and retired professional wrestler who is signed with the Ultimate Fighting Championship. ...read more.
One of the most talented wrestlers in the WWE. CM Punk is the total package and he is incredible on the mic.
CM Punk deserves to be on the top ten because Punk is the Best in the World. There are a few Superstars as influential to the WWE Universe as CM Punk. Always controversial, Punk has never been afraid to speak to his mind. Having won multiple World Championships, Punk has the skills to back up his words and the ambition to inspire change in WWE. He caused an uproar in 2011 when he left the company with the WWE Championship in hand. But his controversial absence paid dividends, as he became a fan favorite upon his eventual return.
This pisses me off, CM Punk is the Best in the ring and on the mic. He can cut promos better than Stone Cold, The Rock, John Cena, and everybody else in WWE of all time. He has put on great matches that will be remembered for ever. He is the only two time Money in The Bank Winner! He is the greatest WWE Champion of not only the modern era, of ALL TIME. 434 days as WWE Champion, more than John Cena, The Rock, The Undertaker, Stone Cold Steve Austin, Bret Hart, and Shawn Michaels. PEOPLE OPEN YOUR EYES CM Punk HAS BEEN THE BEST IN THE WORLD SINCE DAY ONE GIVE HIM SOME RESPECT ALREADY.
If this guy had continued for 2 more years before he quit and had gotten the pushes he deserved, he would have been Stone Cold 2.0

I will never forgive Triple Doofus for what he did to the best talker in WWE history, CM Punk
Rey Mysterio

Óscar Gutiérrez, better known by the ring name Rey Mysterio, is a Mexican-American professional wrestler who currently works for Lucha Underground.
He is very small but he can even defeat the bigger players like undertaker easily by using moves like by rolling moves like tornado dot, monkey flip, bull dog etc and flying moves like moonsualt, west coast pop or etc and his best move 619
The Giant Killer, The Biggest Little Man, The Masked Maestro... He is the 2 time world heavyweight champion, former WWE champion, 4 time WWE tag team champion, 3 time cruiserweight champion, 5 time WCW cruiserweight, 2 time intercontinental champion you GOT to love him...

If he's not in the top 5, I committing suicide!
It is just wrestling, there are just too many great wrestlers there are literally 30 wrestlers that all deserve to be in the top 5, don't joke about suicide
Man, he is awesome
LOVE YOU REY MYSTERIO.
DASHING CODY IS THE UGLIEST MAN ALIVE!
GOO. 619 BABY
My second favorite WWE superstar(after the taker). He is amazing. I've always watched his matches and wanted him to win+he has the most attractive moves.
Brock Lesnar

Brock Edward Lesnar is an American professional wrestler and former amateur wrestler, professional American football player, and mixed martial artist who is currently signed to WWE.
Super powerful, he had to retire because he was too dangerous in the ring and caused many injures. Now he's in UFC. I don't envy whoever he fights.
I Love this guy because the beast brock lesnar most dangerous former ufc. Wwf. WWE mma on then WWE world heavyweight champion brock lesnar
In real no wrestler in WWE could even stand 10 seconds in a match with brock lesnar. He has honed the skill of mixed martial arts which makes him even more dangerous than when he arrived to the scene the first time. Cena is at no- 2 in this list only because lesnar left WWE at his peak if lesnar as been around the last decade in WWE the his stature in WWE would be even bigger than that of taker, hogan, Michaels etc. Moreover let me tell all the cena fans that the fu now (aa) is just a cheap attempt to copy of f5 don't believe me than check the record. Brock lesnar once broke the ring by slamming big show from the top this shows how much strength he has.
I think there are wrestler that can beat lesnar in fact Cena and HHH done it
His power and confident make him powerful and one of the best wrestler in WWE
He is real not fake wrestler like John Cena
The Undertaker can't beat Brock Lesnar any time one on one
Ric Flair

Richard Morgan "Ric" Fliehr, better known by his ring name Ric Flair, is a professional wrestling manager and American retired professional wrestler currently signed to the WWE under a legends appearance contract.
The Greatest WWE/F Wrestler Of ALL Times. 2 time WWE champion. 3 time tag champion. Hall of Fame. Royal Rumble.
He did things better than those before him and really took cutting a promo and being a heel champion to the next level.
Undisputed GOAT in my opinion. He has the gimmick, the promo ability, five star match classics, iconic catchphrases, signature moves used by everyone after, a major player in every promotion he joined, has influenced some of the greatest wrestlers ever, he's old but is still recognized today, his daughter is one of the best female wrestlers... he's THE MAN. Undertaker #2 & HBK #3.
I love him from childhood. Most voters here are kids who don't know much about the past. Ernest Okojie
Kane

Glenn Thomas Jacobs is an American professional wrestler, insurer, and actor. He works for WWE, and is best known by his ring name Kane.
I remember the days when I used to watch WWE just for the masked kane! He is simply awesome.. Loved his personality and attitude!
Kane is one of the true faces of the WWE, and are we forgetting 2001? 11 eliminations, he is 3 eliminations away from breaking Shawn Michaels record for most eliminations of all time, 13 consecutive Royal Rumbles? Most of all time. Kane has a lot of history and records
The kane is very strong and the kane is first who won the match of kane vs Undertaker.
Kane had the best storyline buildup to a debut more than any other gimmick in the sport of Professional Wrestling. And intentionally only being a temporary gimmick at the time, just to shock the wrestling world with his skills and physic and his hight. But the Mask played a major role in his success. Kane was not a talker, just a destroyer. Even without the mask, he showed a demented side to his persona, Destroying Raw GM Eric Bishoff, Tombstoning WWE Owner Linda Mcmahon on the steel ramp, Electrocuting Shayne Mcmahons Testicles, Setting Jim Ross on fire, just to name a few.

But Kane also has humor in different ways, like when he showed up during the Minis Matches when he had the mask. His night of destruction (which is my favourite moment of Kane), owning both The Rock and Hulk Hogan in one segment, to Anger Management where Kane was asked to tell his life story, witch everything he said was actually true laugh out loud.

But even though Kane was more of a mute with the ...more
Goldberg

William Scott "Bill" Goldberg is an American actor, former professional football player, and semi-retired professional wrestler.
Goldberg is the Man. He is very powerful and he beat all of WWE wrestlers. He beat batista, triple h, the rock, jericho, kane, batista, randy orton, ric flair, sid, hogan, sting, kevin nash, scott hall and...
His strength is in his jackhammer on big show.
YES THAT RIGHT GOLDBERG IS BEST
AND NO ONE CAN BEAT HIM AND HE SHOULD BE ON number 1 SPOT
HE BEST IN THE BUSINESS
Goldberg is the man with Iron Fist, you cannot simply compare him with other Wrestlers of all Generation. The people that don't believe me, they definitely need to watch his Journey in WCW, his undefeated Streak of 173-0 & all the big name like Hulk Hogan, Lex Luger, Raven, Triple H and list go on, were never be able to come to the level that Goldberg goes, so before commenting upon disliking this comment PLEASE first watch at least 10 matches of Goldberg...

I still have all matched of goldberg in my PC...
Not #1 but he is the strongest id say replace rey mysterio with him I think goldbergs jackhammer is awesome so much strength in him
Chris Jericho

Christopher Keith Irvine, better known by the ring name Chris Jericho, is a Canadian-American professional wrestler, musician, media personality, actor, author, and businessman, currently signed to WWE and NJPW.
This really pisses me off.. Jericho 21!? Can I remind you that he is a multi time world and WWE Champion! 9 Time Intercontinental Champion! First Undisputed Champion by beating the rock and stone cold steve austin in the same night. Chris Jericho has beaten the greats like Undertaker... Kane... CM Punk... Steve Austin... Rock... Edge... Randy Orton.. Rey Mysterio... Hell He beat Shawn Michaels on consecutive occasions in the same month including defeating him to retain the world title
Who are you so ; tell chris jericho to fight greatest player of all time stone cold steve austin
Y2J is the best at what he does. This guy can play all sorts of matches-ladder, steel cage, last man standing. Plus he is one of the greatest heels of his generation along with triple H.
This guy by the end of his career will be much higher on this list.
This is the man who defeated The Rock and Stone Cold at the same night to win the Undisputed champion man!
The Ultimate Warrior

Warrior was an American professional wrestler, who wrestled, among the others, under the ring name The Ultimate Warrior for the World Wrestling Federation from 1987 to 1991 and again in 1992 and 1996. During his 1998 stint in World Championship Wrestling, he was known as The Warrior.
He is the best. he could win every time and everybody, except his unfair enemies
Beat hulk hogan in peak hulkamania mode. Dominated undertaker in 91. Dominated andre the giant. Beat every1 that mattered in WWE from 88 to 91. Created a super hero type character with the greatest intensity
He Is The Most Prominent Wrestler And His Place Is On Number 2 because He Is Most Strategic And Full Of Stamina I Love His Style He Should Be At 2 After Goldberg
Best entrance music and best entrance by him.
Exciting, powerful, a true original WWF God, him and hulk Hogan will always be the 2 that created the wrestling craze. They are both No1 jointly although I preferred warrior
Jeff Hardy

Jeffrey Nero "Jeff" Hardy is an American professional wrestler, singer-songwriter, painter and musician.
I don't think any list even have jeff hardy but his in my list and I will give 3 facts why he should be number 9...

1. He is one of the greatest risk takers the WWE has ever had his Swanton bomb his whisper in the wind and even his basic high flying move my point is he just isn't scared of anything.

2. Him and his brother Matt are just one of the best teams The Hardy boys I mean not better than but there my second favourite time and whats better than seeing Jeff and Matt battle ing it out!

3. I'm kind of out of reason but here is one His face paint I know you might think face paint big deal but go to Google and type Jeff hardy facepaint you will be stunned.
Jeff should be top ten! This charismatic enigma brings joy to almost every person-- his amazing extreme moves and risking his body to perform hardcore stunts. A huge risk taker and one of the sweetest wrestlers out there... His dedication to his career is admirable and what he does for the fans is lovely...he is one of the former WWE superstars that shaped the tag team division along with his brother matt and other well-known wrestlers... He started his career at a young age and look how far he has gone
Despite all his personal past mistakes because that's his life and no one should judge him he is the best... Leave the poor fellow and focus on how he has accomplished in his wrestling career rather than his personal life.
Other than being hot because trust me he is(especially when he had the storyline with trish stratus lol), jeff is a unique person with so much talent c:
Without doubt 10X better than matt, he can dive from 20ft high and land it perfectly. No one compares to this legend. He is unbelievable good and never gives up, he puts his body on the line for us the fans of WWE and for us he sacrifices his blood sweat and tears, there is literally no doubting his credibility as the best in the world at what he does no one flys higher successfully than this man right here vote for him to ensure success if he can see the effect that he has on the audience then he can see just how powerful his impact on the WWE is everyone salutes you!
JEFF HARDY is my favorite wrestler of all time he deserves a vote and capital letters in his full name the hardy boyz are the best to do you now how many titles they have won like 10!
Kurt Angle

Kurt Steven Angle is an American professional wrestler, actor and former amateur wrestler currently signed to professional wrestling promotion WWE, where he was the on-screen general manager of the Raw brand and an occasional wrestler.
SO YOUR TELLING THAT John Cena IS BETTER THAN KURT ANGLE RIC FLAIR THE ROCK STING HULK HOGAN EDDIE GUERRERO. YOU GUYS EVEN HAVE REY MYSTERIO AND CM Punk AHEAD OF THESE GUYS. THESE GUYS ARE TRUE LEGENDS. WHO MADE THIS LIST 8 YEARS OLDS.
True, the fact that, in real life, the Olympic champion would beat any one of these guys in combat is probably not reason enough to give him the vote, but add that he's one of the best in-ring performers, that he can be a hilarious heel or a likable face, and that he has the best theme music EVER, and that's more than enough to give him the vote.
His intensity is unmatched... Very few have such intensity and integrity to compete in a wrestling bout like him. Never ever count out the Olympic winner! He should be in the top 10 for sure. This current ranking (24) is actually an insult to what he's done for all these years.
Kurt Angle, the worlds only Olympic Gold medalist, who won many WWE titles and made Hulk Hogan tap out is clearly in the top 5 if not top 10... An absolute legend in the ring with the ankle lock and made great wrestlers tap because of it. He is now in the best wrestler in TNA history. Is it just me or do other people wanna see him return to WWE and destroy John Cena... Go Angle!
Batista

David Michael "Dave" Bautista Jr. is an American actor and former professional mixed martial artist and professional wrestler.
Batista is definitely #1! He's been in hardest match ever and won. One sentence he said was " You don't know what it's like to be in a cage with animal. "
You are best wrestler in WWE! Batista when you defeat randy Orton the face of randy Orton is really very funny! And I am so angry on your friend rey mestireo I never accept this but I want to know why you friend ship is broken. I know this have great reason your oppnents do this I will never accept this but maybe this is randy orton I want broken face of under taker because I know you are a legend of WWE you have to defeat every superstar of WWE
This guy is great at wrestling, and that what I just said was one of the reasons I came here. But the MAIN reason why I came here was that 2 weeks ago from now, I had a little feeling that I was going to get a little bit POed. And that feeling just came true. And you know what it is? I'll tell you. People on the Monday Night that Batista returned started to tweet that "The Animal" will WIN the royal rumble. Which is exactly what happened last night. Now I start seeing people tweeting how Batista shouldn't even have won it or didn't even deserve to win it. Now I start hearing people booing Batista tonight? PEOPLE, What did Batista do? He's only been in the WWE for a week, and at least get a little bit more respect than this. He only won the Royal Rumble, which is impressive because it was his second royal rumble win. My point is, He's a very talented wrestler and a very athletic man. Just stop criticizing him. He didn't even do anything wrong!
Biggest come back in we raw
And biggest hit to randy ortan and to all WWE wrestlers especially John Cena
And under thakeer
Mick Foley

Michael Francis "Mick" Foley Sr. is an American retired professional wrestler, writer, color commentator, actor and voice actor.
There are a lot of people voting who are apparently too young to have ever seen Cactus Jack or Mankind in the ring. If they had, Mick Foley's rating would have been much higher. This man completely sacrificed his body in every match. In the ring, a few good throws and a choke slam might stop him; in real life, you would a half dozen Marines and a bulldozer.
One of the coolest (funniest) costumes I've ever seen on a superstar. He is really Mick Foley, one of the greatest wrestlers who ever lived. He is also Mankind who got chokeslammed off of a cell by Undertaker onto an announcers table and lived to tell the tale. His incredible finisher and wrestling make him one of the greatest.
This guy put his body through extreme amounts of pain for out entertainment! That is why I vote him number one
The classical wrestler of all time... & he is a good writer too... Best hardcore wrestler...
Eddie Guerrero

Eduardo Gory "Eddie" Guerrero Llanes, was a Mexican-American professional wrestler and a member of the Guerrero wrestling family.
He was the Latino Heat. Remember him as the one winged angel!
His energy in the ring was beyond ordinary men
Simply the most beloved and charismatic Mexican wrestler ever in the WWE! Paved the way for future Mexican talent!
Eddie should at least be #9. He is probably the only wrestler in history who had a ring instead of a trampoline in his backyard. And your saying that daniel bryan is better than him? No way. His ability to wrestle are out of this world. I miss Eddie so much. Thank you latino heat.
Randy Savage

Randy Mario Poffo, better known by his ring name "Macho Man" Randy Savage, was an American professional wrestler and color commentator best known for his time in the World Wrestling Federation and later the World Championship Wrestling.
Macho without a doubt was the entertainment of all his matches, he kept you on the edge of your seat on all his matches. When he was a bad guy you didn't expect him to turn good and vise versa, all the other wrestlers especially four moves hogan you knew what the outcome was gonna be right away. I know I stopped watching wwf wrestling once he left.. It really became lame.
He performed the WWF in the late 80s and at the early 90s. He has in 3 Wrestlemania Main Events. The first time was against the Chinese legendary superstar Ricky Steamboat "The Dragon", and he lost after the "Dragon's Revenge" from his broken-neck. Then in 1989, he faced the King Hulk Hogan after thrilling Miss Elizabeth, his spouse, but he lost. In 1992, Ric Flair "The Nature Boy" has posted a video of him with a picture with Elizabeth. Randy has refused every interview and faced at the Main Event of the year and he won that time. He was probably unlucky at Wrestlemania but he has the 8th best Wrestlemania moment after his wedding to Miss Elizabeth at the WWF entrance. The former Intercontinental champion was one of the most hated superstars of his era. Elizabeth and him both died.
Macho Man Randy Savage Is Tough Enough Too Fight. Anyway Why Will You Put Jeff Hardy In Front Of Macho Man Like You Don't Know Anything Thetoptens. Randy Was the Entertainment Of Matches as You Said But Did You Know He's Better Than Ricky The Dragon Steamboat. Ricky Was A Brlliant Wrestler But Randy Savage Is Better and He's Better Than You For That Silly Mistake For Putting Jeff In Front Of Macho Man. Randy Is Better Than Chris Jericho's Old Hair. That Is The Worst Haircut I've Ever Seen Even Santino Marella Is Better Than His Hair.
Ooh yeaahh non like him; unique, entertaining, athletic.
Andre The Giant

André René Roussimoff, known as André the Giant, was a French professional wrestler and actor. André He most famously feuded with Hulk Hogan, culminating at WrestleMania III, and his best-remembered film role was that of Fezzik, the giant in The Princess Bride. His size was a result of gigantism ...read more.
Andre The Giant doesn't have great wrestling skills but because of his size and 15 year win streak I feel Andre should at least be in the top 10
The 8th wonder of the world. There was no man before him and no man since that has been as big a spectacle and an attraction as he was.
15 years undefeated that's longer than most careers on this list
To be honest I think Andre was just... a loving miracle I think he should be in the top ten.
PSearch List