Most Extreme WWE Wrestlers
This is to see who isn't afraid to put their body on the line.

The Top Ten

1 Jeff Hardy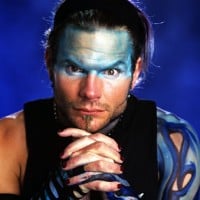 Jeffrey Nero "Jeff" Hardy is an American professional wrestler, singer-songwriter, painter and musician.
Jeff Hardy is more than just an enigma. He's more than just a creature of the night. He's more than the number one most extreme wrestler in WWE history. Jeff Hardy is the most iconic North Carolinianian since Ric Flair. Jeff Hardy will forever be known as the most extreme wrestler in history. Period.
A superstar all around he push everything past the limit amazing stunts and great charisma he does the greatest stunts you can't find anywhere other that WWE broadcasting. He should be praised so much his career is big.
In wwe he would go to smackdown to win every title and go into the hall of fame as the greatest of all time (goat) and he would not me on the list.
Jeff hardy charismatic enigma immortal champion extreme high flying ultimate marvelous unbeatable best of all superstar... Hardy rockckckzz!
2
Mick Foley / Mankind

Michael Francis "Mick" Foley Sr. is an American retired professional wrestler, writer, color commentator, actor and voice actor.
How the hell is this guy still not on the list?! Mick Foley is one of the most hardcore wrestlers to ever step in the ring. I surely expected to see Mick and Sabu at the very top of the list when I first clicked here.
By far the most extreme wrestler ever to grace a ring. Who else has used everything from chairs to barb wire bats to glass shards and ever C4?
Tell me if I'm wrong but seeing Mankind unconscious from getting chokeslammed off of the Hell In A Cell and getting chokeslammed in the Hell In A Cell got me nervous.
Of course he was thrown of a cell he got up over announce table he got up like that countless times
3
Sabu

Terry Michael Brunk is an American professional wrestler, known by his ring name Sabu, who portrays an Arab American in the ring.
Sabu basically invented the word extreme in wrestling
homicidal, suicidal, death defiey sabu, no one is more extreme then someone that throws himself at barbed wire just to hurt a guy
4 Abdullah the Butcher
5
Sandman

Who chooses undertaker for EXTREME. And Jeff hardy thinks his extreme because he jumps off the titantron.
He didn't evan go on top where shane mcmahon did. Beside Jeff hardy isn't even ECW like the Sandman
6
Undertaker

Mark William Calaway (born March 24, 1965), better known by his ring name The Undertaker, is an American semi-retired professional wrestler currently signed to WWE, where he has worked since 1990, making him the company's longest tenured in-ring performer . Calaway began his wrestling career with World ...read more.
Why is the phenom down here.
If you knowhis current streak you ain't gonna push him back further.
He has a streak of 21-0 at wrestlemania (2013) at this golden age of 48!
hardcore champ, casket matches, buried alive matches, hell in a cell matches, a signature move that bounces the top of your head on the ring floor, a submission move that has you bleeding from the throat through your mouth... guys, need I say more
He is so good. 300 wins in a row!
He has done more than any one in WWE history and is the best at most things in history like his world famous streak, that legends such as harley race think wont end and is unbeatble
7
Rob Van Dam

Robert Alex "Rob" Szatkowski, better known by his ring name Rob Van Dam, is an American professional wrestler and occasional actor.
I love Rob van.Rob Van dam is one of those high flying superstar that make me say R V D.
8
Terry Funk

Terrence "Terry" Funk is an American retired professional wrestler and actor. Funk is known for the longevity of his career - which spanned 50 years and included multiple short-lived retirements - and the influential hardcore wrestling style he pioneered in the latter part of his career.
The Hardcore Icon! The Extreme Championship Wrestling Legend.
He should be at least # 5 on the list. Along with Mick Foley, Sabu, The Sandman, and Raven or RVD
9
Tommy Dreamer

Thomas James "Tommy" Laughlin, best known by his ring name Tommy Dreamer, is an American professional wrestler, promoter, and actor currently signed to WWE.
10
Raven

Scott Levy is an American professional wrestler, podcaster, and actor. He is better known by his ring name, Raven. He has appeared in ECW, WCW, WWF/E, and TNA.
The Contenders
11
Stone Cold Steve Austin

Steve Austin (born Steven James Anderson on December 18, 1964, later Steven James Williams), better known by his ring name "Stone Cold" Steve Austin, is an American actor, media personality, producer, and retired professional wrestler who is signed to a legends contract for WWE. ...read more.
he is the extreme wrestler there can ever be... took up challenges no one can ever think of... always in a feud with a group not a person... getting kick from all sides.. breaking his neck and knees in the mean time... he even came back and played his last match only to loose to rock even when his doctors adviced him not to wrestle again... (u people know that wwe is scripted right? )
12
Edge

Adam Joseph Copeland is a Canadian actor and retired professional wrestler. He is best known for his time with the American professional wrestling promotion WWE, where he performed under the ring name Edge.
Edge is the third most extreme wrestler ever just look at the spear he did to jeff hardy so long ago. He also killed a computer with his head, his HEAD! He has been in so many tlc and tables and ladders matches, how is he not dead yet!? He didn't retire he probaly would be dead by now.
Edge was the most extreme guy ever, you can bet him against anybody in an Extreme rules No Holds Barred match!
Edge is insane using the spear after being baned twice by goldberg and himself
13
Triple H

Paul Michael Levesque, better known by his ring name Triple H, is an American semi-retired professional wrestler, corporate executive, and actor.
This guy used to bleed in every little thing I mean come on getting catapulted into a pole
He is the most sucky and horrible wrestler but guys face it we all love to see triple h get beat up and getting smashed
Eg:- Hell In a cell no way out 2000 he got smashed by mick foley turned inside out
Eg:- vs the rock iron man match
Eg:- was the only one bleeding at No mercy 2004
Eg:- getting smashed by RVD AT survivor series 2002
So that makes it HHH really is extreme he has done some extreme things to but mostly he never gets the upper hand and everyone loves to see him getting punched, kicked, shot, finishing moved etc etc
14
Big Boss Man

Ray Washington Traylor Jr. was an American professional wrestler who was best known for his appearances with the World Wrestling Federation under the ring name Big Boss Man, as well as for his appearances with World Championship Wrestling as The Boss, Guardian Angel and Big Bubba Rogers.
15
Matt Hardy

He is a daredevil like his brother, he's cold blooded, and arguably everybody's favorite superstar
16
John Cena

John Felix Anthony Cena Jr. (/ˈsiːnə/; born April 23, 1977) is an American professional wrestler, rapper, actor, and reality television show host signed to WWE, where he is assigned to the SmackDown brand. ...read more.
He's definitely not the most extreme be he almost smashed jack swaggers head between two steel steps. He did the aa to kane off a truck, he through edge off a ladder through a table, he even trashed talked the rock for two years (that's very dangerous if you have a candy ass, ladie parts and fruity pebbles) enough said
17
D-Von Dudley

Devon Edger Hughes is an American professional wrestler. He is currently signed to WWE, where he performs under the ringname D-Von Dudley alongside his tag team partner Bubba Ray as The Dudley Boyz.
18
Rey Mysterio

Óscar Gutiérrez, better known by the ring name Rey Mysterio, is a Mexican-American professional wrestler who currently works for WWE on the Smackdown brand.
Rey Mysterio has a perfect body and can do any move he wants to with his body because he is short and his short little body gives him the ability do be flexible around the ring and almost move as a gymnastics or contortionist, and his style of fashion is liked by millions of fans with the mask and costumes and his Mexican heritage is the reason why he is considered a great extreme wrestler with a hot sexy body.
19
Brock Lesnar

Brock Edward Lesnar is an American professional wrestler and former amateur wrestler, professional American football player, and mixed martial artist who is currently signed to WWE.
20
Dean Ambrose

Jonathan "Jon" Good is an American professional wrestler and actor, signed to All Elite Wrestling (AEW) under the ring name Jon Moxley. He also makes appearances for New Japan Pro-Wrestling, where he won the IWGP United States Championship. He previously worked for WWE under the ring name Dean Ambrose, ...read more.
Jon Moxley, enough said.
21 Buh Buh Ray Dudley
22 Christian
23
Chris Benoit

Christopher Michael Benoit (was a Canadian professional wrestler. During his 22-year career, he worked for numerous promotions including the World Wrestling Federation/World Wrestling Entertainment (WWF/WWE), World Championship Wrestling (WCW), Extreme Championship Wrestling (ECW), and New Japan Pro-Wrestling ...read more.
Nicknamed the crippler after breaking sabus neck in a match
24
Goldberg

William Scott "Bill" Goldberg is an American actor, former professional football player, and semi-retired professional wrestler.
25
Tazz

Peter Senerchia, better known by the ring name Tazz, is an American radio presenter, former color commentator, and former professional wrestler.
PSearch List