Best YouTube Video Game Cover Artists
A niche crowd on YouTube is the video game cover artists. They're are some fantastic musicians and extremely talented people who share their love for video games through covering the music of said video games.
Vote for what is your favorite video game cover artist on YouTube.
The Top Ten
1
Smooth McGroove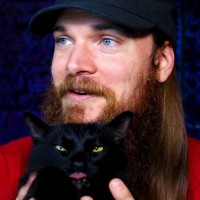 Max Gleason, better known by his stage name of Smooth McGroove, is a YouTuber known for recording re-arranged a cappella versions of video game music.
He does a lot of Acapella covers.
Final Fantasy fans should check out his Sephiroth theme.
He also does, Pokemon, Mario, Zelda, Undertale and even Dark Souls - cjWriter1997
2
RichaadEB

You like Metal? You like video games? This channel is for you.
JRPG fans check out his Corridors of Time Cover, fantastic.
He also does a lot of Pokemon, Donkey Kong Country and just various other amounts of game.
He also did the Running With the 90s Power Metal cover - cjWriter1997
3
Insaneintherainmusic - Carlos Eiene

He does a lot of jazz covers of video game songs. Great stuff.
I like his rendition of Green Hill Zone. - cjWriter1997
4
Bulby

He often does 8-bit and 16-bit transcriptions of popular video game music. - cjWriter1997
5
FamilyJules

He has a wide variety of covers to look from. Ranging from guitar medleys, metal covers and even classical covers. - cjWriter1997
6
Yuzoboy

Do you like Sega Genesis music? This channel is for you then. His Sonic Mania Sega Genesis renditions are tight. - cjWriter1997
7
ToxicxEternity

Another metal video game cover artist definitely worth checking out.
Xenoblade fans, check out his Mechanical Rhythm cover.
There's plenty more other games he has covered too, including some nice hidden gems. - cjWriter1997
8
Epic Game Music

Does a lot of good rock covers of many different video game music. He also did the Power Rangers intro to the AVGN episode. - cjWriter1997
9
Loeder

Like Bulby, he also does a lot of 8 bit renditions of popular video game music. - cjWriter1997
10
AHMusic

His covers are very prog metal. Being a prog fan I am definitely okay with that.
His Pokey Means Business cover is still the greatest rendition of that song I have heard. - cjWriter1997
BAdd New Item