Worst NASCAR Tracks
This list is for some of the worst tracks on the NASCAR schedule

The Top Ten

1 Pocono Raceway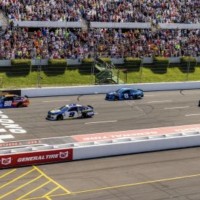 This is where you watch spread out cars drive in a straight line for a long time, with the fastest car frequently dominating en route to victory. Rain is very frequent as well, and the track is huge to dry off which either leads to agonizing delays or the race being mercifully cut short.
Why did NASCAR choose a double header here of all good tracks. There's such a gap between the cars, and it's won on fuel mileage. Now me, a NASCAR fan without a TV connection, I can't see fuel on my tablet or laptop. It just makes it so boring.
Boring and it's all fuel mileage. They're so hard apart and there are rarely any good wrecks. Not that I want to see anyone get hurt though...
2
Kentucky Speedway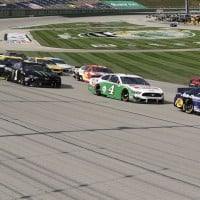 They added this worthless track to the cup schedule over Iowa, Road America, or Gateway. And parking is a mess.
Pretty Boring track. This should be turned into another date for Las Vegas or Atlanta.
Home track is boring. Should be repaved. But there is some wrecks
3
Sonoma Raceway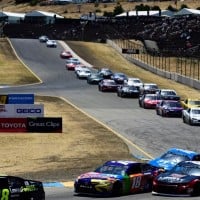 NASCAR should build a track in the Sacramento area. There is plenty of available land and it will draw more race fans than Sonoma.
This track is a nice spot for vacation, it's just ovals are better. Road Courses are only good for T.V.
4
Martinsville Speedway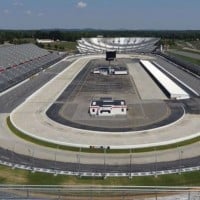 Shorter it is, the boring it is. AND this is the shortest and it's very boring. Even qualifying at Pocono could do better.
Worst track in Motorsports. No speed and they have to move cars just to pass.
Worst track, boring race.
5
New Hampshire Motor Speedway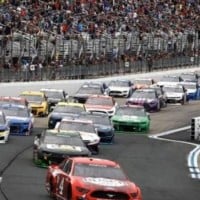 Extremely boring. No characteristics. Just a somewhat oval with basically close to no banking. Even though it's an easy track to make for stop motions, basically everybody hates this track. Replace it with Iowa or Gateway.
Not much character in New Hampshire. The last chase race was good it's just they need some banking and a night race, then it will be off the list
Great track for the modified series, terrible for stock cars. Best you can hope is for the leader to run out of gas in the closing laps.
6
Kansas Speedway
It's tracks like these that make people think NASCAR is just about "going in circles and turning left". SOOO boring.
Generic racing track.
Generic and boring
7
Watkins Glen
Just really boring cause you have to wait a long time to see the cars again. Good on T.V. bad place to go to
Good track it's just its only good for T.V.
8
Chicagoland Speedway
Terrible track! There is no character to this track at all. A dumpy track with grandstands and an oval. Even Gateway would be a better fit and they woulf be good but traffic is bad and parking spaces
It's okay but I would go to another track
It has bumps in the bottom grove.
9
Texas Motor Speedway
The track has no distinctive character and the racing lacks action. Blow it up and build a short track
10
Indianapolis Motor Speedway
I like how NASCAR is planning to do the Road Course version, but it's still kinda boring. I'm not completely against it though...
Not built for stock cars. Provides good racing for Indy car but not nascar. The 2008 tire debacle made it worse.
IndyCar is great here. Stock cars, not so much. Watching this on TV is pretty much like watching a Pocono race without the rain.
The Contenders
11 Dover International Speedway
12
Michigan Speedway
Just a long, uneventful race. The only action you see is engine blows
Track sucks! So boring and long. Only one race a year is needed.
Kinda boring. Rather not come here.
13
Las Vegas Motor Speedway
One of the most generic and boring tracks. Looks like the same thing as Michigan, Kansas, or Chicago. I know they're completely different for the drivers but fans aren't drivers so...
Hardly a caution. Not that I want to see anyone get hurt. Never. But let's have a little action.
14
Richmond International Raceway
Like Bristol except boring. Brad Keselowski led almost the whole race last fall and you often fall asleep. Richmond should only get one race or get 1 day and 1 night
15 ISM Raceway
16
Auto Club
Great racing here but way too many empty seats
Man like nothing happens here
17
Darlington Raceway
Only reason why people like this track is tradition. There hasn't been a good race here since 2003 (I guess a case could be made for 2011) and the racing is generally pretty boring. Yet this is considered one of the crown Jewel races?
18
Homestead-Miami Speedway
Same as Kansas...extremely boring, no challenge for the drivers. Round and round they go..when will they stop? Not soon enough.
19
Talladega Superspeedway
Good for T.V. not real life
20 Charlotte Motor Speedway
21 Daytona International Speedway
22 Road America
23 Charlotte Roval Speedway
24 Bristol Motor Speedway
25 Langhorne Speedway
PSearch List