Top Ten Best Youtube Channels
The Top Ten
PewDiePie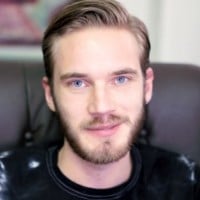 Felix Arvid Ulf Kjellberg (born October 24, 1989), better known by his online alias PewDiePie, is a Swedish web-based comedian video producer, and commentary channel. He is best known for his Let's Play commentaries and Vlogs on YouTube. He is known for being the most subscribed-to YouTuber on the website, ...read more.
I can believe how unbelievably popular this guy's channel is. Honestly I'm shocked, but as a gamer I like his channel a lot. I'm big into the horror genre and it's always cool getting to see all the new horror games he plays. This guy is shaping the gaming industry, game developers actually take note to this guy and it shows because the horror genre is exploding out of nowhere in popularity and games are becoming more tailored to what the people want. I joined his channel at about 4 million subscribers... I remember I spent a year off YouTube and when I came back he had 30million... For a guy who's only two years older than me I've got to say I commend this guy. He's just a normal guy doing what he loves, and now that he's in the spotlight he's under a lot of pressure and I do believe people that make negative comments about him should back off. Felix is a great guy with his charity work and he made his success doing the things he's passionate about. I enjoy watching his channel ...more
I love his minecraft videos, his songs may be explicit but they are pretty well made. He has been a huge part of the Youtube community.
Pewdiepie, a name, a legend. I watch him every day since he had 50000 subs! He always makes me laugh and if there aren't videos of him... I can't live! He's the best person in the world and if I meet him a day, I will give him a hug and I'll thanks to him for every moment he made me happy! PewDiePie... Here comes the brofist... I love you!
Pewdiepie is the funniest person in the world!
Most of the time he plays scary games, but for all the ones who do not like scary/horror games, he also plays
Happy wheels, and random other games. So I would totally recommend that you should check him out, it's worth it!
And to all you bros out there: *brofist*
Smosh

Smosh is an American sketch comedy YouTube channel created by Ian Andrew Hecox and Daniel Anthony Padilla. Anthony Padilla created a website called smosh.com in 2002. He was later joined by his friend Ian Hecox.
I love smosh! I have to say, they don't get the popularity and respect they deserve. Ian can always make me laugh, and Anthony is so awesome! Every video of their's is crazy, and funny. I've checked out other channels like Nigahiga, Fred, Annoyingorange, etc. I guess they're all funny in their own way, but if you want to sit on the computer for hours watching the most hilarious videos, go to smosh's channel!
I definitely think this comment applies to their old videos before they hired a bunch of other people, but even then, they had a lot of popularity. They were actually the #1 most subscribed YouTube channel of all time up to around 2013. - 3DG20
I enjoyed their old videos, very funny, it has been going downhill, but Every __ Ever is pretty funny.
Smosh and ShaneDawsonTV are the best channels on YouTube! I really love comedians, and they really make me laugh.. A lot! For everyone who hasn't watched any of Smosh's videoes, watch them!
I've watched Smosh for about 8-9 years now, I cannot believe it's been that long to be honest. These guys basically do the things I've always wanted to do by making short movies and skits with friends. But I've gotten too busy in life and have had many friends get married or move off to college to try and begin now. So it's fun living vicariously through this dynamic duo known as Smosh. Their videos have given me plenty of good laughs and it's fun seeing their success take off over the years
Nigahiga

Ryan Higa, born June 6, 1990, best known as his YouTube username nigahiga, is an American comedian, YouTube personality, and actor. He's best known for his comedy videos, which have been viewed over 3 billion times. His channel was once the most subscribed on YouTube from 2009-2011, longer than any ...read more.
This guy makes my everyday just feel so much better, and what's more he's Asian!
This guy always makes my day. If I'm bored, I watch one of my favorite videos like Daily Life of Rustin Heiber, The iPod Human, The Snuggo, ChildrensBOP, How to be Gangster, Movies in Minutes: Harry Potter, and Off the Pill: Rebecca Black. Without this guy, YouTube would be a lot duller. I was hoping he'd be number 1!
He is the BEST comedian on YouTube I've ever watched. His videos are so unique and original and they stay that way. Plus, his content is safe for younger audiences unlike other overrated comedians whose videos could practically be rated R.

He's a GENIUS comedian whose videos and skits are well-written and original and he's funny without even trying. One of my favorite videos of his is "Proving the Illuminati is Real". If you haven't watched it yet, I suggest you do because your mind will be blown. He doesn't let his fame get to his head too. He even has songs of his own and so far, I love "Ignored" the most, which is a song about Clash of Clans and how his friends would always ignore him, hence the title. I wish he could've been #1 though.
Best comedy youtuber ever! So funny and enjoyable. HE works hard on his videos and deserves way more than he does.
TheFineBros

I remember this channel before the whole controversy fiasco and I can honestly say it was one of the more entertaining channel on the platform. But this position on the list is way to nice for them.
Imagine being number 4 when you lose a million subs in a week.
Hey guys, we're the fine bros and we website because people are making fun of us on it - Sanicball
Anyone who watches their channel and finds them entertaining. Well, I have some news for you, you guys don't have a sense of entertainment.
The kids reactions are AWESOME. It's so funny. I'm suprised, this should at least be in the top 5..
RayWilliamJohnson

He is a douche
Ray should be number 2 right under Ryan!
Love ray about 20 of my mates and half my school watch his show
Funny little midget he's hilarious I love his videos and I love the way he edits his videos to add to his comedy funny guy!
Tobuscus

TOBY IS TOBY HE IS GODLY PUT HIM IN TOP 3. He has different channels and each one of them has a lot of subscribers, video views, and he is a comedian in his videos. Also he makes songs and plays just about every good game there is. This guy entertains people of all ages too.
Toby's videos are pure genius. He doesn't use awful cuss words like a lot of you tubers so you can be very young and his videos are still appropriate. He writes great songs, has funny rants, makes random vlogs, and has silly videos of himself playing video games. Toby is amazing and deserves to be higher on the list.
What on Earth is Tobuscus doing as number 25?! Tobuscus is creative and funny. He's appealing to his audience WITHOUT being over-the-top inappropriate, which is PURE creativity, which is something many YouTubers are lacking nowadays. In other words, not only is Tobu naturally funny, but he also shows his humor in intelligent ways. :). SUBSCRIBE to him!
To be able to make a video every day and keep a high level of energy enough to talk through the whole thing... and without being inappropriate (unless if he implies something bad, which is all the more funny) that takes skill. But I do think he's kind of limiting himself... seriously, I've seen more third graders curse.
ERB/nicepeter
Come on. HOW DID YOU FORGET EPIC RAP BATTLES OF HISTORY?! To be honest, this is one of the best, if not THE best rapping channel of all time.
ERB should be number 1 what why does the react and pewdiepie who only plays games above ERB?
Best YouTube channel on YouTube
The only channel in the list that manages to be genuinely creative and funny at the same time.
ShaneDawsonTV

Shane Lee Yaw, known professionally as Shane Dawson, is an American YouTuber, writer, comedian, actor, director, musician, and media personality.
expresses himself on this platform very well and is very funny! 10/10
Shane... What can I say? He is my role model. I love Shane so much and I will never stop supporting him. He is the sweetest, funniest, and overall best YouTuber out there. I love many YouTube channels and YouTubers, but Shane is just different for me. He's made more of an impact on my life. His videos of hilarious, crude, dark, and clever humor have helped me during some of the most difficult times in my life. Shane is an amazing YouTuber and deserves everything amazing that happens to him.
Shane is so funny, sometimes I laugh so much I cry. With all of his hilarious characters, especially Shanynay, and the random crazy dialogue between them, you can't help but laugh. His jokes and the majority of his videos are dirty and probably not suitable for younger children but still, once you start watching you really can't stop.
I really love shane. When I feel sad I just open his videos and laugh my head off. Sometimes people may think that he is mean but they are just jokes, calm down! I think he is really funny and natural, he should be at the top of the list!
WatchMojo

WatchMojo.com is a Canadian-based privately held video content producer, publisher, and syndicator. With nearly 10 billion all-time video views and 16 million subscribers, WatchMojo has one of the largest channels on YouTube.
It should be in the top ten because it tells us about the top tens
Most people may not agree with their Top 10 lists, but many fail to realize that they go by the factual data instead of opinions. For example, if they make a Top 10 Best Kendrick Lamar songs list, they go by how popular each song is, not by how good it really sounds.
I watch WatchMojo everyday I get a chance.
I really like this site. I found it about 2 years ago, watched it ever since.
Markiplier

Mark Edward Fischbach (born June 28, 1989), known online as Markiplier, is an American YouTube personality. Originally from Honolulu, Hawaii, he began his career in Cincinnati, Ohio, and is currently based in Los Angeles, California.
This is really just my personal opinion. I vote for him to be no. #1 because he has changed my own personal life, so I guess that makes this a little bias. It's just that, he really has! He was always the go-to for me when I was down; he cures my depression. Sorry to make this personal, but I just really love this guy for that!
an amazing guy, he spend hours of his day to give to good causes 10/10
I recently just got into Markiplier and I don't know where I was! This guy's great! One of the kindest and genourous, yet most original youtubers I have ever seen (just watch a heist with Markiplier). Definitely my favourite youtuber. His fans have a special connection to him as if they were his friends that never met. I can't say how great he is. My only negative is the fact that his swearing is inconsistent. Some videos kids would be allowed to watch but some would have too much profanity. But that's only a small blip.
Cracks me up every time. Every episode of his is different. He also is a very charitable person with a positive effect on the world. Go check him out if you haven't already
The Newcomers
? IHateEverything
? PolarSaurusRex
The Contenders
JonTronShow
This comedic lord is under Annoying Orange? What a sin.
I couldn't find Peanut Butter Gamer so Jontron is the next best thing
HE SHOULD BE #1. Script over improv children, script over improv.
Deserves to be at the top. Unlike most of the top ten.
chuggaaconroy

Emiliano "Emile" Rodolfo Rosales-Birou, also known as Emile Rosales and best known as Chuggaaconroy, is an American internet personality and prominent Let's Player.
The only LPer I can watch for more than 20 minutes without getting bored.
He honestly should be the most subscribed channel on YouTube because he's actually laugh out loud funny, I'm looking at you PewDiePie.
Chuggaaconroy is awesome. he's funny and he does almost every video game I need help on
Probably the best let's player on the platform. The amount of work and care put into each video is outstanding!
Jacksepticeye

Seán William McLoughlin, born February 7, 1990, better known by his online pseudonym Jacksepticeye, is an Irish YouTube personality, known primarily for his comedic Let's Play series and vlogs. His most popular series include Happy Wheels, Five Nights at Freddy''s and Fortnite.
I'm genuinely surprised that this guy isn't higher up, given his mass popularity. Not only is he known to be the most energetic gamer of all, he is also the most interactive with the gaming community, from what I have gotten from others. Game devs themselves have been known to reach out to him!
I am really surprised that Jacksepticeye didn't get much higher on the list. He is the funniest and most entertaining YouTuber I know of. Whenever you are having a bad day, he is the guy you should go to that will cheer you up and put a big smile on your face

But most importantly, he is... THE BOSS OF ALL BOSSES!
He's becoming the new "mascot" of Happy Wheels, replacing Tobuscus - MusicalPony
To me this guy is the funniest YouTube EVER! He enjoys what he does and is ALL AROUND BOSS! If this gets put on the list and Jack reads this I just want to say to him Keep on Being a Boss LIKE A BOSS
Why isn't he much much higher on the list he is funny, nice, and one of the if not the fastest growing youtube channel out there then there is the fact that he is one of the most appreciative of his fans that I have seen on youtube and plus he does everything LIKE A BOSS!
I Hate Everything

Now before most of you go "oh this guy sounds too angry for my taste," he's actually a really calm and honest guy who has constructive criticisms and great views on things. He's definitely worth checking out.
So good to find this guy on the list. I love his channel!
I discovered this channel a couple weeks ago, now I've seen every one of his videos
When I first saw his channel I thought it was gonna be mean and really stupid. It's not. It's actually really hilarious
JamesNintendoNerd
He is genius and I love him. He should be number 1 and he is the most creative man of all time. His videos funny and amazing I always watch his videos on YouTube and all of the are amazing and good and the best video on YouTube ever
If there is only one YouTube channel I could ever watch for the rest of my life, it has to be this. Anybody who says otherwise must either have never heard of him, or just does not like him. Because if you have heard of him, you must hate him because you think he's annoying, or you absolutely love his sense of humor. One of my favorite channels in existence.
If you based him just off the angry video game nerd I wouldn't have voted for him, but its just the other videos like his documentary type videos he makes about what made him become what a film fan today and just all the heart he puts into it, that's what lands him as my favorite
Very funny channel, has a good variety of videos, including The Angry Video Game Nerd (AVGN), James and Mike Mondays, Rental Reviews and more!
Bart Baker

Bart Baker is an American entertainer, web-based comedian, video producer, singer and parody artist. He is best known for making parody videos of notable songs, which he posts on his YouTube channel.
He puts a lot of hard work and effort into every parody and most of them are mean and rude. But I personally like them a little
Bart Baker is one of my favorite YouTube channels. His parodies are amazing. But their inappropriate so kids please don't watch him.
His videos are great, you can tell there is a lot of work put into them. I personally think there hilarious!
He puts a lot of hard work and effort into every parody and most of them are hilarious. He's really funny and energetic and you can tell he really puts a lot into every video he makes. Subscribe!
Roosterteeth

Rooster Teeth Productions, LLC is an American media and entertainment company headquartered in Austin, Texas and owned by Ellation, a division of Otter Media, which itself is a subsidiary of AT&T's WarnerMedia under its Warner Bros.
I know it may sound cliche, but Roosterteeth has really changed my life. I was going through a really tough time (moving from one state to another in the middle of 8th grade) when I stumbled across their channel, and they're honestly one of the few channels that are always improving and coming out with new material. My personal favorite videos of theirs are Rage Quits and the podcasts, which are always hilarious.
I've never laughed at a YouTube channel as much as I have laughed at the Achievement Hunter crew at RoosterTeeth. I always look forward to seeing there name in my subscription box.
You guys are idiots not voting for roosterteeth. It is honestly the best channel ever and I can't get enough of anything I watch. You can dislike this I really don't care but as long as I live I will ALWAYS love Roosterteeth. So there is my personal opinion. And another thing Roosterteeth changed my life, they got me through very tough times, I just wish I could do the same for them. ROOSTERTEETH RULES!
Easily the best gaming channel on YouTube. They are all so funny.
Cinemassacre

Wow, 216. One of the few genuinely good YouTube channels gets shoved aside to make way for cancerous human scum like Leafy and PewDiePie.
My peronal favorite. These guys love all of the same things I do. From video games to movies (especially Monster Madness when they review nothing but horror). Keep it up
Without a doubt the best one they have done so much good videos in just over 10 years
One of the smartest YouTube channels that review media
Eddsworld

Eddsworld is a British adult animated comedic web series of flash animations, comics, and flash games created by Edd Gould.
AMAZING artwork and storyline of these wonderful characters I love this channel so much! 10/10
Eddsworld is the most amazing web series ever. Even Alexa would agree.
I just discovered Eddsworld this year. Wish I would have known about it sooner instead of voting for Guava Juice 3am.
The fandom that made one of the og characters to leave
But overall
Great great franchise and animations
Miss you Edd
Rhett and Link
Best songs like rub some bacon on it, a whale is gonna die and my ocd song
Hilarious so surprised that they weren't even on this list. Check them out. They never curse and are always appropriate!
Very funny and they bring interesting stuff on their talks how and you'll have something to talk about at school and they give advice about life from being popular to relationships don't get me wrong by saying this channel gives advice only it has or their hectic stuff. PS:Tokyo
Rhett and Link are the best! Their cleanness (is that a word) helps put a ton of appeal to their videos, and they are very funny. Good Mythical Morning can get a tad boring at times, but the Rhett and Link channel itself is awesome. Love their original music videos and skits.
VSauce
Vsauce is the greatest YouTube channel, in my opinion, not because It's funny or creative, but for It's ingenuity and because you walk away from every video knowing a little more about this fascinating world we live in. Vsauce gives us the answers to questions we don't know we had and helps us understand things we didn't know we wanted to know.

Vsauce is curiosity answered by an awesome beard.
How can Vsauce actually be so far down? How can people prefer talentless, unfunny hacks like PewDiePie and RayWilliamJohnson over a channel that is actually well made and interesting?
Answers all of the questions you have wanted to know the answer to, such as "what colour is a mirror? " Or "is my red the same as your red? "
This channel makes me question my existence while other channels want to make me cringe. I just wish Vsauce's upload rates were higher, but I understand they take lots of work. I learn something new everyday by watching any video of his.
Danisnotonfire
Best youtube channel and please tell me were is phill Lester
The most amazing internet support group haha. Actually you'll fall for his "Articulate" voice (actually it sounds posh but he's not) and hi's videos are amazing. LITERALLY! They'll make you say "YOU SO GET ME" They're funny of course duhh.
LOve him but why the hell is he up here and phil all way down the list, further then dan? Phil is way underestimated and deserves to be up here.
He brings out the dork in all of us, and what's more, he's British! Come for the accent, stay for the message!
ScrewAttack!

I only like Death Battle from ScrewAttack. I don't like the other things they do. But Death Battle alone is so good, that I have to vote for them
There amazing At What they Do!

There the Best ScrewAttack are a Great Company Too Check out there Website They are Beyond Just YouTubers
They created great death battles.
Death battle are awesome even though they make me rage I still watch them
tyleroakley

Mathew Tyler Oakley, known as Tyler Oakley, is an American YouTube and podcast personality, humorist, author and activist.
Tyler Oakley is the Queen! He should be in the top ten. Why is he so far down? He is hilarious and his videos will just make anyone's day.
He's amazingly adorable. He makes me laugh when I'm sad. Love his personality. Wish he was straight cause I would tap that.
The absolute WORST! The fact he literally said it's racist to black men as attractive proves this. Liberal piece of shut.
Why is he this far down.. I don't understand. Tyler is queen basically
Skydoesminecraft

He is not funny, his jokes are for 10 year olds. There are no substance in his jokes. Whats funny about calling gold butter?
What's so funny? I don't get it he swears way to much and people find that funny I find that really annoying
Markiplier and pewdiepie do OTHER THINGS on their channel. This guy just rages at minecraft and has lame jokes. Swearing can be funny, once in a while, and only when it's rage or on accident. Mark used to play minecraft drunk, and felix was funny because he hated this game. This guy? nothing new, just an old loser trying to be cool and funny, like hillary's jokes about pokemon go.
If anyone says the word "butter" when they're talking about Minecraft gold one more time I swear I'm going to explode with rage.
PSearch List