Greatest NFL Players of All Time
The Top Ten
1
Jerry Rice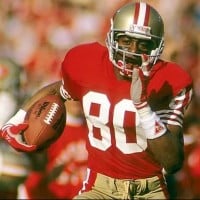 Jerry Lee Rice is a former American football wide receiver who played 20 seasons in the National Football League, primarily with the San Francisco 49ers.
By far the greatest wide receiver of all time. I judge athletes not by team achievements, but by personal achievements and the eyeball test. He has the hardest records to break in the National Football League (NFL). The best defenders in the world could not lay a finger on them. Wide receivers do not last twenty years like this man did. It's almost hard to name a record he did not break.
He owned every major receiving record when he retired, and don't forget that wasn't too long ago. He may be the reason for Joe Montana, Bill Walsh, Steve Young and the 49ers success. You could put Rice up against any cornerback in the history of the NFL and he'd still catch 2 touchdowns in that game.
HE IS THE GOAT. Ask where the term in football lingo comes from...? Answer: Coach Jon Gruden who was head coach of the OAKLAND Raiders started it after Jerry Rice put 1200 yards on a single season at 40 YEARS OLD when defense was allowed to be DEFENSE!
At the end of the day, Jerry Rice is the best because of what matters most: having a good work ethic. Jerry Rice always wanted to be great, and he always worked super hard. Best player ever. (I'm a Pats fan, okay? )
2
Tom Brady

Thomas Edward Patrick Brady, Jr., is an American football quarterback for the Tampa Bay Buccaneers of the National Football League. Brady is known for being the only quarterback in history to win 6 Super Bowls, and is often considered one of the best quarterbacks of all time. Brady is also frequently ...read more.
I hate hate the patriots but dude won 6 super bowls hands off too one of the greatest qb ever
6 super bowl rings. The Steelers have the most as a franchise with 6. Most clutch player ever. Most accomplished ever. We will never see what the patriots are doing right now ever again.
So many salty people hating on Brady... not even a fan of his but he's obviously a great talent that was fortunate and got to play for great teams. 6 rings in football is unreal. Recognize greatness and stop being so whiny!
He is not the Real GOAT I think everybody should go back and do somemore homework
3
Joe Montana

Joseph Clifford "Joe" Montana, Jr., nicknamed Joe Cool and The Comeback Kid, is a retired American football quarterback.
"The Comeback Kid" -- JOE COOL is the coolest quarterback ever! Just take a look at all of his SUPER BOWL rings; plus all of 'em MVP awards! Yep. All of 'em rings don't lie... agreed? Indeed, Joe was so awesome that throughout his career, he was the most LETHAL quarterback ever, inside of the 4th quarter; especially when his team was down, with only minutes or seconds on the clock... and that's when he would create his "magic"... and score all of 'em legendary game winning touchdown passes, when he was under extreme pressure -- and that's what makes him LEGENDARY... indeed, sometimes it seemed that TIME would stop, just for him... and while everybody was frozen in time, he would take his time and then -- BOOM! Touchdown Baby! "And the Niners win another SuperBowl"... was the typical comment for FOUR of 'em Big Games... just take a look at the highlights of one of his biggest games ever -- Super Bowl 23... it was so memorable... that today, his last play is simply known as... "THE ...more
He is that guy you always saw in movies or in books who would make a comeback in the final seconds of the championship, well they were all fake, except Joe Cool. He was so calm, when anyone else was about to run away. Did you ever think he could do what he did against the Bengals in the Super Bowl?
To the moron that stated that Montana shouldn't even be in the top 100- he's the greatest quarterback ever at the hardest position to play in sports-Brady is a close 2.. So how is he not in you're top 100? Let alone top 5.. You are a moron
I believe that Joe Montana was perfect in the superbowl 4-0 win loss record 11 touchdown passes thrown with no interceptions. Also Joe had an insane passer rating of 127.8 in 4 superbowl wins and he ran for 105 yards on 17 carries for an average of over 5 yards a carry. He also ran for 2 touchdowns in superbowl games. The best superbowl qb by far over brady. In Bradys first four superbowl games he was 3-1 fumbled once against the giants and threw 1 interception. Joe never even fumbled once in his 4 superbowl games
4
Barry Sanders

Barry Sanders is a former American football running back who spent his entire professional career with the Detroit Lions of the National Football League.
BARRY SANDERS was unbelievable... he was amazing... he was incredible... and his flawless plays were BREATHTAKING... like a musical piece... every single play was a work of art -- a MASTERPIECE! Indeed, I was NOT a Lions fan... I was NEVER a Lions fan (i'm a lifelong 49ers fan)... but nonetheless, me and my friends would always get together, turn on the T.V. and 'em speakers, fire up the grill, and enjoy a few beers with the BBQ... all of this, while watching the GREAT ONE do his thing! Yep. We would only get together to WATCH Barry Sanders play! NOT the Lions -- Barry Sanders! That's it! And we would NEVER miss a game! It was like watching a Michael Jordan not on the basketball courts, but instead on the green NFL fields... indeed, Barry Sanders was untouchable, unstoppable... just like Michael Jordan... LEGENDARY... and he would create moves that just do NOT exist, because they are NOT humanly possible! He would still make these unforgettable plays... he was so damn fast and so damn ...more
I'm a lifetime lions fan see him every game breaking tackles GOAT
Greatest running back he could have broken all of the rushing records if he wanted to
He is simply the best because he played for the lions and had to carry the team on his back
5
Lawrence Taylor

I'm not just saying this because I am a giants fan

this man was insane
He just dominated, he gave huge, fierce hits. He was a defender, and was named NFL MVP in 1986. Nobody has done it since, tell me that isn't something! He was a sack machine. The NFL has never seen a defender like him, and probably never will again.
Without a doubt the best Defensive player ever. He was insane! Quarter backs feared him, literally people would get interviewed before the game they were playing against taylor the players would say "he is the scariest player I've played against"
I'm picking Taylor first if I'm starting my All Time Team. This guy was the premier defensive player in the league's history. He defended against some of the all time greats and came away from those battles as a champion.
6
Walter Payton

Walter Jerry Payton was an American football running back who played for the Chicago Bears of the National Football League for thirteen seasons.
Walter was the most complete player the game has ever seen. He could run, catch, block, pass and even punt. Sanders and Sayers were both better pure runners and Jim Brown was an absolute beast but none of them could catch and block like Walter. He is the GOAT.
I was a teammate of Walter Payton! The best there ever was Hands Down!
Payton gets overlooked because of the Bears great defense. But for those of us that had the privilege of watching Walter Payton in the mid 70's & early 80's -- Trust me - the Bears did not have a great defense until the end of his career. In 1982 the NFL went on strike -- Payton would have rushed for over 1,000 yards 10 consecutive seasons if the strike did not happen -- (Barry Sanders rushed for 1,000 yards 10 consecutive seasons) -- Another fact many do not get is Walter Payton played 3 of his NFL seasons when the NFL only played 14 games -- He rushed for 1,852 yards in 1977 - a 14 game season - imagine if he had 2 more games like today's players have? At the pace he had in 1977 (132 yds per game) he would have had 2,117 yds in a 16 game season -- Yes, Emmitt Smith broke his all time rushing record -- Only because Smith played 15 seasons (Payton Played 13 Seasons) and Smith carried the ball 4,409 times - Payton 3,838 times -- Payton is the best football player/running back I have ...more
He was everything you could want in a runningback, he was fast, he could break a tackle, he could catch, he could block. One game when they were facing the Packers the Bear were behind 9-10 with only little time left, they gave the ball to Payton, and Payton did what he did, he hit Brian Noble(which Noble later said was the hardest hit he'd ever felt)got knocked back a few yards and ran it in for the TD.
7
Jim Brown

James Nathaniel Brown is a former professional American football player and actor. He was a running back for the Cleveland Browns of the National Football League from 1957 through 1965.
Jim Brown not only did it in lesser games & put up with the days of the 50s & 60s. Defenses designed to stop only him, he was a speaker for people who had no voice! He also quit in his prime.
There's a few you can argue are the GOATs - Tom Brady, Jerry Rice, Peyton Manning, Barry Sanders, Lawrence Taylor, Joe Montana, Emmitt Smith but I went with Jim Brown. So far ahead of his time and like Barry Sanders (who I really think it's a tie with Brown and Sanders) he retired in his prime, he could've continued to add to his legacy. Jim Brown is the man
If you watch videos of jim he is insane and nobody else could do what he does
Jim Brown is arguably the best running back of all time and I say he is, definitely is the best Browns player of all time and always will but on an unrelated note Tom Brady is good but not that good.
Tom Brady. The guy who won 4 SBs. The guy who was drafted with the 199th pick in the sixth round. The guy who has more playoff wins than most NFL franchises. The guy that had receivers nobody can name. Who is Aaron Dobson? The guy that had over 50,000 passing yards in his career. The guy that Peyton Manning struggled to beat. And he's not a good quarterback? #Really? - Danmarino4
8
Peyton Manning

Peyton Williams Manning is a former American football quarterback who played 18 seasons in the National Football League for the Indianapolis Colts and Denver Broncos.
Why is Peyton Manning only number 9 on this list. A better leader then Randy Moss, Brett Farve, Jim Brown, Walter Payton, and Barry Sanders.Peyton is a better leader then Brady, but if that's not enough to pass up him on this list then here are some more Manning has a better passer rating then Brady Manning has 65.2% Brady has 63.7%; Manning 1 Brady 0.has 2nd most completions with 450 and the most Brady had in a season was 401;Manning 2 Brady 0.Has 2nd most completions in a single-season playoff with 97 behind his brother 106.Brady Does have more completions in a playoff career with 553, but Manning is the 3rd highest with 481.Manning 3 Brady 1.Manning has more completions in a single game with 33 Brady 32;Manning 4 Brady 1.Brady has just one more touchdowns with 50;Manning 4 Brady 2.Manning has more passing touchdown in a career with 436 Brady has 334;Manning 5 Brady 3.Manning more single-season playoff season with 9 Brady has 8.Manning 6 Brady 2. Brady has more career playoffs ...more
So, Peyton does only have 1 "ring". But that is a team accomplishment, if we are talking about individual, then I have another R word... RECORDS. Peyton has more records than any other player, more MVP's, took two different teams to the Super Bowl. Tom Brady is good, no doubt, but he is also the recipient of great play from teammates and unbelievable coaching. New England has a system that's second to none. Indianapolis went 2-14 without Manning, New England went 11-5 without Brady. Nothing against Brady, but Manning has done way more from an individual stand point. Also, with the ring talk, that is a dumb argument. Peyton only has one, so does Bernie Kosar. He was Troy Aikman's backup in Dallas when they won it. If rings are all that determine a player's greatness, then Peyton is no better than Bernie Kosar, right? Sorry Bernie, and I'm a Browns fan (WOOF WOOF), but I would take Peyton any day over Kosar. Rings are great, but it determines the greatness of a team, not players.
He is better than Tom Brady and here is why. Tom Brady may have 3 super bowl rings but that's only because he has played for a great team. Peyton Manning has played for a decent team his whole carrier. It's actually amazing that Peyton even has 1 super bowl ring.
Manning might not have as many super bowls as Brady but his stats say all you need to know and if you put him on any team he makes them better as shown when he joined the colts and broncos I would like to see Brady do that and make a team better I bet he can't
9
Brett Favre

Brett Lorenzo Favre is a former American football quarterback who spent the majority of his career with the Green Bay Packers of the National Football League.
Thank you for putting him over the most overrated quaterback of all time(aaron rogers)
he's the greatest... look at all the records and super bowl ring
Let's see his records... Longest pass in super bowl history (99 yards) Super Bowl MVP. Oldest quarterback ever in his 40s and was running until 2014
Brett should be number one. Too bad he might retire.
10
Reggie White

He was a machine, he was just unstoppable, he could probably get around anybody, Anthony Munoz, John Hannah anybody. It would be mortifying to see Reggie White looking at you across the line of scrimmage. There would be no use in trying to block the destructive, Reggie White.
Reggie White should be number 7. He should at least make the top Ten. Also, where are Ray Lewis and Tony Gonzalez? For me Lewis is 2 and Gonzalez is 5.
Reggie White was the best on the Eagles!
He was number one in the national football league
The Contenders
11
Randy Moss

Randy Gene Moss is a former American football wide receiver who played 14 seasons in the National Football League.
Moss carried the Vikings, and they should have won multiple championships.
Only shadowing Jerry Rice in the receiver category, Rice himself said that Moss had the most talent out of any receiver to ever play the game.
Randy Moss is not even top 50. My top 10: 10. Darrell Greene. 9. Deacon Jones. 8. Ronnie Lott. 7. Reggie White. 6. Barry Sanders. 5. Tony Gonzalez. 4. Walter Payton. 3 Joe Montana. 2 Ray Lewis. 1 Jerry Rice. Jerry Rice is a no brainier. I barely chose Ray Lewis in front of Montana.
Best wide receiver behind jerry rice
12
Johnny Unitas

John Constantine Unitas, nicknamed "Johnny U", or "The Golden Arm", was an American professional football player from the 1950s through the 1970s.
Johnny U. Was amazing. If you look at his stats you'd never guess he was though. Pass-interference wasn't invented(my proof, it's called the Mel Blount rule)and very few penalties against the defense was. There were no doubters that Unitas would make the Hall of Fame.
THE GREATEST FOOTBALL PLAYER OF ALL TIME.
John Mackey got his records with Johnny U as his qb
13
Deion Sanders

Deion Luywnn Sanders, Sr. is a former American football and former American baseball player, who works as an analyst for CBS Sports and the NFL Network.
The other teams quarterbacks must have thought he was their wide receivers
He's a very good corner back no doubt but I think Richard Sherman should be above him not only did he play the NFC championship with excruciating pain in his hand he actually played well. He made an unbelievable clutch interception against san fran he has that really cool swag and athleticism that just can't be taught. Richard Sherman is better look at the numbers even he said that
Best cornerback ever (even though I live in Arlington Texas
Greatest corner ever best athlete
14
Adrian Peterson

Adrian Lewis Peterson is an American football running back who originally played for the Minnesota Vikings and currently plays for the Washington Redskins of the National Football League.
Guys, he used child abuse. It's just stupid.
After tearing his ACL he has one of the most historic seasons of all time and wins MVP that is something that will never happen
He holds the record for most yards in 1 game
He is the largest of them all
15
Ray Lewis

Raymond Anthony Lewis Jr. is a former American football linebacker who played his entire 17-year career for the Baltimore Ravens of the National Football League.
he is a goat honestly they got lamar jackson even though lamar can't get the ball to Ray because of the interceptions but that dose not matter I thinks the ravens can get to a super bowl
one of my favorite mlb 2x super bowl champion MVP Super Bowl first time all time legend
Should be the star of "How to get away with murder" Wouldn't even need to research the role. An autobiography.
Murder how do you know that he even did it you're just assuming something. - ezyfire823
Best heart of all time. Greatest leader of all-time. Best defensive player of all time. Ray Lewis. 2 time champion.
16
Calvin Johnson

Calvin Johnson Jr. is a retired American football wide receiver who played his entire career for the Detroit Lions of the National Football League. He is often called the nickname ''Megatron'' for his rare combination of size, speed, and leaping ability on the field.
Speed, size, strength, catching, and jumping. Not only is this receiver good, he is amazing! Not only is he the best player at wide receiver today, but he is also one of the best players today and ever.
He's got the works. Quickness agility everything. Let's go MEGATRON
Hell no what Lott Rodger Craig Calvin all you young kids
If he keeps doing what he's doing he will be the best we who has ever played
17
Dick Butkus

The best defender of his time, memorable personality, if you saw him live or on T.V. in the day, no question.
Roses are red, violets are blue, you better keep Butkus away from you. If you've seen him, you've seen players laying on the ground dead. He was the hardest hitter in the history of the game, period. More players would be in the Medical facility after facing the Bears with Butkus on their team than anywhere else.
He is awesome, he should be higher in the ranks and he schooled everybody on defense.
The funniest name in NFL history
18
Larry Fitzgerald

Larry Darnell Fitzgerald Jr. is an American football wide receiver for the Arizona Cardinals of the National Football League. Fitzgerald was drafted 3rd overall to the Arizona Cardinals in 2004, he is considered to be one of the best players of his position to never win a Super Bowl.
Most consistent hands ever, tall, extremely athletic, was blazing fast in his prime, and played the game like no other. When Larry Fitzgerald changed positions into more of an inside receiver instead of a wing player because of his age and the decrease of speed, he still remained as on of the best receivers in the league. The only thing that he lacks (as well as the Cardinals) is a super bowl ring.
Best Wide Receiver for the Arizona Cardinals, and was very good in their Super Bowl match against PittsBurgh. He is definitely one of the greatest players of today, deserves a spot in the top 10.
Definitely should be in the top 10, he always catches the ball and he is an amazing Wide Receiver, he got Arizona through to the Super Bowl!
Larry is such a good wide receiver and will catch anything one of the star players of Arizona
19
Michael Irvin

Just because he was on your favorite team doesn't mean that team is the greatest team of all time and the player is also the greatest. Jim Brown was arguably the greatest running back of all time and he played on a crappy team.
He is one of the best player of all time because he was on the Dallas Cowboys and the Dallas Cowboys are the best team of all time
Totally overrated. Way to high. Should not be top 50.
3 best receiver of all time
20
Drew Brees

Drew Christopher Brees is an American football quarterback for the New Orleans Saints of the National Football League. He is the only player to have back to back to back 5,000 yards in three seasons straight. Brees also has the all time best completion percentage with 66.95%.
It's funny that he's been playing less than Tom Brady but yet he is way, way better in my mind.
One of the most accurate of all time! He's not my favorite, but is one of the best at his position.
Once Brees held me in his hands. I will always remember that moment!
5000+ yards 50+ TD's can't be beaten
21
Emmitt Smith

Emmitt James Smith III is a former college and professional American football running back who became the National Football League's all-time leading rusher during his fifteen seasons in the league during the 1990s and 2000s.
Leading rushing yards even did good when he was on the cardinals at age 36!
Really, number 27. All time leading in rushing touchdowns and yards, got more carries than any other running back, and has 3 rings. He is better than Jerry Rice, no kidding. I know I am a cowboys fan, but he still is number 1.
Emmitt is the all-time leading rusher. Yet, he is underrated. He carried the ball more than any other runningback in history. That is a big accomplishment. Most players careers would end early if they carried the ball as mush as he did! The most durable player ever!
He is the best I have to say. He played for my team! I am only 13 years old but, I like him. Him and dak Prescott and Ezekiel Elliott are the best!
22
Steve Young

Jon Steven Young is a former professional American football quarterback who played 15 seasons in the National Football League and is best known for his 13 seasons with the San Francisco 49ers.
When joe montana left, steve young replaced him and dominated one of the best 49ers
Steve Young started his NFL career too late otherwise he might have been the greatest player of all time. his 7 year span from 1992-1998 was incredible. Such a fun player to watch. He was basically as accurate as any quarterback there had even been and then you add in that he was one of the best running quarterbacks as well. Amazing!
One of the best QBs of all time.
Great QB
23
Terrell Owens

Terrell Eldorado Owens is an American football wide receiver who played for the Seattle Seahawks, San Francisco 49ers, and Philadelphia Eagles of the National Football League.
Biggest ass ever but he was great
He should be in the top five. Don't be mad at a person for speaking his mind. When he found out he's wrong he have came oout and said it, stop HATE people. Terrell Owens
He is an a hole. Should not be on a list of top NFL players
10 times better than Jerry rice
24
Aaron Rodgers

Aaron Charles Rodgers is an American football quarterback for the Green Bay Packers of the National Football League.
I love Aaron Rodgers so so so so so so so so so so so much he is my favorite player of all time! I am his number 1 fan
He should be top 20 he's better than brett favre
No one can throw the deep ball like my boy Aaron Rodgers! He is definitely gonna go down as one of the best! Number 26? Are you kidding me?! More like top 10 material we are working with here. At least better than Brett Favre. We don't see Rodgers leading the league in INTs. Go Pack Go!
To me he is the best because he can throw the ball really far and he is really cool.
25
Dan Marino

Daniel Constantine Marino Jr. is a former American football player who was a quarterback for the Miami Dolphins of the National Football League.
Dan Marino is probably the most accurate QB of all time. Marino played in the age where QBs were not very protected, nor the WRs. Despite the lack of protection rules,he still completed 4967of 8358 passed, with 420 TD and 252 INT. 20 SK. 61361 yards, and 253 ypg.
How many passing yards? Marino is the best QB not to win the big game.
He doesn't even deserve to win a super bowl
So sad that Dan the Man never won a Super Bowl
PSearch List