Most Overrated WWE Superstars of the 2010s
List of wrestlers this decade that get a little too much. Whether its undeserved accolades, or just being pushed by the fans total rejection these superstars are the ones we believe highly of being overrated.
The Top Ten
1
Roman Reigns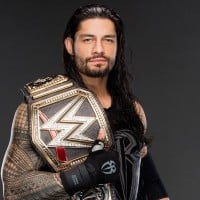 Leati Joseph "Joe" Anoa'i (Roman Reigns) was born on May 25, 1985. He is an American professional wrestler and former professional Canadian football player. ...read more.
Yes that's right his going to be the next face sadly. Everyone hates Roman Reigns's gut to death. When was apart of the shield though people liked him, but after they split of man did the audience turn on Reigns when it came to the royal rumble. He wins, and fans gave just as much loud boo's the previous year, and he was the one they booed that year ironically. As the next year went on the 2016 rumble approaches could they fix this mess. In a way yes, the crowd was all against Roman Reigns in this match, and they routed for anyone to win, but Reigns. They got their wish as Triple H won, and ugh... did it matter considering he would be in the main event. The most hated Wrestlemania Main Event in history might I add. He were go again with a lot of interesting scenarios we could of had in the 2017 rumble it was ruined when Reigns came out #30 which made absolutely no logical sense, if his out there why wasn't Aj Styles then? They are pushing him down your throat, every time they do the ...more - htoutlaws2012
How is he overrated if everyone hates him. I like him, but most people don't. - RalphBob
2
John Cena

John Felix Anthony Cena Jr. (/ˈsiːnə/; born April 23, 1977) is an American professional wrestler, rapper, actor, and reality television show host signed to WWE, where he is assigned to the SmackDown brand. ...read more.
What is their to say about easily one of the most overrated wrestlers ever. His high on the list because he is literally the face that seems to do whatever he pleases. Even if that means put himself over that was the case for the last 9 years pursuing the title. Now he ties Ric Flair one more, and then all the corrupted minds will think his the best absolutely not. You know what though his not #1 shocking enough. - htoutlaws2012
John Cena even has his own meme. I mean, he's a good wrestler and a good man and all, but he's overrated. - EpicJake
3
Randy Orton

Randal Keith "Randy" Orton is an American professional wrestler and actor who is signed with WWE, where he is a member of the SmackDown brand. He is a 12-time world champion, having held the WWE World Championship eight times and the World Heavyweight Championship four times.
I gotta be honest Randy Orton is a lot more boring in the 2010's where as with 2000's he was phenomenal. I like the guy, but you are turning into John Cena (slightly). - htoutlaws2012
4
Rey Mysterio

Óscar Gutiérrez, better known by the ring name Rey Mysterio, is a Mexican-American professional wrestler who currently works for Lucha Underground.
Rey in the 2000's was awesome, but hear in the 10's ugh... he did have a fairly decent push early on until he team up with Sin Cara the rest goes way downhill from there. - htoutlaws2012
Really bad on Lucha Underground
5
The Great Khali

Dalip Singh Rana, better known by his ring name The Great Khali, is an Indian promoter, actor, powerlifter and professional wrestler best known for his time with WWE.
He was just their to look like a fool, never got a major push. He was just there to be a massive jobber I kid you not. Best example of that is getting eliminated by yes Beth Phoenix LMAO. That perfectly sums up how they miss utilized somebody who freakishly tall. - htoutlaws2012
6
Nikki Bella

Stephanie Nicole Garcia-Colace is an American professional wrestler and actress signed to WWE under the ring name Nikki Bella, performing on the SmackDown brand. ...read more.
Not early on, but when she started dating John Cena I fought it was absurd to let her hold the title for as long as she did like really are you going to do that creative team? Well they did and it was a travesty AJ Lee's record was broken all because of the CM Punk controversy at the time. - htoutlaws2012
Litteraly THE WORST wrestler ever
7
The Miz

Michael Gregory "Mike" Mizanin is an American professional wrestler, reality television star, and actor. He is signed to WWE, where he performs on the SmackDown Live brand under the ring name The Miz.
He was so overrated when he started out that decade, wins the MITB. Killer heel that he did a great job until you realize he is not a main event player of the likes of John Cena, months later he loses the title, and for a long time falls back down to mid-card where he should be. While his kinda wearing off for me when will he realize I'm getting that big push again I did 6 years ago? - htoutlaws2012
8
Big Show

Paul Randall Wight, Jr. is an American professional wrestler and actor, better known by his ring name Big Show.
Aside from 2012, and 2014 he hardly did much other than be in the main event, and predictably lose. He hardly shows up now because their not giving him anything to do. His an attraction, and but its time to go. - htoutlaws2012
9
Jinder Mahal

Yuvraj Singh Dhesi is a Canadian professional wrestler currently signed to WWE, where he performs on the Raw brand under the ring name Jinder Mahal.
Never would of fought of Mahal as so until realizing these fools (creative team) overthere in WWE decide to give this steroid up wrestler the title. What is wrong with this company? If Paige got suspended for enhance stuff why isn't Mahal dumb logic. Nevertheless a jobber getting the Muhammed Hassan push gone wrong. No wonder I prefer Raw right now. - htoutlaws2012
10
The Undertaker

Mark William Calaway (born March 24, 1965), better known by his ring name The Undertaker, is an American semi-retired professional wrestler currently signed to WWE, where he has worked since 1990, making him the company's longest tenured in-ring performer . Calaway began his wrestling career with World ...read more.
I never would have considered one of my all time favorite of such, but hear me out on this. Yes he put on great wrestlemania matches the first 3 years HBK II, Both HHH matches, and CM Punk. Then you get to your not so great matches, but man did Taker look really sloppy against Lesnar at WM XXX. He goes on to three more pointless matches. You could have retired 21-1 instead of 23-2. Again I love taker, but man was he overrated near the end of his run I'm serious. - htoutlaws2012
BAdd New Item