Top 10 Performers from Week 3 of the NFL 2019 Regular Season
The Top Ten
1
Deshaun Watson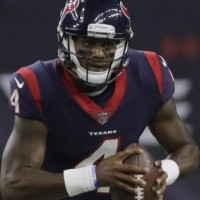 Sure I could of went with Mahomes, but to me Watson was a highlight reel to watch against the Chargers. Escaping outta many loss sack attempts like a magician he earns the top spot this week. - htoutlaws2012
2
Patrick Mahomes

Once again in the first three games Patrick Mahomes is like a solid rock of force that can't be beat in the passing game. The phenom looks to continue this on the road to a very fascinating Lions team getting a pair of stunning victories. - htoutlaws2012
3
Dalvin Cook

Three games now Dalvin Cook is building a streak they did with Thielen last season. When will that snap will be the eyes on key in the coming weeks. - htoutlaws2012
We are 2-1 we haven't had a amazing start since 1998 WE ARE WINNING THE SUPER BOWL - RawIsgore
4
Daniel Jones

Sure he had Evan Engram, but that was impressive what Daniel Jones put on the road in his very first starting game. Had very little help, being very quick to get the ball out the man from Duke just made himself a superstar from the very first day. - htoutlaws2012
5
Frank Ragnow

I mean Justin Coleman was huge limiting what he could with Agholor after Slay went down. Yet notice a major difference this season Stafford has been sacked less. While he ain't doing the best by any means he ain't getting touched as much which says a lot and thanks to a very tough guy in Ragnow being the big help really shows when Fletcher could not even get a licking of number 9 not even once very impressive blocking scheme that led to the Lions fortunate win on the road now face a big heavy load of air raid offense. - htoutlaws2012
6
Calais Campbell

Calais Malik Campbell is an American football defensive end for the Jacksonville Jaguars of the National Football League.
Sackonville came alive getting 8 of em anchored by the up front leader longtime veteran Campbell really get into the face of Mariota. - htoutlaws2012
7
Shaq Mason

Had no problems with Jets defensive line getting no pressure off of Tom Brady aside from a few close calls. - htoutlaws2012
8
Donte Jackson

You could also go with Kyle Allen if you want but to be fair this Cardinals's defense isn't noteworthy to go off of. Flip it the other way around, and here's Kyler Murray looking more like the Kyler I thought I was going to see struggle when he threw in the island of Donte Jackson not once, but twice did prove to be costly. - htoutlaws2012
9
Preston Smith

Honesty who can beat the Packers the way they have been playing? Sure their offense isn't the greatest like in years past, but good enough to get enough points ultimately. Green Bay defense starts to really shine after a surprising start from Denver's running game started to burst here comes Preston Smith to apply extra pressure on the outside defensive line coming up with three big time sacks. - htoutlaws2012
10
Cooper Kupp

Kupp was hug in the Sunday night battle against Cleveland, Jared Goff's passing was inefficient when throwing to both Cooks and Woods. Yet when he went for Kupp more often the numbers and statics prove to be huge for the Rams especially the two big touchdowns in the endzone. - htoutlaws2012
The Contenders
11
Mike Evans

Michael Lynn Evans is an American football wide receiver for the Tampa Bay Buccaneers of the National Football League. Evans was drafted 7th overall to the Tampa Bay Buccaneers in 2014.
BAdd New Item