Top 10 Best Rides at Universal Studios Florida
Universal Studios Florida is one of the most popular theme parks in the world and invites guests to come "ride the movies." USF is a part of the larger Universal Orlando Resort, which includes Islands of Adventure, Volcano Bay, CityWalk, and more. The general theme of Universal Studios Florida is that of a movie set, with rides and shows based off of popular movies such as E.T., Despicable Me, and the Harry Potter series. While the park has experienced numerous changes over the years, it has remained a great place to spend time, and as of 2018, it is the most popular non-Disney theme park in the United States.

Note: The name "Universal Studios Florida" specifically refers to the Studios park, so don't put Islands of Adventure rides on this list.
The Top Ten
Revenge of the Mummy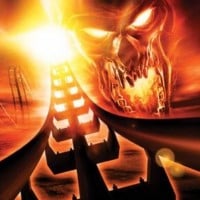 This ride has always been one of my favorites at the Universal Orlando Resort and it still holds up after 14 years of operation. This is for sure the best indoor coaster out there, even taking into account beloved Disney attractions Space Mountain and Rock n Roller Coaster. In fact, I dare say it's one of the best coasters in Florida period. Everything about this attraction works so well, from the set up in the queue, to the special effects, to the actual coaster itself. The queue is essentially a behind the scenes look at The Mummy film, but as you go further into the queue, it transitions into what is seemingly an ancient Egyptian tomb, and with the atmosphere slowly becoming more foreboding, it feels less and less like a set. Definitely one of the more interesting queues out there. The ride itself is one of Universal's best attempts at physical sets and effects, and while there are screens mixed in, there is much more to it than that. The ceiling of fire has to be my favorite part ...more
Greatest theme park ride ever. It's so thrilling, the queue is so interesting, and you never get tired of it.
The setting makes it really set the tone of the movie
I would love to ride this but never have!
Hollywood Rip Ride Rockit

At a height of 167ft (51 m), Hollywood Rip Ride Rockit is the tallest ride at the Universal Orlando Resort, and the second fastest behind The Incredible Hulk Coaster. This ride allows you to choose from a variety of songs from different genres and make your own music video. The choices include songs from The Black Eyed Peas, Evanescense, The Beach Boys, and more. If you don't happen to like any of the song choices, there are plenty of hidden songs that you can access by typing in a three-digit code once you get strapped in. The secret song list has everything from The Muppets to Metallica. I've never tried it, but I really ought to sometime in the future. The ride itself has some unique elements to it, such as the non-inverting loop just after the first drop, as well as the vertical lift hill. As far as coasters go, it's a little on the rough side and has a few mid-course break runs along the way, so it might not be a favorite with coaster enthusiasts, however, it's still a really fun ...more
The day before my family went on this ride people got stuck up on it for several hours. Such a thrilling ride this was.
This thing was insane in a fun way.
Why is this below Mummy?
Harry Potter and the Escape From Gringotts

Great dark roller coasters, although Mummy beats this one. I love the animatronic goblins in the bank. My problem with the ride is that Mummy provides for a much more thrilling experience with a shorter queue. The line is like 2 hours long on some days.
When I rode this for the first time back in 2015, I was very impressed by the queue, but found myself underwhelmed by the ride itself. I just didn't think it lived up to Forbidden Journey, which I consider the best ride across both Universal parks. However, when I rode it again this summer, it was a lot better than I had remembered it and has risen a bit in my Universal ride rankings. Is it a bit screen-heavy, yes, but the ride really is a complete blast from start to finish, with great visuals, technology, and fun coaster segments. The only real problem I still have with it now is that the ending feels a bit abrupt, but other than that, I appreciate this ride a lot more now than I once did. My opinion on the queue is unchanged from before, I think it is the single best queue for a ride there is, maybe with Flight of Passage at Animal Kingdom coming close. The theming is top-notch all around, the effects are great, the coaster portions are fun and it's really just an impressive ride ...more
Awesome, but scary! I remember waiting 2 hours in line for this ride when it broke down. There's giant spiders and you receive water in the face!
That's nothing compared to the wait the day after it opened, where it was 7 1/2 Hours long, and it broke down numerous times that day.
And the line stretched almost 2 1/2 MILES filled the ENTIRE PARKS!
I think its ok
Hogwarts Express

While this is more of a means of transportation than it is an actual ride, I think the incredible theming is enough to warrant a place on this list. Everything from the queue to the train compartments captures the spirit of the Harry Potter series, and it makes getting from one park to another an enjoyable experience. There are two separate journeys this ride offers, one going from IoA to USF and another from USF to IoA. I personally prefer the latter as I find it more exciting going towards the Hogwarts castle rather than into everyday London, but that's just me. However, I think you should definitely try to ride both ways throughout your time at Universal as they are completely different experiences. I honestly find this to be more enjoyable than a lot of the actual rides in the park as it's something unique and not anything you can experience elsewhere. The closest thing Disney has to this is the Monorail, and that's still not really comparable to this. It's not going be the first ...more
Great transportation between the parks and entertainment
As a HP fan, I really liked this ride.
Transformers: The Ride

Even though I don't care for the Transformers franchise at all, I still think that this is an incredibly fun ride, albeit not quite as good as The Amazing Adventures of Spider-Man, which this kind of copied. The best thing about the ride is that while some simulator/motion-based rides lack that immersion, this one really makes you feel like you're in a Transformers movie; it doesn't feel like you're just looking at a screen. I can't say that about some others *cough Fast and Furious cough.* It's loud, thrilling, action-packed, it's everything you'd want a Transformers ride to be, and even though it might be easy to write off as just another simulator, this is definitely one of the better ones. If you're going to ride any simulator at USF, I'd recommend this one above the rest.
That moment when the theme park ride is more entertaining than the movies.
I thought it was an ok ride
Men in Black: Alien Attack

One of the most unique rides at Universal Studios, this is a shoot-em-up ride similar to Buzz Lightyear's Space Ranger Spin at the Magic Kingdom and in my opinion a better version of it. The ride takes you through the streets of New York where the incentive is to shoot up aliens and try to get a higher score than the opposing team. I think the whole team dynamic makes it more fun than Buzz, plus you can actually lift the guns here. My favorite part is when you go in the scanner and the other team is revealed to be aliens in disguise. My only real gripe is that it's kind of on the short side, but overall it's a good ride that's definitely worth checking out.
I rode this ride several times in my life and I concluded this ride was my all time favorite.
Made me feel like Will Smith
The Simpsons Ride

I love the Simpsons, one of my favorite TV shows. The first part of the ride is very well done. I love the virtual roller coaster and Sideshow Bob lol. however the second part I feel like is not very exciting. Also, how come Homer looks like he's made out of clay?
Oh The Simpsons Ride, how mixed my feelings are towards you. This is an attraction I enjoy, but I also tend to dread riding it because it almost always makes me feel nauseous afterwards, and I don't tend to get motion sick on rides. But considering that this is supposed to be a ride that Krusty the Clown built, perhaps it makes sense to get easily nauseated. Some people are still mad that this replaced Back to the Future, but I only rode BttF once and I remember getting sick on that as well and didn't have any particular affinity to it, so I didn't mind the change to the Simpsons. I'd actually probably like it more if there weren't already so many simulator attractions in the parks. It's kind of like riding the same ride, just themed to a different movie/show essentially. That being said, Simpsons has things that stand out about it, such as the classic Simpsons humor, fun story, great queue and other attributes that help it stand out from the pack. Overall, while it's not one of my ...more
Funny, but not anything special. You sit down and watch a bit of an episode pretty much.
I enjoyed this ride almost too much.
E.T. Adventure

This is the only ride on this list that has been here since park opening. It's also one of the only rides in the park I'd really call "kid-friendly," as well as one of the few that doesn't rely on screens. So already this ride has quite a bit going for it. Considering it's been here since the beginning, this ride is nostalgic for a lot of Universal fans, much the same way the now defunct Jaws and Back to the Future were. It would be pretty sad if this one closed down as well, especially if it were to be replaced with yet another simulator (sorry, I know I've mentioned the over-abundance of simulators in this park enough, but it really is a problem). The ride starts with the famous chase scene from the movie and the sudden take-off into the sky. The story of the ride is to go to E.T.s home, The Green Planet, and save his friends from the dying through his magical touch. I think it's interesting that it starts off with a scene we know, and then approaches new territory in the second ...more
In my opinion, the most underrated ride by far.
Despicable Me: Minion Mayhem

Personally, I find the Despicable Me series overrated beyond belief, and I think that this ride is pretty overrated as well. I'd honestly be perfectly fine if I never rode it again. However, looking at it from a first-timers eyes, it's a pretty fun simulator attraction and fans of Despicable Me and the minions are sure to get a kick out of it. The queue is impressively themed, it's got some funny moments, and it does it's job as a simulator in making you completely nauseous. You wouldn't think a ride based off of Despicable Me would pack that much of a punch, but unless you're sitting in one of the immobile seats, it's honestly on par with rides like The Simpsons and Transformers in terms of motion sickness. Overall, while I don't think it's among the best Universal has to offer, is it a fun ride that's worth doing at least once? Yes.
I don't like Minions so..
Race Through New York Starring Jimmy Fallon

If I'm putting this on the list, that's how you know this park could use some help in the creative department. Yes, this ride is pretty weird and overall meh, but I can honestly say that even with all the flak I saw it getting before I rode it, I ultimately didn't think it was all that bad. I at least enjoyed it more than Fast and Furious: Supercharged, which was definitely subpar. The biggest bummer with it I would say is that it's yet another simulator in a park full of them, so it doesn't really stand out. The "story," if I can even call it that, is basically just racing Jimmy Fallon across New York with various 3D gags thrown at us. Overall, it's definitely not the best, but I also think there are worse, such as F&F:S. Would I wait very long for it, no, but it's at least got an entertaining queue, there are some funny moments, and if you've never done it before, I think it's worth doing at least once.
The Contenders
Jaws
Despite the fact that it was shut down, I still consider this the best attraction that was ever at the park. It relied on massive physical sets, exciting special effects, and menacing animatronic sharks. Even the best motion simulators cannot replicate the feeling of being pursued by a massive Great White Shark. This attraction was extremely immersive, fun, and made you feel as though you were in the movie. As you cruised past the "jaw-dropping" scenes, you were given a feeling that cannot be given by today's screen-based rides. This ride gave the thrill of a lifetime because everything that happened during it was real. The sharks were real animatronics that you felt that you could reach out and touch. One doesn't receive the same 3-dimensional experience that Jaws gave with today's motion simulators. Jaws was the perfect attraction, and example of what a ride should be. 'Ride the Movies! '
The jaws rides looks so good I thought it should be on here : Jaws is a theme park attraction at Universal Studios Japan. Based upon the films of the same name. The attraction places guests aboard tour boats for what should be a leisurely tour of Amity Harbor, but instead becomes a harrowing chase between the craft and a very determined great white shark. Jaws is an expanded version of a famous miniature attraction on the long-running and world famous Studio Tour at Universal Studios Hollywood, also inspired by the film, and can be found at Universal Studi
It got shut down.
This ride was shut down. I've been on it when I was younger, I think.
Jimmy Neutron Rocket Blast Ride
Harry Potter and the Forbidden Journey

The only good part about the ride is the line.
Good ride but not Islands of
Adventure.
The Hulk
The Hulk roller coaster was my first roller coaster with a loop in it. All the nostalgia.
Love this one!
Back to the Future: The Ride (Universal Studios Theme Parks)

Twister: Ride It Out
BAdd New Item