Top Ten Footballers of 2013
The Top Ten
1
Cristiano Ronaldo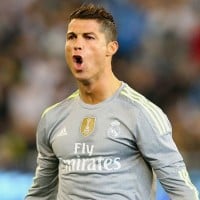 Cristiano Ronaldo dos Santos Aveiro (born 5 February 1985) is a Portuguese professional footballer who plays as a forward for Serie A club Juventus and captains the Portugal national team.
There's a lot of debates between messi and ronaldo about who is the best football player at present... But I think ronaldo is the best. First of all messi gets a lot of support from his brilliant fellow midfielders.. But ronaldo is a complete player. He can assist and score without a sweat. He is strong and is very agile and fast. He is a goalmachine! So to me without a doubt ronaldo is the best fotball star at present.
Ronaldo is far far away better than messi
If there were no xavi, iniesta fabregas or other midfielders, messi will score rarely
And another reason that Ronaldo is a winger (Lst) and messi a forward (CST)
Ronaldo scores without xavi iniesta and other brilliant midfielders that messi have
He plays by his own and he himself plays at left wing and benzema at forward
He is a typical example of a player that trains and practices regularly. He is an amazing figure in the dressing room and on the pitch. Any day, anytime he remains my best player of the age.
Ronaldo can beat Messi anytime and anywhere. he is way faster than Messi and is the best dribbler in the world. Messi can never Ronaldo not even in his dreams!
2
Lionel Messi

Lionel Andrés "Leo" Messi (born 24 June 1987) is an Argentine professional footballer who plays as a forward for Spanish club Barcelona. He is also known as one of the greatest football players of all time. He was born in Rosario, Argentina on June 24th, 1987.
Hey! Hey! Something terribly went wrong. Who kept Ronaldo on the top? Messi is always the best. He is going to win his 5th Ballon d'Or this Year. He is a super human. Ronaldo on the top? You must be Joking! Messi had been suffering from hamstring injuryfor the past 1 month. But now, he is back. He is going to snatch his actual position. Wait and see.
Messi is the best footballer in the world. Ronaldo is not suppose to be the best because he won the FIFA ballon dor 2015 is that not a big reason to say that Messi is better than Ronaldo!?
Messi does what Ronaldo can't he is faster
More skillful and has a totally better attitude compared to Ronaldo who is always losing control and being an ass when his team is losing
Hey guys. Lionel Messi is the best footballer in the world. He is simply the best. He is much more skilled, fast, and furious as compared to Nonaldo, Neymar, Ronaldinho. He is the king of football
3
Neymar

Neymar da Silva Santos Júnior, born 5 February 1992, commonly known as Neymar or Neymar Jr., is a Brazilian professional footballer who plays for Ligue 1 club Paris Saint Germain (PSG) and the Brazil national team as a forward or winger, and is also the captain of the national team. ...read more.
When he hurt his back and had to miss his match Brazil lost 7-1 to Germany in the world cup
The neymar haters! Warning you... Start loving him<3! He's DEFINITELY the next pele! Remember the semi's... When he wasn't there brasil lost 0-7! NEYMAR IS THE BEST! THE MOST HANDSOME!
Pure domination. But his white hair is pretty disturbing.
He is one of Brazil's best players yet he should be
Be either first or second
4
Gareth Bale

Gareth Frank Bale is a Welsh professional footballer who plays as a winger for English club Tottenham Hotspur and the Wales national team.
Gareth Bale is so much better than Neymar. He has the speed, skills, shooting ability that Neymar can't even dream of!
He is the 2013 PFA Player Of The Year for a reason. Bale is the 2nd (or maybe 3rd) best in the world after Ronaldo.
Why on earth is Gareth Bale not top! He is PFA Player of the year and is the top scoring prem midfielder this season! He is epic
Awesome tricks. If he showed off his fancy footwork to anyone on this list he would come second under ronldo
5
Andres Iniesta

Andrés Iniesta Luján is a Spanish professional footballer who plays for FC Barcelona and the Spain national team.
Club: Barcelona
Country: Spain
Position: Midfielder (LM)
Rated: 91
Estimated Worth: £50m
Iniesta, known for his powerful and speedy runs down the wing of the pitch and then a decent ball in and a goal, it's just that easy for Iniesta to bag an assist or goal.
6
Robin van Persie

Robin van Persie is a Dutch coach and former professional footballer who played as a striker. Regarded as one of the best strikers of his generation, he is the all-time top scorer for the Netherlands men's national team. He is currently an assistant manager at boyhood club Feyenoord in his first managerial ...read more.
Club: Man United
Country: Holland (Netherlands)
Position: Striker (ST)
Rated: 89
Van Persie is one of the best strikers in the game as he won the golden boot last year and is on Luis Suarez's tail this season. Can he win for a second time?
Van Persie is one of the best players in the world since he was last seasons top scorer.Plus at Man united he has got even better. I know he wil win the golden boot again.
Van Perdue is blessed with the greatest clinical striking
He has contributed to the top form of manchester united
7
Wayne Rooney

Wayne Mark Rooney is an English professional footballer who plays for and captains both Manchester United and the England national team.
Rooney is a great player his amongst of the best player in the world. When he first debut against fenerbahce he was inside the scoresheet helping united win 6-2 against the turkish giant he deserve in this best footballer list he scored from free kick and long range and when he first play with everton he scored a screamer against arsenal he was 18 that time nobody who is at his age scored that screamer and he score against a big club from a very long distance he deserved this spot.
Favorite player forever. Started out playing on Everton then worked up in the league became the best in the Barclays premier League, then to top it off scored one of the best bicycle kicks of all time against Manchester City.
One of the best all-rounders in the world. He consistently proves he can do anything with a football and has scored some wonderful goals because of that. Rooney deserves a lot of credit
Rooney most naturally talented player about, '!
8
Luis Suarez

Luis Alberto Suárez Díaz (born 24 January 1987) is a Uruguayan professional footballer who plays for Spanish club Atletico Madrid and the Uruguay national team as a striker.
Haven't seen Suarez on the pitch.. In my opinion he is ranked next to Messi or Ronaldo
Best footballer ever! He do Nutmegs and score goals every single match!
9
Eden Hazard

Eden Michael Hazard, born January 7th, 1991, is a Belgian professional footballer who plays for Real Madrid CF and captains the Belgium national team.
As of now, nowhere near the best. But mark my words, he is the Messi/CR of the future. He is so skilled and fast, few more years and hell win a ballon dor. Best thing to come out of Belgium since their chocolates
He is the greatest dribbler with pace that I have ever seen
Incredible pace, control and strength when on the ball
For someone so young he's pretty good
10
Mesut Ozil

Mesut Özil is a German professional footballer who plays as an attacking midfielder for Süper Lig club Fenerbahçe. Nicknamed "The Assist King", Özil is known for his technical skills, creativity, agility, and finesse.
Mesut Ozil is the best playmaker ever, & he's the best premier league
Player, now.
The Contenders
11
Didier Drogba

Didier Yves Drogba Tébily is an Ivorian professional footballer who plays as a striker for Canadian Major League Soccer club Montreal Impact.
Chelsea 4 the win!
One of the best players ever!
We miss you at Chelsea FC
12
Edinson Cavani

Edinson Roberto Cavani Gómez is a Uruguayan professional footballer who plays as a striker for Ligue 1 club Paris Saint-Germain and the Uruguay national team.
Cavani is the greatest Finisher after Ibrahimovic!
A very great talent who still needs to be higher on this list..
13
Franck Ribéry
Club: Bayern Munich
Country: France
Position: Midfielder (LM)
Rated: 91
Estimated Worth: 40m
Ribery is Bayern Munich's best player thanks to his control, pace, skills and sprint speed. He can grab assists and goals in just one match.
14
Zlatan Ibrahimović

Zlatan Ibrahimović (3 October 1981) is a Swedish professional footballer who plays for an Italian club AC Milan and the Sweden national team for which he is captain.
How is neymar, hazard, rvp, Rooney above him ibra is simply the 3rd best at the moment he's a tank neymar how is he let a lone in the top 50 but 3rd what the hell bale is good but not 4th best hazard the most over rated player at the moment he's good but doesn't deserve to be in the top 10 or top 50 my opinion
1:Ronaldo
2:Messi
3:ibra
4:ribery
5:falcao
6:inesita
7:robben
8:ozil
9:Suarez
10:aguero
Club: Paris Saint-German
Country: Sweden
Position: Striker (CF)
Rated: 89
Estimated Worth: £40m
Ibrahimovic has a great advantage because he's extra tall. He's bagged loads of goals this season including an extra special scissor kick against Marseille goalkeeper Steve Mandanda.
He's shot, is the best of the earth
No one is better.
15
Radamel Falcao García
Club: Atletico Madrid
Country: Columbia
Position: Striker (ST)
Rated: 91
Estimated Worth: £60m
One of the best finishers in the game, with Falcao's finishing he can leave defenders choking down his dust as he goes through on to goal.
16
Arjen Robben

He is way better than ronaldo
One of the best wing player
17
Mario Gomez

Mario Gómez García ( born 10 July 1985) is a German professional footballer who plays as a striker for German club VfL Wolfsburg, and the German national team. When Stuttgart became champions in 2006–07, Gómez contributed 14 goals and seven assists at the age of 21 and was selected as German Footballer ...read more.
18
Bastian Schweinsteiger

Bastian Schweinsteiger is a retired German professional footballer who usually played as a central midfielder.
19
Fernando Torres

20
Andrea Pirlo

21 Tom Starke
22
Philipp Lahm
Phillip Lahm should be in the top ten! He is known to be the best defender in the world. He won 5 Ballon d' Ors and can play midfield too. He was voted 6th best player in the world by GOAL. Voted 4th best by Football Daily. No way he's 40th!
23
Ronaldinho

Ronaldo de Assis Moreira (born 21 March 1980), commonly known as Ronaldinho Gaúcho or simply Ronaldinho, is a Brazilian former professional footballer and current ambassador for Barcelona. He played mostly as an attacking midfielder, but was also deployed as a winger. Often considered one of the best ...read more.
I love you. My name is shakti tiwari
24
Xavi
Club: Barcelona
Country: Spain
Position: Midfielder (CM)
Rated: 91
Estimated Worth: £35m
Xavi is the greatest midfielder in the world because he's a great playmaker, a master passer and can even bag a few goals himself.
25
Thomas Muller

Thomas Müller is a German professional footballer who plays for Bayern Munich and the Germany national team.
PSearch List