Worst Kickers of the 2018 NFL Season
The Top Ten
1
Cody Parkey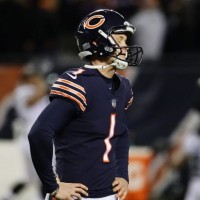 If I have ever seen someone that is truly "star-crossed" it is my Bear's kicker, Cody Parkey. I very much wonder what the odds are of hitting an upright on the last play of a play-off game? Let alone, hitting an upright 4 times in one game! I'm pretty sure he is burnt toast. I know that as a Bear's fan for the last 60+ years, I've seen all of him that I ever want to. Maybe he should have a "smoke" before he kicks?
Parkey is a mixed bag of a kicker like there are games he can be a good help, and there are games he almost cost the team the game like Detroit at home, or at San Francisco that was too close wasn't it this is probably one of the few weaknesses of Da Bears team as of late. - htoutlaws2012
Sorry, but after this season, and especially his game today, he deserves to be on this list. Maybe the next Blair Walsh? - SirSheep
If you want a kicker who hits the upright, he's your man.
2
Chris Boswell

Its odd to have at the top of the list considering the other four below him were more famously bad in the season, but somehow Steelers believed in Boswell, and that he could get those extra attempts, but there have been games especially against oh the Raiders where they lost, and it hurt hard. - htoutlaws2012
3
Mason Crosby

Green Bay needs a optional priority and that's find Crosby's replacement somewhere in this draft not day 1 or 2, but somebody please. You can't have a guy like this blow against awful teams like the Lions who you had beat realistically speaking. Kept missing kicks after that game most notorious next screw up was against the Cardinals which finally led to McCarthy getting fired as we await the next man in line has a lot to do. - htoutlaws2012
Normally he's decent but it seems that this year has been different for some reason. And that can be applied to multiple kickers in the league. yes he has that infamous game in Detroit but ever since then he hasn't been as reliable as before. If I were Green Bay I might try to get another kicker because those missed extra points and field goals can add up quickly - Randomator
Not sure what happened to him this year, but it's not a good sign. Kicks are looking shakier these days. He's been with Green Bay since 2007, but maybe it's time to move on. - PackFan2005
4
Zane Gonzalez

Like Carlson he two also joins a new team after getting cut from Cleveland winch there were two games they could have maybe won in Pittsburgh and New Orleans playing there hardest only for the loathsome kicker to screw them over eventually getting ties to him in favor of Greg Joseph. Ends up a kicker for Arizona in which he holds now ugh... okay more crap to add to a useless team. - htoutlaws2012
5
Daniel Carlson

From having a bad start to the season with the Vikings missing every kick demand with Minnesota in just one killer game. Mike Zimmer wanted to not put up with it got him canned, but still ends up playing from purple and yellow, to Black, and sliver in raider colors ugh.. yet so fitting at the same time. - htoutlaws2012
At least he somewhat redeemed himself in Oakland. - PackFan2005
6
Caleb Sturgis

The starting Charger kicker was so bad he missed plenty of extra point attempt, and yet some of the games there they were lucky to win how bad Sturgis was for chipping those easy in so horridly to the sides. eventually unsung hero Michael Badgley came in as the fixer to their problems for now. - htoutlaws2012
7
Cairo Santos

Poor guy he was once a good kicker for the Chiefs, but eventually his kicking accuracy got worse as time went on he got different starting gigs from Rams to now Bucs which he hasn't recovered that much since. - htoutlaws2012
8
Stephen Hauschka

Not usually this underutilized, but Buffalo is so bad at scoring points he barely was on the field to focus on the kicks which led to him having a small regression. - htoutlaws2012
9
Brandon McManus

His accuracy ain't that great, and he had a chances where he could of beat teams like Houston, but missed that golden opportunity, but did have some redemption in the battle against the Charges on the road. - htoutlaws2012
10
Matthew McCrane

While not a bad kicker for Oakland strange he got benched over an even worse kicker in Carlson who I'll get to later. McCrane never got to really shine, and ended up stinking in Arizona which could anybody aside from Chandler Jones be much of an impact? - htoutlaws2012
The Contenders
11
Blair Walsh

Blair Richard Walsh (born January 8, 1990) is an American football placekicker who is currently a free agent. He played college football at Georgia and was drafted by the Minnesota Vikings in the sixth round of the 2012 NFL Draft. He has also played for the Seattle Seahawks. He is well-known for missing ...read more.
I am pretty sure he's a free agent and when you're a free agent it means you suck, you're old or both, and the last one is Blair Walsh. let's face it he's had his chance, but he was decent at one point so, you can't call him the worst but you can call bad. Also, unlike these other guys he's not on a TEAM! So sorry Walsh but you suck!
12
Roberto Aguayo
He was I'm pretty sure a 2nd round draft pick for the Bucs and he couldn't make a field goal for his life, and like Blair Walsh he's a free agent. The only time he was decent was in RBT's YouTube series called the REJECTS. But unlike Blair Walsh he wasn't decent in any time in his career. He's the worst drafted kicker ever, and probably the worst kicker ever, but maybe it was the expectations because he was good in college. Or maybe he just sucks.
Does anyone know this guy
Ugh... yeah his that awful reached pick by Tampa Bay didn't even stick around that long with the team because he was that bad. - htoutlaws2012
13
Michael Nugent
He is so bad he misses all of his field goals!
14
Ndamukong Suh

Ndamukong Suh is an American football defensive tackle for the Los Angeles Rams of the National Football League.
Ndamukong Suh kicker only one and the kick was only 15 yards and the ball was wide right and even if the kick was accurate it would still not be enough to make the field goal.
We was friggin' horrible.
BAdd New Item