Greatest WWE Wrestlers of 2017
The Top Ten
1
Roman Reigns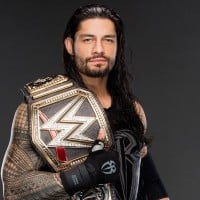 Leati Joseph "Joe" Anoa'i (Roman Reigns) was born on May 25, 1985. He is an American professional wrestler and former professional Canadian football player. ...read more.
Roman Reigns isn't a good guy or a bad guy he's the best. Roman Reigns has been my favorite superstar since he debut. He never knows when to quit. He's been betrayed, cheated, etc. People try so hard to make him look like a failure but he always comes out on top. He's extremely strong, and aggressive. He never backs down. He's funny. If he says he can do something, he can. If he says he will do something, he'll do it. If he says "Believe That" you should because it's true. I can type a whole essay telling you why he's the best but my fingers hurt.
Some people like to use him beating Undertaker at WM as an achievement, but it was pretty clear at the start who was going to win. It was Undertaker's last match, and since when has anybody ever won their scheduled last match? I really don't think he should be number 1, considering almost every vote for him has either been over exaggerated or downright fanboy-ish. I don't hate Reigns, and he's pretty good, but not deserving of best wrestler of 2017. I still think that AJ Styles deserves it.
I love him a great person never give up he is strongest and king of all he has recently beaten undertaker he has many championship titles he looks like a lion who is very hungry I also watch every match of only that he wins he has ability to control the wwe universe I am the greatest fan of him he has won 99.5% out of 100 matches I love him a lot I cannot say in words I don t have words for him
He is the number 1 wrestler he sets many records which is impossible to any wrestler like John Cena Brock Lesnar Dean Ambrose and many other superstars he is the best of all he beat all wrestler and he never defeated by anyone fairly
2
AJ Styles

Allen Neal Jones, better known by the ring name AJ Styles, is an American professional wrestler currently signed to WWE.
Best active in ring performer on earth. No one in the world has a better chance of putting on a classic performance at any given pay per view. Combine that with much improved microphone skills and I think you have the best all around wrestling superstar in the business today.
AJ Styles should be number 1. He is the phenomenal one. He is one of the best in ring performers in WWE. He has some cool moves, best mic skills and very agile. Who the hell is roman reigns. Roman sucks. He has no mic skills, limited moves. He is a boredom. I still hear the boo chanted by fans in wrestlemania 32 for roman reigns when he won the royal rumble. Styles is way far more better than roman reigns.
No one can beat AJ STYLES he is fantastic and glorious he is amazing no one had move like AJ! AJ is ever great champion of wwe we all love it in front of AJ roman is look like a little baby no one can beat AJ he is my heart tears so respect our ever great champion
He is phenomenal 2017, he is the best wrestler right now and his moves are really Fantastic, phenomenal, he is my favourite and always be the favourite and best of mine. I just want that he comes to raw there are more tough competitives than SmackDown and just want to see Brock Lesnar vs AJ styles means Hulk vs Spider-Man
3
Randy Orton

Randal Keith "Randy" Orton is an American professional wrestler and actor who is signed with WWE, where he is a member of the SmackDown brand. He is a 12-time world champion, having held the WWE World Championship eight times and the World Heavyweight Championship four times.
Hess amazing, he's only losing to jinder mahal because he's a cheat! I think randy deserves his title back because he deserves it the most out of everyone I think
Randy puts effort and hard work into beating his opponents with the strong, strategic and smart way
Orton Is the best and is the youngest WWE wrestler and just happens to be one of the best wrestlers...
The apex predator, with the most devastating letters of the sports entertainment... Rko
4
John Cena

John Felix Anthony Cena Jr. (/ˈsiːnə/; born April 23, 1977) is an American professional wrestler, rapper, actor, and reality television show host signed to WWE, where he is assigned to the SmackDown brand. ...read more.
I never see him in live but for me, this guy is the wwe. I don't think the wwe would be the same if he would not be here. He did so many great things 16 time champ! now we have many others superstars but john cena is an icon! why he 6 because he is part time now :/. but he prove that's he not because you're a part-timer that you can't do great. I watch him until I was eight years old and until this time, I watch him every night he's here in wwe give him the respect that he deserve! until stone cold and hbk I never seen someone like him. Hustle,Loyalty&Respect sir!
John Cena is the best ever. He is a 2 time Royal Rumble winner, 16 time WWE Champion, 4 time United States Champion. He can take an ass kicking like no one else can, he has defeated some of the very best and introduced young and upcoming WWE Superstars like AJ Styles. He is an inspiration to all with his motto "Never Give Up"
My favourite wrestlers of wwe are john cea and nikki bella I love this wrestlers joh cena attitude adjustment is very powerful and nikki bella submission is very powerful I love you two submissions and smack
My favourite wrestler of all time and also 2 royal rumble winner and his best thing is that he is 16 time wwe world champion
5
Seth Rollins

Colby Lopez is an American professional wrestler and actor who is signed to WWE under the ring name Seth Rollins. He is the Current Intercontinental Champion.
He slay the king of kings at wrestle mania 33 & he beat the roman empire (2016) and dean ambrose (2015) at MITB & He beat both roman and beast at wrestlemania31 &...many more as u know that So he is the great wrestler of all time I love Seth rollins
Rollins is the best because he defeated Roman reigns at money in the bank and many others superstars...Rollins rules...
He defeated Roman, Triple H, Samoa Joe. He performs very well and kills it on the mic. He really deserves a title run. He is the best! He is the man!
Very technical on the ring, best on microphone and very charismatic. He is the second coming of HBK
6
Dean Ambrose

Jonathan "Jon" Good is an American professional wrestler and actor, signed to All Elite Wrestling (AEW) under the ring name Jon Moxley. He also makes appearances for New Japan Pro-Wrestling, where he won the IWGP United States Championship. He previously worked for WWE under the ring name Dean Ambrose, ...read more.
He is the epic wrestler
I voted dean ambrose
He is my favorite wrestler of all time.
I thought it was great when he threw Chris Jherico into thumbtacks.
7
Brock Lesnar

Brock Edward Lesnar is an American professional wrestler and former amateur wrestler, professional American football player, and mixed martial artist who is currently signed to WWE.
Brock Lesnar is a two time ncaa champion, don't recall how many times he held the www title or ufc title, everyone is entitled to their opinion but if they think their better then Brock Lesnar you can always challenge Brock for a UFC Fight because that's not a written script; believe that!
He deserves the 1st position. Roman is actually a fixed wrestler. He is the guy which is hated by almost all wwe fans. In reality lesnar can defeat every one.
Brock is THE BEST.. I don't know why people are voting for other. Ok Roman is voted no. 1 but in real fight he cannot even stand 10 seconds against LESNAR
I like his energy and style, only he need some encourage as he get's scare to fight with somebody...
8
Samoa Joe

Nuufolau Joel "Joe" Seanoa, better known by his ring name Samoa Joe, is an American professional wrestler, currently signed to WWE and performing in it's Monday night show, Raw. He is most well known for his time in NXT, where he was a former two time NXT champion.
In my opinion Joe is the best in Raw and will rule Wwe in the future just like tna
Future universal champion
9
Chris Jericho

Christopher Keith Irvine, better known by the ring name Chris Jericho, is a Canadian-American professional wrestler, musician, media personality, actor, author, and businessman, currently signed to AEW.
He made a list, the word it, stupid idiot and drink it in man so over he has been one of the most entertaining superstars this year.
He is great! Anyone who thinks otherwise is on THE LIST!
Best in the world at what he does
Jericho should be more than 18
10
Shinsuke Nakamura

Shinsuke Nakamura is a Japanese professional wrestler and former mixed martial artist currently signed to WWE competing on Smackdown Live. Nakamura is known for his work in New Japan Pro-Wrestling (NJPW), where he is a former three-time IWGP Heavyweight Champion. His other accomplishments within the ...read more.
I deem wwe superstars as actors but different kind of actors from other actors in that they need physical strength. But wwe actors need what is required of ordinary actors nonetheless. So this guy has everything you expect from unique actors especially essential traits like charisma, his signature actions that coincide with the aura he emanates and so on. Then he is the king of strong style, which is one of the best, if anything, catch copy for the in-ring performers. It says whatever I do, at the end of the day, I'm going to kick your ass.and that is all that matter for wwe superstars at the end. Weird as I am, Thiugh I am a Japanese, I never become a fan of a Japanese celebrity but he will be a rede exception.
You are the best!
He has a lot of heart an his kicks are awesome
He is cool. He is awesome and he should be number 1 in ranking
The Contenders
11
Alexa Bliss

Alexis Kaufman is an American professional wrestler currently signed to WWE under the ring name Alexa Bliss, where she performs on the Raw brand and the former 3 Time Raw Women's Champion ...read more.
She is so good at being an unpleasant little brat and I love it. She is among the most entertaining wrestlers the WWE has right now.
She's currently the best female wrestler, without a doubt.
She is dominant should be wrestling with the men
My favorite wrestler of all time!
12
Finn Balor

Fergal Devitt is an Irish professional wrestler signed to WWE, where he performs on NXT under the ring name Finn Bálor. He is a two-time NXT Champion and the first person to hold it more than once.
He is greatest. He defeated the number one greatest of 2017 Roman Reigns. His was the first ever WWE Universal Champion.His finisher Coup de grace make him every match.
I think finn valor or Samoa Joe are 1a and 1b if roman reigns can't fill the spot.he is so over ever,worldwide talent the mic skills just holds him back just because is still new to the us but not to the wrestling junkies around the world but he is right there and also aj styles is 1c just so ready to take us to a new level.So Finn,Joe,Aj and Roman the future is so bright!
Roman reigns is in the top 10. but reigns was defeated by this legend Finn balor.. He is always best wrestler..
Finn Balor is the best superstar in wwe his creation Demon King is superb.John Cena and Finn Balor are my best superstars
13
Kevin Owens

Kevin Steen is a Canadian professional wrestler signed to WWE, where he performs under the ring name Kevin Owens.
Insanely underrated, and all for being "fat". Hands down the greatest talker and in ring performer in the world...
Amazing performer, my 2nd favourite wrestler. - UndisputedLunatic
Best in the world
He is my brother as a wrestler
14
Bray Wyatt

Windham Lawrence Rotunda is an American professional wrestler signed to WWE, where he performs under the ring name Bray Wyatt and is the leader of The Wyatt Family.
Not only is his wrestling ability impressive, but his mic skills are legendary. One of the most successful guys out of the Nexus. This guy can cut a promo better than most others can. Truly an awesome wrestler. And fyi WWE, this guy belong on Smackdown not that dumpster fire Raw.
Bray Wyatt is the god of mind games. I respect her. He is one of the most powerful competitor against brock lesnar for universal title.
Just awosome wrestle and the most talented superstar today in wwe
He is preety strong but I don't know why he has lost so manny matches
15
Braun Strowman

Adam Scherr is an American professional wrestler and strongman. He is currently signed to WWE under the ring name Braun Strowman. He has recently been in rivalries with Roman Reigns.
My favourite wrestler he is stronger than any other wrestler in this list he is my hero I am his biggest fan he should be on no one he has defeated Roman reings more times than any other wrestler in this list he is the best best brown strowman strowman I am yash of India and you are my favourite.
RAAW! God, I love Strowman. He is easily the most agile heavyweight since Bam Bam Bigelow and in my opinion one of the best talkers today. It's only a matter of time until he wins the Universal Championship. #Strowman>Reigns
Braun Strowman is stronger than Mark Henry so he should be the worlds strongest man cause he tipped over an abulance and it wasn't fake
Braun strowman is a thousand times stronger than roman Braun should be number 1
16
Bill Goldberg

William Scott "Bill" Goldberg is an American actor, former professional football player, and semi-retired professional wrestler.
You are the best...
You are the best I am Rohan
You are the best my favrouat my self harsh in India
I love goldberg forever
18 T.J. Perkins
19
Tyler Breeze

Mattias Clement is a Canadian professional wrestler. He is signed to WWE on the Raw brand, where he competes under the ring name Tyler Breeze.
He is an idiot.
He and Fandango are so funny and they handle fashion freaks like Drew Gulak and The Ugos - princepretty
20
Matt Hardy

21
The Undertaker

Mark William Calaway (born March 24, 1965), better known by his ring name The Undertaker, is an American semi-retired professional wrestler currently signed to WWE, where he has worked since 1990, making him the company's longest tenured in-ring performer . Calaway began his wrestling career with World ...read more.
Undertaker's retirement (? ) almost put me in tears. Roman Reigns earned the number one spot because of his amazing performance, but it should be Undertaker at 2, not 25.
He is a tough man he had a undefeatable streak that claimed 21 superstars loss
Undertaker will win in the wrestlemania
He is the best wrestler in the world.
22
Kane

Glenn Thomas Jacobs is an American professional wrestler, insurer, and actor. He works for WWE, and is best known by his ring name Kane.
How the hell is the greatest wrestler of all time here he was one of the strongest guys in the locker room everyone feared him and his bench press oh my god what a monstorous muscles the big red machine is back he is back through hellfire and brimstone and his mask and his attire are the best what a comination of red and black just one word amazing and his theme song-burned,the most horror theme song in the history of wwe even brock lesnar said that he could not beat Kane in an backstage arm wrestling match which is a true test of strength and his debut his the best debut I have ever seen in the history of wwe he ripped a steel door of hell in a cell what a amazing power Kane has and whenever his music hits you know a Chokeslam is waiting for you he is the greatest wrestler of all time and also my favourite wrestler forever and I am sure he will be in the HALL OF FAME.THANK YOU KANE
Destruction is Kane's hobby so Fear The Big Red Machine.I watch WWE just because of Kane...Thank You Kane
Strongest of them all the big red machine is the best
Kane is much better then number 27
23
Nikki Bella

Stephanie Nicole Garcia-Colace is an American professional wrestler and actress signed to WWE under the ring name Nikki Bella, performing on the SmackDown brand. ...read more.
Nikki Bella it's the longest divas champion
She is sexy I want sex with her please...
So sweet n lovely figure...
She is the beat
24
Bobby Roode

Robert Roode Jr. is a Canadian professional wrestler currently signed to WWE performing in its developmental territory, NXT.
He is the greatest because he was trained by AJ styles
Fantastico - MarvelcampomWWE
25
Cesaro

Claudio Castagnoli is a Swiss professional wrestler currently signed to WWE, where he performs under the ring name Cesaro. He was previously known for his work in Ring of Honor (ROH) and various independent promotions including Pro Wrestling Guerrilla (PWG), Combat Zone Wrestling (CZW), and Pro Wrestling ...read more.
Most talented pro wrestler in the world, up there with Balor, Nakamura, Samoa Joe and Styles but stronger. Deserves to be WWE world or Universal Champion.
The very best no doubt, enough said the rest of you that don't see it are just retards. Plain and simple
This guy is very talented and entertaining with a variety of moves. I don't understand why he is so underrated... :(
Should be Universal Champion
PSearch List