Top 10 Best Disney Rides Based on Movies
The best Disney rides from any Disney theme park around the world that are based on movies!

The Top Ten

1 Guardians of the Galaxy - Mission: Breakout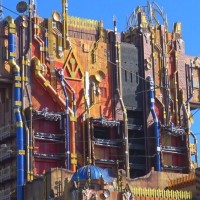 Guardians of the Galaxy Mission Breakout is the newest ride on this list. It's located in Disney California Adventure and it replaced the Twilight Zone Tower of Terror. When the ride was first announced, I thought I was going to hate it. I thought it was just going to be a cheap overlay with no effort put into it. Then when they revealed the building, I still wasn't impressed. But I went on it on the day it opened and I must say, I loved it! This was an extremely fun ride! It is my new favorite ride at Disneyland! It's a lot more intense than Tower of Terror! It goes up and down a lot more times! In Tower of Terror, there are slow moments to get you prepared for the thirill portion. In Guardians, it goes right into the thrill portion. There are scenes that it takes you to that show the Guardians escaping. There are also 6 different songs. So each time you ride it, chances are you will get a different variation. The queue looks very awesome and even has some easter eggs. There is even ...more
I'm sick of people complaining about the fact that this replaced Tower of Terror. To all the people complaining: Disneyland is going to keep updating their theme park, whether people like it or not. And complaining about the Tower of Terror being gone won't bring it back, plus they still have it at Walt Disney World, so it's not like it's gone forever. I'm honestly excited that they made a new ride.
2
Pirates of the Caribbean - Battle For the Sunken Treasure
I can't add the original Pirates of the Caribbean ride since it wasn't based on a movie. The movie was based on the ride. The Shanghai version, however, took inspiration from the ride. And it looks awesome! The technology is very impressive! There's one part where you see a skeleton and it turns into Jack Sparrow. I don't know how they do that but it amazes me every time! There are a bunch of cool projections in the ride as well. The boat floats in front of a giant screen and it looks like you're actually under water at times. It looks very realistic. The animatronics have very impressive movements. I also like the use of holograms. They project the characters and make them look like they're interacting with real objects. This is the coolest Pirates of the Caribbean ride. I really want to ride it.
3
TRON Lightcycle Power Run
A lot of people really hate Tron: Legacy. But a lot of people love the Tron roller coaster at Shanghai Disneyland. Shanghai has a lot of awesome rides. The Tron ride is probably the most memorable one. It's a roller coaster in which you ride on a light cycle. It looks like Space Mountain except it's a lot better than Space Mountain! It looks extremely futuristic! The scenery is fantastic! It looks like one awesome ride! The only problem I have is that the way you're seated looks uncomfortable. You're bent over the entire time to make it feel more like you're riding a light cycle. It still looks like such an awesome ride!
4
Star Tours: The Adventures Continue
Star Tours is based on the popular movie franchise, Star Wars. You ride in a starspeeder and C-3PO takes you on an adventure to different planets. And each time you ride it, you will most likely get a different adventure. That's what I like most about this ride. There are different variations. There's no telling where you will go. The ride is a simulator so it shakes you around a lot. If you have motion sickness, chances are you might not like this ride. But I personally really love. It is a perfect ride for Star Wars fans. Although, I don't know what's going to happen to it when Star Wars Land opens.
5
Radiator Springs Racers
If you don't like Cars, that's fine. But Radiator Springs Racers is an objectively awesome ride! I have never met anyone who hates it! It is a very fun ride that allows you to ride in a car and race other people. It also features the characters from the movie Cars. The animatronics make them look very realistic. The ride goes at a speed of 40 mph. It's not too fast but still pretty thrilling. I really love this ride. Even though Cars was one of Pixar's least popular films, at least the ride is one of the most popular Disney rides.
6
Indiana Jones Adventure: Temple of the Forbidden Eye
I am a huge Indiana Jones fan. So the fact that they made the ride feel like you're in an Indiana Jones movie is really impressive! There is so much detail put into the ride. It also has the best ride ride queue ever. It actually feels like you're in a temple. The ride recently went under refurbishment. Which it always does. I'm not exactly sure what they did, but from what I've heard they updated some of the effects. In one video, I heard the Star Wars blasted sound effect. That's a nice easter egg. The ride definitely "rocks".
I love this ride so much! The boulder always gets me too! I also love the Indiana jones trilogy (Note that I said TRILOGY)
7
Pooh's Hunny Hunt
Disneyland in California has a Winnie the Pooh ride. But to be honest, it's kind of lame. Tokyo's version, however, is awesome! But that's because it's Japan. They always get cool stuff. Not counting anime. Anime sucks. Pooh's Hunny Hunt is a trackless ride just like Ratatouille and Mystic Manor. The animatronics are really impressive and since the ride is trackless, it's hard to tell where you're gonna go. The Heffalumps and Woozles scene is really awesome! It's a pretty long part but there is a lot of cool stuff happening in it. I really hope I get to ride this ride some day.
8
Avatar Flight of Passage
I didn't say that the rides on this list had to be based on a Disney movie. They just have to be a ride at a Disney theme park and based on some movie. In this case, Flight of Passage is based on James Cameron's Avatar. Which isn't a Disney movie. In fact, they made an entire land at Animal Kingdom based on Avatar. From what I've seen in pictures and videos, it looks really cool. And the most popular ride is Flight of Passage. In this ride, you're basically flying on banshees through Pandora. Unlike some people, I really like the Avatar movie. So I appreciate how much they made it feel like you're in this fictional world. The only negative I have is that the ride seems very similar to Soarin'. But it still looks very enjoyable.
9
Monsters, Inc. Ride & Go Seek
Tokyo Disneyland has a lot of awesome rides. Some of them are better versions of rides that DLR has. Indiana Jones, Winnie the Pooh, and Monsters Inc. Even though I've never been on this ride, just from the look of it it looks pretty fun. It's kind of similar to Buzz Lightyear in the sense that it is an interactive ride. You use flashlights and aim them at Monsters Inc hats so you could find the monsters. It's a very fun concept. The animatronics are also very cool. The ones in the Disney California Adventure ride don't move very well. The ones in this ride do. It's a lot better than the one in DCA.
10
Ratatouille: L'Aventure Totalement Toquée de Rémy
I have no idea what the ride is called in English. I don't speak French. The Ratatouille ride is located in Disneyland in Paris. Which makes a lot of sense since the movie takes place in Paris. The ride is very similar to the Transformers ride in Universal Studios. By that I mean it's a 3D ride in which you ride in a vehicle and it takes you from screen to screen. It looks really cool. There are even a lot of giant props that make it feel like you're the size of a rat. It also uses trackless technology. Which is also used in the Hong Kong ride, Mystic Manor. AKA the best Disney ride ever! Ratatouille is a very underrated ride.
The Contenders
11 Star Wars: Rise of the Resistance
12 Guardians of the Galaxy: Cosmic Rewind
13 Enchanted Tale of Beauty and the Beast
14 Mr. Toad's Wild Ride
15 Incredicoaster
16 20,000 Leagues Under the Sea
17 Alice in Wonderland
18
Splash Mountain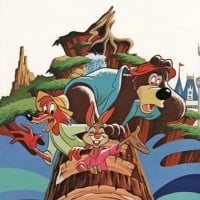 Splash Mountain is a log flume at Disneyland, Tokyo Disneyland, and formerly the Magic Kingdom at the Walt Disney World Resort, based on the characters, stories, and songs originally from the 1946 Disney film Song of the South until controversy & petitions regarding racial history since the George Floyd protests led to a retheming on the U.S. versions based on the 2009 film The Princess and the Frog.
19
Star Tours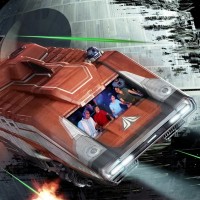 Star Tours was a motion simulator attraction at several Disney theme parks, based on the successful Star Wars film series created by George Lucas.
Based on the Star wars saga. An epic motion simulator ride through galaxy far, far, away.
20 Peter Pan's Flight
21
Frozen Ever After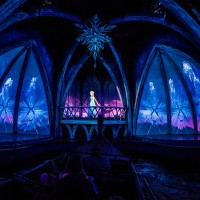 22
Toy Story Midway Mania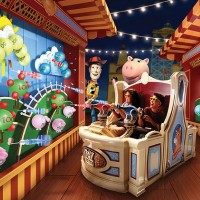 23 Roger Rabbit's Car Toon Spin
BAdd New Item