Top 10 Anime with Yuri Undertones
"Hello, yes? I'm here for the yuri. I was told there'd be yuri. No? It's more just undertones? This isn't what I was promised! No, I'm sorry, I have to go, no, you, NO, YOU SAID, NO, UNDERTONES ARE NOT YURI, OKAY? YOU GO ALL THE WAY OR YOU GO HOME, I'M NOT DEALING WITH THIS! IT'S YOUR ONE JOB, MY COFFEE MAKER HAS ONE JOB, TO MAKE COFFEE AND IT MANAGES TO DO THAT EVERY SINGLE DAY! I'M NOT ON THE RECEIVING END OF "COFFEE UNDERTONES"! THEY'RE GIRLS. IF THEY'RE NOT DOING GAY THINGS TO EACH OTHER, THEN WHAT ARE THEY GOOD FOR?"

-Demolition D, 2015

Regardless of your personal feelings on anime that are subtle about its girls being more then just friends or not, here's a list of the top anime with yuri undertones.

The Top Ten

1 Sound! Euphonium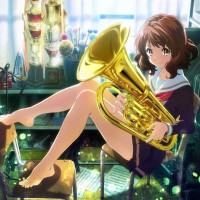 Its not yuri but yuri. I love the anime a lot.
At the end of the shows 2nd season I was greatly dissapointed.. mainly because I didn't ship them, I shipped one of them hardcore with someone else
The sexual tension between Kumiko and Reina is so thick you could cut it with a knife. - WholeGrainNeko
They almost kissed at one part. they really should have gone for a kiss or more.
2
Revolutionary Girl Utena

No one could come right out and say they were a lesbian or in a sexual relationship, since this was a kids show in Japan. But Utena and Anthy and a few other female couples do gaze lovingly at each other a whole lot. (The movie is straight-up yuri and didn't have to be subtle about anything like the series did.) - WholeGrainNeko
3
Amanchu!
Love these lesbians
There's a ridiculous amount of blushing and glomping between the two main girls in the series. They would make a cute couple. - WholeGrainNeko
4
Puella Magi Madoka Magica

Puella Magi Madoka Magica is a 2011 Japanese anime television series produced by Shaft and Aniplex, directed by Akiyuki Shinbo, written by Gen Urobuchi, music by Yuki Kajiura, opening sang by ClariS, ending by Kalafina (sometimes by the seiyuus) and original characters by Ume Aoki.
"I won't let the boys have you. You're mine, Madoka! "
5
Love Live!
The all-girls cast makes it easy for lots of subtext to slip in. - WholeGrainNeko
I personally ship NozoEli myself. - PerfectImpulseX
Definitely! There are so many hints that the girls like each other! My ships include:
NicoMaki (my absolute favourite! )
NozoEli
KotoUmi
and Honoka x Tsubasa (I don't know what their ship name is LOL)
6
Izetta: The Last Witch
The relationship between Princess Fine and Izetta is often implied to go beyond mere respect. - WholeGrainNeko
7
Flip Flappers
While Yuri! on Ice dominated all the talk of same-sex relationships in anime in the fall 2016 season, not enough of a look was given at Flip Flappers. The two main females straight-up declare their love for each other at a climatic moment...in a "friendly" way? More then that? The show doesn't confirm or deny anything, so it's pretty blatant yuribait. - WholeGrainNeko
8
HeartCatch PreCure

Heartcatch Precure is a Japanese anime series and the seventh series of the Pretty Cure anime franchise by Izumi Todo that premiered on February 7, 2010, replacing Fresh Pretty Cure! on its initial timeslot. The series theme is flowers, which leads to their true definitions of Hanakotoba as of the season's ...read more.
According to the manga, Tsubomi said that she will still love Itsuki regardless of gender, making her bisexual. Also, Yuri Tsukikage and Momoka Kurumi have a very homoerotic relationship with each other. - PerfectImpulseX
9
Maria-sama ga Miteru
This is pretty borderline; the series is considered yuri by a lot of people, but it officially ran in magazines aimed at young girls as a simple close friendship tale between girls. - WholeGrainNeko
10
YuruYuri
"Oh wow, there's 'yuri' in the title of this one, it's gotta be pretty blatant, right? " Nope! A lot of blushing and nosebleeds, but no real yuri delivering. - WholeGrainNeko
Yui x Kyoko ❤️
The Contenders
11
Sailor Moon

Sailor Moon is a Japanese shōjo manga series by Naoko Takeuchi. It was originally serialized in Nakayoshi from 1991 to 1997; the 52 individual chapters were published in 18 tankōbon volumes. ...read more.
12
Magical Girl Lyrical Nanoha StrikerS

13
Selector Infected WIXOSS
Akira and Ulith's relationship in the second season. Even if Ulith was just using her, Akira falls easily into her trap, and was probably genuinely in love with Ulith. - WholeGrainNeko
14
Lucky Star

Lucky star is an anime that first aired (april 8th, 2007 to September 16th, 2007) in Japan. The anime follows the daily lives of Konata Izumi, Kagami and Tsukasa hiiragi, and Miyuki Takura. The show is best known for the cute "moe" characters. The target audience is shouen.
Yuri undertones are kindly provided by Kagami and Konata, and I think it's pretty obvious how they feel about each other. Even if it was never confirmed, there's a lot of strong evidence from both of them throughout the series. I ship it! ❤️
15 Slow Start
16
Comic Girls
Kaos is just too gey for this to not be on this list.
17
Fate/kaleid liner Prisma Illya

18
New Game!

Honestly, who watched this and DIDN'T ship Rin and Kou by the end of it? They'd be so adorable together! Plus, it's super obvious that Rin really likes Kou ❤️
19 Happy Sugar Life
20
Laid-Back Camp

21 Citrus
22 Sakura Trick
BAdd New Item