Top 10 Baseball Outfielders of All Time
The Top Ten
1
Willie Mays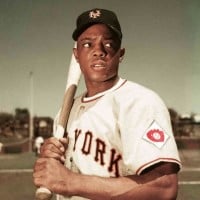 Willie Howard Mays, Jr., nicknamed "The Say Hey Kid", is an American former Major League Baseball center fielder who spent almost all of his 22-season career playing for the New York/San Francisco Giants, before finishing with the New York Mets.
Definitely the best outfielder. Arguably the best of any position.
Nobody was more exciting...ask the guys he played against!
How is he not #1! He was the best player ever in the MLB!
He's without company at the very top of ANY "best of" list!
2
Babe Ruth

George Herman Ruth Jr., better known as Babe Ruth, was an American professional baseball player whose career in Major League Baseball spanned 22 seasons, from 1914 through 1935.
Obviously a great hitter against pitchers that probably did not have the repertoire of modern pictures. Also, with Babe's girth, he could not be a match for great defensive players who were also great offensive players such as Tris Speaker, Mantle Aaron, Mays or Ty Cobb
Virtually every baseball expert & historian lists Babe Ruth as the greatest outfielder of all time. When collectively looking at his all time offensive stats he is far superior. There is no doubt that "the Sultan of Swat" is the number 1 outfielder who also was an outstanding athlete.
Really great hitter but has so-so defense and has no speed!
3
Barry Bonds

Barry Lamar Bonds is an American former professional baseball left fielder who played 22 seasons in Major League Baseball with the Pittsburgh Pirates and San Francisco Giants.
Because of his highly suspect hitting ---particularly home run ---records over the last several years of his career, to go along with generally surly and narcissistic attitude towards the fans (even in Pittsburgh during his early years as a pirate, as I and many others experienced first hand...), barry bonds does not really belong on this list. He had tons of talent, no doubt, but it has to be about more than raw talent!
He can hit and terrific fielder
4
Ted Williams
Easily the best hitter of all time. Only person to ever hit.400 outside the deadfall era, and hit 37 hrs while doing it. Took three years off for WWII while in his prime and still played nineteen seasons with a mind boggling.344 career average. He hit.316 at age 41. Bonds, Mays, and Ruth don't even come close.
Not a great outfielder. Not a great fielder. A great hitter. Would have been a DH if that was a real position.
Another great hitter, but an average fielder with somewhat limited speed
He could hit like no other
5
Roberto Clemente

Roberto Enrique Clemente Walker was a Puerto Rican professional baseball right fielder who played 18 seasons in Major League Baseball for the Pittsburgh Pirates.
By way of comparison of no. 10 Mr. Clemente with your no. 3 Mr. Bonds ---and what a contrast! ---after a Pirates-Milwaukee Braves game at Forbes Field in 1965, Roberto took the time, maybe 10 minutes I would guess, to walk with my brother and me talking baseball (we were both in Little League),even trying on our ballgloves which we had taken to the game in hopes of catching a foul ball!
The business/marketing of baseball relies on the Caucasian dollar$ do you think the 'face of baseball' is gonna' be from Puerto Rico? Movies like Field of Dreams, The Natural etc. are examples of cherished viewing...didn't see anything resembling Roberto.
Clemente or Mays if the game rewarded ALL tools! Change the name to home trots from home runs as a tribute to Clemente's line drives to ALL fields and incomparable throwing arm!
We should not be talking about the best hitters, but the best overall outfilders... Including trowing arms, defense, and speed. Roberto c, Willie M, and Joe D. These are the tops.
6
Ty Cobb
Greatest player of all time
He is so lit I got his card
7
Hank Aaron

Henry Louis Aaron, nicknamed "Hammer" or "Hammerin' Hank", was a retired American Major League Baseball right fielder who serves as the senior vice president of the Atlanta Braves.
He was really fun to watch am I right
8 Stan Musial
9
Ken Griffey Jr.

George Kenneth Griffey Jr. nicknamed "Junior" and "The Kid", is an American former professional baseball outfielder who played 22 years in Major League Baseball.
How is 630 homers and amazing outfield play not make him a top 10
10
Joe Dimaggio

Joseph Paul DiMaggio, nicknamed "Joltin' Joe" and "The Yankee Clipper", was an American baseball center fielder who played his entire 13-year career in Major League Baseball for the New York Yankees.
Combination of hitting for power and average, base running, fielding and throwing arm has not yet been matched.
Joe was fast and cover the field well
The Contenders
11
Mike Trout

Michael Nelson "Mike" Trout, nicknamed The Millville Meteor, is an American professional baseball center fielder for the Los Angeles Angels of Anaheim of Major League Baseball.
12
Mickey Mantle
He could throw hit and catch
When he was able to play...
13
Andrew McCutchen

Andrew Stefan McCutchen, nicknamed "Cutch" is an American professional baseball center fielder for the Pittsburgh Pirates of Major League Baseball.
You must be kidding - Yes A good current player, but no where near the top ten
14
Ichiro Suzuki

Ichiro Suzuki, often referred to mononymously as Ichiro, is a Japanese former professional baseball outfielder.
There was nothing this man couldn't do on a baseball field.
15
Giancarlo Stanton

Giancarlo Cruz Michael Stanton is an American professional baseball outfielder and designated hitter for the New York Yankees of Major League Baseball.
16
Alex Gordon

Alexander Jonathan Gordon is an American professional baseball left fielder for the Kansas City Royals of Major League Baseball.
17
Carlos Gomez

18
Bryce Harper

Bryce Aron Max Harper is an American professional baseball right fielder for the Washington Nationals of Major League Baseball. He stands 6'3" tall and weighs 220 lbs.
He has a cannon for a arm
19
Tris Speaker
Now here's a guy who should be in the top five.
A 5 tool player
20
Yoenis Cespedes
Muffed a play in Game 1 of the World Series that turned into an inside the park homer, did not make up for it with his bat.
21
Jose Bautista

José Antonio Bautista Santos is a Dominican professional baseball right fielder and third baseman for the Philadelphia Phillies of Major League Baseball.
22
Manny Ramirez

Manuel S. "Manny" Ramírez is an American football guard for the Chicago Bears of the National Football League.
23
Adam Jones

Adam Thomas Jones (born January 15, 1965) is a three-time Grammy Award-winning American musician and visual artist, best known for his position as the guitarist for Tool.
24 Yasiel Puig
25
Enrique Hernandez
Clearly not as good as the greats babe Ruth and Barry bonds, but still amazing. Much smaller than other players, yet hits long balls, doubles, and triples.
PSearch List