TVXQ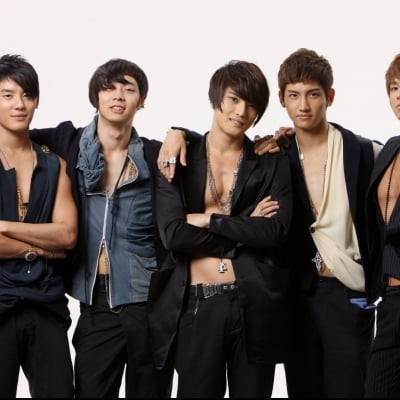 Uploaded by DynastiNoble
Comments
Top
Popular
Newest
I can tell that DB5K is the best, because when they are still 5 we all know that they are in the Guinness and up to now no one can beat the number of fandoms they had all over the world... They are the kpop Gods! Their group was also some of the inspiration of some of the kpop groups now... The members work together as one that's why they are really amazing... Jaejoong's voice is so warm, Xiah's voice is so gentle, Changmin's voice is powerful and he has the highest pitch of voice not just in their entertainment but also in Korea as a boy group member and when he sang in a high tone experts do not know the pitch that he is hitting because it's so high, Yunho is the best leader and he is also known for being a Dance God in Korea and Yoochun is so good in rapping and has an amazing vocal too... They were train but their talents were natural they took hardships just to pass their audition unlike some of the other members of some group that were just hooked for their charisma and did ...more
They are great even when they comeback as two. They make good music and the bromance between the two touches me. They're not just idols, we can learn things from them.
Vocals, moves, looks, they have it all! TVXQ is the first KPOP group I've been introduced to and I've been a Cassiopeia ever since. People who have worked with them stated you'll definitely be a fan of theirs once you get to meet them in person. Despite having gone through some ordeals, they are still standing strong to deliver the best to the audience. It has been 8 years since their debut back in 2004 and they're considered seniors in their field but still they act so humbly towards both seniors and juniors alike. When juniors greet them with 90 degrees bow, they would return with nothing less. Apart from getting praises from professionals in the industries for their breath-taking music and incredible live performances, there have been endless comments from other idol groups who would like to emulate them. I believe they deserve more recognition. TVXQ is the best group ever created in my opinion. I'm lucky to be born in this era to get to know them I'm also lucky enough to be able ...more
Should I say more than DBSK/TVfXQ/Tohoshinki is the best? They are the best. It feels like a love from mother to their child or whatever you want to add. Its totally unconditionally love to them. The best group I've ever heard (in Asia region) a pleasure both in the eyes and ears. How they singing a song, how they dance so gracefully, how they talk to their fans, how they treat their fans, how they appreciate their fans, how they write a lyric, how they transferred emotion from their songs, how fashionable all of them, a group of "almost" perfect face, junsu unique voice (always catch his voice easily &)when he reach a high note sometimes I have to close my eyes because I feel like his voice strike my heart and sometimes a tears comes down without I realized it, Yoochun deep voice (kya! ), Changmin high voice and a manga character face that came into reality, Yunho dance, rap, high note, low note, smile(kyak! ), Jaejoong soft voice and quite large range in his voice note. ...more
It is somehow an insult seeing TVXQ at number 7. They are one of the great stars that started the second generation of K-pop, the are the best selling K-pop group today, selling over 12 million copies of albums, more than TRIPLE, yes, TRIPLE of the second! Yeah, SNSD has sold 4 million copies of albums, impressive but still 1/3 of TVXQ. Even if it's HoMin, TV5XQ or JYJ, they are the best. Cassiopeia is still the biggest and strongest fanclub here. Don't get me wrong, I love SuJu and SNSD, but I still stick by my point that TVXQ is the best. Performing at Kohaku, the BIGGEST music show in the end of the year, and not only that, they've performed there 3 times, (praising SNSD and Kara for performing there and BoA for performing there multiple times). And here they today, wrecking the Oricon Charts in Japan, Daily, Weekly and Monthly charts.

Enough said. I'm only talking about talents, nothing about looks, even though they look amazing, I mean, look at Jaejoong, just look and be ...more
Best kpop boy band that EVER. Existed. Trust me I know a LOT of Kpop bands, but they are incredible. Just so talented. Did you see Yunho dance? Asia's dance machine. Just like that. They are the group that tries their BEST. Absolute BEST. They started Kpop in Japan by singing on the streets/stairs. Changmin couldn't dance at ALL at first. He practiced alone at midnight without anyone knowing. They practice singing while running on running machines so they can sing better at live. Look at their choreography. It's amazing. Seriously hard. They don't even pant a lot when they sing while dancing. Idol groups don't last that long. They had their debut at 2003. Yunho's family members didn't let him be a singer, so he had part-time jobs and did his best. They all started from the bottom of the seas, and now they're stars in the sky.
TVXQ is the group that taught me how to value life, family and friends.
I felt in love with those beautiful melodies and acapella songs. Every member of the group is unique and they all are extremely beautiful both in the inside and the outside. I believe that there's no other like TVXQ, they have the coordination, the beautiful performances, the bright smiles like no other, and a strong spirit and much much more. The fans connect to them in every way, we smile when they smile, we cry when they cry, we will always support them and proudly say we will be always Cassiopeia's. Their ballads are like masterpieces to me. The pop songs are one of the best hits. They have the biggest fandom for a reason, and well, our boys had split but me and many other Cassiopeia's will always support and love our boys. We are waiting for that day. But today lets Always keep the faith and hope to the end. Support the guys!
DBSK has debuted for about 9 years and they succeeded in singing acapella. Their voices just blend together and it sounds very peaceful to me. All the songs they sang are just the best! Like Rising Sun which contains a mixture of rap, r&b and rock. Super Junior and EXO has tried this before, but TVXQ has became famous because of it. And Mirotic. Now it has 12million views, but in 2008 before they re-uploaded this video, it has 80 millions views. It means this song has 92+million views! And also their debut song, Hug. This song is a true love song. And others like Love In The Ice, Bolero, The Way You Are, Hi Ya Ya, Thousand Year Love Song (OST).. Etc are equally good too. They are LEGENDS, the best Kpop Boy Band I had ever known in my life. Now, people will normally like bands like Super Junior or Snsd. But I'm different, I like Tvxq better since I was 5 in 2005. Always Keep The Faith
This is the best group of kpop genre ever! I vote it as a fan of FIVE member od TVXQ.. Not just too or three... But five of them! They have full package as an artist. They're the best quality as a singer, good looking, humble in manner, kind hearted and many more... And I'm Nurul Fadhilah will be their fan forever, eternally! Always Keep the Faith to YUNHO, JAEJOONG, YOOCHUN, JUNSU and CHANGMIN... FIGHTING!
DBSK Hwaiting! Saranghae! They both rock, and even if the other three are missing, "Keep Your Head Down" was one of their BIGGEST COMEBACKS EVER'! I hope they can all reunite someday, but for now, they need to be strong and have faith! Yunho and Changmin Oppa, keep fighting and try very hard! I'm rooting for you guys! And of course, smile through it all, show'em how manly you guys can be!
Best and #1 in my heart. I LOVE them. No other groups can replace them in my heart. Best boy band ever. Not only looks but their presence, and voice adds up to perfection. Each and every member is talented and have their own personalities. They are unforgettable. They are the only group that can SING with all the dancing and still sound good, better than the studio version. Cassiopeia will always be with you guys and be at your side, supporting you guys forever. Even with all the new groups that are debuting nowadays, you'll still and forever shine the brightest among them all. They cannot be compared. Always Keep The Faith.
TVXQ is the best, in terms of looks talent, the whole package and basically everything. TVXQ debuted when technology wasn't so advanced yet and they still did so well! They literally paved the way for the groups after them like Super Junior, SHINee, and EXO. Without TVXQ, Super Junior, SHINee especially paving the way for them in Japan, and EXO probably wouldn't even be able to perform in Japan! Plus they harmonize so well! Each member has a role, there are no useless members, no offense to some other groups. They were legendary when they were 5 and still are, They will be legendary forever.
TVXQ is the best kpop band I accept. Not like some others band or singers in Korea, their music even touches my heart. Wherever and whenever I hear their voices, their songs my feeling go to each word, each tone. Nearliest, I cried when I hear Heaven and Winter rose. I love TVXQ not only their talen but also their spirits. When I hear a star says something, I always think she/he lies but I don't feel the same with TVXQ. 5 people for all, together they make a perfect TVXQ in my eyes. And in my heart there's always 5 people names Jung Yunho, Kim Jaejoong, Park Yoochun, Kim Junsu and Shim Changmin
THE BEST GROUP THAT EVER EXISTED! Even now, as JYJ and Homin they are still the best. Nothing and no one can ever beat them, I've never seen another group like that in my life.. Their harmony, their passion about music, their perfect singing, their dancing, their personalities.. Words cannot describe their incredible talent! They are untouchable, incomparable.. They put their heart and soul into music. Simply put.. What they can do on stage.. Nobody else can. What they've done for Asia's music is unforgetable. THEY ARE LEGENDS. THE RISING GODS OF THE EAST. They represent the true meaning of what music should be... They've gone through so much and yet they still try the hardest. They CAN NEVER BE REPLACED. No other group compares to them. DBSK & Cassiopeia.. Still the world's biggest fandom. I would never give up on them no matter what. AKTF
Even before I became a fan of them, I had heard of TVXQ before, but I didn't know much about them. The one thing I did know, was that they were a big name in the Kpop world. To me, that had to be saying something because hardly knowing anything about them, I didn't know why I respected them so much as artists. After looking up more about them, /every/ other group pales in comparison. Every single member is vocally talented, and they are extremely hard workers. But the thing I love the most about them is their close relationship with each other. At the rate the kpop industry is going, it will be a while until a group comes close to the skill of TVXQ. AKTF
TVXQ is such a great boy band, I don't why it's not in #1. I love their song titled "Mirotic"
Firstly, there music is NOT crap and trash like the other K-POP Bands. They are professionals and are knowledgeable in there field.. In my own opinion, TVXQ is one of the reason why K-pop has been known all over the world.. They deserve their title as the Rising God Of The East. NO! I forgot.. They are Already Gods Na Pala.. They sang with their hearts and all of the original five members are exceptional when it comes to music.. Second, they are all professional as I said and are very kind and the last but, not the least.. They are more good looking and Godly than those gods described in greek liteature.
Still thinking which boy band you want to choose? Laugh out loud here they are TVXQ who can sing and also dance well! All the people know already, not only face! BUT TALENT!. Be The best kpop bands not only mean can sing and dance but they have to can composing, write lyric and also making song or album... Here they are TVXQ, the only one Boyband kpop who is the real Musician.
The best among others kpop idol! Not only their songs, powerful performance but also they have strong relationship among 5 of them more like a family. They are not a fanservice who just show their close relationship in front of T.V. show but also in their real life! Always Keep The Faith 4eva DBSK5!
The best K-pop group that I've known. Even though I love SHINee, BIG BANG & BEAST to death but DBSK is like a whole difference. They're not just idols, I have learnt a lot about life since I knew them. Although they're JYJ and HoMin now but they're still ONE, and ONLY DB5K and no group can't compare or defeat them. You'll soon understand what I said if someday you have a chance to know them.
Tvxq is the best always no matter what. They give the best performance ALWAYS! They sing very good and look very handsome, they give such as high emotions when singing. And their songs don't have empty meaning like some of the songs!
TVXQ already wins. Can't you see that they had the Biggest Fanclub. Go read the Guinness Book of World Records, you'll see! These are the REAL Kings Of KPOP! Literally! They are! May the 5 of them
DBSK/TVXQ/Tohoshinki is the LEGENDS of KPOP and their names means Gods Rising Form the East! They are the BEST of all the BEST! They are number 1 and no one can beat them!
I just can say that TVXQ is the best K-pop Boyband I've ever known. No matter how far they separated the five of them are unite.
I don't care what everybody said bad things about TVXQ cause I'm Cassiopeia and Cassiopeia will always keep the faith and hope till the end Saomeday when they back as 5, I know they will show us who is the king exactly. If by a chance without A reason somebody ridicules TVXQ behind me. I should be patient I just would wait for that day, the day when they comeback as five. Sing more accapela's song and make another mirotic album and also get world record again as the fandom with a million member.. Always Keep The Faith. TVXQ you are my melody. I won't say goodbye I'm proud of your love.. So my love will forever. I'm One True 5.
WHY ISN'T DONG BANG SHIN KI FIRST?!. Anyways. TVXQ's music has always been there for me in thick and thin, their the most original group I've ever listened to. EVER. No group is a match for them and everyone knows it. They are very popular and loved to bits in Japan also! Their Acapella talent is truly lovely and mesmerizing and each member is a rare Jewel who excel in different fields, not to mention THE REASON OTHER GROUPS ARE ABLE TO EXPAND TO Japanese MARKET!

CASSIOPEIA FOR LIFE