Onew ~ SHINee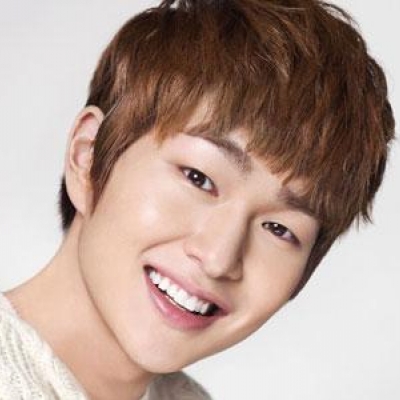 Uploaded by TaeBooty
Comments
Top
Popular
Newest
Onew is the kindest and the most caring leader among all others in Kpop without doubt! He is so cute and lovely. His cute eye smile can make your day brighter. He is like The Sun - So warm and bright. He is just too cute to resist. He is very clumsy even on the stage and that's what makes him even more cuter. He always looks out for the other members, is very responsible, very caring and is very clever. He got 2nd place in the whole school and has amazing hot abs but still doesn't show off. Onew is a very down to earth person! Though he is the elder one in the group, he is actually a baby. He has an angelic voice that can melt your heart. His eye smile and his laugh are the best in the whole world. If you had a bad day, just look at a picture of Onew smiling and it will definitely put a smile on your face. He has that effect on people! The cutest, sweetest, kindest, most caring, loveliest, clumsy yet most responsible, cleverest and the most talented leader in Kpop. SHINee is for sure ...more
Onew leads without making it known to everyone. He is an amazing leader to SHINee, and is very humble. He is polite, witty, a variety star, loved by everyone who comes into contact with him, and he is the always smiling, charismatic person, Lee Jinki. He is by all means hardworking, and is very versatile. Onew is our crazed chicken lover and we love him for that. He takes tremendous care of his dongsaengs. He may be quiet on the surface but deep down, he is carefully absorbing everything around him and is listening to other people. He is understanding, pure, and clumsy but very loveable. He is fragile, and keeps things to himself because he doesn't want it to affect SHINee. His sunbae's love him to death. Everything he does is Onew Sangtae
Onew genuinely cares for his members and the reason why they're so well-behaved and respectful has a lot to do with his leadership and guidance. He has a constant smile and doesn't mind goofing around. He is also a great role model and has an amazing, unique voice.
He always takes very good care of his members. He is respected by his members because he loves them like they are his true brothers. I love how he shows he cares for them even though sometimes he just doesn't talk much. He is a very polite person especially to the fans. He is the best leader for me. He is born to be a leader of SHINee. I love him so much!
Are you kidding me? This guy is adorable! He's got skills in both singing and choreography! Plus, he's cute, and loves fried chicken! Haha, his Onew Condition is so cute, I can't even handle it.
He takes care of all of his dongsengs all of the time. He is polite to his seniors and hates to see people fight. He has an amazing voice and he performs his best even when he is sick or hurt! He has amazing ability and he cares about everyone.
Known for his folder-bows and thoughtfulness to staffs and everyone else, he is the perfect example of how a leader should behave. He silently supports his group mates and is always there for them!
SHINee's leader is the most awesome leader than I seen before. He always make a lots of fun for all the SHINee World. He takes care of all 5 boys especially the maknae Lee Taemin. I love SHINee forever and ever. SHINee!
He deserve to win the best male group leader of all because of his hardworking personality. He always give his very best. He never puts himself on the top of the group where he knows he can hurt others. He always stay humble, happy, healthy and the most of all funny. He always makes her member happy with his playful personality. Another thing, he has an undefeatable sweet and wonderful voice. I love how he does innocent eyes and cute smiles.
Just an all around wonderful human being!...A king among man...A prince with a heart of gold and angel in disguise! Teamini the baby! Minho the other little prince, Jonghyun the voice of an angel with a sensitive great soul and Key the precious and sweet loving character always so proper they are all just got to be the luckiest group to have a leader like Onew with such beautiful disposition! Well! Compliments aside he is extremely talented a genius in his field!
Who wouldn't fall in his charismatic eye smile. every time I saw that smile, I also feel like smiling. And for me he is the kindest leader no matter how many times his members pick on him... that's why I really like this cute chicken maniac. Onew condition always
Onew is the best and if anyone deserves it it is definitely Onew he is one of those people who are fun and loving there is nothing not 2 like about him everyone should be an onew er
I love his smile! And his voice is really sweet! Every time I hear it, my soul just like melted right that moment! Onew is the best! SHINee is the best!
He deserves it so much. His voice, leadership, everything about him is truly amazing. He's so humble. He has a beautiful heart. He's a great singer, dancer, everything! Onew truly deserves this!
SHINee's funny leader with a good heart and a very sweet voice
I must say that I'm surprised Onew isn't at the top of this list yet. ELF's seem to be ruling this whole site. Come on Shawols, we all know SHINee is just as good. Onew's greatness as the leader of SHINee can be compared to his love for chicken
Onew never puts himself in front of others and is just too cute, he cares for his teammates like they're his family and does not ever force them to do anything. He's just a baby angel that fell into the earth
He's the one who can keep the group together, not with leadership, but with love, especially now that there are only four and one angel... He is the only one I can think of that could ever stand like a silent rock for them to step on and be strong... The most dependable person in kpop...
He is so cute! His character makes me fall in love with him! I love his voice, it's so hot! Go SHINee!
He cares about his members
AND HE'S JUST SIMPLY AWESOME IN EVERY THING HE DOES
ONEW CONDITION
ONEW WAS HANDSOME, AWESOME, AND HE'S EVEN A GOOD SINGER / LEADER!
SUPPORT ONEW HYUNG
Although he may come off as weird and quirky (Onew condition), he's still very wise and knows what's best for his members.
He gives his group positive energy to keep creating and producing masterpieces and slay the world and bring the entire world into peace with their music
He is really kind. He always help others. He always smiles. It makes others feel warm
Because he's awesome and perfect and I hope he will win the best leader kpop group.
Onew is the best leader I have come across. He is a selfless human being and not behind spot light. Who wouldn't love this dorky yet charismatic person..