Top Ten Days of the 60235 Lego City Advent Calendar (2019)
This year's lego city calendar has been quite disappointing honestly in my opinion when compared to other lego city calendars this decade. At least the first half. Second half was better. My main problems with this one is that a lot of builds were just..., underwhelming. It still had its great points though so with that being said here's a list of the best days of it.

The Top Ten

1 Day 13: Granny With Book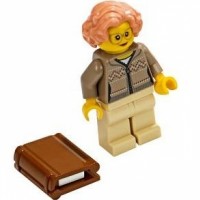 This calendar was disappointing in terms of builds, but legendary in terms of minifigures. This example, is definitely the most shining gift that we've recieved in this otherwise disappointing calendar. The parts are excellent to begin with! The hair piece, the face, the cardigan and the book piece! This is just legendary! Ok, the trousers aren't particularly unique but who cares when literally everything else is great? Even the book page part is detailed, with a text saying "Once upon a time.". This gift was just legendary, especially compared to everything else in this calendar.
2
Day 10: Woman With Camera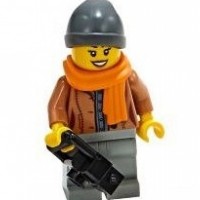 This is another minifigure, with amazing pieces and great originality. Normally, getting a civilian isn't very interesting in my opinion, but this is an exception considering the pieces. It's a new scarf piece, and the hat is incredibly rare too. I know it appeared in last year's calendar too but it was my first one. The jacket is nice too. The camera and face aren't particularly interesting, but they fit quite well. So yeah, another minifigure in the top two.
3
Day 20: Girl With Snowboard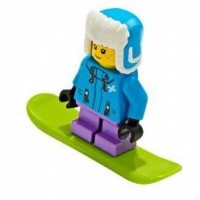 Even the children minifigs were greeted with originality. First off, a snowboard piece or skiis is something always welcome. They offer loads of playability and look great. While the yellow snowboard from 2017's calendar is better than this year's green one, it's a good one still. The minifigure herself has an incredibly unique snowcap, with a blue colour, and it actually looks "winter-ry". Although the minfigure herself maybe resembles the girl figure from 2015's, 2016's and 2018's calendar too much.
4
Day 15: Snowmobile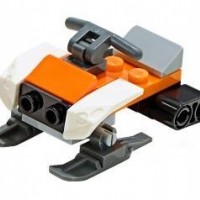 Snowmobiles just rarely disappoint and this is no exception. This is probably the best build in the calendar. The orange and white is nice and the overall design isn't questionable. I appreciate the originality as well with the new snowchains. This is an example of a snowmobile done incredibly right.
5
Day 3: Eskimo With Broom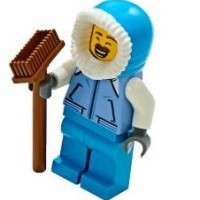 And another minifigure makes it to the top five. Man, four out of the five items in this list are minifigures. This is a particularly interesting one. You see in the first half of this calendar, so many builds were just uninteresting. This was like the only thing in the calendar that made me happy. Quite ironically this is a happy minifig as well. It has two faces, a laughing one and a happy one, both of which are completely new to me. Its clothes are unique too. It's a lot of blue and the broom is unique. Wether this minifig is an eskimo or not is up to you but I think it looks like one, and I mean in a positive way.
6
Day 17: Man With Fire-Extinguisher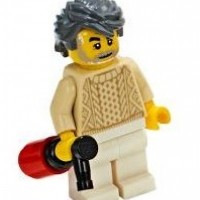 This minifigure isn't a disappointment either. This is the first time we get a fire-extinguisher in the right colours, red and black. Previously all we got was boring yellow ones. The man himself is quite good as well. The grey hair piece is nothing I've seen before and the face with the somewhat "evil" look and grey beard is unique. The cardigan is one that appeared in last year's calendar as well but it's still fairly rare.
7
Day 16: Furnace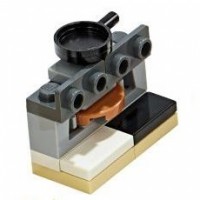 Another incredibly unique build that we haven't seen before in a lego city calendar. I like the black and white tiles that serve as a floor, and I love how you get both an oven and a stove. Along with, you get a frying pan and a pizza. Ok, the pizza could've been way more detailed I'll give it that. It also looks slightly unfinished honestly, like it feels like something should be there above the stove. Eh, it's great for what it is.
8
Day 7: Boy With Cookie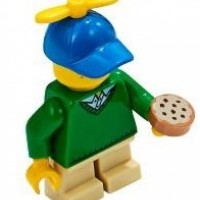 And would you look at that, all of the minifigures make it to the top ten of this list (excluding Santa but you know why if you're a lego city fan). As I said, the minifigure selection was legendary in this calendar. This one is weaker than the others mainly because it's more generic. The shirt, trousers, cookie and cap piece isn't very unique. However it's saved by looking good nevertheless. The face is incredibly unique and the hat comes with a propeller for frick sake! This is definitely a great build!
9
Day 21: Telescope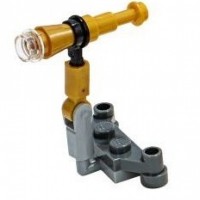 This is the most unique build we've got in an advent calendar probably. I mean a telescope! Ironically enough I got an actual telescope as well for christmas this year. Anyways, this build is well-proportioned. It's not too small, the minifigs can actually look through it and the telescope can be adjusted. It's a great build. my only complaint is that it looks a bit plain.
10
Day 12: Rocking Chair and Lamp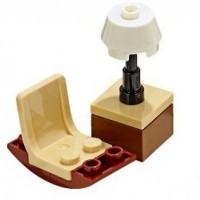 You know I'm kind starting to disagree with my point that this calendar was mediocre because I seem to like all items in the top ten a lot. Well, there's still half of items I've not talked about yet but anyways, this is a pretty nice build. The lamp, to start off with looks really nice and unique and I appreciate the details. The rocking chair isn't very detailed, but goes excellent with the granny from Day 13. Overall, good build.
BAdd New Item