Top Ten Worst Quarterbacks Ever
The Top Ten
1
Ryan Leaf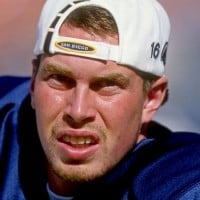 Ryan David Leaf is a former American football player who was a quarterback in the National Football League for four seasons. He was selected as the second overall pick in the 1998 NFL Draft after only Peyton Manning. He played for the San Diego Chargers, Tampa Bay Buccaneers, Dallas Cowboys, and Seattle ...read more.
Ryan Leaf is horrible Look at his stats! I think Josh Allen is going to be the next Ryan Leaf.
Just leaf him alone
He plays like a leaf
This dude sucks
2
Blaine Gabbert

Blaine Williamson Gabbert is an American football quarterback for the Tampa Bay Buccaneers of the National Football League.
Gabbert is the biggest bust in the NFL currently. He just makes too many poor throws and too many poor decisions.
3
JaMarcus Russell

JaMarcus Trenell Russell is a former American football quarterback. He played college football at LSU, where he finished 21–4 as a starter and was named MVP of the 2007 Sugar Bowl. Russell was drafted by the Oakland Raiders with the first overall pick in the 2007 draft. He was out of the NFL after ...read more.
The worst years of my life were growing up watching Russell screw us over and make a bad name for us. I would rather have Tony Romo as the Raiders quarterback than Jamarcus Russell. He is why everybody says the raiders suck
Dumbest, fattest most overpaid worthless piece of junk EVER.
4 Heath Shuler
5
Mark Sanchez

The sad thing is that a rookie is doing better than him right now.
He sucks so bad it hurts
6
Johnny Manziel

Jonathan Paul Manziel is an American professional Canadian football quarterback for the Montreal Alouettes of the Canadian Football League. He was drafted by the NFL's Cleveland Browns with the 22nd overall pick of the 2014 NFL Draft. Towards the end of the 2015 season, Manziel endured numerous scandals, ...read more.
7
John Beck
I think he sucks because he has 0% skill plus he has great people to pass to so he has no excuses what so ever I mean on he really does suck he bad horrible so altogether he is the worst quaterback ever to hit the field throw a ball to one of the best receivers... he sucks
8
Chris Simms
Prototype body but deer in the headlights in critical situations. Never improved despite years of chances.
9 Jimmy Clausen
10
Tony Romo

Antonio Ramiro Romo is an American football television analyst and former quarterback who played 14 seasons with the Dallas Cowboys of the National Football League.
By far the worst QB in the league for a decade. Wish people would stop worshipping him. Would have been cut by any other team. He's stolen 10 years of my life.
I'm surprised with Texas "supposedly" being a football state, Romo hasn't been assassinated.!
Romo is a lot BETTER than a lot of people think he is.He has the arm but just makes bad decisions,and also without tony romo the Cowboys are not good and we saw this this season.
Absolutely blows. One of the worst QB's in the whole 2000's era.
The Contenders
11
Curtis Painter
Led his team to a 62-7 loss in 2011. This guy deserves more recognition for how bad he truly was.
12
Tim Tebow

Timothy Richard Tebow is an American professional baseball outfielder in the New York Mets organization and a former professional American football player in the National Football League.
Inarguably the most annoying football player ever.
Just not a good qb
13
Tim Couch

Lots of excuses made around Cleveland for this bust, O-Line. Did the other 31 teams he tried out for have bad O-lines too?
14 Norm Snead
15
Matthew Stafford

John Matthew Stafford is an American football quarterback for the Los Angeles Rams of the National Football League. ...read more.
Calvin Johnson only makes him look good. If Stafford had Brady's recievers he'd be about as good as Alex Smith or Joe Flacco. Most overrated QB right now.
All that money and no playoff wins. Can't beat winning teams.
16 Jason Campbell
17 Trent Dilfer
18 Kim McQuilken
19 George Izo
20 Rick Mirer
21
Bryce Petty
Bryce Petty is so horrible. He can't even throw 1 td pass and most of his throws are incomplete. Also, he plays like a leaf and is very bad. Can't he just finish his NFL career because he's horrible. He is like Ryan Leaf and has more interceptions than td passes. Just do something else besides football.
He can't even throw 1 td pass and is a bust. He only throws incompletions. He also plays like a leaf and is very bad. He is the second worst NFL quarterback besides Ryan Leaf. Just fire him from the NFL and do another profession please!
22
Trevor Siemian

Trevor Siemian is an American football quarterback for the Minnesota Vikings of the National Football League. He previously played for the Denver Broncos, winning Super Bowl 50 with the team as a backup.
23
Matt Cassel

Matthew Brennan Cassel is an American football quarterback for the Tennessee Titans of the National Football League.
24 Rex Grossman
25
Russell Wilson

Russell Carrington Wilson is an American football quarterback for the Seattle Seahawks of the National Football League.
Russel wilson went to the super bowl twice so yea.
PSearch List