Top Ten Playable Characters in Mario Tennis Aces
Soon July 2019 is ending and with that, August 2019 will arrive. A lot of mario fans are aware that since the release of the video game Mario Tennis Aces, a new playable character has been added to the character roster, and that was since June 22nd 2018, and the first new character added was on July 1st in the same year. The last character to have been added was Dry Bowser, on July 1st of 2019, although those who don't have online membership will get him on August 1st 2019. Soon it is that day and that marks the last character to be added in this game, along with a lot of original and obscure and it has lead to Mario Tennis Aces having one of the best rosters in the mario series, personally in my opinion, the third greatest. Because of this I'm making a top ten list of the best playable characters in Mario Tennis Aces. I'm not really judging the characters by how much I like 'em overall, althoug I will still use the factor as well, but I'm mostly judging characters but how obscure and deserving they are in the game so obscure choices will top my list. Also stats will matter as well a bit. With that being said here is the list.

The Top Ten

Chain Chomp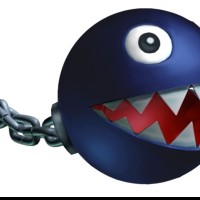 Alright now Chain Chomp was an amazingly obscure choice for a character in Mario Tennis Aces. Like literally who even thought of playing as a ' chain chomp in a tennis game? Well not me. The fact that he managed to get into the game is just enough for me to put him super high up. In fact he was the first character I decided to play as in the game, as this was actually one of the characters that came when the game was first released. Such an original choice and I like how he has the tennis racket in his mouth. Definitely a powerful guy. He's a bit slow in matches but the fact he's here is enough proof he deserves to be here.
I'd rather have King Boo to be honest, Chain Chomp is cool but how tf can he hold things he don't got no arms!
He is so strong but so slow so you have to trickshot
Never would have thought we'd see a chain chomp playable but here we are
Petey Piranha

Petey Piranha being in this game as a playable guy is certainly an interesting choice. This makes Mario Tennis Aces most likely the only game in which there is a character that both serves as a playable character AND a boss battle. Not a big problem though as you can only play as Mario in the story mode nevertheless. I just love that you can play as this character. Such an obscure and interesting choice.
Ok this is interesting.
Glad to see he's back
Boom Boom

We are all tired of seeing him appear in every mario game. Almost, every, single, main game, we have Boom Boom taking a role as one of the easiest and most basic bosses ever. Super Mario Bros. 3, New Super Mario Bros. U/Luigi U, Super Mario 3D Land and Super Mario 3D World. We've met this lazy excuse around 40 times in total and it's sad how Nintendo doesn't come up with original bosses.

HOWEVER this is just as a boss battle in main games. This list is about the best playable characters in Mario Tennis Aces and Boom Boom is no "lazy unoriginal filler" as a playable character in spin-offs. I am really glad to see him here as we don't often get him in spin-offs. In the story mode there was a match near the end of the game you had with him and he was actually pretty tough as well. So he is deserving of being on here.
At least he's better than the Koopalings, those characters are bigger filler than Boom Boom
It's about time we saw him playable
Pauline

Pauline, also known as Daniella Verducci, is the original damsel-in-distress whom Mario must rescue from the eponymous ape in the original Donkey Kong.
Pauline is a more obscure character overall in the mario universe but not as unexpected as a character in Mario Tennis Aces overall due to her playing a major role in Super Mario Odyssey. Nevertheless her sudden appearence on Nintendo Switch games is excellent. She was after all the original damsel in distress before Peach took over the role back during the NES days. Since, she's only appeared in Mario vs. Donkey Kong games. I especially like how her special shot has parts of the song "Jump up! Superstar", which is basically her song. She is deserving of being here.
Pretty sure this is her first playable appearance
Make Pauline playable
Fire Piranha Plant

A fire piranha plant? Yeah they actually added it. Adding a piranha plant alone is something very unlikely but not too unlikely considering one was added to Super Smash Bros. Ultimate. However, they went further and picked a variety of a piranha plant, the fire piranha plant! Now that is one of the most obscure things I've ever thought of. Most obscure choice in the game. However due to I preffering characters above in general this is just in 4th place.
They're really bringing in the unexpected and I love it
Blooper

Bloopers (Often Referred To Bloobers Until Paper Mario, Though Blooper was in use beforehand) are Squid-Like creatures that are found in the ocean. They made their first appearance in Super Mario Bros., and various kinds of them have appeared in the Mario games since, normally as enemies. Mario Party ...read more.
Blooper is one of those characters that may occasionally appear in spin-offs but he's still one of the most obscure characters in mario spin-off games so him being in the roster for Mario Tennis Aces is certainly a nice addition. I've always liked to play as a blooper in Mario Party 8 and he's certainly decent with stats in this game as well. Fifth best personally.
Birdo

Birdo is a dinosaur that is well known for her (or his) confused Gender. It was originally stated that Birdo was a male who believed he was a female, but this was changed in later games. Birdo is commonly referred to as a girl, however, they are in a relationship with Yoshi. Birdo first appeared in ...read more.
You all probably know Birdo is my favourite mario character of all time by now so her being on this list shouldn't have come off as a surprise. She's one of the most interesting mario characters and her design with pink and red combined is just so nice. An unfortunate thing is that she doesn't make many appearences in mario games recently. She was absent from Mario Kart 8/Deluxe, Modern Mario Party (excluding 9) and Mario Kart 7. Luckily she made appearences in Mario Sports Superstar and this game.
Glad to see Birdo in something again
Spike

Spike is certainly an interesting choice that has appeared more frequently in spin-off's since the Wii U as a playable character. It's funny because he was a boss battle in Mario Party 9. This is fan-favourite in my family that my siblings usually play as (either him or Shy Guy). Originally when I got Mario Party 10 I was like mind-blown that he even was in the game. Recently I've gotten less interested in him though but he's still great for this list.
It's great to play as Fishy Boopkins
Koopa Troopa

Koopa Troopas, or just simply Koopas, known in Japan as Nokonoko, are a fictional race of turtle or tortoise-like creatures from the Mario series, as well as its sister Yoshi series.
Overall personally I've always felt like Birdo and Koopa Troopa are my default characters when playing spin-offs. They have all around decent stats and their designs don't get in the way when playing, and they just sorta get me. It's strange how Koopa Troopas, like Goombas are like one of the most common enemies in mario yet they make rare appearences as playable guys in mario spin-offs, even rarer with goombas. This gives them a nice yet obscure feel which is cool.
Yoshi

Yoshi, once romanized as Yossy, is a fictional anthropomorphic dinosaur who appears in video games published by Nintendo. He is most known for his appearances in the Yoshi and Mario franchises.
The Contenders
Kamek

Kamek is a common enemy in the Mario Bros. Franchise. He usually appears in New Super Mario Bros. Games, Super Mario Bros. Games, or other similar games. He also appears in spinoff titles, like Mario Party, in which he is not a playable character but creates an obstacle for the players on their way ...read more.
Kamek, or Magikoopa is one of those semi-obscure choices in mario games. He appears frequently but at the same time it's a bit rare to see him playable in games. We have Mario Party 9, Mario Golf: World Tour, Mario Superstar Baseball and Mario Super Sluggers which are examples of where Kamek/Magikoopa are available but they're really the only games excluding this game, Mario Tennis Aces. He's one of the last characters to have been added into the game, being as recently as April 2019. He deserves to be here and is a great character.
Kamek is aka Cody from super Mario Logan
Rosalina

Rosalina, known as Rosetta in Japan, is a major character in the Mario Franchise created by Nintendo. She first appeared in the 2007 Mario Game, Super Mario Galaxy for the Nintendo Wii and later returned for the game's sequel in 2010. Since then, she has been featured in many main-series Mario Games ...read more.
Boo (Super Mario)
BAdd New Item